Good evening!
Check out some fun OSG and GMM things on the WWW:
1) Mmmm. Another Peanut Butter and Jam Glo Bites spotting! This time all the way in the Netherlands!! You can check it out here.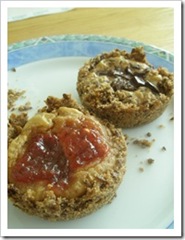 2) The Green Monster Movement website is updated with more green monster recipes. This time, featuring a delicious looking Caramel Apple Green Monster.
3) Oh She Glows was picked as one of the top beauty websites for boomer health. [Really??]
Evolutionary Psychology 101: Exercise Is Key
In Part 1, I spoke about Why Diets Fail according to the Evolutionary perspective.
According to the evolutionary perspective, exercise is the key to losing weight and keeping it off.
Despite what many people believe, moderate amounts of exercise will actually reduce your caloric intake and curb your hunger.
Research shows that sedentary people eat more than active people!
People who are sedentary (very low activity/exercise levels) have actually been found to eat more and have higher hunger levels than people who are active.
I actually experienced this myself when I was injured in the Winter and was off exercise completely for 2 months. And by off exercise, I mean I didn't even do stretching or light walking. Zip, nadda, zilch!
I thought to myself, "Oh it won't be so bad, I am sure that I just won't be as hungry as when I was working out for 1 hour a day. It will balance out!"
During this time without exercise, I expected that my hunger would decrease and I would be consuming fewer calories since I was not active.
Well, to my dismay I did not find this to be the case at all! I actually was just as hungry, if not more hungry, as I had been when I was getting 1 hour of moderate to heavy exercise each day. I couldn't believe my body had betrayed me like that!
All along I thought that exercise had been making me more hungry, but I actually had direct proof that it hadn't been.
If you think that you will start eating too much if you start working out, you are probably going to be pleasantly surprised when you find out that your hunger may be reduced up to a certain intensity of exercise.
Now, that is not to say that people will not use exercise as an excuse to eat way more calories than they burned. In this regard, exercise can actually be a dangerous 'I deserve it' trap that leads people to gain weight. That is always going to be a possibility. I think we have all fallen into this trap once and a while. For the most part though, I find that I actually have a much easier time at eating healthy on the days that I have worked out.
Keep in mind that the evolutionary perspective is referring to what our bodies are naturally programmed to do, should we choose listen to them.
It is true that heavy amounts of exercise will increase your hunger (I can attest to this when training for my half marathon!); however, research shows that it will only increase your hunger at most to make up for the calories that were burned during exercise.
If you are truly listening to your bodies hunger signals (and not simply using your activity as a reason to overeat), you should not be consuming more than your burned through exercise. I find that with intense exercise of a long duration, it is very hard for me to eat enough calories to make up for all that I burned. I just am not hungry enough to fully make up for the full caloric deficit that was obtained.
The moral of the story is that we need consistent and regular exercise to lose and maintain our weight. Unfortunately, only 50% of people report using both exercise and caloric reduction as a means to lose weight, while the other half simply cut back on food intake without exercise. We really need both methods to be successful for the long-term.
Now that I have maintained my weight for a couple years now, I strongly believe that exercise is the key to weight maintenance. For the past 3-4 years, I have been working out for 45-60 minutes 5-7 days a week. It seems like a lot, but it is the only way I have found that I can maintain my weight, eat reasonable amounts of food, and not feel that I need to deprive myself to stay at this weight.
Exercise will help reduce your hunger in moderate amounts, boost your metabolism, and will also give you more calories to 'play around with', allowing you to eat more without gaining unwanted pounds. Not to mention the fact that exercise has huge health benefits too.
It is really a win-win situation to introduce exercise as a regular part of your lifestyle. As long as you don't use it as a reason to overeat, exercise will likely help you maintain or reduce your current weight.
Tonight's questions:
How do you feel about exercise and hunger levels? Does exercise increase it, decrease it or does it depend on the intensity and how much you do?
Do you currently use exercise as a way to lose weight or maintain your weight?