Hope your St. Patty's Day is going great!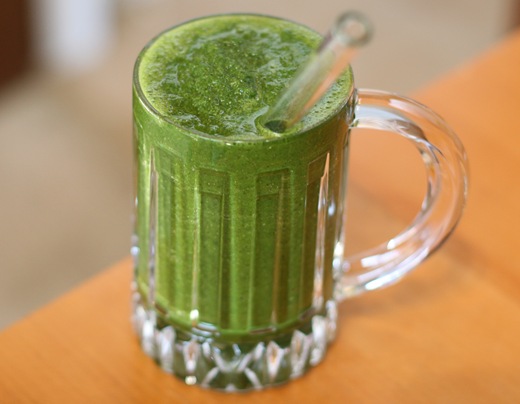 Sadly, this was not green beer that fueled my workday today- it was a green monster– but I had to have it in a beer mug! I made this GM with kale…and I forgot how horrible my Kitchen Aid blender is with kale. It was soooooo chewy. Not cool. I dream of the day when I can buy a Vitamix!
Until then, I chew my kale. :mrgreen: and I check my teeth very carefully before going out. ;)
In the St. Patty's Day GM: 3 cups kale, 1 cup hemp milk, 1 tablespoon cashew butter, 1 tablespoon chia seeds, ice.
My exercise today was quite the change of 'pace'! It was so gorgeous outside, I decided to go for a walk on my lunch break. I can't remember the last time I just laced up my sneakers and went for a WALK! Sometimes, a walk is all you need to feel re-energized. I did a brisk 30 minutes around the neighbourhood. Sometimes workouts don't need to be intense to feel amazing!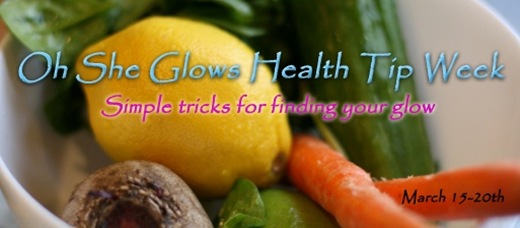 Health Tip #2: Eat Volume Food!
If you guessed that I eat volume foods everyday you'd be right! This is how I eat a lot of food and still maintain my weight.
Volume foods are foods that physically have a lot of volume (or size) to them, but they are typically low in calories.
For breakfast, my favourite two volume foods are Green Monsters and oatmeal. The key is to have protein and healthy fat in addition to your volume foods.
For breakfast, I typically use protein powder, chia seeds, and nut butter to give them staying power.
Want to add more volume to your GM? Just add ice and water! Sometimes I put 4-5 ice cubes in mine and 1/4 cup water if I want it really big volume wise.
My oatmeal typically has the following: 1/2 cup oats, 1 banana, 1 cup non-dairy milk, 1/2 cup water (or bit more), 1 tablespoon chia seeds, 1 tablespoon nut butter.
Perfection!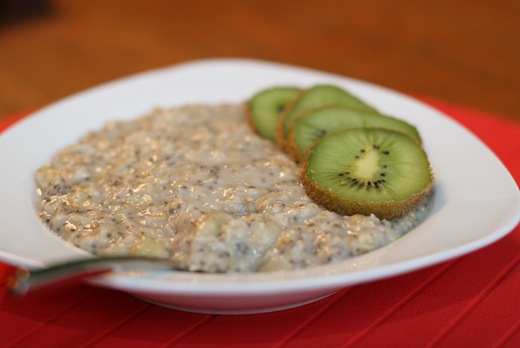 On the other hand, no amount of cereal or toast ever seems to fill me up! What is up with that?!
For lunch I typically have wraps. However, wraps on their own do not leave me feeling satisfied. They take about 2 minutes to eat and when I am done I am asking where my wrap went! ;)
That's why I always have lunch with at least 2 servings of veggies on the side. Sometimes I have an English cucumber and hummus or 3-4 carrots and salsa. Crunching veggies is very satisfying as they take a long time to eat and give your brain a chance to register that it is full.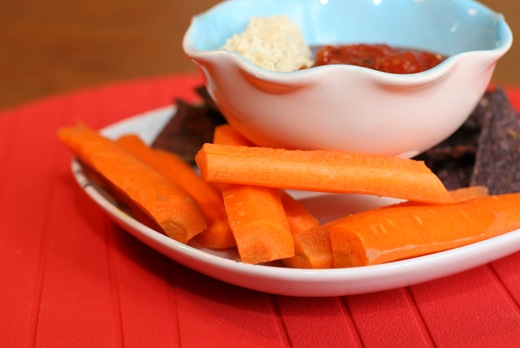 Soup is also a great volume food! I love this Amy's Reduced Sodium Split Pea Soup: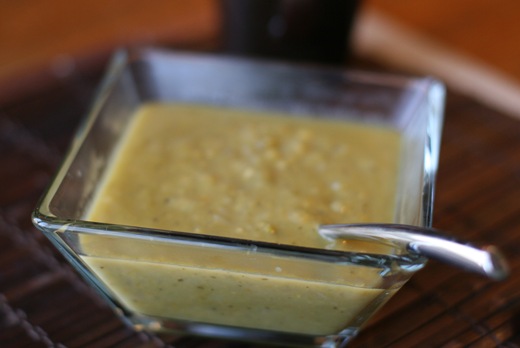 I usually end my lunch with more volume food- fruit!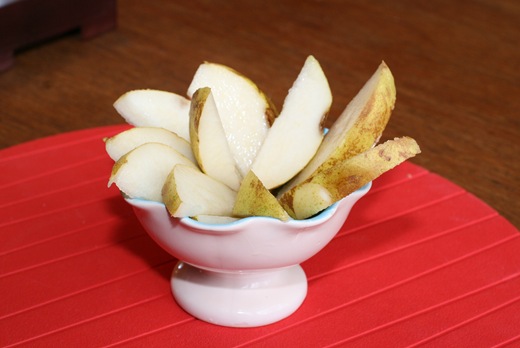 Grapefruit is very filling due to all the water!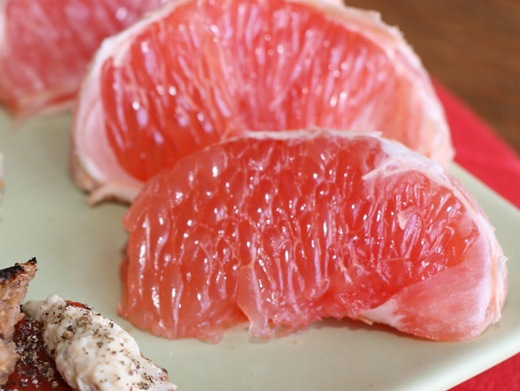 During the day, I have lots of tea to stay hydrated. I make sure to never let myself get very thirsty.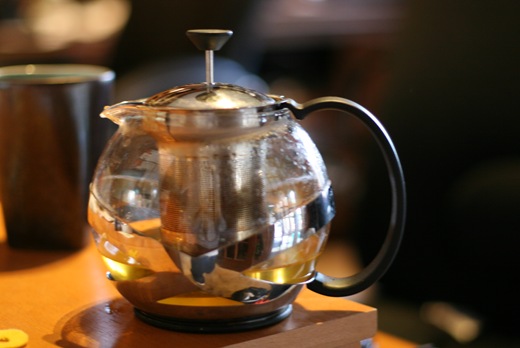 For dinner, I always have a large salad to go along with whatever we are eating. It fills up my stomach and doesn't make me feel like I need second helpings.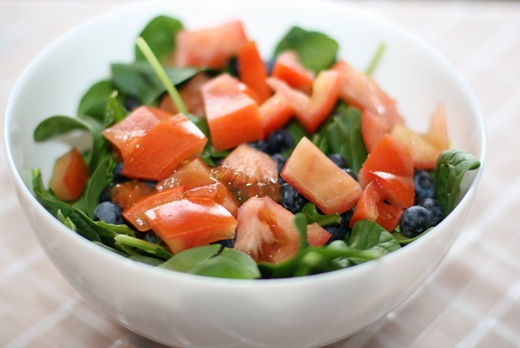 Salads are great because they take that 'edge' off your hunger!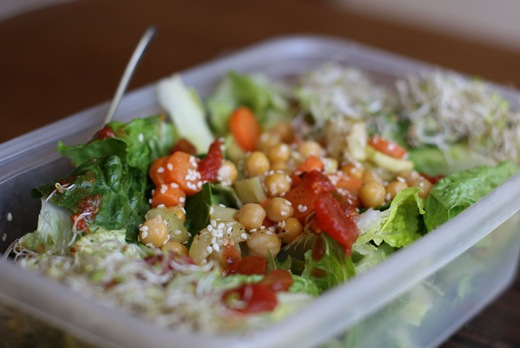 Stir-frys are another great volume food…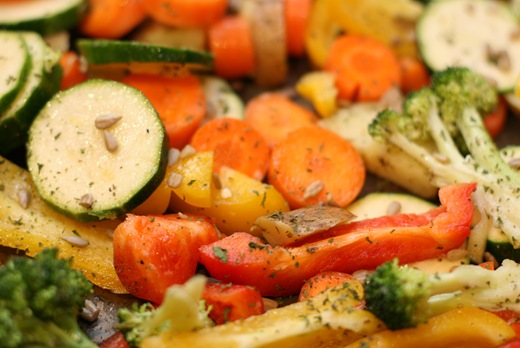 As is savoury oatmeal…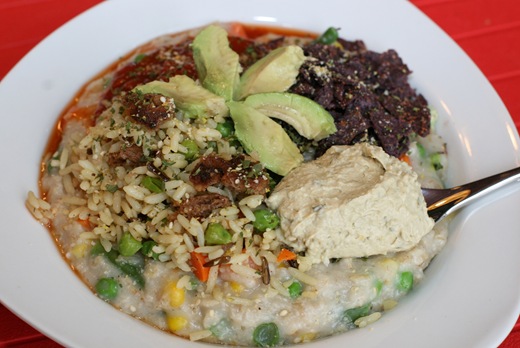 My favourite dessert may come as no surprise to you… ;) Banana soft serve and cacao nibs! 1 frozen banana, splash of almond milk, cacao nibs.
I typically make this around 8pm when Eric and I watch a bit of TV. It is a fun treat to end the day.
Generally speaking, I try to have at least a bit of volume food in each meal. This keeps me feeling satisfied mentally, visually, and physically.
[P.S.- All of these recipes can be found on my Recipes page!]
Do you try to incorporate volume foods into your daily diet? What are your favourite volume foods or recipes?
Post complete, next up- another Breville juice article! I am on article 6 of 8 and I need to finish them before I leave on Saturday!
Have a great day!