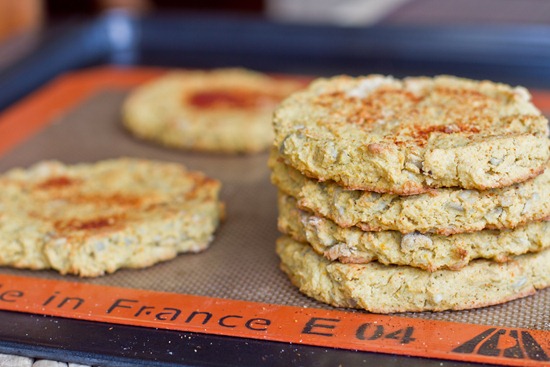 HELLO March!
Damn, you look good. Just lose the snow, mmm kay?
March > February.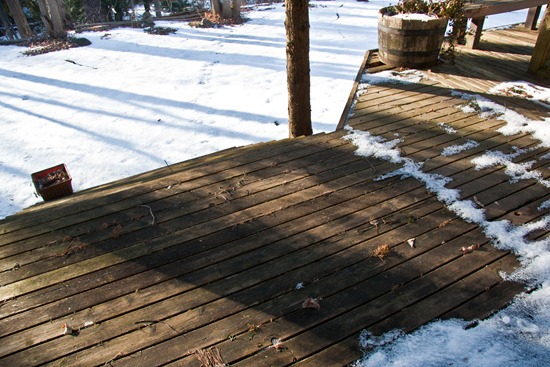 I am always the most excited for March out of the entire year. Well, except for April. And May. And then June. Yes I like those months much more than March. OK, scratch that.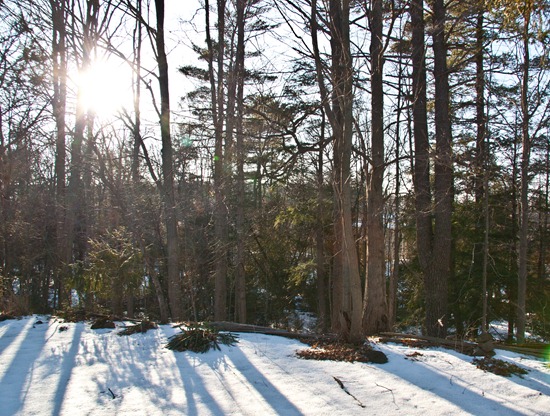 I'm just happy to be done with February! February is my least favourite month of the year because of the Winter blahs. On March 1st, there is hope. The days are getting longer. Even though it was –9C when I got up this morning, I know that warmer weather is on its way sometime between now and July 1st. Approximately.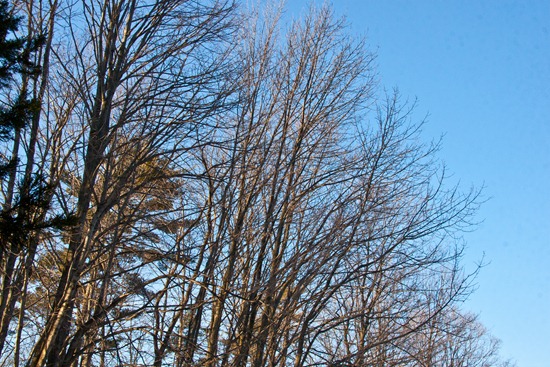 Today, I bumped the regularly scheduled post (Soup!) for this important announcement:
These Falafel Burgers are amazing. Addicting even…And I only had 1 bowl to clean up when it was all said and done.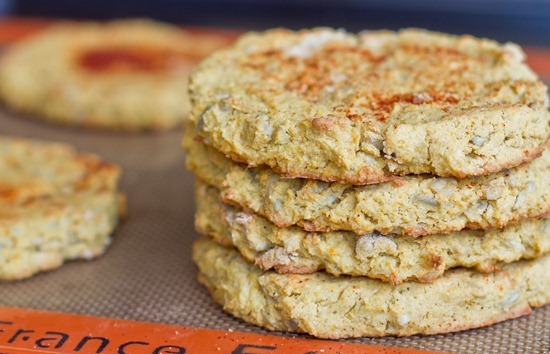 I had my eye on Julie's recipe ever since I posted about it in my Recipe Link Love the other day. Ok, that is a bit of a lie…I completely stalked her post several times a day.
Yup, still there. Whew.
I knew that these Falafel burgers would soon be in my belly. It was really only a matter of time.
Well, technically, 3 days, but you shouldn't wait that long….run, skip, fly into that kitchen of yours and whip up these incredibly easy burgers and enjoy the leftovers all week long for a protein-packed pick-me-up. They would go lovely with breakfast, a snack, or lunch on the fly. If you make 12 large patties, each burger has about 9-10 grams of protein (rough calculation only).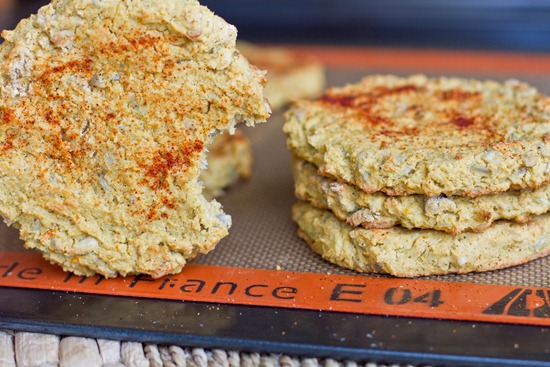 And because I can never let any recipe be, I played around with the recipe and prayed for a successful outcome. The result was a delicious falafel patty with a seedy crunch and crispy exterior. At the end of it all, I had just one processor bowl to clean up. And by clean up, I mean that I blasted a second of water on it and tossed it into the dishwasher.
Score.
I almost shed tears of joy, my friends, tears of joy.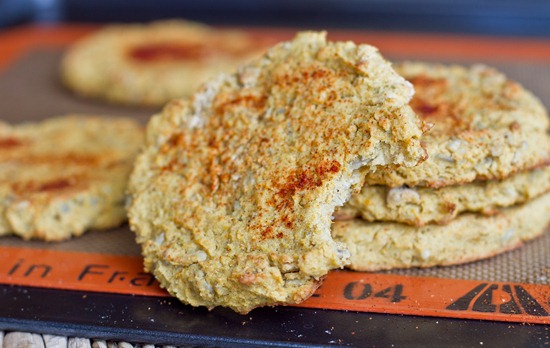 [print_this]
Falafel burgers
Adapted from Savvy Eats.
Yield: 12 large burgers.
Ingredients:
3.5-4 cups cooked chickpeas (two 15oz cans), rinsed + drained
2 small carrots, peeled & roughly chopped
1 small onion, peeled & roughly chopped
3 garlic cloves, peeled
Juice from 1/2 lemon (~2 tbsp)
1/4 cup extra virgin olive oil
1/2 cup tahini
2 tsp ground cumin
1 tsp kosher salt (or to taste)
Freshly ground black pepper & Paprika, to taste
3/4 cup stone ground kamut flour (or flour of choice- whole wheat, white, etc)
1 cup raw sunflower seeds (for crunch!)
Directions:
1. Preheat oven to 375F and line a baking sheet with parchment or a non-stick mat. In a food processor, process the garlic, carrot, and onion. Now add in the drained chickpeas, lemon juice, olive oil, tahini, cumin, and salt. Process until fully combined.
2. Add in the 1 cup of flour and process again. You may have to stop the processor and use a big spoon to stir. Finally, stir in the sunflower seeds. Season to taste with pepper and paprika.
3. Spoon about 1/4-1/3 cup of batter into baking sheet, leaving about 3-4 inches between each scoop. Wet hands and flatten until patty is about 1/4 inch thick. Repeat for all patties. Sprinkle with Paprika.
4. Bake at 375F for 20 minutes. Now, very gently flip the burgers and bake for another 5-10 minutes. If you do not use a baking mat like I do, your burgers will likely cook a few minutes faster so watch carefully. Burgers will be golden brown when ready and slightly firm. Allow to cool for at least 15 minutes so they can firm up and cool completely before storing. My burgers got soft after placing them in Tupperware. I'm not sure if this is because they were not cooled properly or not.
[/print_this]
The changes I made to the original recipe:
I cut the olive oil in half from 1/2 cup to 1/4 cup
I increased the flour from 1/2 cup to 3/4 cup (my batter was very wet, so I had to thicken it up more)
I added 1 cup of raw sunflower seeds for a crunchy texture
I garnished the patties with Paprika before baking
Line up the troops…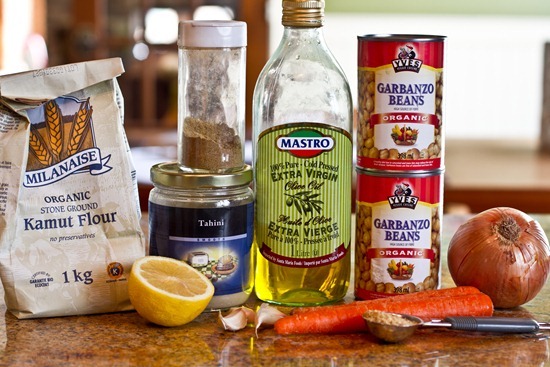 Absent from the photoshoot: raw sunflower seeds, which were an after thought. :) I also did not use the ground flax like I thought I would.
Start by processing the carrots, onion, and garlic in a food processor. Next add in the drained chickpeas, lemon juice, olive oil, tahini, and salt + seasonings. Process until almost smooth. Finally process the flour into the mixture and stir in 1 cup of sunflower seeds. (The seeds are key for the crunch!)
The 'batter' is like a jacked up tahini-rich hummus…with a crunch.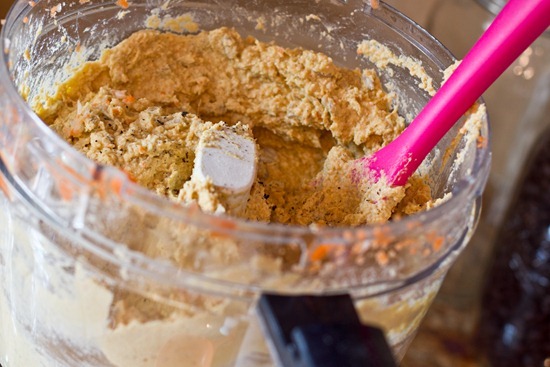 Scoop about 1/4-1/3 cup of batter onto baking sheet and flatten with wet hands. You want the burgers to be quite thin so they will cook throughout.
More surface area = quicker cooking time.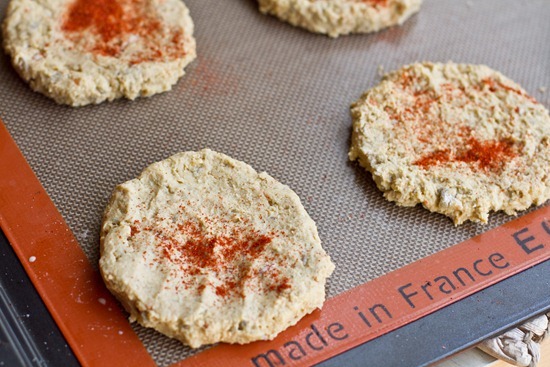 Bake for 20 minutes and gently flip over and bake for another 5-10 minutes, watching carefully. If you do not use a baking mat like I do, your burgers will likely cook a few minutes faster.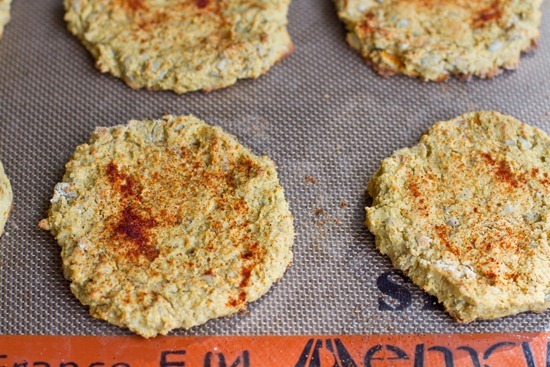 The burgers will be golden brown on one side, but not to worry. This gives them that crispy exterior!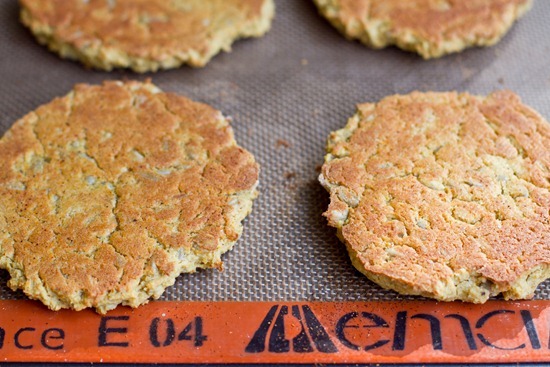 Cool for about 15 minutes and enjoy. I didn't have any issues with crumbling and they held together well. Sadly, the burgers got soft when I placed them in Tupperware and into the fridge. I'm not sure if this was because I didn't allow them to cool enough or what…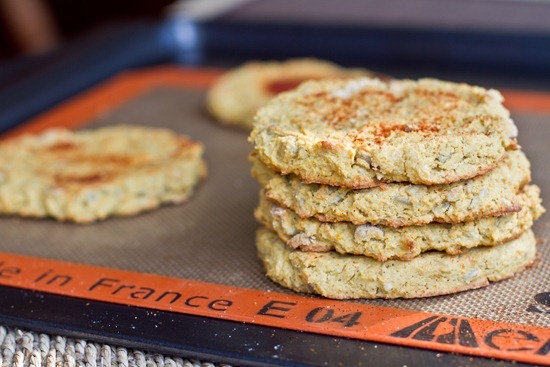 Serve them on a burger patty, in a sandwich, crumbled on a salad, or with a warm pita with your favourite toppings and sauce.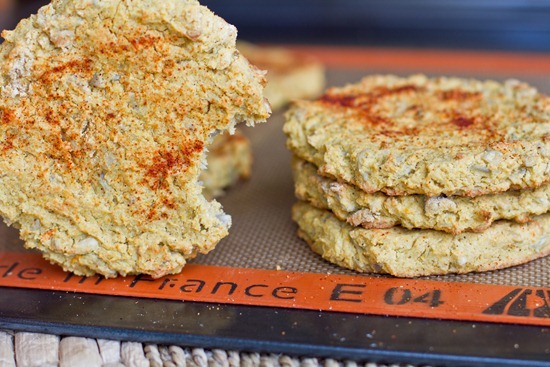 Or, might I sheepishly add…straight from the baking sheet…
I turned into a Falafel Burger Pac Woman after I tried one. ..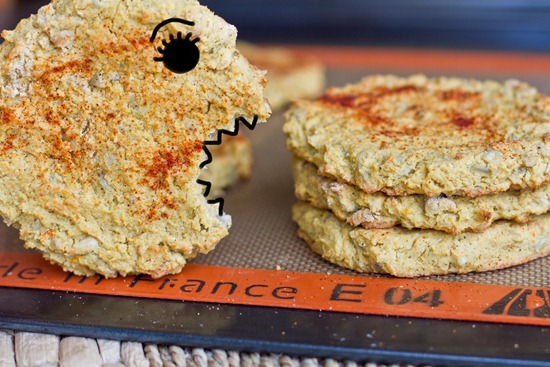 Yum! Thanks Julie. :)
If you are feeling crazy you could always do the Falafel Double Down Version too…by smothering a couple spoonfuls of hummus in between two patties. That is always a favourite of mine with chickpea burgers.
And I think I just heard a bird chirp. March, you are off to a good start!