The other night, Eric and I were cruising the aisles of Home Depot. Also known as, my Favourite Place On Earth.
Or my Least Favourite Place on Earth but I really can't complain. I do drag Eric to Michaels (his Favourite Place on Earth) so it is only fair that he drags me to Home Depot.
Anyways, we were looking to purchase new plug plates outlets for our bedroom. Or whatever one would call those things.
I was helping Eric search for a specific kind of outlet among a sea of outlets and he said, 'I think we should get the baby proof outlets, don't you?'
I stopped and thought about it for a moment.
Finally, I said, 'Are you pregnant!?'
Eric paused for a moment, rubbing his belly. He looked at me with a straight face and said, 'I surely hope not, I haven't been taking my Folic Acid lately!'
And then I almost peed myself.
I think it was the one and only occasion that I have ever had a smile on my face in Home Depot.
[And for the record….no, I'm not pregnant. But Eric might be…]
So while I don't have any buns in the oven, I do have something delicious in the oven to show you tonight!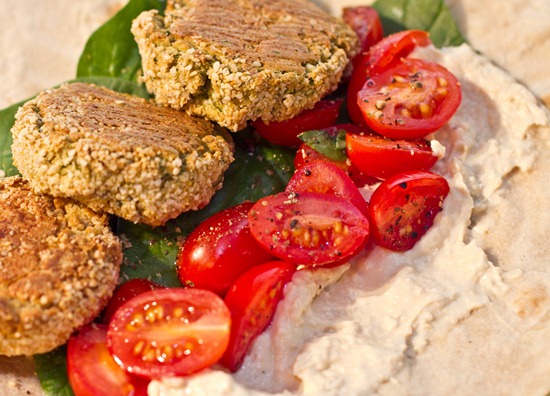 Crispy Chickpea Bites
Despite not being fried, these bites are crispy and have a soft, creamy interior with lots of flavour. I hesitate to call the bites 'Falafel' because they aren't like traditional Falafel, but are perhaps a hybrid between Falafel and a chickpea burger! Did I mention they are super quick and easy to make?
Adapted from Foodista.
Ingredients:
1.5 cups cooked chickpeas
2 tbsp chopped red onion
2 large garlic cloves, chopped
3-4 tbsp flour, to thicken mixture for shaping
1/4 tsp cumin
1/4 tsp coriander
1/4 tsp chili powder
1/2 tsp sea salt
Freshly ground black pepper, to taste
2 tbsp extra virgin olive oil
Roll in breadcrumbs before baking (optional, but I liked it)
Directions: Preheat oven to 400F. Line a baking sheet with parchment. Combine the chickpeas,onion, garlic, flour, spices, oil, and salt, and pulse in a food processor until the mixture is well combined and smooth. Form the mixture into 8 small balls or patties with wet hands. Roll each bite in breadcrumbs if preferred. Bake in oven for approx 30-35 minutes or until crispy and golden. Serve in a pita or wrap with hummus, veggies, tahini sauce, etc. or on top of a salad.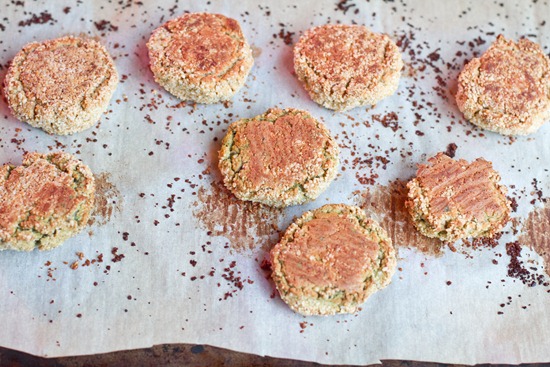 These took me by surprise! I was not expecting much from them, but they were quite addicting. The exterior really crisps up, but the interior stays soft with a texture similar to hummus. They were great on their own, but I really enjoyed them in this tortilla wrap with spinach, tomato, back pepper, and hummus.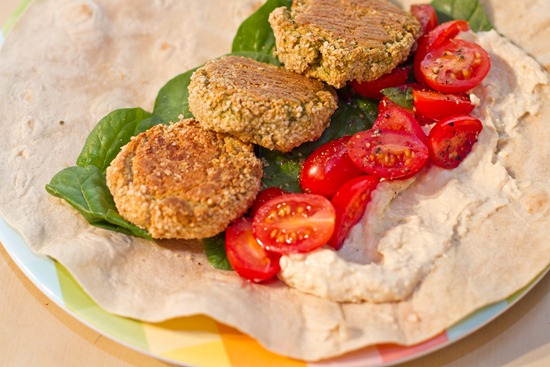 Basically, they are just another vehicle for more hummus. And I'm ok with that.