Bonjour =)
I'm loving the discussion going on in the Daily Glow Graduation Fears…it's honest, real, and inspiring.
On Friday, I was feeling extra motivated (which doesn't happen much in the Winter!), so I decided to get my long run completed a couple days early.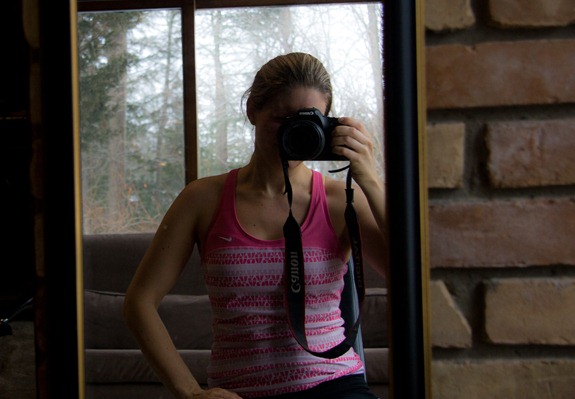 [I was also tickled pink when I found my workout tank that was missing for months!]
I'm up to 8 miles for my long run this week and it felt so nice to check it off the list. I ran the 8 miles at incline 1% in 78 minutes.
Unfortunately, some of the miles ticked by ever so slowly…and I concluded that a long run on the treadmill is a test of mental strength more than anything. I had to convince myself that I could do it over and over and over again. I know I have the physical stamina, I just need to work on my mental stamina while running indoors. And I remind myself that cursing is sometimes necessary.
To help beat the boredom, I watched The Devil Wears Prada and I also did mini-tempo intervals during the run. I started at 6.0 mph and with each 400 metres, I increased the speed by 0.1 mph until I reached 6.6 mph, and then I repeated the interval. It helped for the first few miles, but then I got tired and said to hell with it and ran at 6.0 mph for the rest of the way. lol.
After the run, I was craving a cold, satisfying smoothie.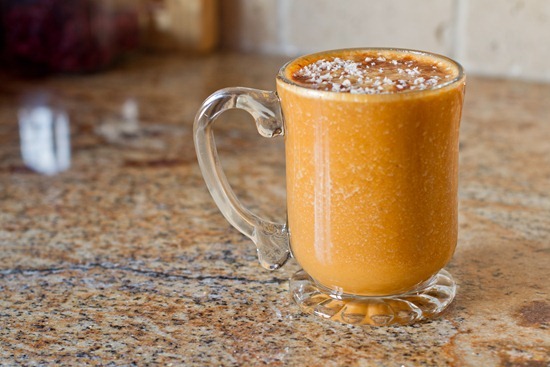 [print_this]
Carrot Cake Smoothie
Yield: 2 cups
Ingredients:
1 large carrot, peeled and chopped into chunks (~1 cup)* see note
1 cup almond milk or coconut milk
1 large

frozen

banana
2 large ice cubes
1 tbsp chia seeds (or ground flax)
1/2 tsp pure vanilla extract
Small pinch of cinnamon
1 tbsp vanilla protein powder

Toppings

: Shredded Coconut, coconut butter, cinnamon
Directions. Throw all ingredients into the blender, starting with the almond milk and blend until smooth. Sprinkle on some coconut, cinnamon, and a dollop of coconut butter if desired. Makes 2 cups.
Note: This recipe works best with a high speed blender as the carrot is difficult to process.
[/print_this]
Do you notice anything sad about this picture below?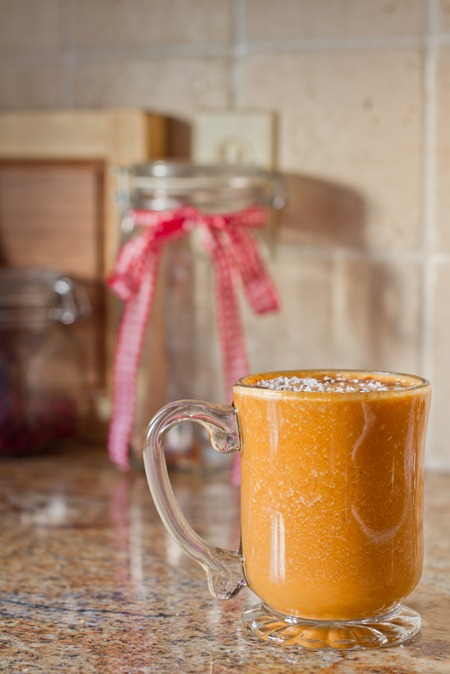 What about now?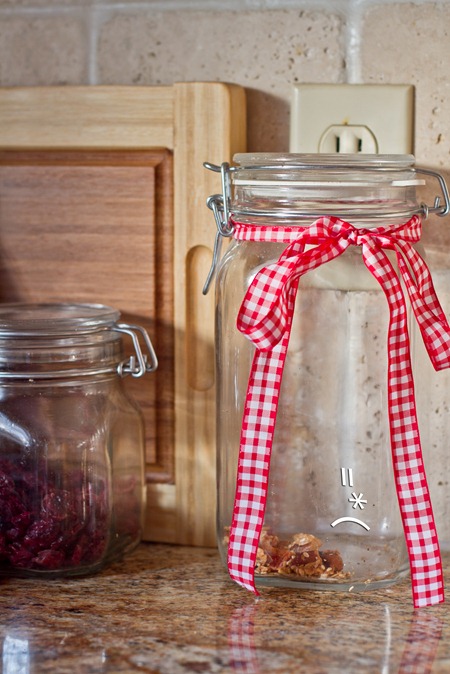 That would be the end of My Favourite Granola stash! Tragic….just tragic, my friends.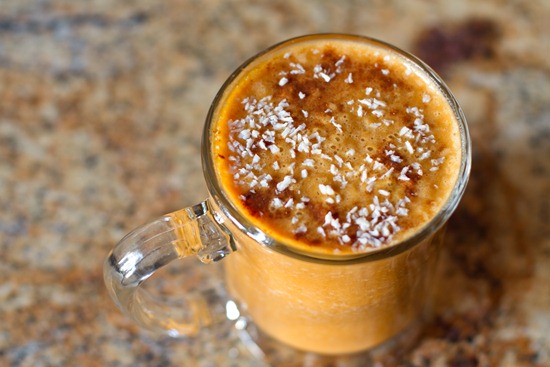 I really enjoyed this Carrot Cake smoothie! It has a yummy carrot cake flavour while packing in 2 servings of veggies. Just make sure you blend it until fully smooth– you don't want a grainy texture from the carrots.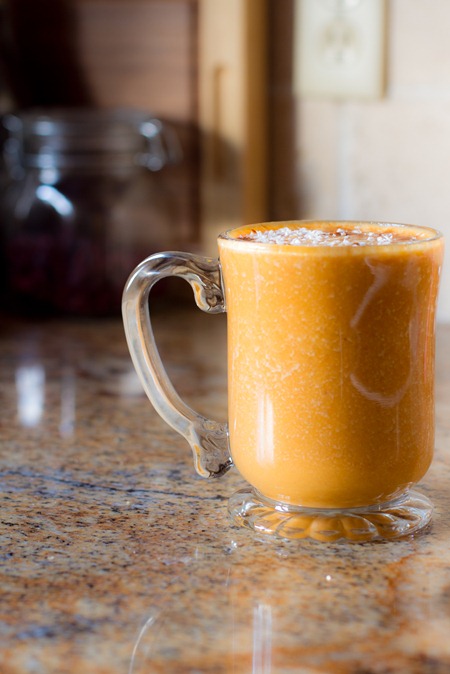 Slurp.
Shower.
My post-run fuel usually looks something like this….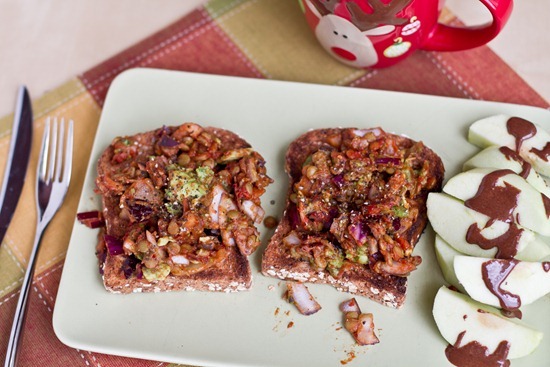 I love open-faced, toasted sandwiches on sprouted grain bread. Did I mention I pretty much only eat my bread toasted? Weird eh? The only time I do not toast bread is when it is fresh baked bread, otherwise I find that sprouted grain bread is wonderful toasted.
I'm currently crazy about Silver Hills Bakery Sprouted grain bread. Anyone tried this brand before? I buy it at my wholesaler, Ontario Natural Food Coop.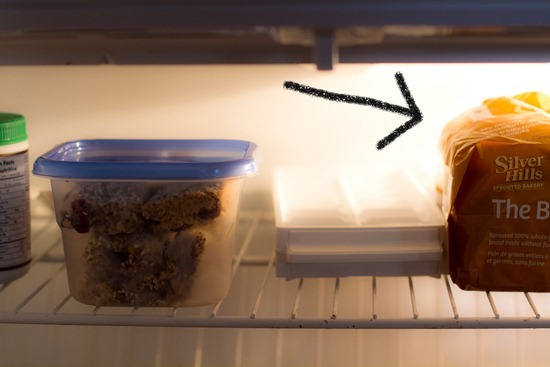 I made some quick homemade guacamole (mashed 1 avocado, squirt of lime, red onion, olive oil, & kosher salt) with some protein-packed lentils and tomato sauce. It was a random, yet incredible combo!
I had it with a sliced apple and the dangerously delicious Chocolate Pecan Butter.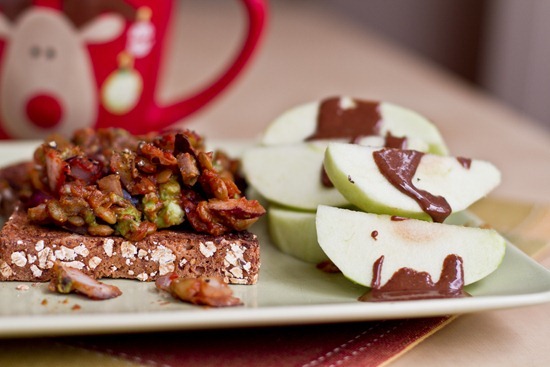 5 minutes to prepare or less. You really can't beat that when you are about to chew your arm off.
One of our dinners last week was this Roasted Sweet Potato and Black Bean Warm Salad, inspired by the amazing (and increasingly veggie-loving!) Mark Bittman.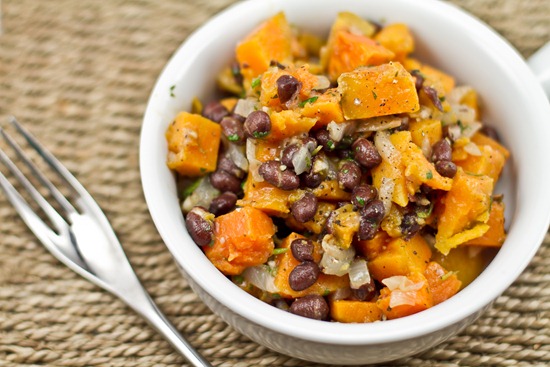 [print_this]
Roasted Sweet Potato and Black Bean Warm Salad
Inspired by Mark Bittman.
Yield: ~4 servings
Ingredients:
3 sweet potatoes, peeled and cut into 1-inch chunks
1 large onion, preferably red, chopped  (1.5 cups chopped)
3 tbsp extra virgin olive oil
1/2 tsp Kosher salt
Freshly ground black pepper
2 cloves garlic, peeled
3-4 tbsp fresh lime juice (Juice of 2 limes), to TASTE!
1/2 tsp cumin
2 cups cooked black beans, drained (14-15oz can)
1/2 cup fresh cilantro, minced (made about 3 tablespoons minced)
Directions:
1. Preheat oven to 400F. Line a large baking sheet with parchment or non-stick mat. Place chopped sweet potato and onion onto baking sheet and drizzle with 1 tablespoon of olive oil. Mix to coat. Season with a sprinkle of salt and pepper. Bake in the oven for 15 minutes, remove and toss veggies to ensure even cooking. Bake for  another 20-25 minutes until veggies are tender and slightly brown around the edges. Remove and set aside. The total time I roasted the veggies was about 37 minutes.
2. Meanwhile, prepare the dressing by mixing the following ingredients together in a bowl: 2 tbsp olive oil, 1/2 tsp kosher salt, 2 minced garlic cloves, 3-4 tbsp fresh lime juice (to taste), minced cilantro, and 1/2 tsp cumin. Now mix in the drained and rinsed black beans and stir well.
3. When the veggies are done cooking, place them into a large bowl. Pour on the dressing and mix well. Serve immediately, warm. Makes about 4 servings.
[/print_this]
These are the changes I made to the original recipe:
I cut down the oil from 1/2 cup extra virgin olive oil to just 3 tbsp (and it still tasted amazing!).
I added ground cumin as this goes well with anything lime flavoured
I used 2 garlic cloves instead of 1
I used a yellow onion because I did not have a red onion
I used 1/2 cup of Cilantro because that was all I had (instead of 1 cup)
It still turned out INCREDIBLE!
First, roast the sweet potato and onion…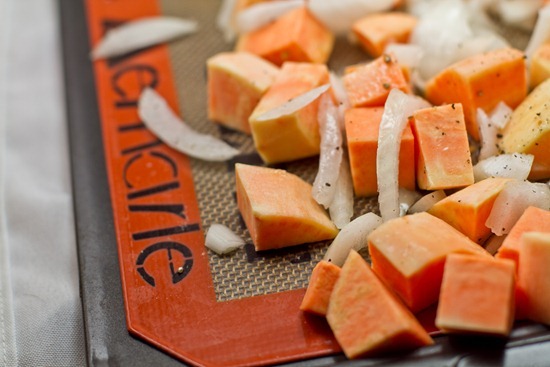 Meanwhile, make the dressing.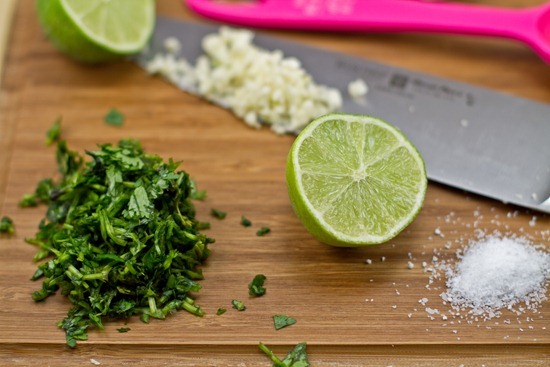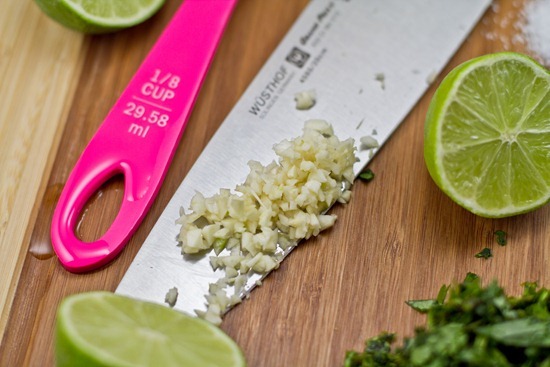 Mix together the lime juice, garlic, minced Cilantro, kosher salt, pepper, and oil.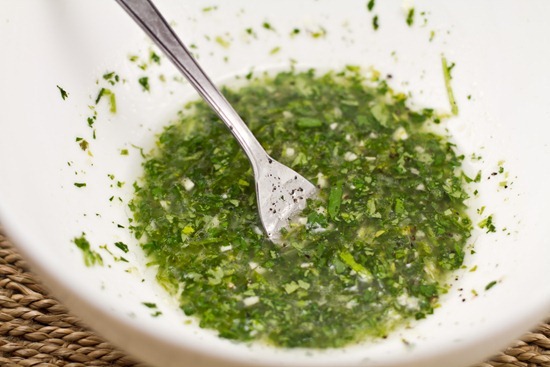 Stir in the drained and rinsed black beans.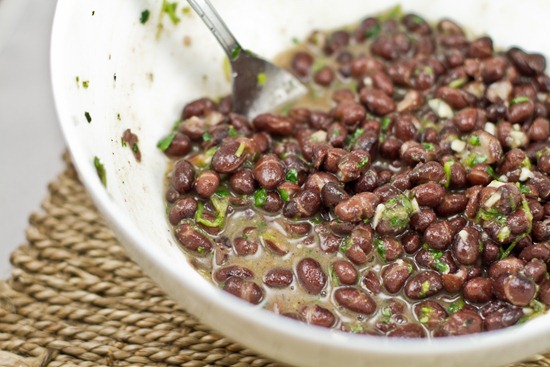 When the veggies are done, mix it all together!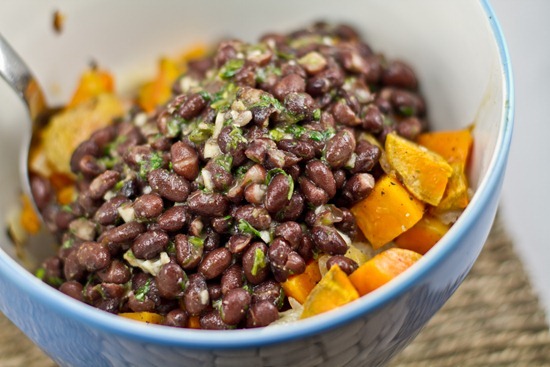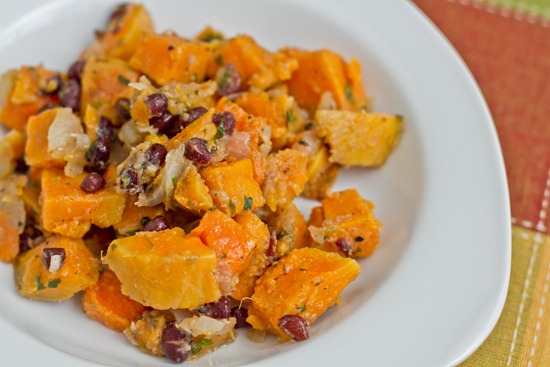 The result is an array of savoury and tangy flavours. It is warm and comforting from the soft bites of sweet potato while the dressing gives it such a fresh and unexpected kick. We just loved it.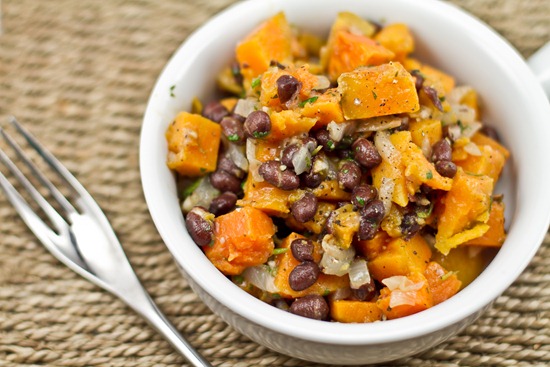 Now if you'll excuse me, it appears I have a little granola issue to address. ;)