Good morning!
HAPPY MARCH 1st!!! Spring is almost here!
I was up late last night (2am) and up very early this morning! I got less than 6 hours of sleep…I hate when that happens. For some reason, I could not sleep for the life of me. I was up at least 3 times last night. So strange how the body works at times!
The Travel Bug:
Last night our friend Jesse came over and we just caught up all night. He just got back from a 2 month backpacking trip to Africa and Europe and he told us some crazy crazy stories from the trip. I mean crazy stories. Some of which I can't repeat, lol. I just love hearing about other's trips away, don't you?
I must admit it REALLY gave me the travel bug again. :) I can only look at our honeymoon pictures for so long until I just want to go somewhere!
Lately, I have been getting all of these emails from Princess Cruise lines with 2 for 1 cruise offers and it is so tempting! Other resorts are all seriously cutting back on their prices too. This next year is definitely the time to travel!
I have been thinking about surprising Eric with a trip this year- either for his birthday or our 1st wedding anniversary (both in August), although the trip itself wouldn't have to be in August necessarily.
Does anyone know some great deals going on travel wise? I have no idea where I would want to go, but the possibilities are endless.
Quick Blog Time Saver:
I find a good trick for me, is to jot down my ideas for each post (or even posts later that day or week) when they come to mind: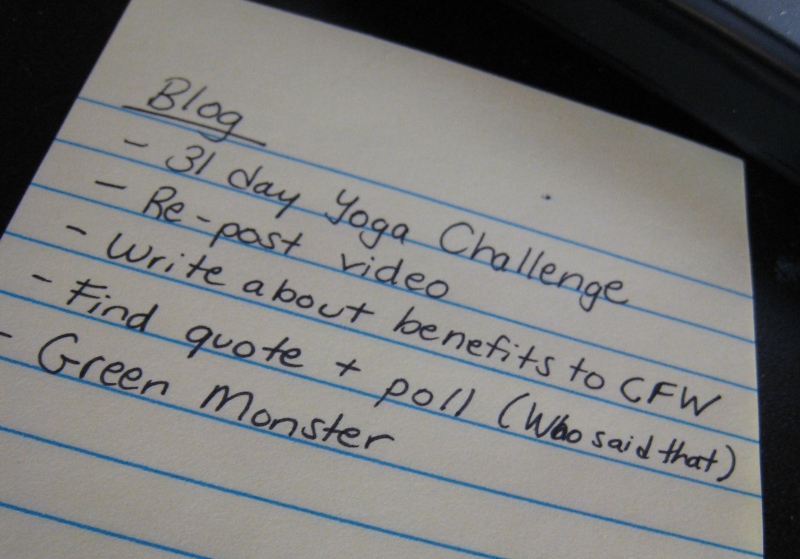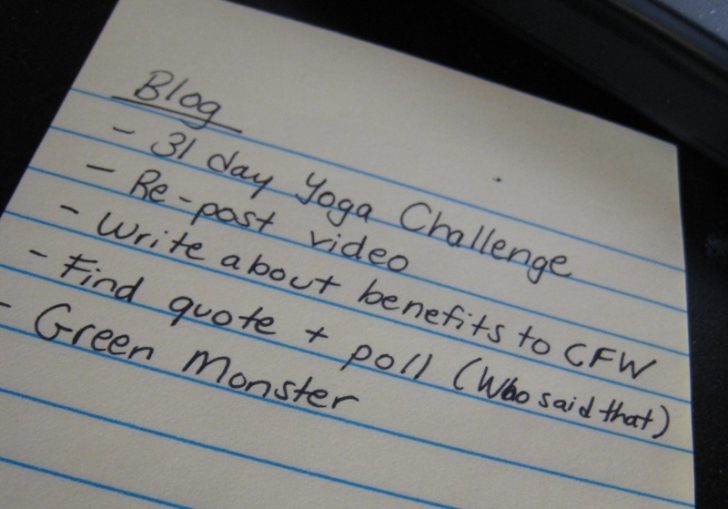 Those were my notes for this morning's post! Sorry, did I ruin the surprise? :) It helps me keep track of various contests going on, shoutouts I need to do, and the like!
Crap Free Week In Review:
Sorry about the video difficulties last night! I don't know what is going on with You Tube, but I have been having major issues with uploading. I have read that others have too. I wonder what is going on? I wasn't even trying to upload music or anything that is restricted.
To recap the benefits from eliminating sugar from my diet, here is what I found:
Less sugar cravings overall
Learned how to satisfy my sweet tooth with natural foods
Less bloating, my jeans fit good again
Improved well-being
Increased energy
Glowing skin, hair, and nails
A big part of the craving is a MENTAL craving! You can beat your mind.
I am now on day 8 of Crap Free Week and still going strong!! Please leave a comment or email me if you are doing a CFW challenge: [email protected].
Green Monster: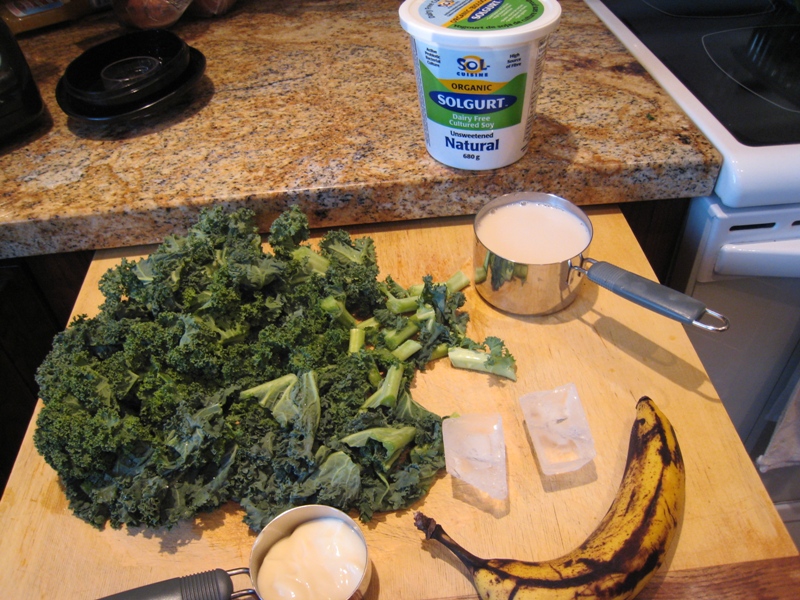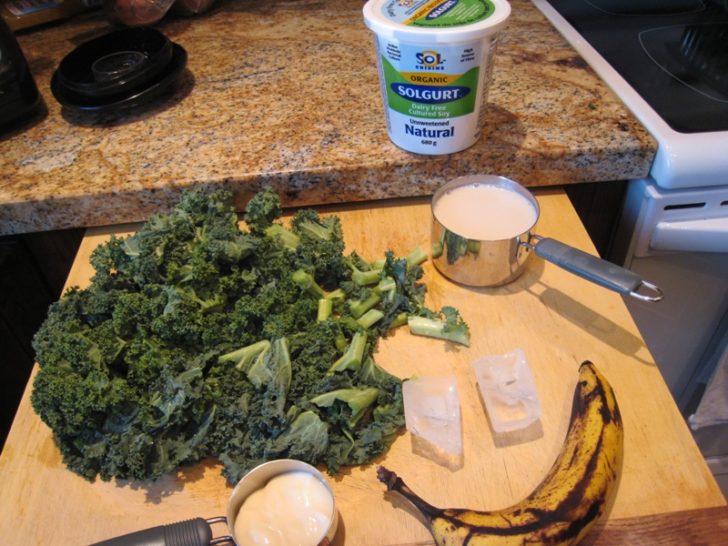 I opted for my fruit + veggie smoothie for breakfast today. I was anxious to try out my first experience with unsweetened Soy yogurt!
The contents:
2 Tbsp Organic Solgurt, unsweetened

1 small ripe banana (Ripe bananas are KEY to smoothies!)

2 ice cubes

1 cup Almond Breeze in Original

6 cups of organic kale (Yes, 6 cups- look!!)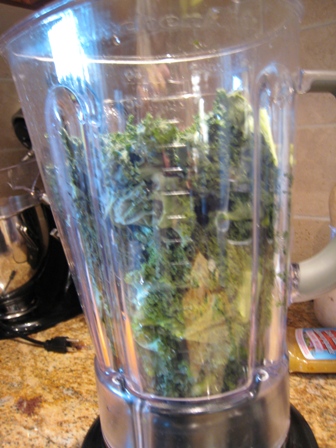 I licked the spoon of the Solgurt– and I must say it was BITTER tasting- almost like sour cream! Although I shouldn't be too surprised since I did buy the unsweetened flavour. What I do like about it is that it has 25% of your daily calcium needs in just 3/4 of a cup!
I don't think I would use this in a smoothie again, but I will definitely be using this as a topping for wraps, soups, sweet potatoes, etc.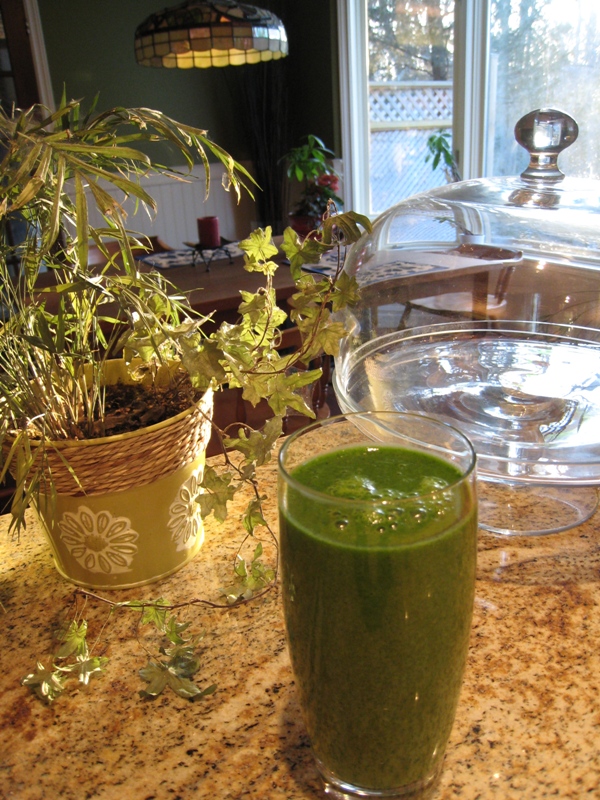 This smoothie was good– although a bit bitter from the 6 cups of kale!
31-Day Yoga Challenge:
The wonderful Tina from Carrots 'n Cake is holding a fabulous 31-Day yoga challenge to motivate herself and everyone else to instill yoga into their regular routines.
I am going to try this challenge! I am not going to be doing yoga every single day, but I am going to shoot for 4 times per week. I won't set a time limit because I don't think that is what yoga is about. I will just do what feels good. :)
Who else is going to try this challenge? Let me know! :)
On today's list:
Glo Bakery Business (create invoices, Develop Excel tracking sheet for receipts/log etc, scan Incorporation application to Brother in Law, log all receipts, etc.)

Meet up with Steve, Joanna, Dave, Ewa, and Gabriela for The National Home Show!

Blog!

Yoga
Have a GREAT March 1st everyone! Don't forget to enter my giveaway for the amazing Jillian Michael's 30 Day Shred workout DVD!
Also check out the fabulous Diana giving away 10 delicious health bars!
Who Said This Quote?
"So lately there's been a lot of crazy press about my weight and just so you guys know I'm happier and healthier than ever so there is no need to worry about me. Things are really well in my world and I've just been watching what I eat."
"I still love my Pilates and yoga, and have cut back on fatty foods a bit. My time in India and Paris really just helped me lose a little bit of weight but there's nothing drastic going on!"
"I just wish the press wouldn't harbor on it as I think it's very unhealthy for young girls to read about and pay attention to."
"To my female fans: Just be happy and secure with yourself and don't let other people's perceptions of you dictate the way you live your life."