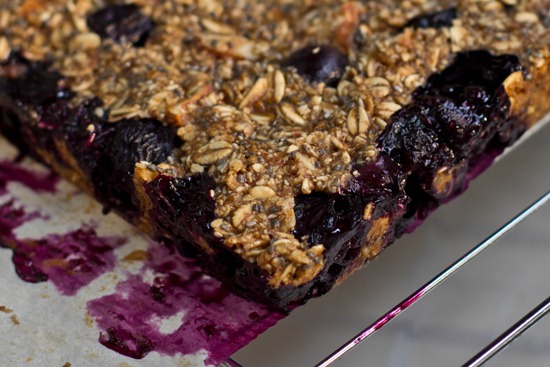 Last weekend, I found myself at the Farmer's Market ogling fresh blueberries.
Before I left, Eric said, "Don't bring back more than you can eat," with a wink. This was surely a challenge.
I left with 2 pounds of blueberries and the complete confidence that I would eat all of them. He obviously doesn't realize that I'm capable of eating my own weight in pretty much any fruit or vegetable. Eric isn't a big blueberry fan, so I knew that I was on my own for this match.
This week, I made Blueberry Banana Pie Vegan Overnight Oats (so amazing!)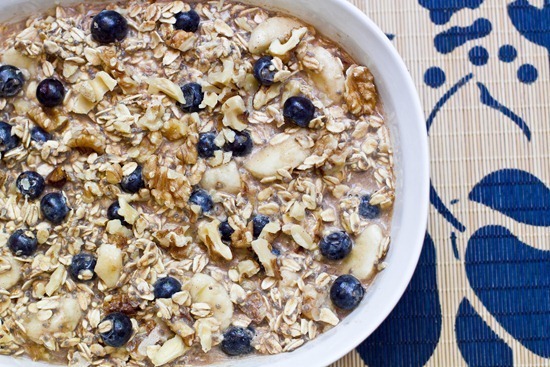 Raw Buckwheat Breakfast Porridge with blueberries and cinnamon.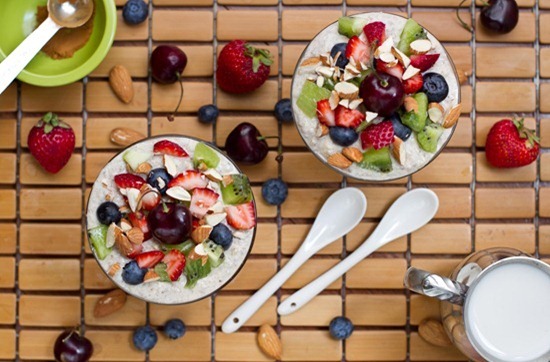 and now, Blueberry Almond Chia Squares!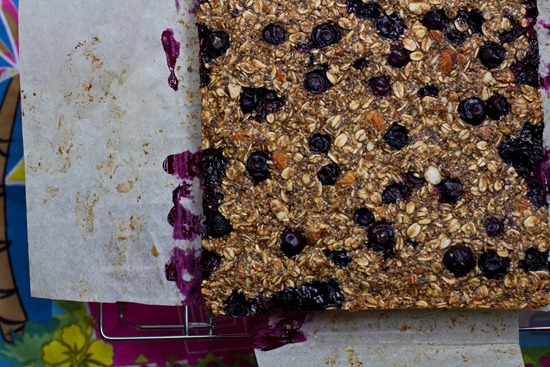 And I think I'm starting to turn blue.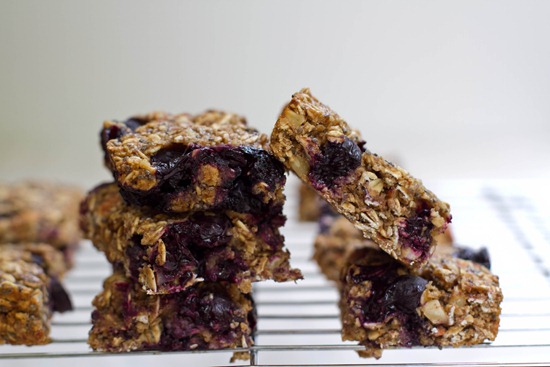 [print_this]
Blueberry Almond Chia Squares
The ultimate gooey blueberry square packed with chia seeds, oats, and almonds! They make a great breakfast square as they are light, healthy, and oil-free thanks to the applesauce.
Note: Some of you commented saying that the bars crumbled. I didn't have this problem, but changing up the ingredients or liquid sweetener may effect the results. Please allow to cool completely before cutting as that will help too. :)
Inspired by Pumpkin Chocolate Chip Granola Bars.
Yield: 12 squares
2 cups regular rolled oats
1 & 1/4 cup oat flour (process rolled oats until flour forms)
1 tsp cinnamon
1/2 tsp kosher salt
2 tbsp chia seeds (ground flax probably works)
1/2 cup Sucanat (or brown sugar)
1 tbsp nut butter (I used almond butter)
1/4 cup applesauce
1/4 cup brown rice syrup
2 tsp vanilla extract
1 tsp almond extract
1 cup fresh blueberries
1/3 cup chopped almonds
1. Preheat oven to 350F. Line a square pan (I used 8" x 8") with two pieces of parchment paper (this is recommended as the blueberries explode!!)
2. In a large bowl, whisk together the dry ingredients (rolled oats, oat flour, cinnamon, chia, salt, and Sucanat). In another small bowl, whisk together the wet ingredients (nut butter, applesauce, brown rice syrup, extracts). Add wet to dry and stir well until throughly combined.
3. Fold in the blueberries and almonds and pour into pan. Spread batter with wet hands and press firmly so it packs together. This will help them stick together.
4. Bake for about 30 minutes at 350F. Allow to cool completely before cutting. Makes 12 squares or however many you want!
[/print_this]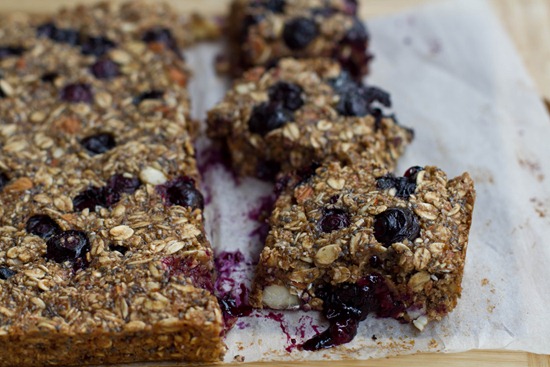 As you can see, the blueberries got all gooey and delicious while baking! They are a soft square with a nice chewy texture laced with gooey blueberry 'jam'. We really enjoyed these and I quickly froze them for my nephews next week.
And I'm seriously craving one after typing up this post! Are blueberry squares good frozen? haha…jk!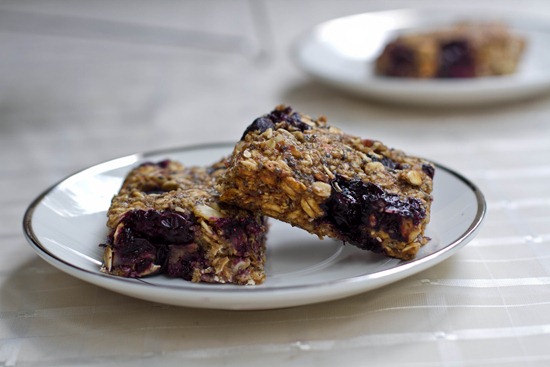 aaaaaaand…because it's Friday and we all like to fool off a bit, I thought I would share a few websites that I'm loving lately!
"Pinterest lets you organize and share all the beautiful things you find on the web. People use pinboards to plan their weddings, decorate their homes, and organize their favorite recipes. Best of all, you can browse pinboards created by other people. Browsing pinboards is a fun way to discover new things and get inspiration from people who share your interests."
If you haven't signed up for an account yet, you definitely should! You can check out my boards here: http://pinterest.com/ohsheglows/ (especially the animal one!!) I created a board for food, travel, photography, fashion, animal, and home décor inspiration. Ahhhh it's just addictive for the creative mind.
[Mom you would love this!!!]
When Eric showed me this website last week, I was absolutely blown away! Kickstarter is the largest funding platform for creative projects in the world. People from all over the world submit their unique project and business ideas and then 'fundraise' to pledgers. Some Kickstarters have raised over $100,000 in funding for their business ideas! The cool thing about it is that the pitchers still retain 100% ownership of their business.
Your guide to buying non-genetically modified products! Amazing, informative website to help you avoid the companies that use GMO's and support the ones who don't.
What websites are you loving lately?