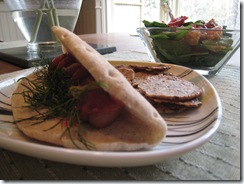 Lunch today was probably one of the best I have had in a long, long time. I feel like I say this everyday, but seriously, believe me this time! :D
While grocery shopping yesterday, I decided to pick up some soy hot dogs. I normally try to limit the amount of processed veggie/soy meats that I consume, but I do allow myself some every now and then!
I bought President's Choice brand because it was the cheapest!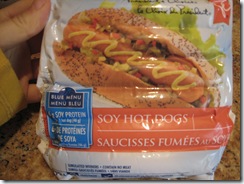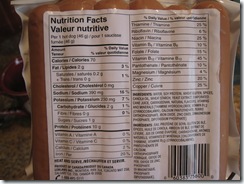 I also tried out my new flatbread hot dog buns! How cool are these??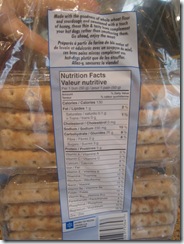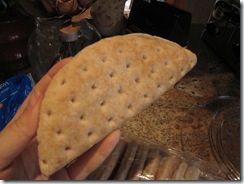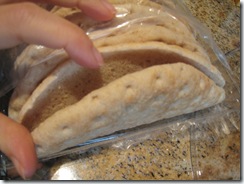 They have 130 calories per bun, which is about 50-70 calories less than the traditional hot dog buns I was looking at.
I made some homemade Ketchup to go with it: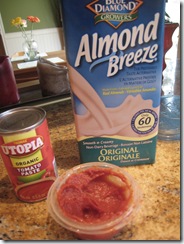 2 T tomato paste
1-2 t your choice of milk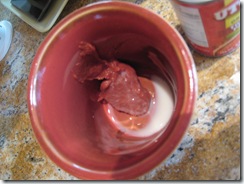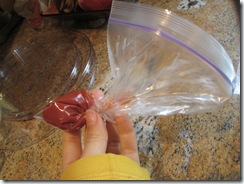 Mix together, add a pinch of salt if you prefer, and put into a baggie for 'piping':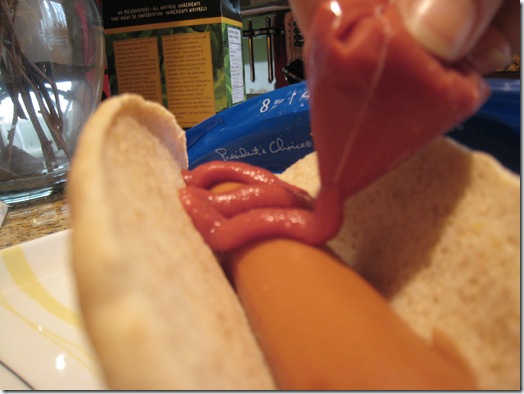 I pretended I was decorating a vegan cupcake. *grins*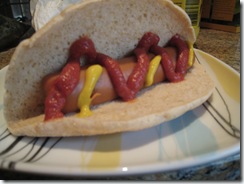 With fresh dill (yup, still going strong!)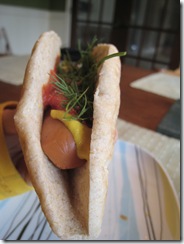 And leftover walnut, cranberry, spinach, pepper, tomato salad: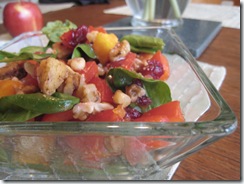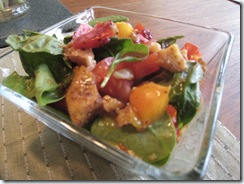 And an apple and Mary's Crackers: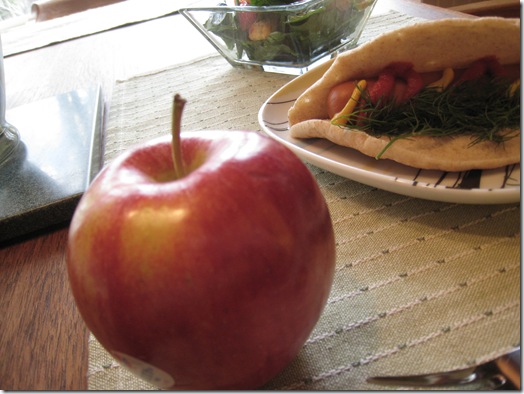 So satisfying.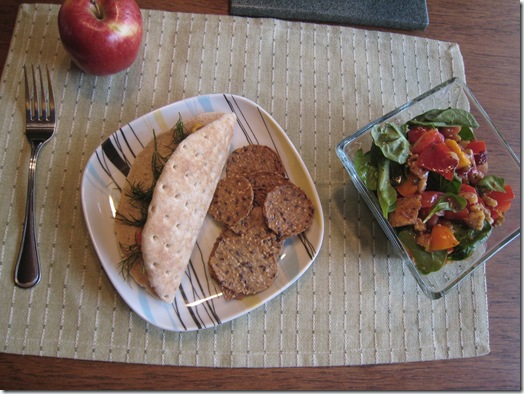 I absolutely am smitten by this salad combination. If you have never put cranberries and walnuts in your salad I strongly suggest trying it! It was off the hook delicious and crunchy and sweet!
I also really enjoyed the hot dog buns (much as I did the flatbread hamburger buns from last night!). So fun!
As for the PC brand soy dogs, I honestly couldn't tell the difference between those and the more expensive St Ives ones. Always nice!

Time for some more interesting blog talk!
Missed Part one? Part two? Part three?
Today's installment is on:
Friends, family, and significant others: Their thoughts on your love for the blog world
Recently I was talking to Jen from Eating Bender about my recent installments on blogs and the pressure that readers or other bloggers feel to keep up. I asked Jen this question: What do you think the next installment should be on? And this is what she said:
It might be interesting to pose a question to bloggers/blog readers about how their family and friends who DON'T read blogs react to them spending time in the blog world.
Umm…heck yea!
I know for myself, when I first started reading food blogs I didn't announce it to the world. I honestly thought that people would have a negative reaction about it or think it was weird. About a year later, I finally decided to take the plunge and start my own blog.
I was really nervous about what my family would think of it, but to my surprise the feedback has only been super positive.
I only recently got the nerve to post my website links on my Face book account. I just felt so weird that others would be able to read about what I was doing day in and day out. Slowly but surely though, I am getting used to it. I haven't gotten any negative feedback from any family or friends which is really reassuring. I'm not sure why I thought I might, but I guess you never know what someone is going to think. I also have been contacted by many friends that I had lost touch with too! All and all I don't regret opening up at all. Once I got over it I realized that all of us are going through many of the same struggles each day!
It just made me realize that if I follow my heart and my passions I can't go wrong. I get emails everyday from people thanking me for opening up about all sorts of body image and eating disorder issues, and that alone keeps me going even when I feel scared or vulnerable.
Eric and I have had a few discussions about it and I have made it a point not to offend him, or my family, with my blogging.
For example, when we have family here the blog is off limits unless they are out or have gone to bed! Secondly, I try to not blog when Eric is around. In other words, time that we would normally spend together I try not to take away with blogging. This has made me super efficient with blogging. In the beginning, Eric admitted to me that he felt a bit jealous with the time I spent on my blog, so I really had to step back and figure out a way to make it all work. Windows Live Writer has also saved me tons of time.
So Jen and I are curious:
1) Have you told any family or friends about your love of blogs? Why or why not?
2) What kind of response did you get and why do you think that was?
3) If you have a blog, did you tell your family/friends about it or do you prefer to keep it private? Why?
4) Do you keep your blog private from your co-workers? Or would you share with co-workers your love for health blogs?
5) Have you posted your blog link on Facebook?
I am super excited to read all of your amazing thoughts on this interesting topic!! :)