Good Friday to ya!
Well, we are back on Canadian soil. We got home late last night and finally got to bed around 1:45am. I opened my suitcase and the sunscreen spray had exploded over a bunch of my clothing and now I have blue-stained clothes as a blue dress rubbed on some clothing (and I think they are ruined). :( Wasn't the best way to end the trip! Anyone have any tricks on getting blue dye out of clothes?
Yesterday morning we had plans for a run + bike tour of Sanibel Island. I had a delicious grapefruit, loose leaf green tea, and Glo Bar as my fuel.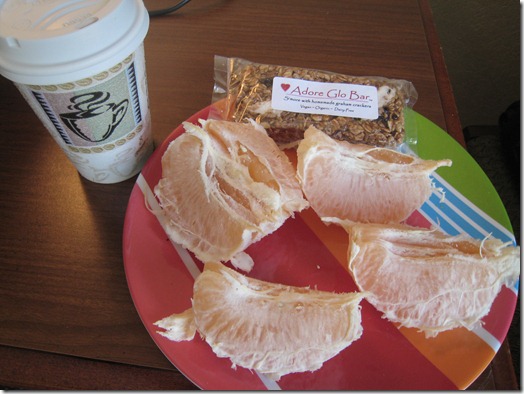 I filled up my Camelbak and we were off to the bike rental shop so Eric could rent a bike for a couple hours. The sun was shining and we were really excited to see more of the island. We had a destination in mind- Bowman's Beach– which we knew was quite a trek, so we decided to see how it went and go from there. I find that sometimes having a destination in mind when I run is a huge motivator, rather than just saying 'I am going to run x miles today'.
We were off!
There is a huge bike path on the island that is around 25-30 miles long. Everyone and their dog rents bikes on the island and uses them for their mode of transportation!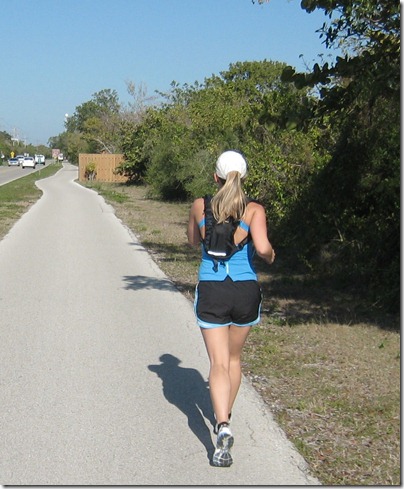 We left around 9am and it was around 20C, but it quickly warmed up. That sun got hot! Thank goodness I had my Camelbak.
After approx 6 miles we arrived at Bowman's Beach! It took us approx 54:35 minutes.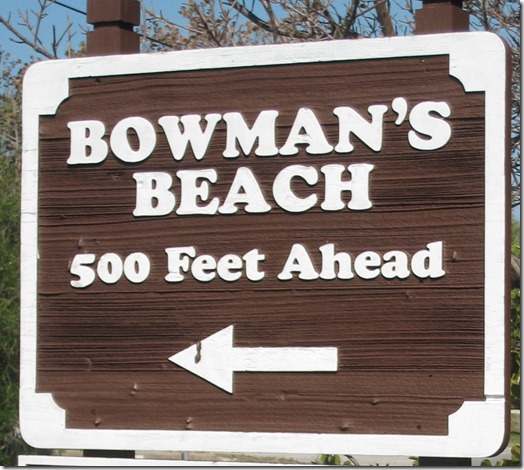 The beach was already quite busy for it being so early in the day.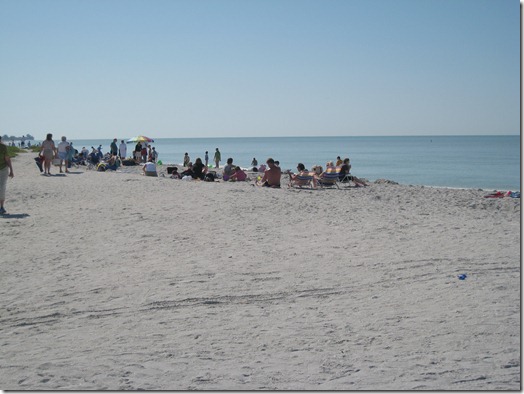 We only stayed for about 5 minutes since we were on a time crunch yesterday. I put back my sneakers on and we were off like a heard of turtles.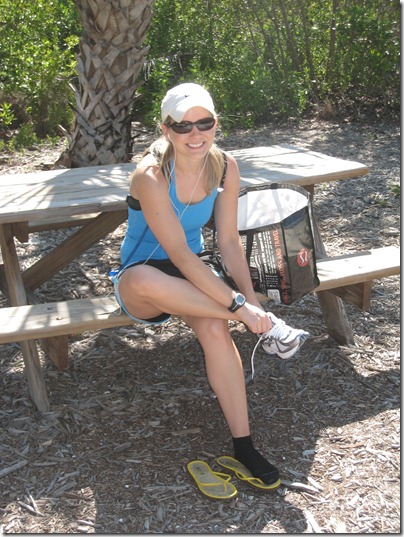 The run back was very challenging. It was hot, hot, hot. For motivation, I told myself that once I got to the Wildlife preserve I could stop and take a break. This helped push me through those few miles at the start when I felt like quitting. After 35 minutes we got to the Wildlife Preserve and we stopped and took a break in the shade.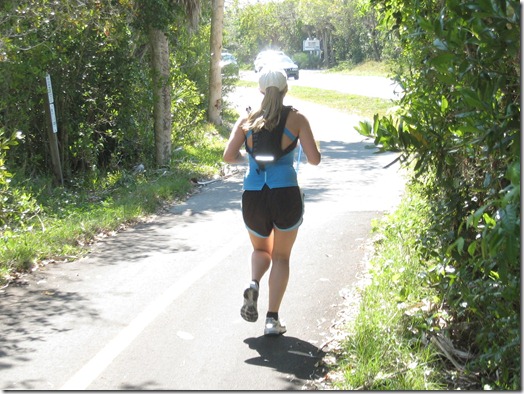 I put on a power song on my Shuffle and we made it back to the car feeling quite accomplished after touring approx. 12.12 miles of the island in 1 hour 49 minutes and change. It was a fast long run for me no doubt because there wasn't one lick of a hill along the route! I am going to have to amp up my hill training in the next couple months. ;)
We came back to the hotel and I tried coconut water to replenish!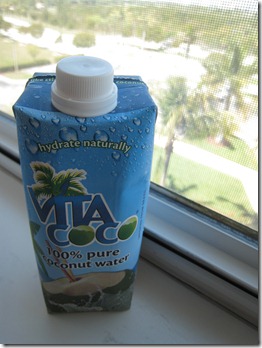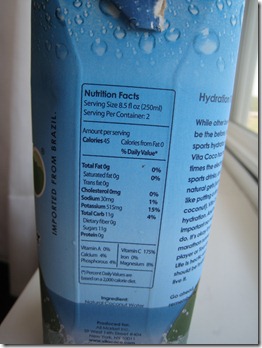 I thought the taste was not great at first, but then I got used to it and I quite liked it. I felt so hydrated after drinking this! Although, I think the point is to drink it during a workout and not after? Regardless, it was needed!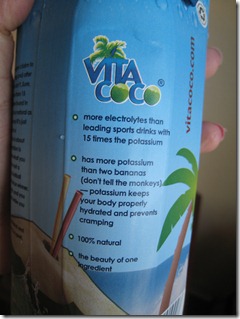 I also had lunch made with the food we had in the room. It was similar to yesterday's lunch.
We got a late checkout at our hotel for 3pm and then we had a few hours to kill before going to the airport. We checked out Tanger outlets near our hotel and we picked up our niece and nephew a little something for our Easter get together this weekend!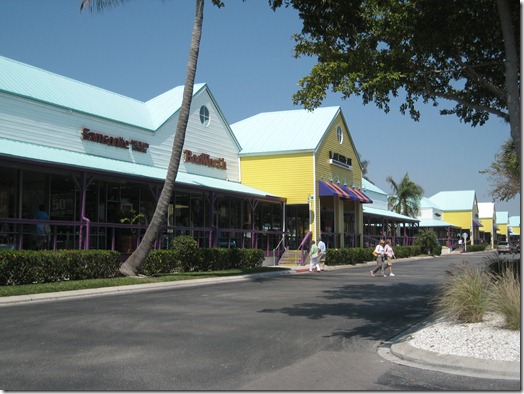 After that we had dinner at a place called 'Chef Brooke's Natural Cafe' in Fort Myers.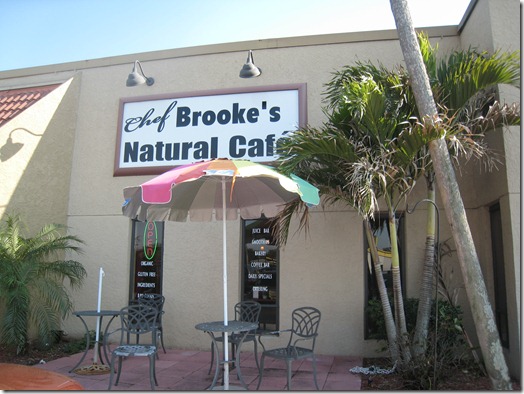 I was surprised to walk in and find that the cafe wasn't busy. I was also surprised to find out that they were closing soon (5:30pm) and after 3:30pm they are only open for take-out, which meant that we had to choose our meal from pre-made items in the fridge.
It was a bit strange and I was slightly disappointed not to be able to order from the menu (which was huge!). I asked about their hours and the latest that they ever stay open is 5:30pm. I think this cafe could do amazing if they were open for dinner…such a shame!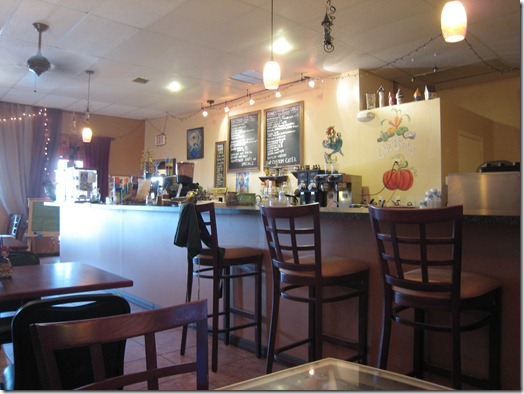 I ordered the hummus, quinoa, and tabbouleh wrap. Brilliant!!! I was sooo hungry from the long run too.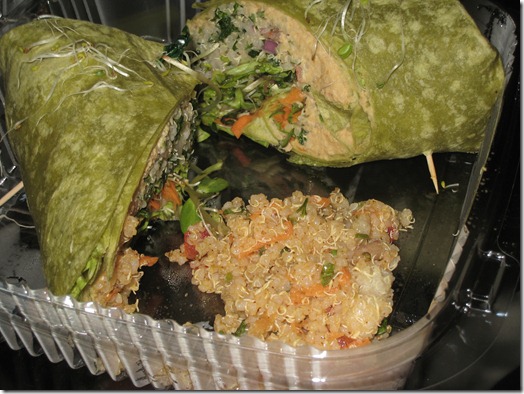 Awesome.
Eric had the chicken veggie wrap…which he inhaled.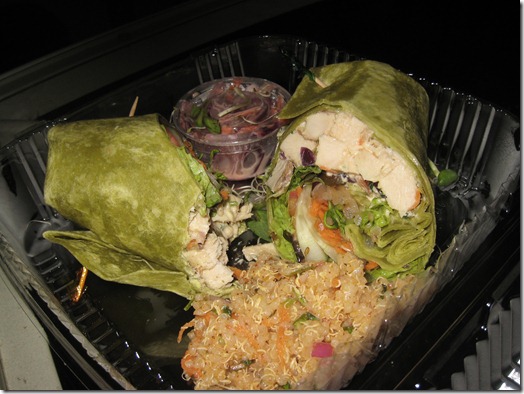 I also had a fresh juice called 'Green Goddess' :mrgreen: It had kale, dandelion, chard, spinach, cucumber, lettuce, celery, green apple, ginger, and lemon.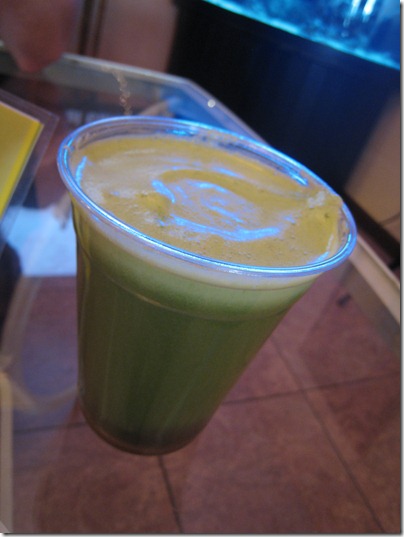 This baby was packing some Green MONSTA! Meow. It was not sweet at all. Eric got the Esoteric Elixir which has pineapple, apple, and celery.
I thought this card was a cool idea…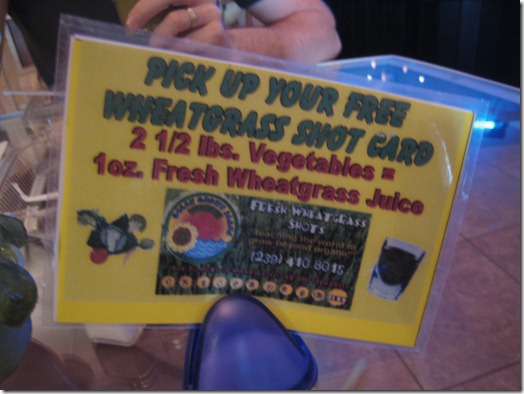 All and all the food was amazing and we were happily on our merry old way to the airport.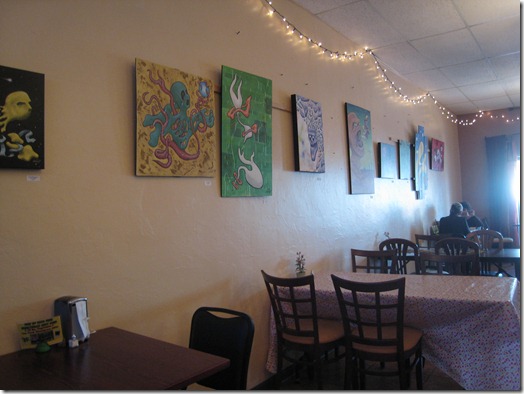 We had such a wonderful trip and did not want to leave! Floridians sure do have Southern Hospitality. ;)
Oh want to know something funny? One thing Eric and I noticed that many people do around Florida is push their tiny dogs around in strollers!!!!! We saw this in Fort Lauderdale, Naples, and Fort Myers. I have not seen this around home at all. Have you guys seen this before? I thought it was quite funny!!!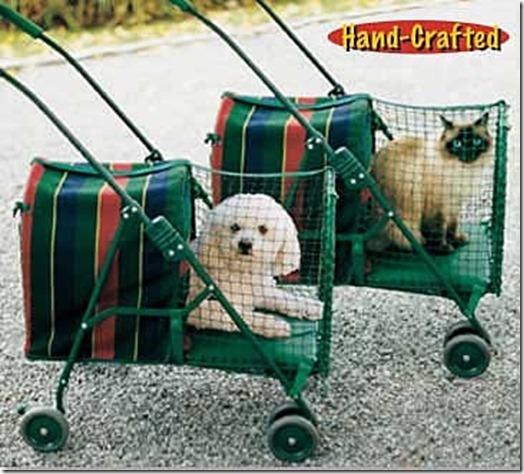 [source]
Today is a huge catch up day as you can imagine. I feel a bit overwhelmed. I promised myself when I went on vacation that I would not check emails and I only checked it once or twice in the past 2 weeks! I have about 500 emails to go though now and I am a bit scared!!!! I also have a huge stack of paper mail + bills for Glo Bakery to attend to…plus laundry, cleaning, etc. I also need to track my workouts in my Spring Training Plan which I forgot to do. I need to log all my mileage.
On a more fun note, we are also hoping to get outside today as it is supposed to be 25C/77F and sunny. Whohoo! :)
Let's make today's question a fun one…I am curious to see what you think-
Dogs in strollers- would you do it, why or why not? What about cats? :)
Stay tuned for a fun race announcement!