Oh, long weekend, we will miss you dearly!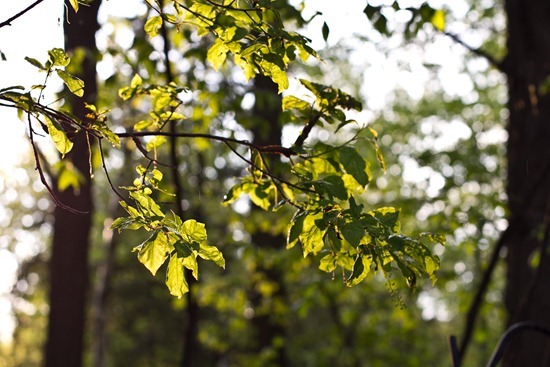 It rained yesterday on and off but we still managed to get some work done outside. Eric finished installing the railing posts and he started the fascia boards along the edge. It gives a lovely polished effect!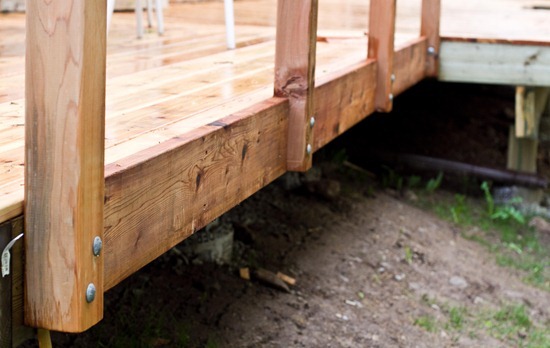 Meanwhile, I tended to the garden beds while the worms tended to my soil. ;)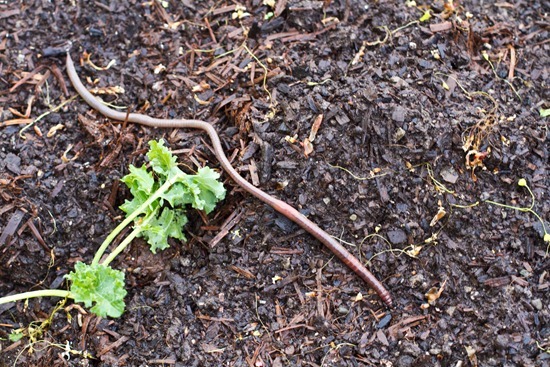 We also put together my new compost bin that was a birthday gift from my in-laws.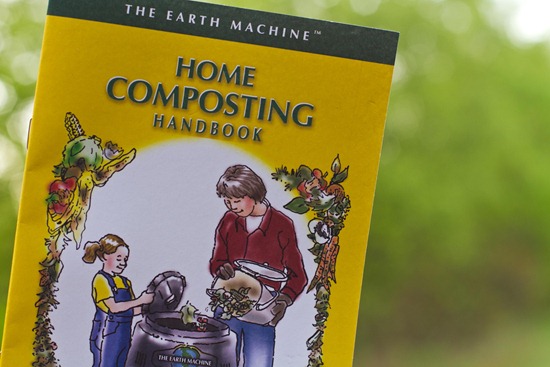 She's a beauty, isn't she? I believe my transition into a tree-huggin, hippy, vegan is now complete. ;)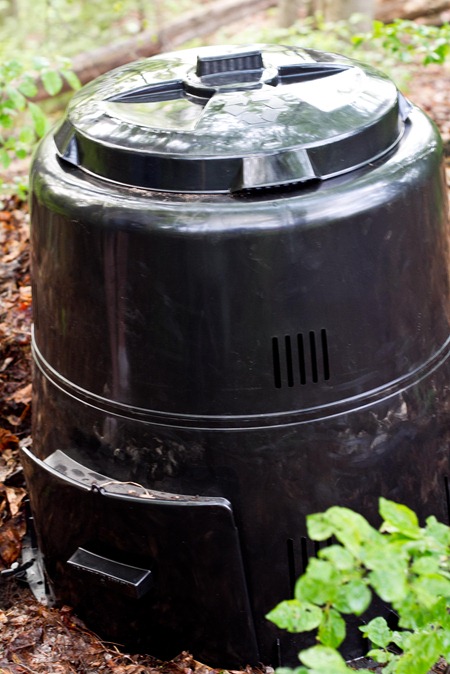 A compost bin can cut your waste by over 25%, according to the manual. I would guess that our compost is at least 50% of our 'waste'…vegans go through a lot of compost materials in a week! Our area has a separate compost collection in addition to blue bin and garbage pick-up, but I'd rather use it for the garden anyday.
Thankfully, the rain stopped and the sun came out just in time for the BBQ. While Eric worked his magic, I prepared a lovely asparagus and potato salad.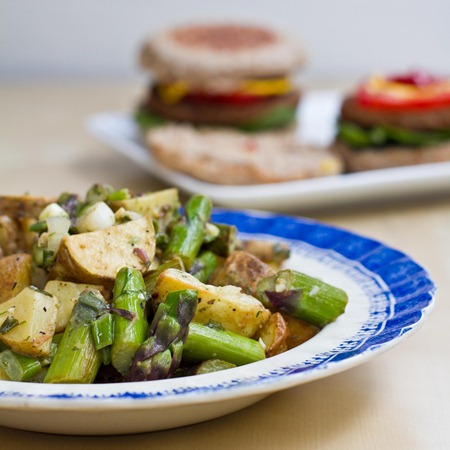 I adapted the recipe from a pamphlet by Foodland Ontario. I picked it up when I bought the local asparagus and I had my eye on the recipe all weekend long!
The directions said to steam the potatoes and asparagus, but I decided to roast the potatoes in a bit of olive oil, salt, minced garlic, and pepper. They are just fantastic prepared this way and their flavour really pops.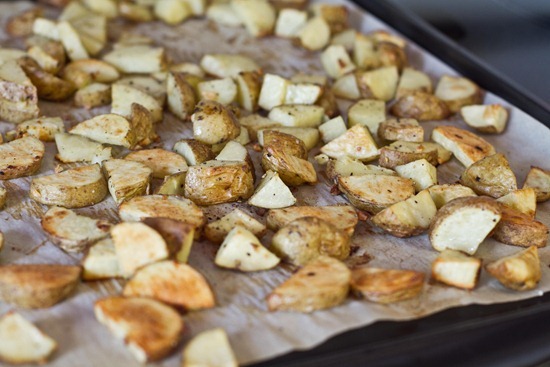 Meanwhile, I made the dressing and I was able to cut down the oil by 80% with a few minor adjustments.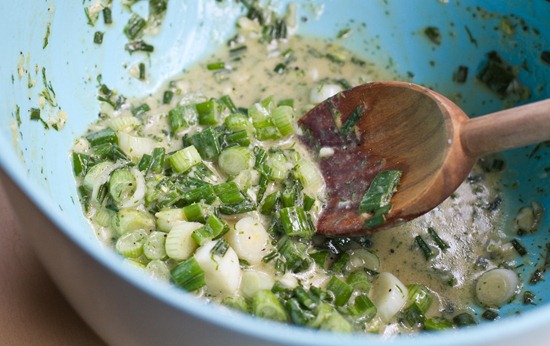 I used some fresh chives from the garden…along with fresh dill, green onion, Dijon mustard, lemon juice, garlic, etc. The dressing has a great kick to it!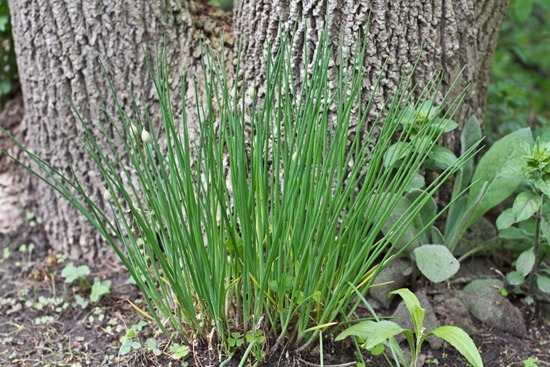 I also sautéed the asparagus in a little olive oil and Herbamare just before the potatoes were finished baking.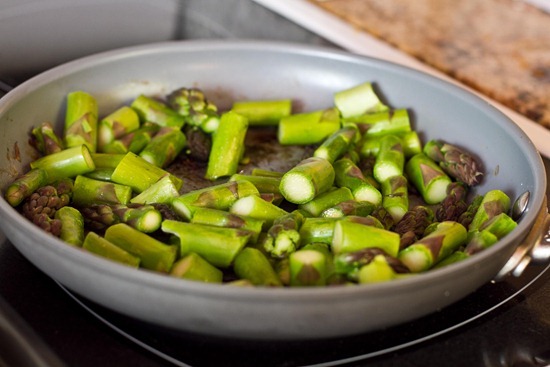 Then, all you do is mix everything together and you have yourself a delicious warm asparagus and potato salad to enjoy with a BBQ.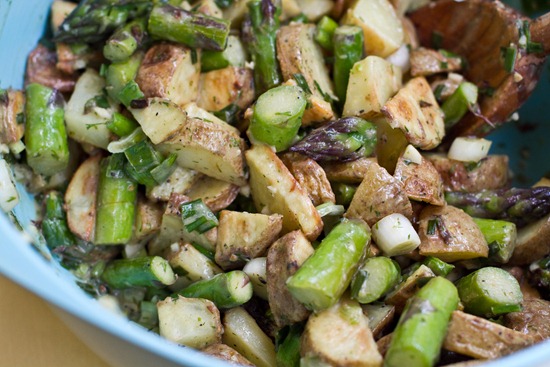 We also debated grilling the potatoes and asparagus on the BBQ, but we ran out of space because our BBQ is small and has a flame coming through on one side….don't ask. Our friend gave it to us for free. ;)
The burgers: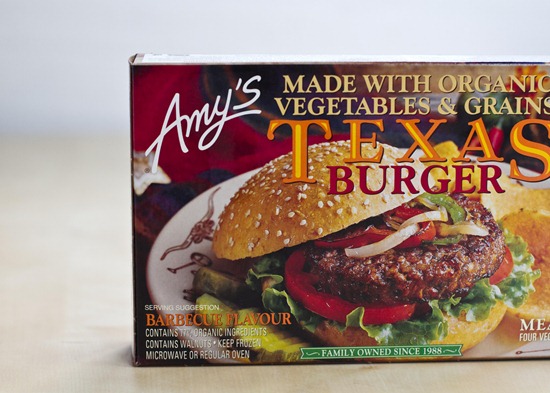 These Amy's burgers are good, but they are their best when grilled on the BBQ. They are an 'omnivore-friendly' veggie burger and everyone always seems to enjoy them. Sometimes Eric also BBQ's beef or chicken, but he was out and the stores were closed for the holiday.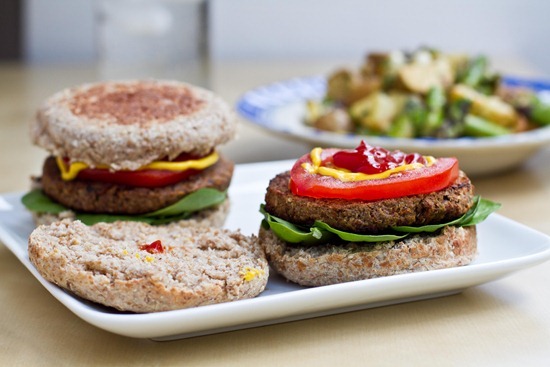 My first shot…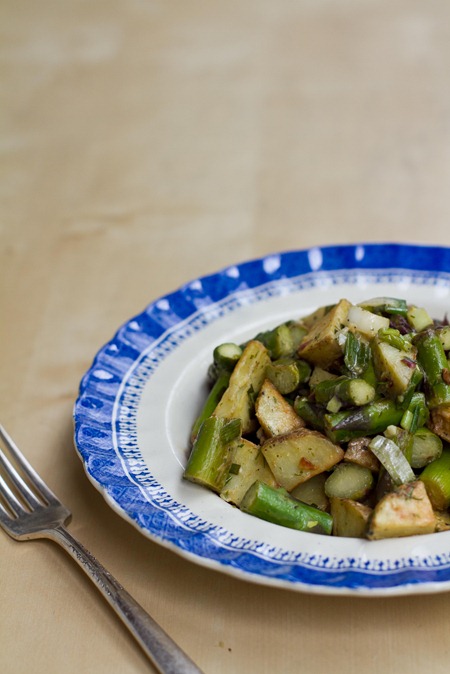 (notice all the empty space in the photo)
My last shot…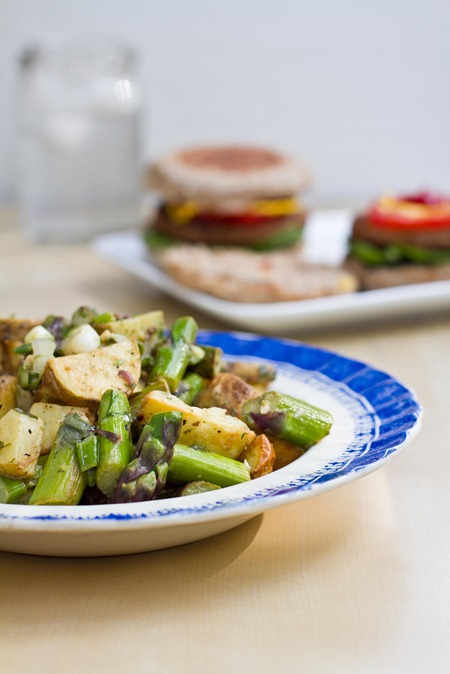 (space is filled in the background) 
The potato salad was divine. This was my first vegan potato salad and I was really impressed. Normally, I'm not a big potato salad fan, but this recipe changed my mind. Probably because it wasn't drenched in mayonnaise and served cold. :)
If you are looking for a fun & delicious warm potato salad I definitely recommend this one.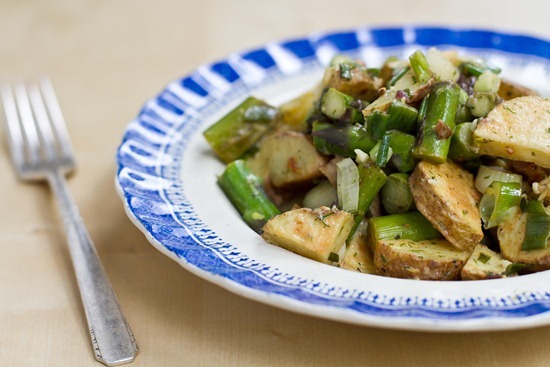 [print_this]
Asparagus and Potato Salad
Adapted from Foodland Ontario.
Yield: about 4-5 servings
Roasted Potatoes:
2 lbs potatoes (I used organic Russet), washed & chopped into 1" pieces
2 tsp extra virgin olive oil
1/2 tsp kosher salt
Freshly ground black pepper
2 garlic cloves, minced
Dressing:
1 tbsp extra virgin olive oil
1/4 cup fresh lemon juice (about 1 lemon)
1 tsp lemon zest
2 garlic cloves, minced
1 tsp kosher salt
1.5 tbsp Dijon mustard
1 tbsp water
1/2 tsp maple syrup (see note below)
1/2 tbsp nutritional yeast (optional)
1/2 tsp freshly ground black pepper
2 tbsp fresh chives, finely chopped
2 tbsp fresh dill, finely chopped
1 bunch green onion, finely chopped
Sautéed Asparagus
1 bunch asparagus, ends broken off and chopped into 1" pieces
extra virgin olive oil + 1/4 tsp Herbamare (or salt), for sautéing
Directions:
1. Preheat oven to 425F. In a large bowl, mix together the potatoes and seasonings. Lay on a baking sheet lined with parchment or non-stick mat. Roast for 30 minutes, tossing once half-way through baking. Set aside.
2. Meanwhile, prepare the dressing by mixing all the dressing ingredients together in a medium-sized bowl. Set aside.
3. Sautee the asparagus in a little oil and salt over low-medium heat for about 8 minutes, until tender and crisp.
4. Mix the potatoes, asparagus, and dressing together in a large mixing bowl and season to taste. Serve immediately, warm. Makes about 4-5 servings.
Note: I used just a touch of maple syrup to balance out the dressing. You could also use a touch of sugar or other sweetener. Or simply do not use it at all. I thought it balanced it out really well and you couldn't detect the maple.
[/print_this]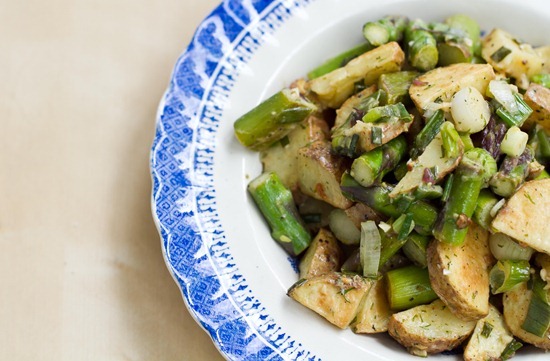 Off to tackle the work week. Happy Tuesday!