A few months ago, a blog reader asked me if I could share some lunch ideas to help her get out of a rut. That's when it hit me that I was in quite the lunch rut myself too. I sent her some of my go-to lunch ideas (when I'm not in a rut, that is) and then I used this as a nudge to start creating more balanced lunches. As added motivation, I've been sharing lunch snapshots on Instagram because I thought it might be helpful for others in need of inspiration. I personally love seeing what other plant-based people whip up for breakfast, lunch, or dinner. Sometimes you just need that one moment of inspiration to spark a new idea!
I have a couple main goals when making lunch:
1) They have to be quick to throw together. My secret is to rely on leftovers for most of my lunch. I'm not ashamed to admit I love leftovers. I think they're big time savers and well, I can't argue with the foods that taste even better the next day (like soup or chili). To me, the beauty of putting so much time and effort into food prep is that you get to enjoy the fruits of your labour the next day or two without any mess, dishes, or hassle. Leftovers rule! And if I get sick of any particular leftover, I just freeze it for another time…no big deal.
2) I aim for lunches that are packed with nutrition to fuel my day and keep my energy high. This doesn't always happen, but it's definitely something I shoot for most days.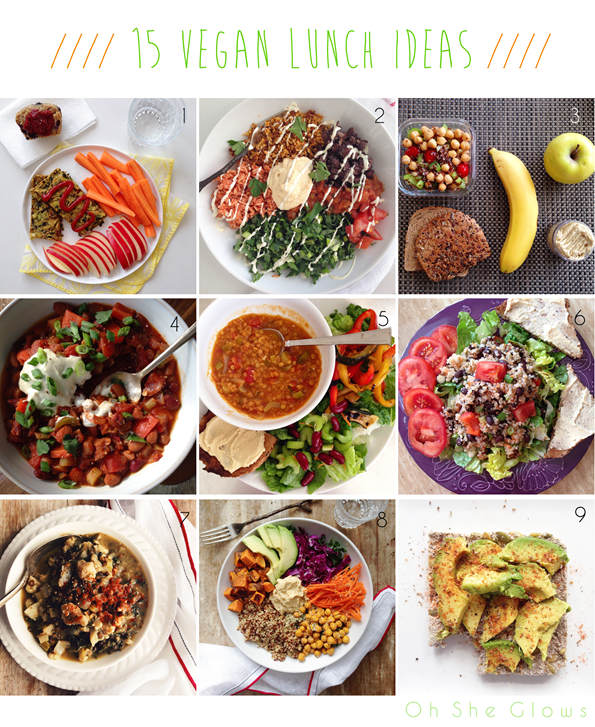 Here are a handful of my favourite lunches from the past couple months, as shown above. I apologize for the photo quality – all photos were snapped on my phone. I'll also share some other lunches I love in the list below.
1. Chickpea Quiche (new recipe I'm working on) + sides, sliced Gala apple, sliced carrots, Blissful Blueberry Banana Spelt Muffins with Strawberry Chia Seed Jam.
2. Big Burrito Bowl inspired by my Raw Taco Salad. It features a sun-dried tomato walnut "meat", shredded kale, salsa, spiced tomato rice, green onions, black beans, and hummus. Divine!
3. Travel Meal: This is a meal I packed for travel last week. It includes a simple chickpea salad I threw together with balsamic vinaigrette, two slices of seedy spelt bread, hummus, apple, and a banana.
4. Leftover bowl of My Favourite Vegan Chili with Vegan Sour Cream. Perfect on a cold winter day!
5. Leftover soup, specifically my favourite Spiced Red Lentil, Tomato, and Kale Soup! With a huge side salad and toast with hummus. I love this lunch!!
6. A huge "kitchen sink" salad topped with leftover Cumin Lime Black Bean Quinoa Salad and hummus toast on the side.
7. Leftover bowl of cauliflower-potato-kale-lentil soup I was testing last December.
8. The Big Vegan Bowl! Packed with roasted chickpeas, sweet potatoes, quinoa, hummus, carrots, avocado, sliced cabbage, and more.
9. Avocado toast served on top of my Super Power Chia Bread.
Other lunch ideas not shown above:
10. Almond/Peanut/Sunflower Seed Butter and Chia Seed Jam on toast with fruit and veggies on the side
11. Ultimate 4-Layer Vegan Sandwich
12. Loaded Savoury Oatmeal
13. Wraps stuffed with crumbled veggie burgers or leftover casserole/burrito filling + veggies
15. Easy Flaked Almond "Tuna" Salad – a reader favourite!
Ok, that's all for now. I hope this list gives you some inspiration! Be sure to let us know in the comments what your favourite go-to lunches are.
Happy Friday!