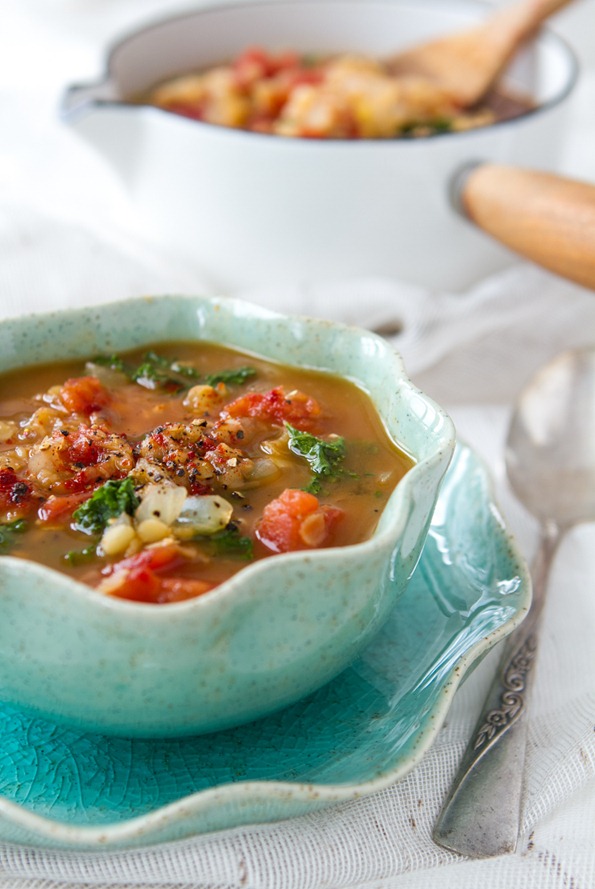 This is the kind of soup with broth that tastes just as good, if not better, than the actual add-ins. Is it normal to want to guzzle the broth? Well, it is now, my friends. It's actually a miracle I have any taste buds left because I've burned my tongue so many times since dedicating the last two weeks for cookbook soup makin'. After concocting 6 different soups and stews my freezer is very happy. Just don't open it because you're likely to get pummeled in the face by glass Tupperware. I was never one for patience and organization, but I can make a mean soup.
Chili powder, cumin, coriander, smoked paprika, and cayenne pepper create a downright irresistible flavourful broth bursting with nutrition. I tell ya, it'll clear your nose in no time. Have tissue nearby! While it does contain a medley of spices, I wouldn't say it's overly "spicy", unless of course you go crazy with the cayenne pepper. I just added a bit of each spice at a time and tasted, adjusted, tasted, adjusted. That's the beauty of soup – the recipe is never set in stone. Go wild.
Since most vegetable soups don't hold me over very long, I added a cup of red lentils to amp up the protein (and fibre). Red lentils are one of my favourite ingredients to add into basic soups! They take a mere 15 minutes to cook and it's all made in one pot. No pre-cooking. No soaking. They also "fluff up" (technical term) and add a lot of body to the broth. This soup went from having almost no protein to over 10 grams per serving. Add a hunk of bread/crackers + piece of fruit and you have yourself a nice little meal to enjoy with loved ones.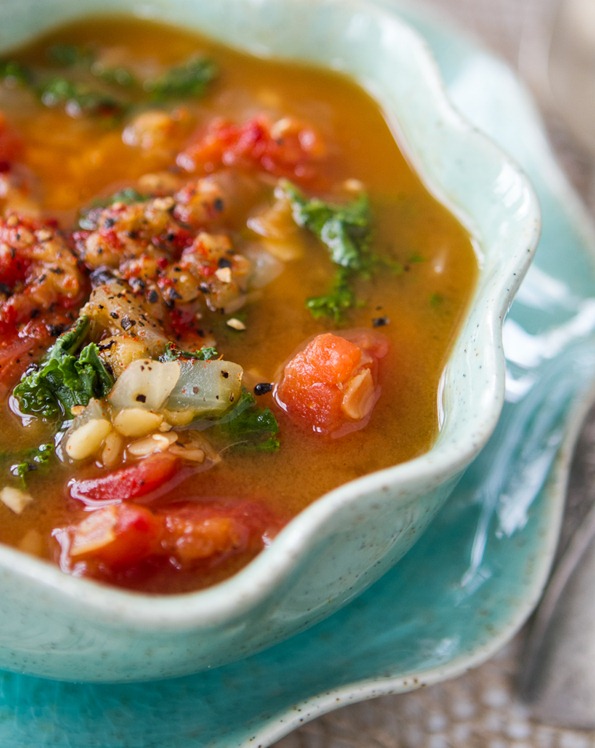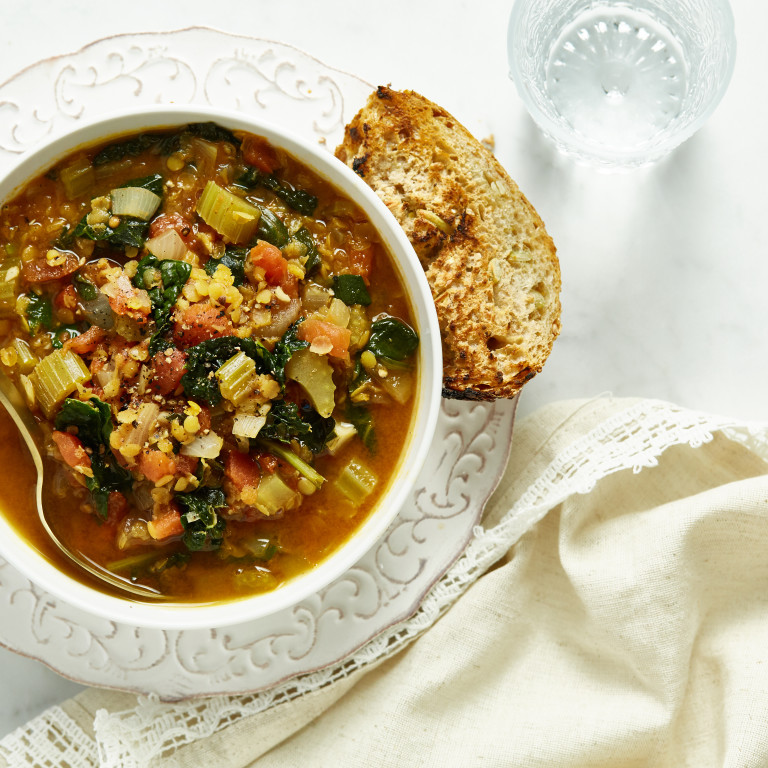 Spiced Red Lentil, Tomato, and Kale Soup
Vegan, gluten-free, nut-free, soy-free

Yield

6 cups (1.4 L)
Prep time

Cook time

Total time

A flavourful, quick-to-prepare vegetable soup amped up with protein and fibre-packed red lentils. It's so good you'll want to drink the broth!
Ingredients
1 tablespoon (15 mL) extra-virgin olive oil
2 large garlic cloves, minced
1 sweet onion, diced
3 celery stalks, diced
1 bay leaf
1 1/2 teaspoons ground cumin
2 teaspoons chili powder
1/2 teaspoon ground coriander
1/2 teaspoon smoked sweet paprika, to taste
1/8 teaspoon cayenne pepper, or to taste
1 (14-ounce/398 mL) can diced tomatoes, with juices
5 to 6 cups (1.25 to 1.5L) low-sodium vegetable broth, as needed
1 cup uncooked red lentils, rinsed and drained
Fine grain sea salt and pepper, to taste
3 handfuls destemmed and chopped kale leaves or baby spinach
Directions
In a large pot, sauté the onion and garlic in the oil for about 4 to 5 minutes over medium heat. Add in the celery and sauté for a few minutes more.
Stir in the bay leaf and the spices (cumin, chili powder, coriander, paprika, cayenne).
Stir in the can of tomatoes (including the juice), broth, and lentils. Bring to a boil, reduce heat, and then simmer, uncovered, for about 20 to 25 minutes, until lentils are tender and fluffy.
Stir in kale or spinach and cook until just wilted. Serve and enjoy! The cooled soup can be stored in an air-tight container in the fridge for 3 to 5 days, or you can freeze it in a freezer-safe container (leave 1-inch at the top for expansion) for 1 to 2 months.
Tip:
*

This soup is even more satisfying when served with a hunk of toasted bread.
Nutrition Information
(click to expand)
…and in the words of Stephanie Tanner, whoa baby!