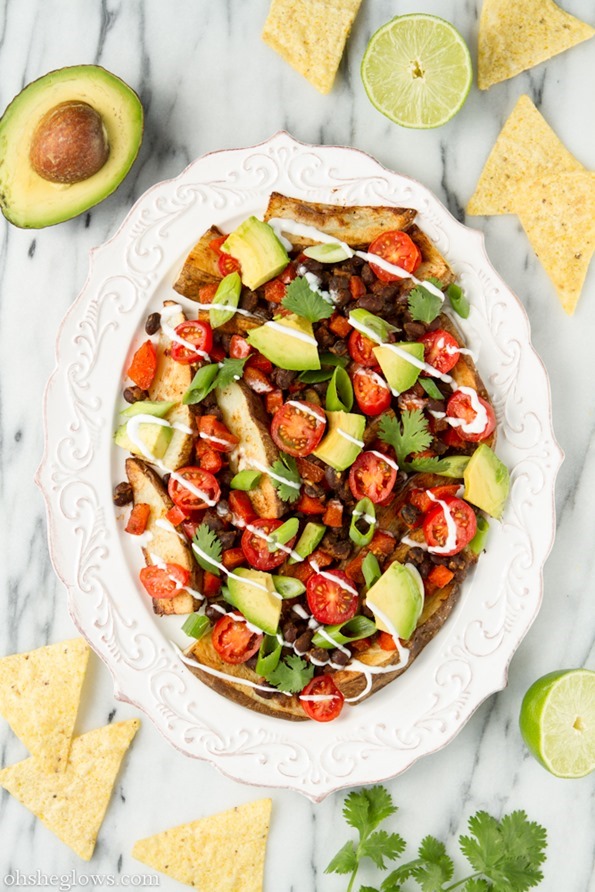 This is the meal to make when you have no idea what to make.
Or when winter is over, but spring produce still hasn't peaked (I'm looking at you, wimpy asparagus!).
This is the meal to make when you just want to devour a huge plate of nachos and call it dinner.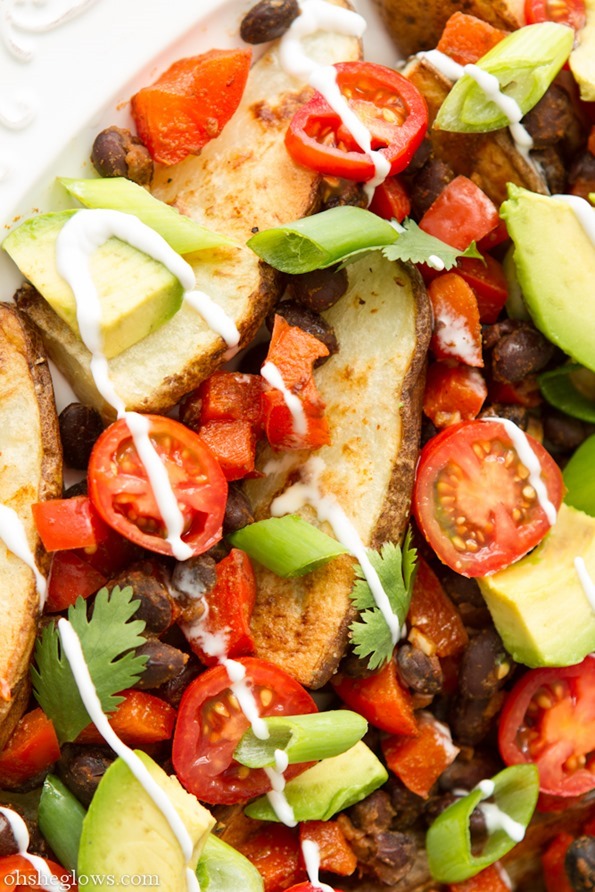 Or lunch. Breakfast. Snack. whatever!
First we need to make big, crispy potato wedges. Sweet potatoes are fine too, but they don't get nearly as crispy and are kind of mushy when baked into big wedges. You could also use store-bought fries in a pinch. Eric is in love with Alexia's Sweet Potato Puffs (have you tried those?) and insists they would be perfect in this recipe.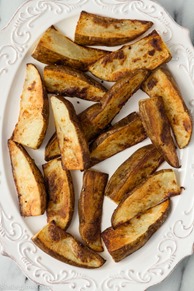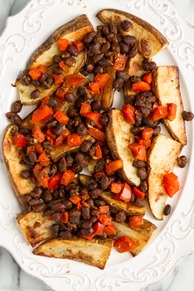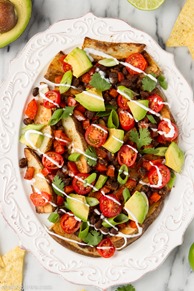 While those are baking, sauté a simple skillet mixture of red onion, garlic, bell pepper, black beans, and seasonings.
Finally, layer on any toppings that tickle your fancy – I used avocado, cashew cream, green onion, tomatoes, and a squeeze of lime juice.
I dare you not to devour this.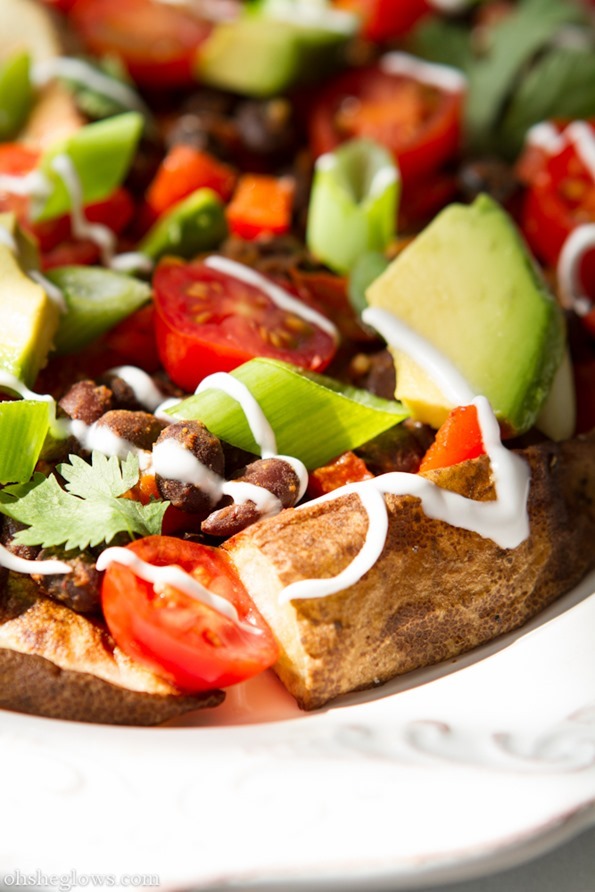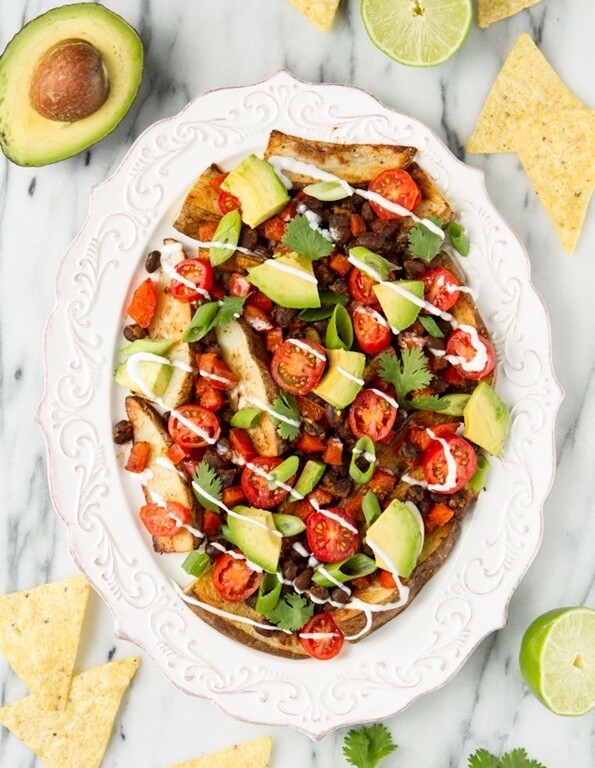 Black Bean and Potato Nacho Plate
Vegan, gluten-free, soy-free

Yield

3 servings
Prep time

Cook time

Total time

Homemade crispy potato wedges smothered in a spicy black bean mixture with avocado, green onion, tomato, cilantro and corn chips on top.
Ingredients
For the potato wedges
2 medium Russet (baking) potatoes, sliced into wedges
1 tbsp grapeseed oil or melted coconut oil
Sea salt and freshly ground black pepper
Few pinches of chili powder
For the black bean skillet mixture:
1/2 tbsp oil
1 cup chopped red onion
2 garlic cloves, minced
1 red sweet pepper, diced
1 (15-oz) can black beans, drained and rinsed
2 tsp ground cumin, or to taste
1 tsp chili powder, or to taste
Fine grain sea salt, to taste
For the toppings
Tomatoes/salsa, cilantro, avocado, cashew cream, corn chips, green onion, etc
Directions
Preheat oven to 425°F. Wash and dry potatoes but do not peel. Place onto a large baking sheet lined with parchment paper and toss potatoes with oil. Sprinkle generously with sea salt, pepper, and a few pinches of chili powder.
Bake fries for 13-15 minutes at 425°F. Flip potatoes and roast for another 15-20 minutes or until lightly golden brown.
Meanwhile, heat a large skillet or wok over medium heat. Sauté the onion, garlic, and pepper in the oil for about 7-10 minutes or until the onion is translucent.
Stir in the drained and rinsed black beans, cumin, chili powder, and salt to taste. Continue to sauté for another 5 minutes. Set aside until ready to use, reheating just before serving.
Prepare your desired toppings.
Reheat bean mixture as fries come out of the oven. When fries are ready, place onto a large serving plate or you can serve it directly on the warm pan. Spoon on warm bean mixture (I had a cup or so leftover), followed by toppings like avocado, cilantro, tomatoes or salsa, fresh lime juice, cashew sour cream, green onions, and/or corn chips. Serve immediately. Store any leftover beans in the fridge for 1-3 days (they are great on wraps!).
Nutrition Information
(click to expand)