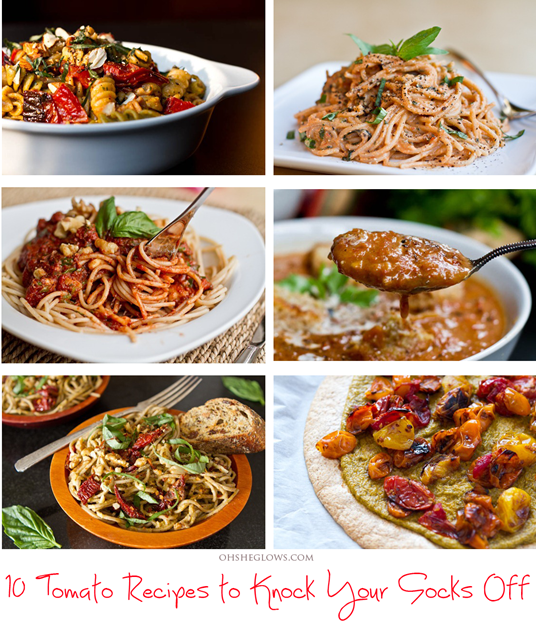 It's time to face the cold hard truth: tomato season won't be here for much longer. That is, unless my freezer has anything to say about it! Out of all the summer vegetables (or is it fruit?), I think tomatoes are the ones I mourn the most when the season is over. There's nothing worse than a flavourless winter tomato with it's pale flesh and icy, dry appearance.
In the meantime, I'm trying to convince Eric it's a good idea to buy the fifty-some-odd-pound bushel of tomatoes I saw at the market last week. He just can't see the vision yet. I have visions of pasta sauces, pesto, salsa, and tomato jam dancing in my head…
To celebrate the tomato, I've compiled a list of my 10 favourite recipes to date.
Get 'em while you can!
This pesto is bursting with seasonal flavours and nutrients. It's also quite low in oil thanks to the roasted tomatoes adding body and flavour. I left the almonds chopped and it adds a nice texture that is great mixed into pasta or spread on a toasted sandwich.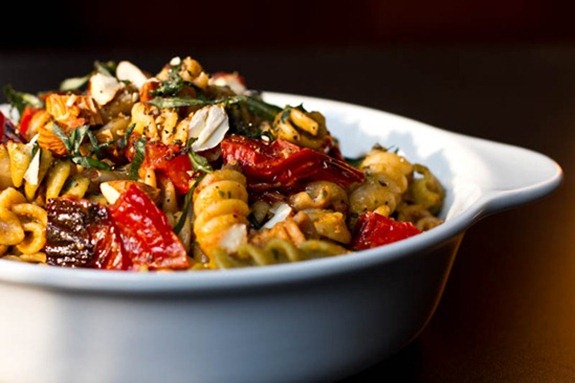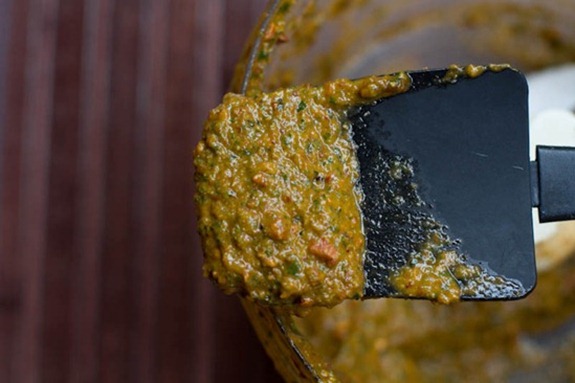 Creamy, flavourful, and downright irresistible…no one will be able to tell there isn't any cream in this pasta!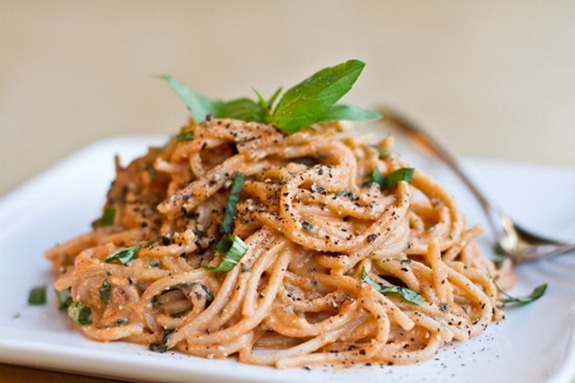 A wonderful soup to transition from end of summer into Fall. It packs a bounty of summer flavours, with a warming comfort for those cooler summer evenings. We added a handful of vegan cheese, chopped avocado, tortilla strips, and green onion on top to really round out this hearty and filling dish.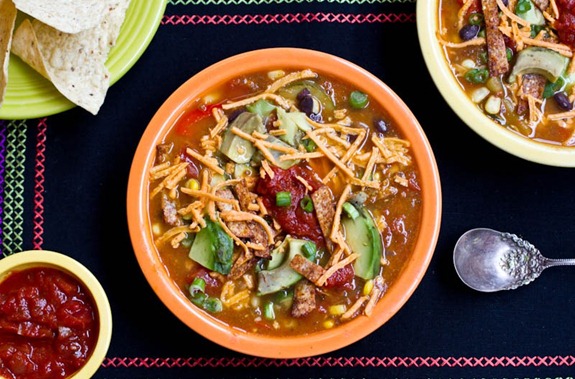 Still too hot for soup? Try my favourite Gazpacho. After testing a few versions, this one is hands down my favourite.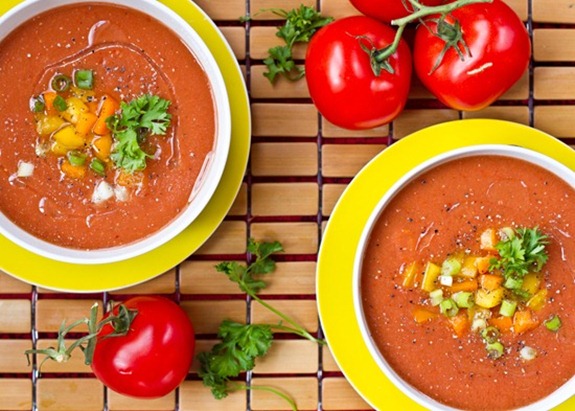 One of my favourite casseroles. Fresh basil and in season tomatoes are key here. One thing I love about this recipe is the short ingredient list…it was so easy!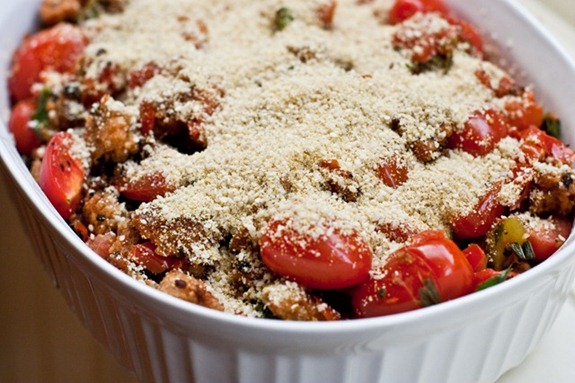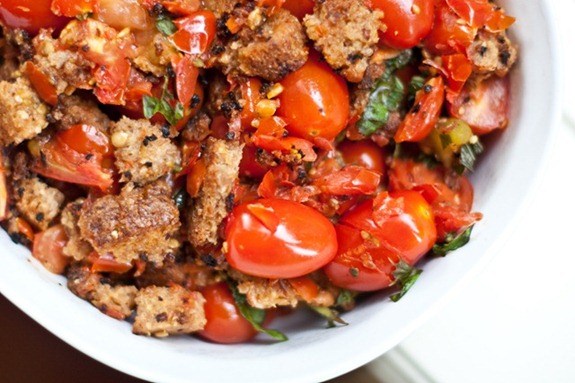 This hearty pasta sauce is so healthy it hurts. Walnuts, spinach, tomatoes, garlic, basil, oh my!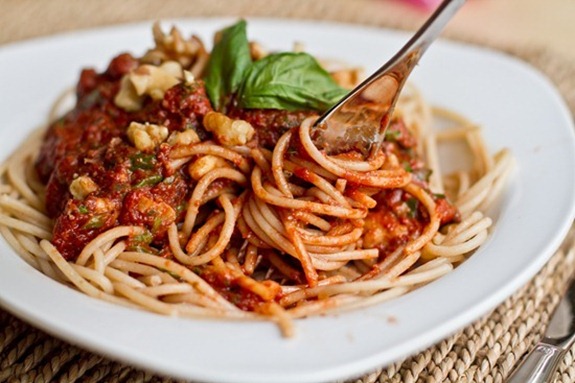 Like nachos, only better. Satisfy your every chip craving with these cheezy and crispy kale chips!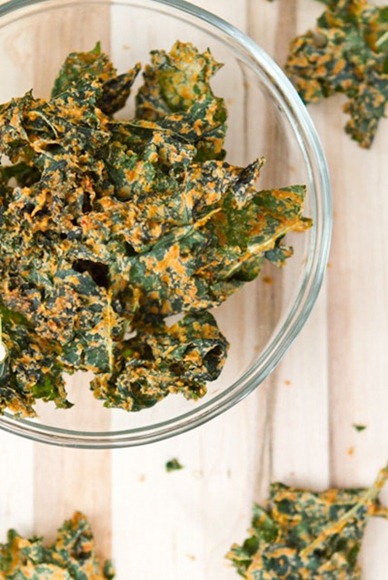 This tomato soup is anything but traditional, boring, or bland and it's definitely one of the best homemade soups I've made to date. The light coconut milk is a great way to add a luxurious creaminess, pairing well with the heat from the garam masala and adding a nice contrast to the rustic quality of the roasted vegetables. See why it's received so many rave reviews.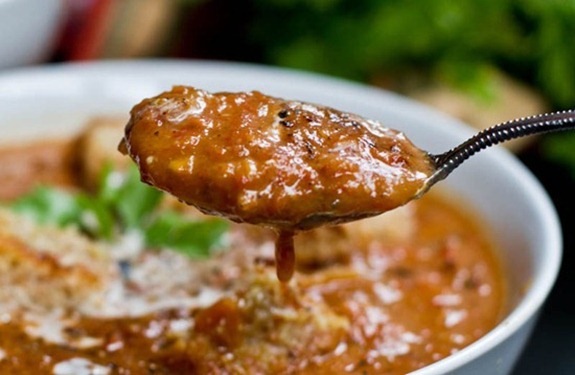 Easy as tortilla pie! This pizza features irresistible roasted tomatoes and a creamy basil cashew cheeze sauce.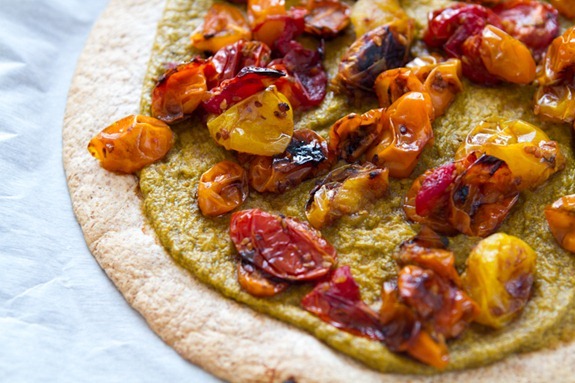 This lightened up pesto has just a few tablespoons of olive oil, but I promise you won't know the difference . The sundried tomatoes, walnuts, and basil create an extremely flavourful pesto that goes wonderfully with pasta, sandwiches or wraps, or mixed into some grilled vegetables. Can't have nuts? Just leave them out. The addition was more of an afterthought than a main ingredient.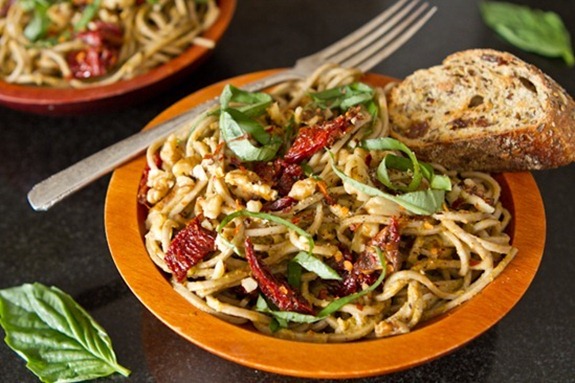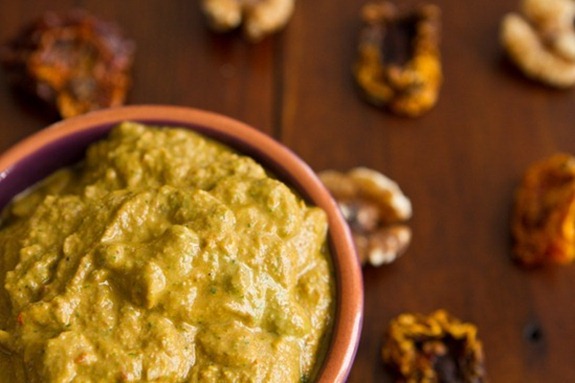 September Challenge
I'm doing another challenge for the month of September – Operation Hydrate! I'm not always mindful of drinking enough water and so far this challenge is keeping me on track.
– Drink 2 glasses of water upon rising before any other fluids or food.
– Drink 6 glasses of water throughout the rest of the day.
These amounts are not set in stone – it really depends on how much exercise I do and what my needs are on that day. Really, I'm just being mindful of my water intake and making sure I start the day off with lots of water. I never thought I'd say this, but it's actually energizing! Feel free to join me in this challenge, keeping in mind your water needs will vary. You can also do the lemon with warm water thing if you like too, but I've just been drinking filtered H2o.
And if you'd like to read about my August challenge results – see my page for the recap. It looks like September is also going to be a fear-conquering month with the promise of zip lining, suspension bridge dangling, and cliff walking.