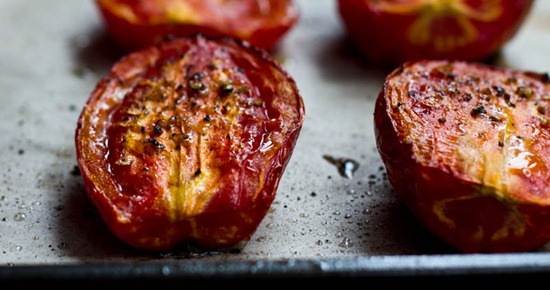 We haven't been this excited about a dinner recipe in a long time.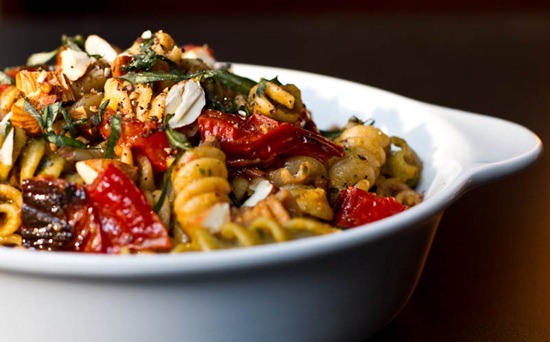 Probably not since the 15 Minute Creamy Avocado Pasta, which Eric said – in between shoveling this pasta in his mouth – is "not as good as this roasted tomato pesto recipe".
I didn't believe it, but after tasting and then devouring my own bowl of pesto (ok, there was some pasta in there too), I may have to agree with him. This is by far, the best pesto I've made or perhaps ever tasted.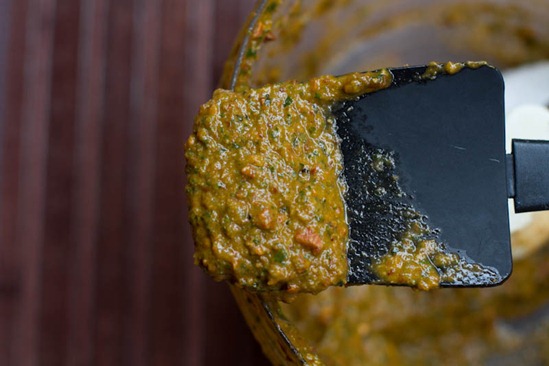 Don't be put off by the colour, I promise it tastes much better than it looks. ;)
We enjoyed it so much, I made two batches over the long weekend and froze some for a later date. In January, there will be no tears over tasteless tomatoes as long as I have this pesto waiting for us!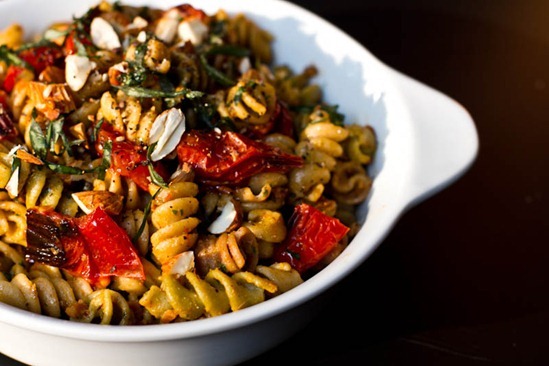 If I can wait that long to eat it, that is.
Outlook not good.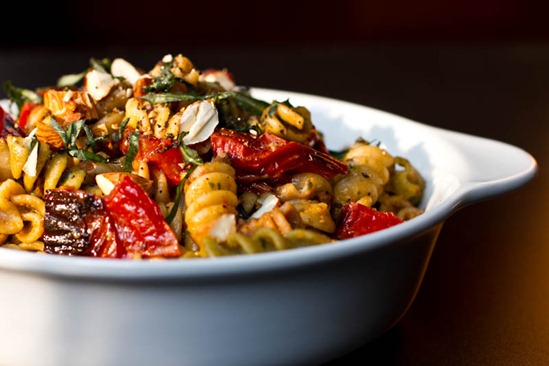 [print_this]
Roasted Tomato Basil Pesto Pasta
This pesto is bursting with seasonal flavours and nutrients. Hello lycopene! It's also quite low in oil thanks to the roasted tomatoes adding body and flavour. I left the almonds chopped and it added a nice texture that was great mixed into pasta or spread on a toasted sandwich. I suggest making some and freezing it for a later date.
Inspired by Gourmet.
Yield: 1 cup pesto
Ingredients:
9 large roma tomatoes, sliced in half lengthwise
1/2 cup almonds, toasted
2 garlic cloves
1 cup

tightly packed

basil + more for garnish
1/4 cup extra virgin olive oil + more for drizzling on tomatoes
2 tbsp nutritional yeast (optional)
Kosher salt & freshly ground black pepper, to taste
Your desired amount of cooked Pasta
1. Preheat oven to 400F and line a baking sheet with parchment. Place sliced tomatoes on the sheet and drizzle with oil, salt, and pepper. Roast for about 1 hour and 10 mins at 400F. Watch closely during the last 15 minutes of roasting.
2. Reduce oven heat to 325F and toast almonds for 8-10 minutes. Add 1/3 cup into food processor and process until finely chopped. I left mine a bit chunky for texture. Remove and set aside.
3. With processor turned on, add 2 garlic cloves and let it whirl around until finely chopped. Now add in the basil and process until finely chopped.
4. Add in the oil, optional nutritional yeast, and 1.5 cups of roasted tomatoes (you will have tomatoes left over). Process until smooth. Pulse in 1/3 cup toasted almonds. Season generously with salt and pepper. I think I used about 1/2 tsp salt or a bit more.
5. Pour your desired amount of pesto over the cooked pasta and mix well. Chop the remaining roasted tomatoes and stir into pasta. Chop remaining almonds and Chiffonade the basil (see below).
[/print_this]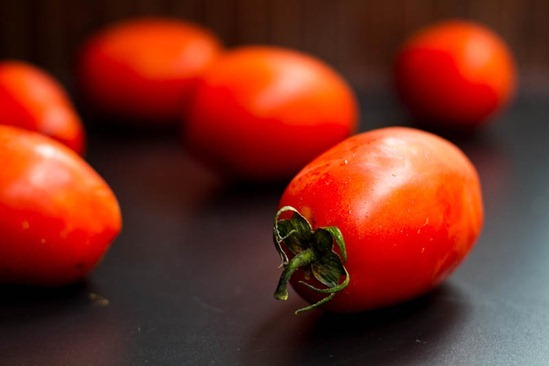 I decided to roast the tomatoes first to give the pesto a really deep flavour. So glad I did!!
First, I drizzled them with olive oil and sprinkled them with kosher salt and freshly ground black pepper.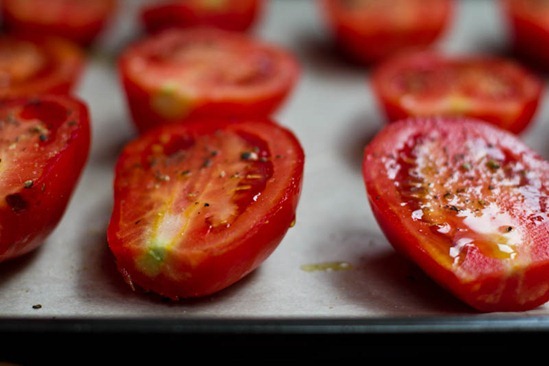 Into the pre-heated oven they went at 400F for about 1 hour and 10 minutes. The longer they roast, the more delicious they become. The bottoms will be blackened slightly, but not to worry as it only enhances the flavour.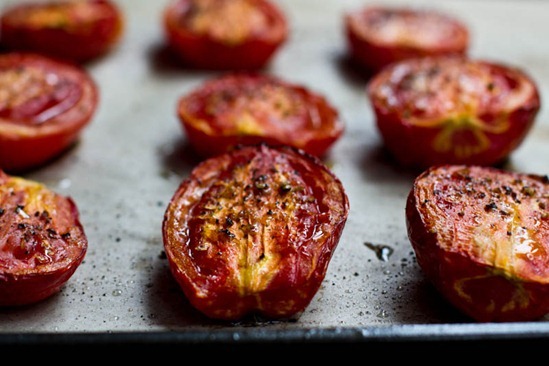 After cooling slightly, I ate one straight off the pan. And I almost burned my mouth off, but it was so worth it. I'm surprised that the rest of them made it into the processor!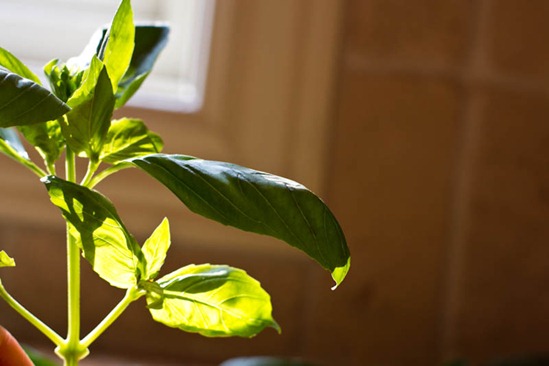 While the processor blade is spinning, add two garlic cloves. Let it whirl around until the garlic is chopped. Next, add 1 cup of tightly packed basil and process. Scrape down the sides of the bowl with a spoon. With the processor on, add in 1/4 cup oil, 1.5 cups of roasted tomatoes, nutritional yeast (optional), and salt and pepper to taste. Pulse in the toasted almonds.
I'm loving this olive oil right now: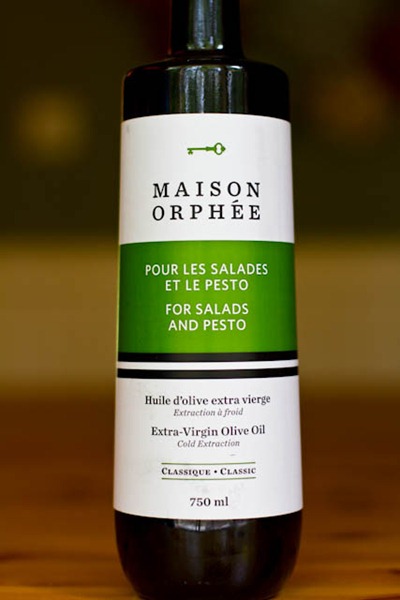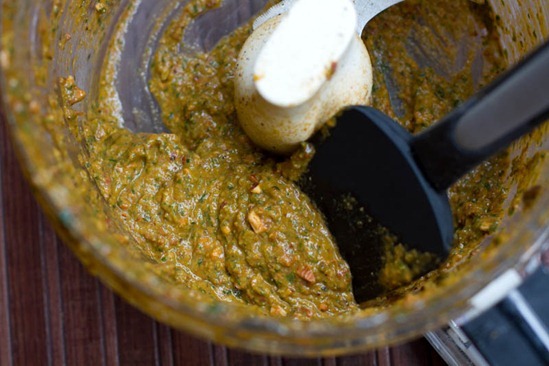 This pesto is so delicious it's unreal.
This was my first batch and I used 1 cup of roasted tomatoes, but I suggest using 1.5 cups of roasted tomatoes as I did in my second batch. You get more bang for your buck!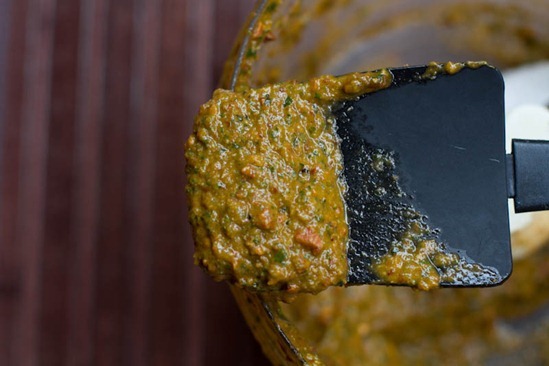 If you want to be a fancy pants, you can Chiffonade the basil for garnishing on top of the pasta. "Chiffon" is French for "rag" which is what the basil will look like when you're finished.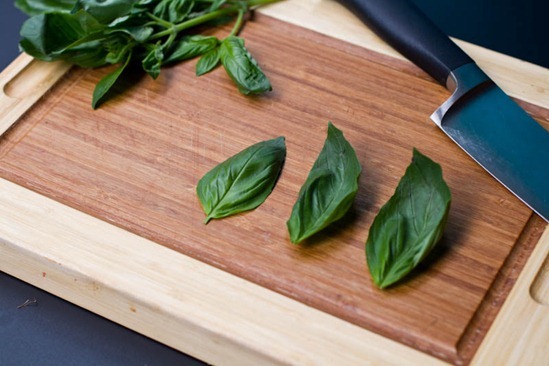 How to Chiffonade basil:
1. Grab a few basil leaves (you can use spinach or any leafy vegetable for future reference)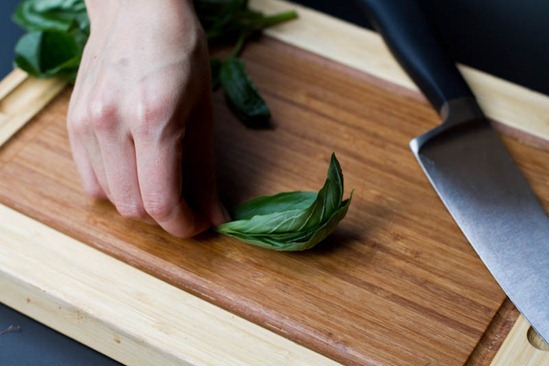 2. Stack them on top of one another like so.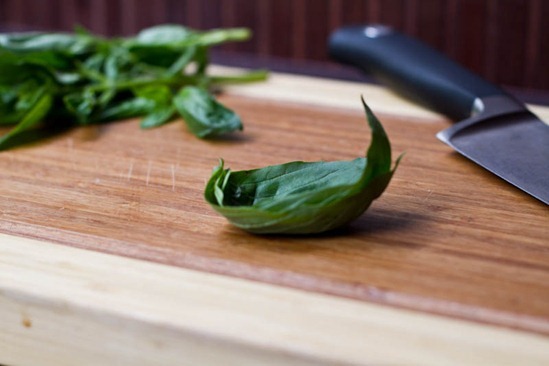 3. Now roll it up all the way.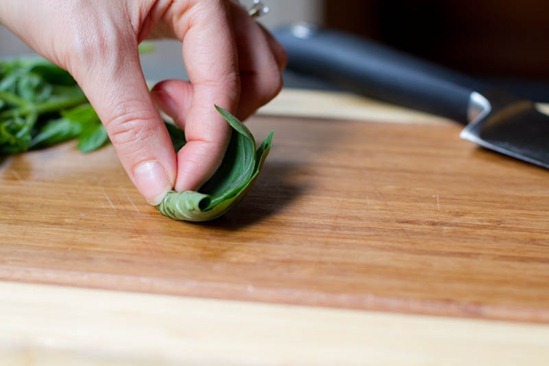 4. Grab a sharp knife and slice tiny 1mm cuts through the rolled up basil.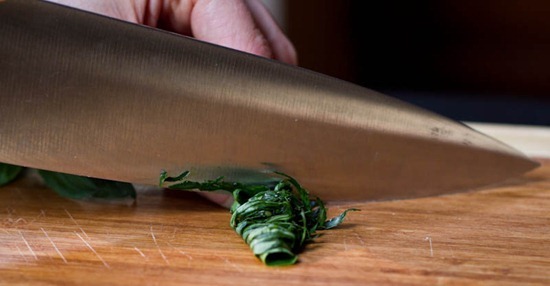 Do not slice finger off as it looks like I'm about to do in the above photo. That would not be good.
Repeat until you've sliced through all of it. The basil, not your finger.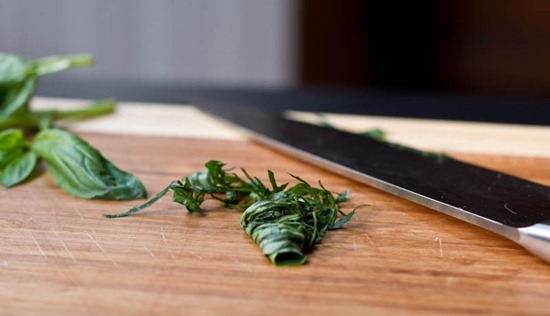 5. With your (in tact) fingers, gently separate the basil into its 'rag-like' pieces and sprinkle over top of your dish.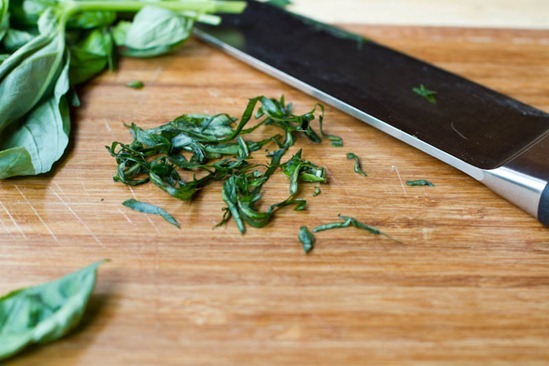 And if you handle them as long as I did to get these photos, they will really look like rags!
You are now a fancy pants.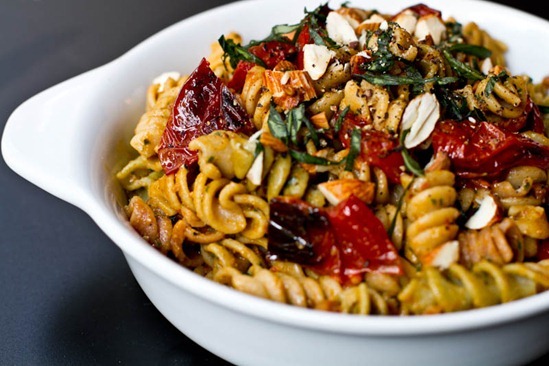 It is your mission to go on and enjoy those deliciously sweet tomatoes that are waiting for you.
Just don't forget to freeze some for the Winter!