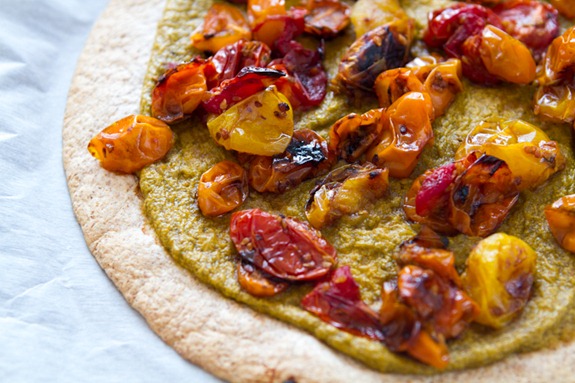 Clearly, I'm trying to consume as many tomatoes as I can this month. If there's a record out there somewhere, I could break it. As much as I like to leave the oven off in August, I'm much more of a roasted tomato kinda girl when it comes down to it. Raw in-season tomatoes are pretty darn good, but roasted tomatoes are the real deal. I've already made a double batch of my Roasted Tomato Pesto and have plans to freeze a batch or two of my Creamy Roasted Tomato Coconut Soup. There could be more…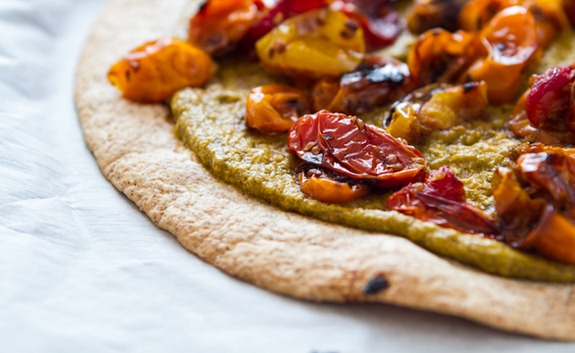 I made this pizza last week when a major, all-consuming pizza craving hit, only I wanted nothing to do with a regular yeast pizza dough. I rarely have the desire to make bread or dough from scratch unless it's cold out. I contemplated buying pre-made pizza dough from a local grocery store, but the tortillas in the cupboard won the battle over my laziness.
I roasted a couple pounds of tomatoes and then ate a bunch right off the pan.
Made a creamy Basil Cashew Cheeze and ate some straight out of the processor.
Popped the pizzas in the oven then ate one right off the pan.
You'll see what I mean below.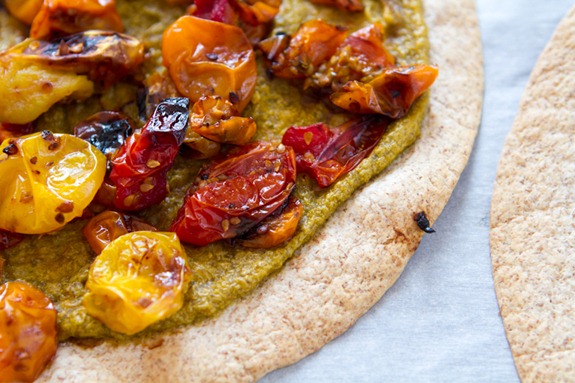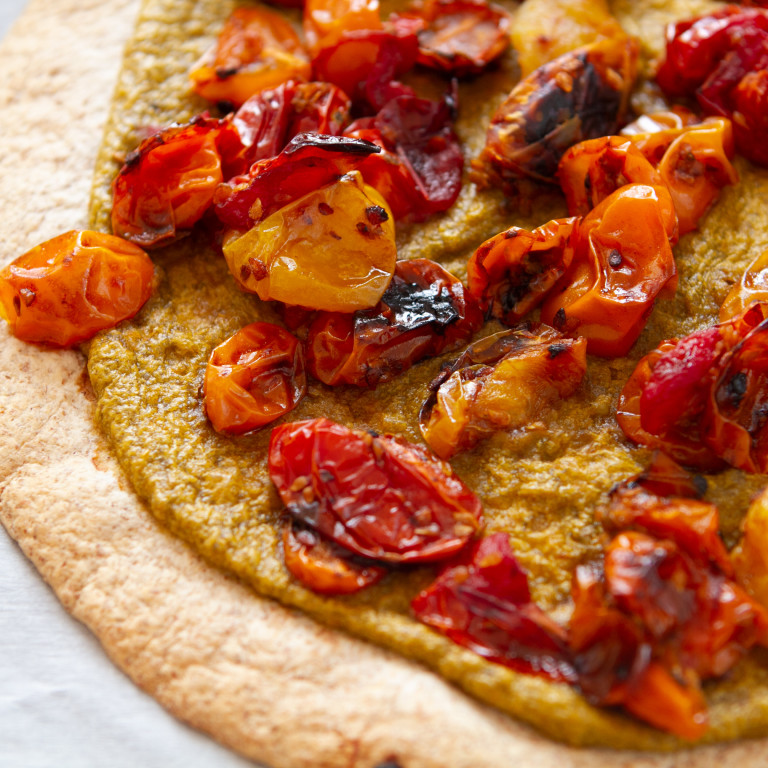 Roasted Tomato Tortilla Pizza with Basil Cashew Cheeze

Yield

1-1.25 cups cheeze
Soak time

60
Prep time

Cook time

Total time

Ingredients
For the roasted tomatoes
0.90 kg/2 lb tomatoes (I used mixed cherry tomatoes)
1/2 tbsp extra virgin olive oil
1/2 tbsp balsamic vinegar
fine grain sea salt & pepper
For the basil cashew cheeze
2 garlic cloves
1 cup loosely packed fresh basil
1/4 cup roasted tomatoes
1 cup raw cashews, soaked in water for at least 1 hour
2 tbsp fresh lemon juice
3 tbsp extra virgin olive oil
2 tbsp water
1 tbsp nutritional yeast
1/4 tsp fine grain sea salt, or to taste
For the crust
Directions
Place 1 cup raw cashews in a bowl of water and soak for at least 1 hour. Rinse and drain before use. Preheat the oven to 375°F and line a baking sheet with parchment paper. Chop tomatoes and place in a bowl and mix with olive oil, vinegar, and season with salt and pepper. Spread out on prepared pan and roast for about 30 minutes or so. Remove and reduce heat to 350°F.
For the sauce: In a food processor drop in garlic cloves and mince. Now drop in the basil followed by the roasted tomatoes and drained and rinsed cashews. Stop to scrape down the side of the bowl. Now add in the rest of the ingredients and blend until super smooth. Season with fine grain sea salt to taste. Add more oil or lemon juice if preferred.
Place your desired amount of tortillas on baking sheet. Spread sauce on each tortilla followed by a generous amount of roasted tomatoes. Bake in the oven for 13-15 minutes (watch closely) at 350°F or until crisp and golden. Serve immediately. Store leftover sauce in an air-tight container in the fridge. It should keep for a week or longer.
Nutrition Information
(click to expand)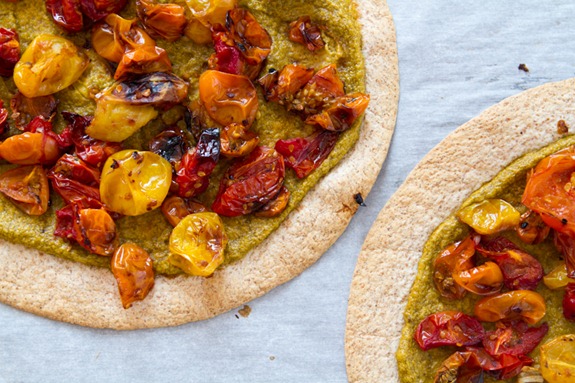 Now, if you dive into your food before the photos are taken, just crop it right out of the photo. No one will ever be the wiser! Until now. :)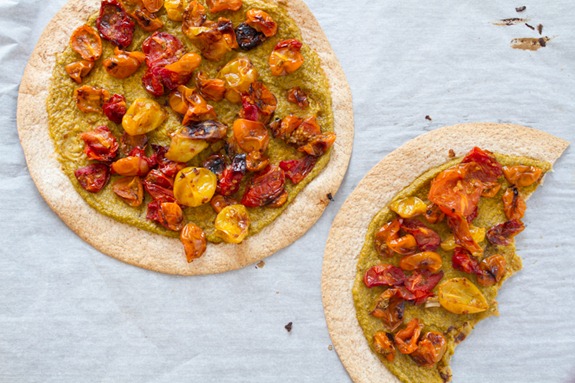 I have a feeling this could happen to you too. It's that good.
2012 VegNews Veggie Awards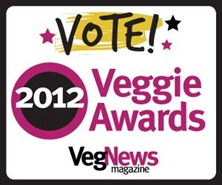 If you haven't already heard, the 2012 VegNews Veggie Awards are going down right now until August 31st. I'm thrilled to be nominated for the first time in the Favorite Blog category. There are all kinds of amaaazing prizes up for grabs like a Vegan Caribbean Cruise (!), Vitamix blender, ice cream party, shopping spree, and more just by filling out the survey (note: you must complete 50% of the survey to be entered for the prizes). No sign up is required. If you think Oh She Glows is worthy of such an award, I would be so grateful for your vote (Favorite Blog category is found on page 5 of the survey – you can skip ahead if categories don't apply to you). You can find the 2012 Vegnews survey here. While you're at it, check out all the amazing vegan products/businesses/people/restaurants up for awards and nominate your own favourite products if they aren't listed!