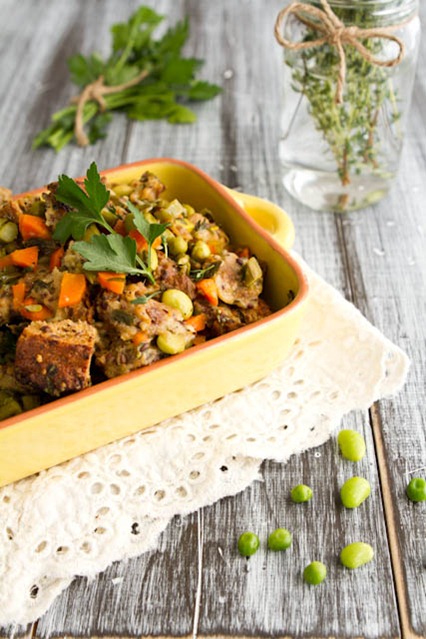 A couple weeks ago, a reader named Cara emailed me with a recipe request for a vegan spring stuffing. Her complaint with traditional stuffing was that it felt too much like autumn instead of spring; it tends to be heavy, instead of light and fresh.
Cara is onto something here, don't you think?
I love when I get recipe requests because I feel like I have a mission instead of just aimlessly trying to think up recipe ideas all the time. It's also fun to be presented with a "problem" and then hopefully making someone happy with the end result.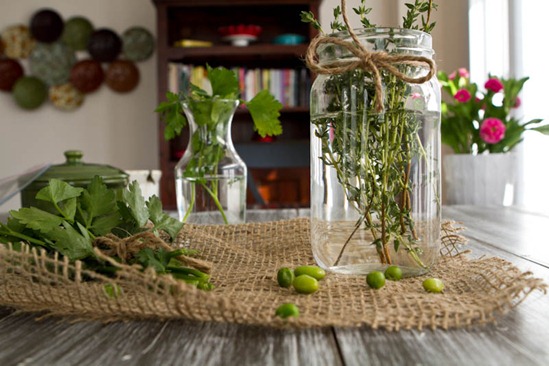 I got to work rounding up some of my favourite green spring-time vegetables like asparagus, green onions, and peas. I also picked up some fresh parsley and thyme for flavour. This is turning out to be one green spring stuffing!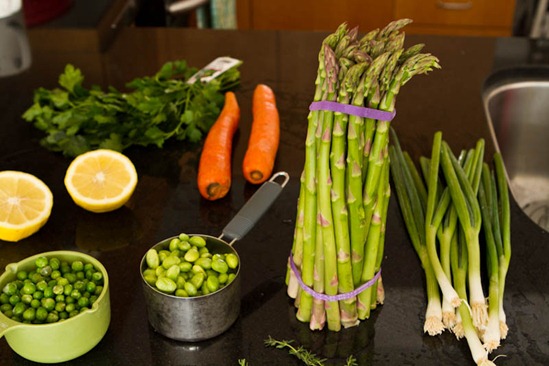 I also recommend using a hearty seed & raisin/cranberry bread (from your grocer's bakery is fine!). The raisins and cranberries in the bread will add just a hint of sweetness, but it won't overwhelm the stuffing. The seeds will also add texture and the thick crust will prevent the entire thing from turning to mush. I have no idea how this stuffing would turn out with another type of bread.
When you get home, slice the bread and roughly chop it up (or tear it) into 1 inch chunks. I like to leave my pieces a bit large to add texture to the finished product. Place the bread onto a baking sheet and leave out for 10-12 hours to dry out (I put mine in the oven (turned off) because Sketchie loves to steal bread!)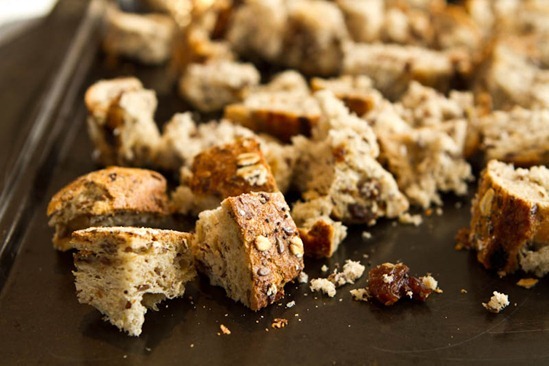 The next day we can officially begin. Sauté the olive oil, minced garlic, carrots, and asparagus until they are just tender. Be sure not to overcook it as you want the veggies to retain some crispness in the stuffing.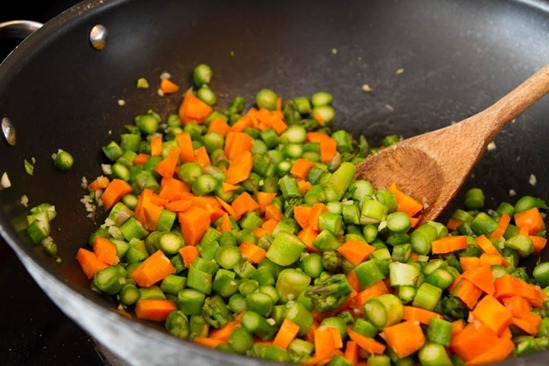 Now add in the peas and edamame and cook until heated through. Next, is the part that you do not want to skip – season the vegetables very well! I used a generous amount of Herbamare and ground black pepper. The Herbamare was fantastic in this, so if you can pick some up, I highly recommend it.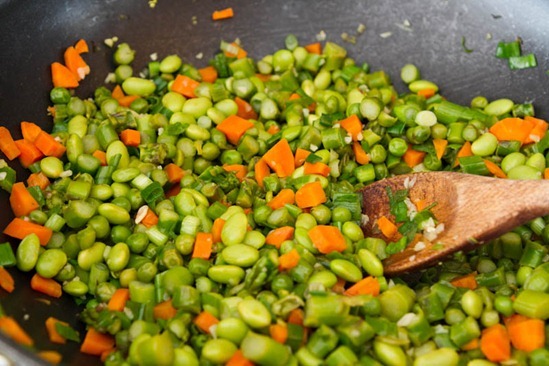 Remove from heat and stir in the bread.
followed by the fresh and dried herbs.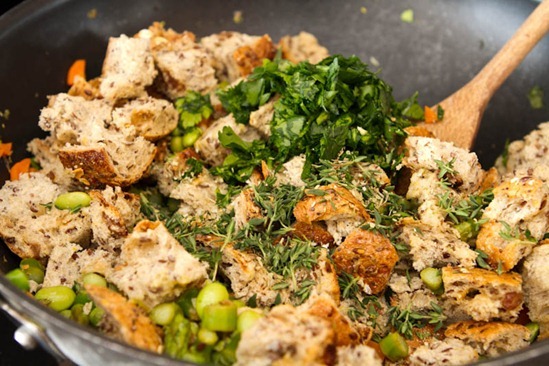 Finally, gently stir in 1 cup of vegetable broth. Many stuffing recipes tend to call for 2 cups or more of broth, but I didn't want this one too heavy and saturated so I just used one cup.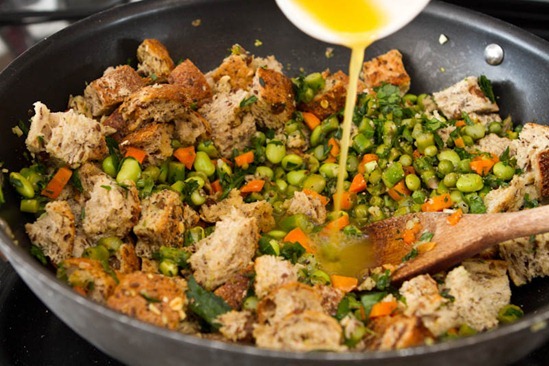 Transfer it to a greased casserole dish, cover, and bake for 27-30 minutes at 400F.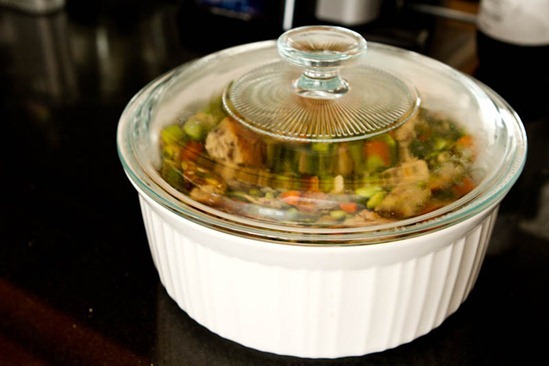 Remove the lid and allow it to cool for about 5-10 minutes if desired. It stays hot for a loooong time. I went upstairs, did some computer work, and came back 20 minutes later to still find warm stuffing! :)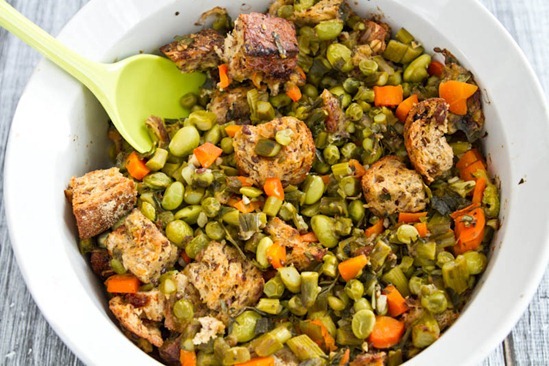 What you'll have is an incredibly light stuffing bursting with spring vegetables. The bread pieces on top remain a bit crusty, while the bread underneath gets really soft, saturated, and doughy.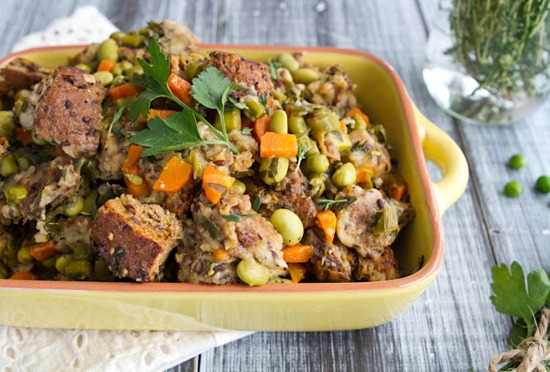 Traditional stuffing usually gets a bad reputation for being one of the unhealthiest dishes at your dinner table. Well, now it doesn't have to be any longer.
It's actually so healthy, it makes a killer breakfast. I actually made this at 8:30am last week and inhaled a plate for breakfast…just throwing that out there!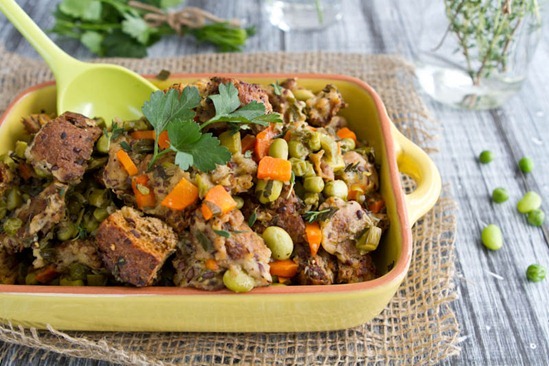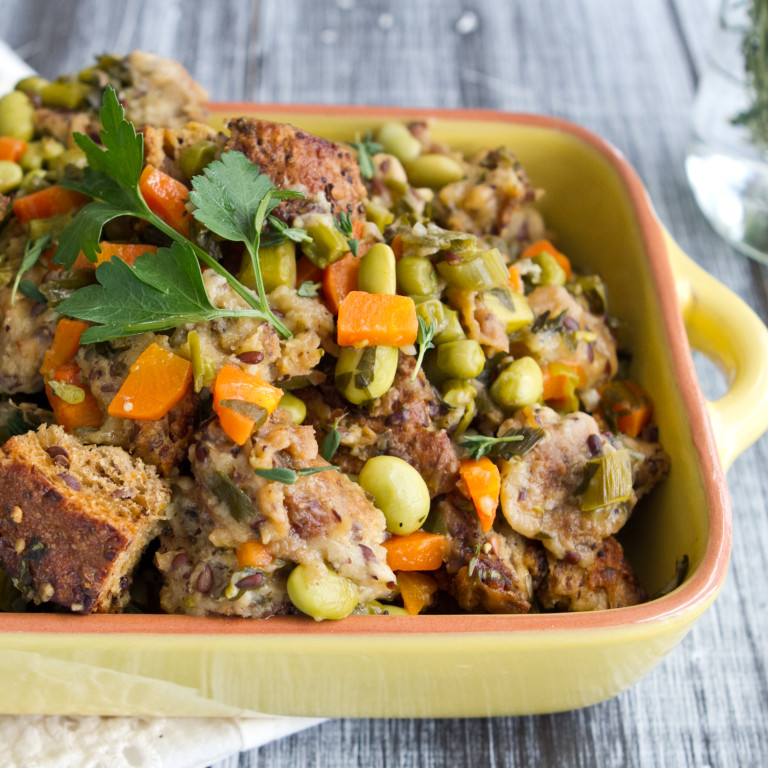 Lightened Up Spring Stuffing
Vegan, nut-free, soy-free

Yield

5 to 6 cups
Prep time

Cook time

Total time

A lightened up stuffing that you can feel good about this spring. Many stuffing recipes tend to call for 2 cups or more broth, but I didn't want this one too heavy and saturated so I just used one cup. Also, feel free to use frozen peas and edamame like I did. Just be sure to thaw overnight in the fridge and rinse and drain prior to use. I also suggest using a crusty seed & fruit bread from your local grocery or bakery. This type of bread will hold up much better in the recipe, as well as provide a light sweet flavour from the cranberries and raisins.
Ingredients
1 loaf crusty seed & cranberry raisin bread, roughly chopped into 1-inch pieces (5-6 cups packed)
1 tbsp extra virgin olive oil
3 garlic cloves, minced
1 cup peeled & finely chopped carrots
1 bunch asparagus, ends broken off and finely chopped
1 cup peas (if using frozen, thaw and drain first)
1 cup edamame (if using frozen, thaw and drain first)
2 tbsp fresh lemon juice
8-9 green onions, finely chopped
1/2 cup fresh minced parsley
2 tbsp fresh thyme
1/2 tsp dried oregano
Herbamare (or salt) & ground black pepper, to taste
1 cup veggie broth or more if desired
Directions
Roughly chop (or tear) bread into 1 inch chunks. Place the bread onto a baking sheet and in the (turned-off) oven overnight or for about 10-12 hours. This lets the bread firm up and get a bit hard so it retains its shape in the stuffing. If using frozen peas and edamame, place in fridge overnight to thaw. Rinse and drain before use.
The next day, preheat oven to 400F and grease a 2.3 L/2.5 qt. casserole dish. Heat a large skillet or wok with 1 tbsp oil over medium heat. Add in the garlic, carrots, and asparagus and sauté until just tender, about 8 minutes or so. Season well.
Now, add in the (drained) peas, edamame, fresh lemon juice, and green onions and sauté until heated through, about 5 minutes. Stir in the herbs and season again with Herbamare & pepper to taste. Remove from heat.
Gently, stir in the cup of broth, being careful not to overmix the bread. Transfer to prepared dish, cover, and bake for 28-30 minutes. Carefully remove lid and allow to cool for 5 mins or so before serving.
Nutrition Information
(click to expand)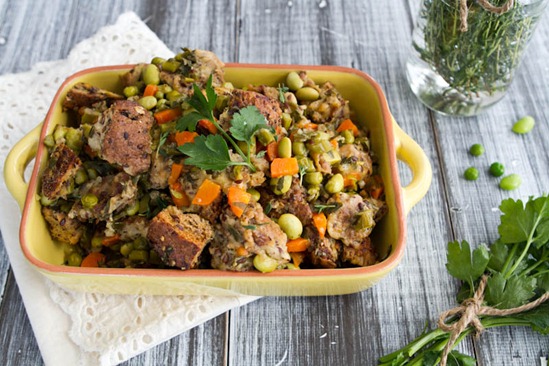 Here's little behind the scenes action for you, using my homemade photography board, diffuser, and props (herbs, burlap, and napkins). I'm also still loving Helene's book. I highly recommend Plate to Pixel if you are getting serious about food photography. I'm trying to practice a ton in hopes that I will feel comfortable shooting all of my cookbook photography.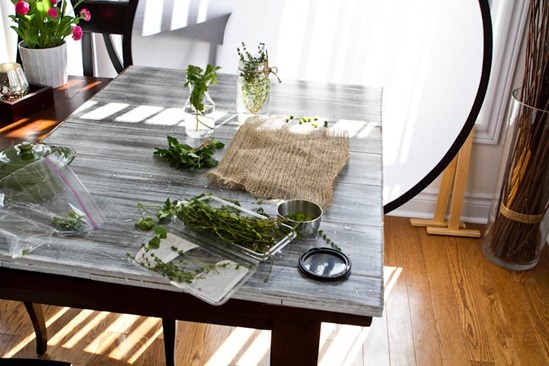 If you are looking for a main dish to serve the stuffing with, I suggest trying the amazing Lentil Walnut Loaf. I've also updated my featured recipes in recipage to reflect some of my fav holiday dinner side dishes like balsamic green beans and high protein mashed potatoes.
Coming up, a mini & portable chocolate peanut butter dessert that will blow ya mind.