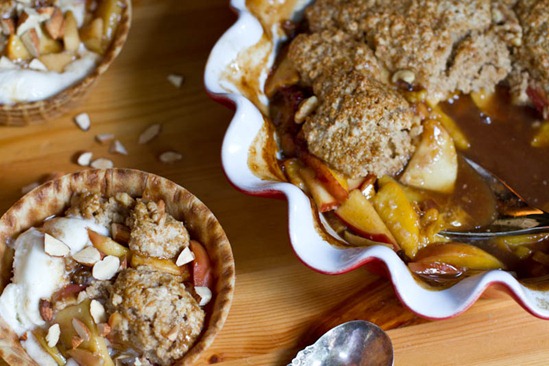 Last weekend, I bought my last basket of Ontario peaches from the farmer's market. From here on out, things like pears, apples, figs, grapes, beets, pumpkins, carrots, squash, and potatoes make their seasonal debut.
But first, I wanted to make a farewell summer recipe using fresh peaches, a couple of the season's first apples, and an easy gluten-free biscuit topping. I figured, it would make the end of summer a bit less bitter and a bit more sweet!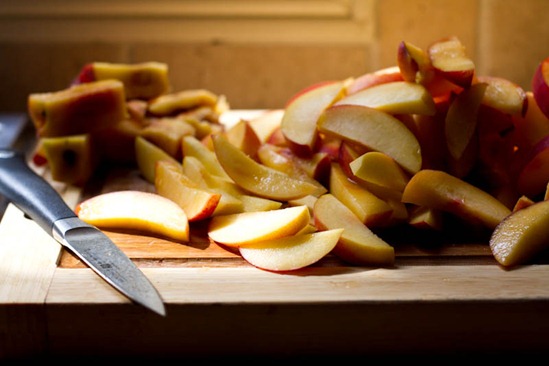 Have you ever made a cobbler recipe before?
This was my first time making a cobbler and I expected it to be a lot more difficult than it was. It was actually super easy to make, but it still looks like you spent hours baking it.
A cobbler has a base of gently cooked fruit with a lightly sweetened biscuit topping. It's the perfect recipe to make when you don't have the time or energy to make a pie from scratch, but still want a show stopper dessert. I actually think I might like this recipe better than a traditional pie! There is just something about the sweet, fluffy biscuit topping that lured me back for more and more. Even Eric who isn't normally a "cooked fruit fan" absolutely loved this cobbler.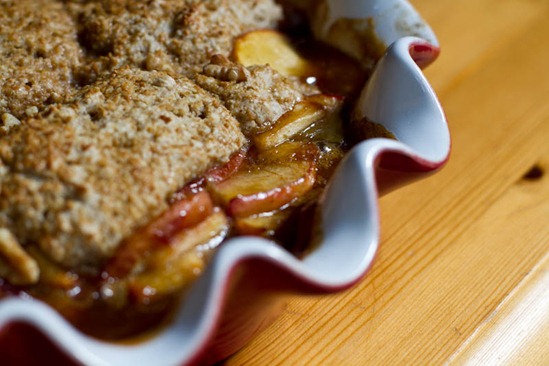 Just like a pie, you can pretty much use any fruit and have great success. You can't go wrong if you use what's in season as seasonal fruit is usually sweeter and you won't have to add much sweetener to the cobbler.
I thought local peaches and apples were a perfect pairing for the last week of summer!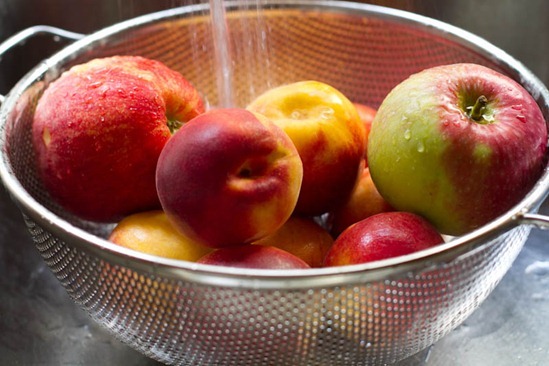 I sliced 5 cups of peaches and 3 cups of apples- no need to remove the skin.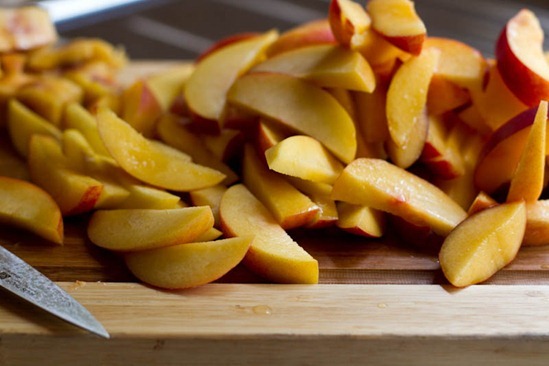 Then, all you do is mix together the base ingredients made up of arrowroot powder (or cornstarch), Sucanat (or other dry sugar), cinnamon, sliced fruit, water, and vanilla. Bring it to a boil and cook for 1-2 minutes.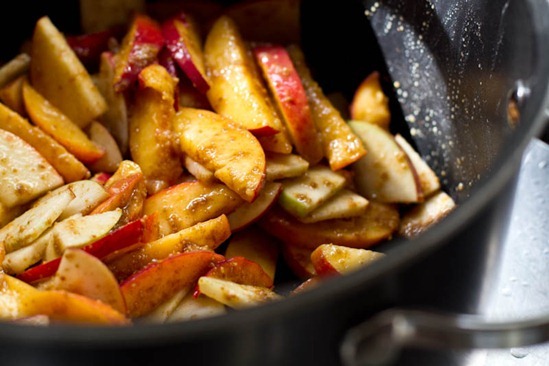 Now you have gently cooked fruit in a light syrup!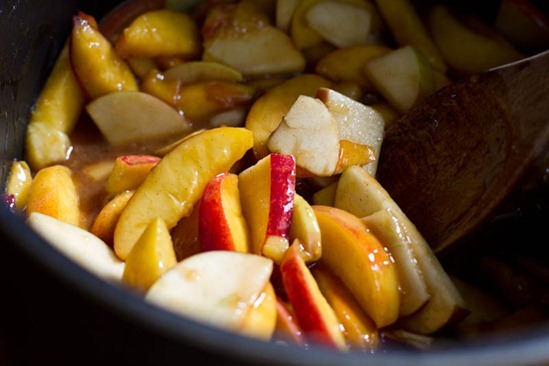 Spread into a greased casserole dish (or a very large pie dish like I did).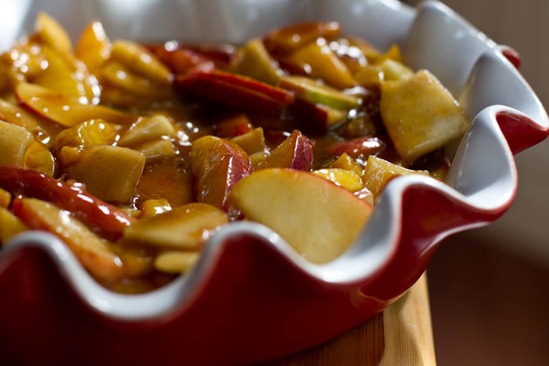 I loved the oat and almond flour combination so much in my gluten-free chocolate chip cookies, I decided to make a gluten-free biscuit using the same flours. I only added 1/4 cup of almond flour, but it resulted in a sweet and nutty batter. I probably could have eaten this batter on its own and called it a day…it turned out incredible! The best part is that it comes together in just a couple minutes.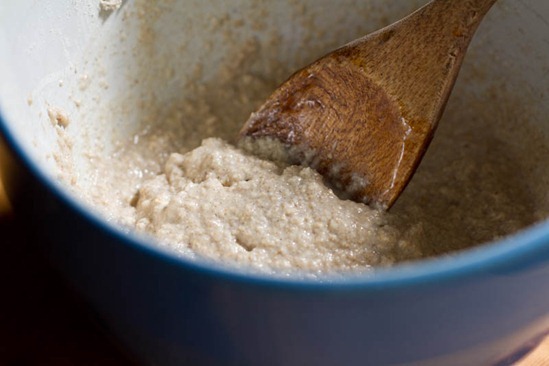 If you don't have almond flour, not to worry. You can simply process whole almonds into a fine flour in your blender or processor. Or you can use whatever flour you want and I'm sure it will turn out as well.
Because the consistency of the batter is quite drippy (think porridge), it is easily spooned on top of the fruit mixture. I added about 6 large spoonful's, as I wanted it to serve 6 people, but it doesn't really matter how you spread it on. For a crunchy topping, I sprinkled it with Sucanat before baking.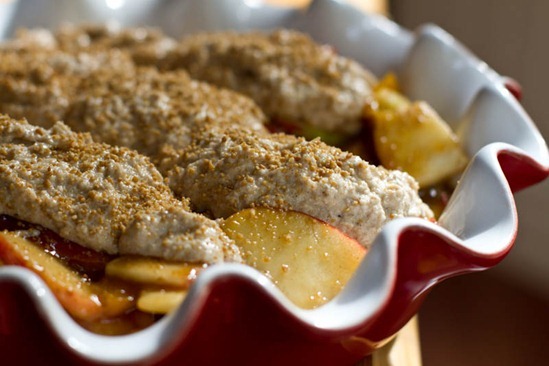 Now bake for 25-30 minutes and serve immediately. Easy as pie cobbler!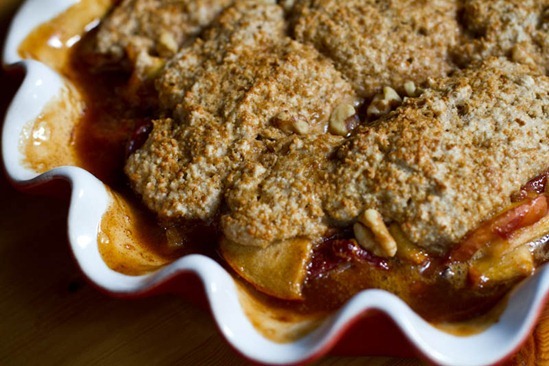 I served it in mini waffle bowls (President's Choice brand if I remember correctly) along with some vegan ice cream.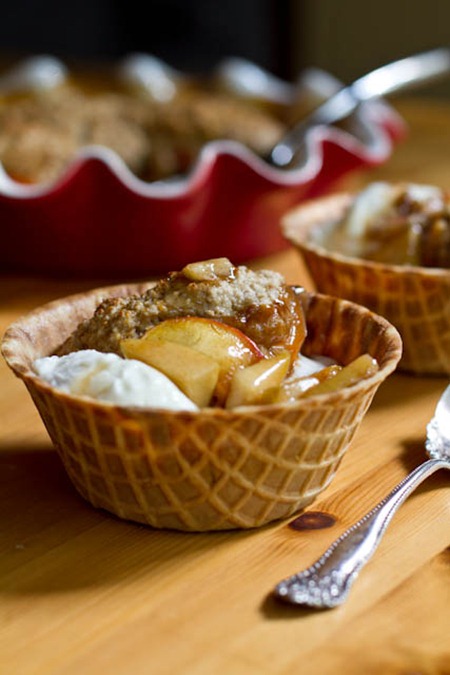 A sprinkle of toasted almonds really took it over the top and added the perfect crunch!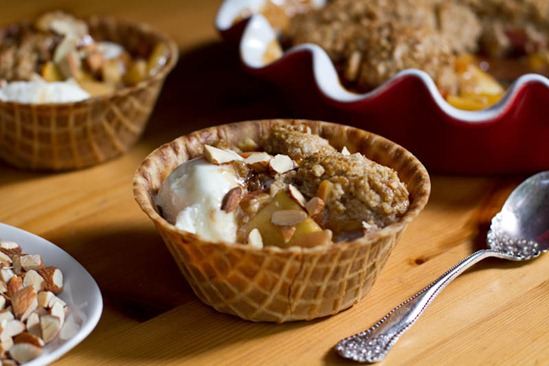 [print_this]
End of Summer Peach Apple Cobbler (Gluten-free & vegan)
The perfect way to bid farewell to the summer season. Seasonal fruit really shines in this lightly sweetened cobbler. It makes a healthy dessert or even a fun dish to make for a weekend breakfast or brunch.
Inspired by Vegweb.
Yield: 6 servings
Fruit base:
5 cups sliced peaches
3 cups sliced apples
1/2 cup Sucanat (or white or brown sugar)
2 tbsp arrowroot powder (or cornstarch)
1/2 tsp cinnamon
1/3-1/2 cup water
1 tsp vanilla extract
Biscuit topping:
1 cup gluten-free rolled oats, ground into a flour* see note
1/4 cup almond flour/meal (or more oat flour)*
1.5 tsp baking powder
1/4 tsp kosher salt
2 tbsp dry sugar (Sucanat, white, or brown sugar)
1/2 tsp cinnamon
3 tbsp Earth Balance (or other non-dairy butter replacer)
1/2 cup almond milk (or other non-dairy milk)
1. Preheat oven to 400F and grease a medium-sized casserole dish, square pan, or large pie dish.
2. Fruit base: In a large pot or skillet, whisk together the sweetener, arrowroot powder, and cinnamon. Stir in your sliced fruit and mix until coated. Now stir in the water and bring to a boil. Reduce heat and cook for 1-2 minutes. Remove from heat and stir in vanilla. Spoon cooked fruit into prepared pan.
3. Biscuit: In a medium-sized bowl, whisk together the dry ingredients. With a pastry cutter or fork, cut in the Earth Balance until mixture is crumbly like cornmeal. Stir in the almond milk until combined. Spoon the batter over the fruit. I dropped about 6 large spoonful's to make 6 biscuits, but you can do it any way you want.
4. Bake at 400F for 25-30 minutes until golden. Serve immediately with vegan ice cream and toasted almonds.
Note: You can probably sub any flour you want in the biscuit recipe.
[/print_this]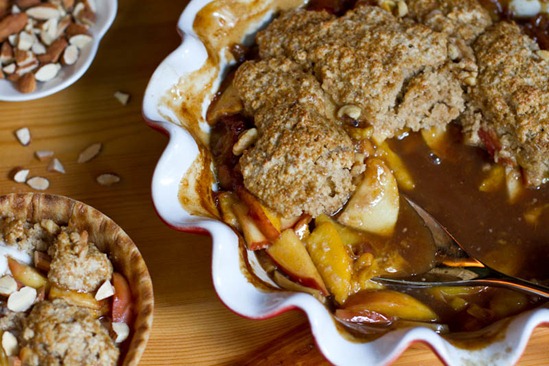 Summer, it's been a slice.