I'm relieved to say there is a happy ending to my Apple Butter venture… :D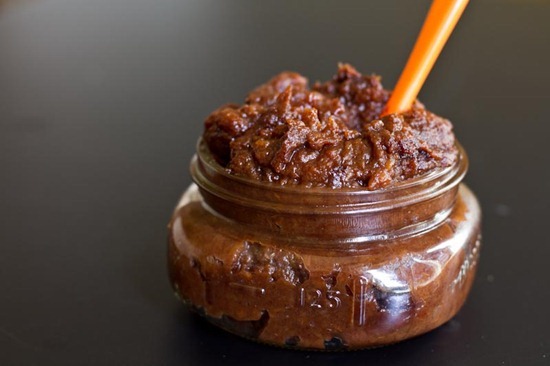 A very delicious ending.
Thanks for all your helpful comments yesterday! You sure know how to help a gal out. I loved reading everyone's different methods for making apple butter.
After 4 more hours of slow cooking yesterday morning over medium heat (with the lid ajar), buttery apple bliss happened. The apple pieces all broke down and the sauce turned into a thick & dark butter, no post-blending required. I was a happy girl.
Five pounds of apples made about 1 & 1/4 cup of apple butter. Boy, does it ever cook down! Some of you mentioned that not adding a lot of sugar (I used 1/3 cup Sucanat as opposed to 4 cups white sugar) might prolong the cooking process, so maybe that's why it took longer for me. It took about 19-20 hours in total.
If I thought I loved store-bought apple butter (Eden Organic has a great no sugar added one), homemade is a gazillion times better! I want to test it one more time before I post the recipe for you guys. I think we might go apple picking this week, so it will be a good opportunity to test it out again! I also want to make peach and pear butter too. I'm hooked. :)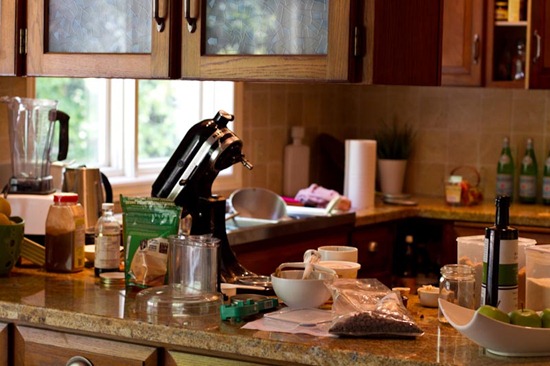 Speaking of testing, I was on a mission to make vegan and gluten-free chocolate chip cookies to bring with us while we visit family this week. I adapted my Vegan Chocolate Chip Cookie recipe and tried out a few different gluten-free flours. I didn't want to use any weird gums or other ingredients, but keep it as simple as possible.
I made 3 trials: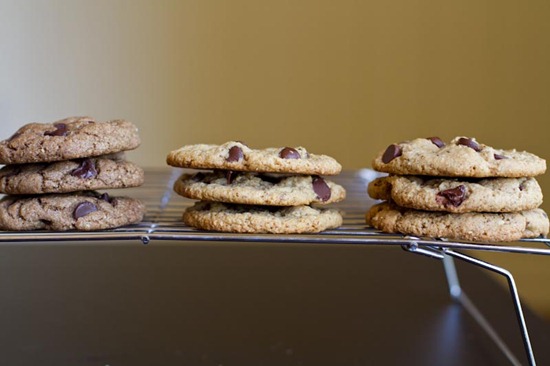 Trial #1:
I used 1 cup of brown teff flour and 1 cup of Bob's Red Mill almond flour (everything else in my recipe was the same)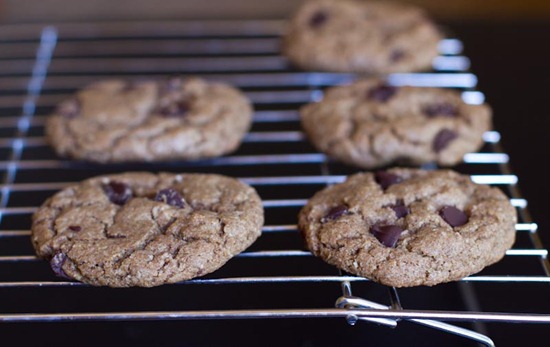 No dice. The teff flour gave them a gross sand-like and gritty texture! I have not had much success when using teff flour at all. There is nothing worse than a gritty texture in gluten-free baked goods.
Trial #2: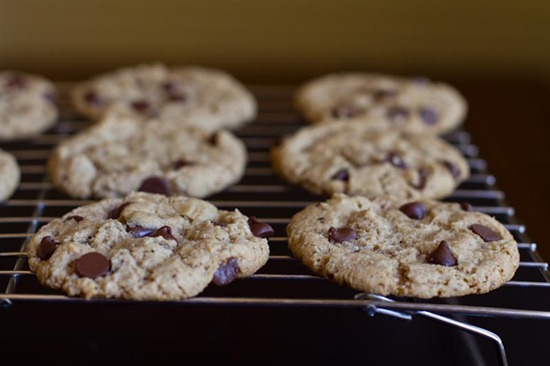 I used 1 & 1/4 cup Bob's Red Mill almond flour and 1 cup gluten-free oat flour (I simply processed certified gluten-free oats in my Vitamix until a flour-like consistency)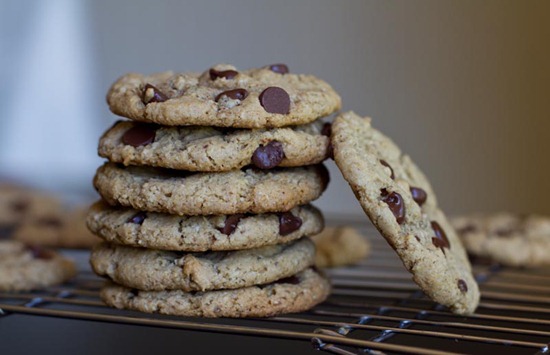 These are the 'picture-perfect' cookie with a great thickness too! The taste was a million times better than using teff flour. The almond flour gave them a very prominent nutty and buttery taste that we all loved. However, I felt that the almond flour was a bit too pronounced in this cookie (over-powering the sweetness) and wanted to reduce the amount slightly.
Trial 3: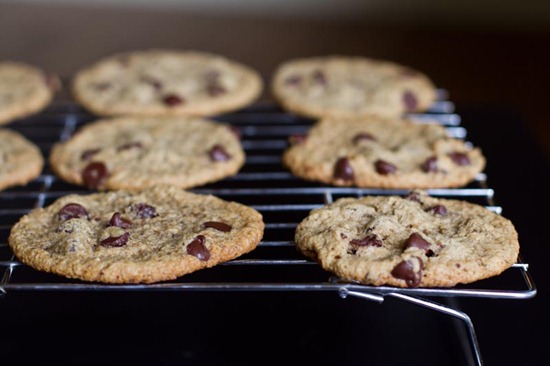 …made a classic thin & crisp cookie with a ton of chew.
I used 1 cup Bob's Red Mill almond flour and 1 cup gluten-free oat flour.
By just reducing the almond flour by 1/4 cup, the cookie was much thinner, crisp, and chewy.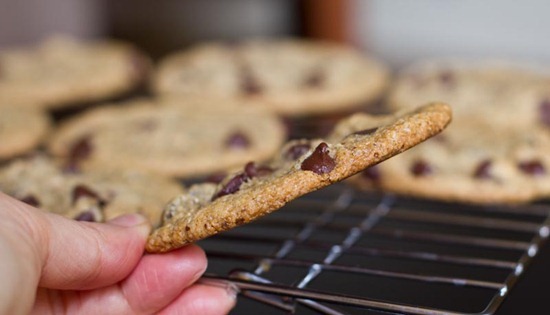 While I generally love a thicker cookie, these were by far everyone's favourite! By reducing the almond flour, the sweetness was able to come through much more. We also loved how crisp and chewy they are.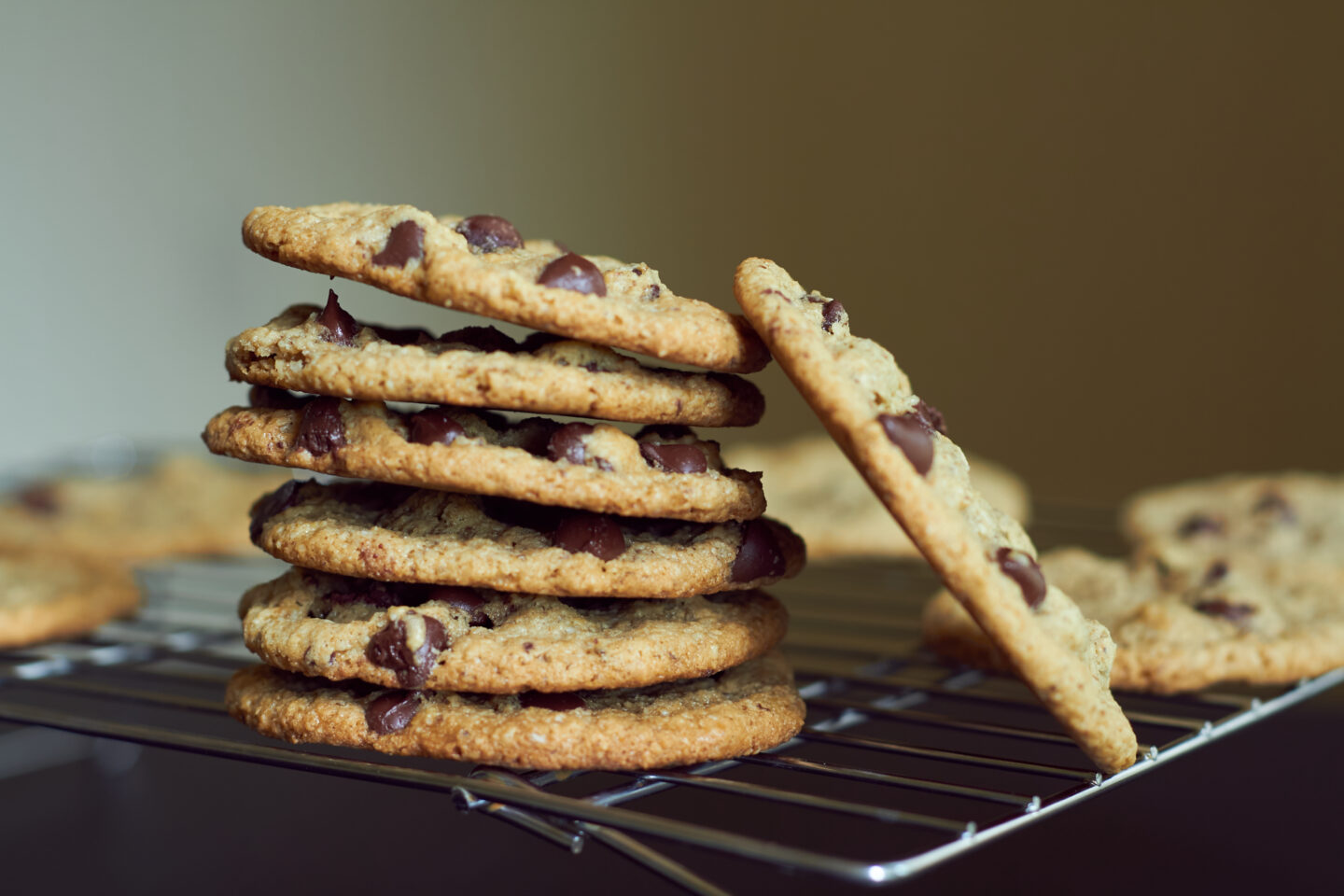 The winning cookie profile:
crisp yet chewy
Nutty and strong buttery flavour (thank you almond flour)
sweet, but not over-powering
slight 'taffy' feel to them from the nut flour
addicting!
What they are not: Soft & doughy
Let's review: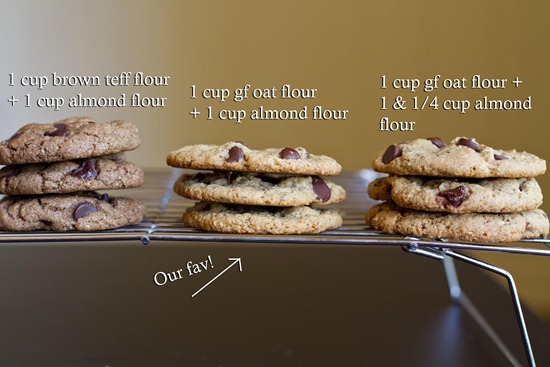 I'm guessing if you wanted a thicker cookie with the sweeter taste of the winning cookie, you could add a couple more tablespoons of almond flour along with a couple tablespoons of additional sugar. I also want to test these again using Sucanat sugar as a sweetener.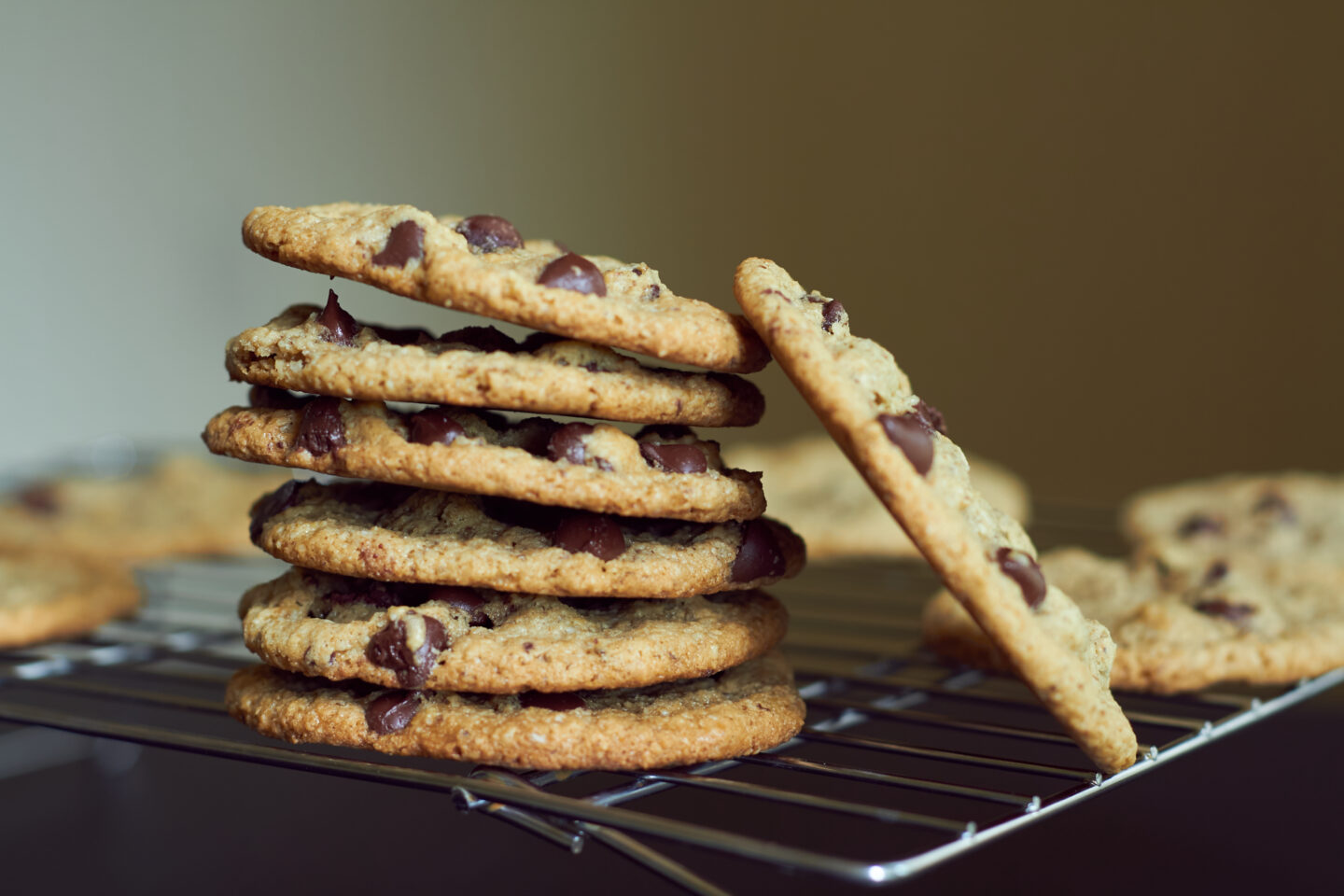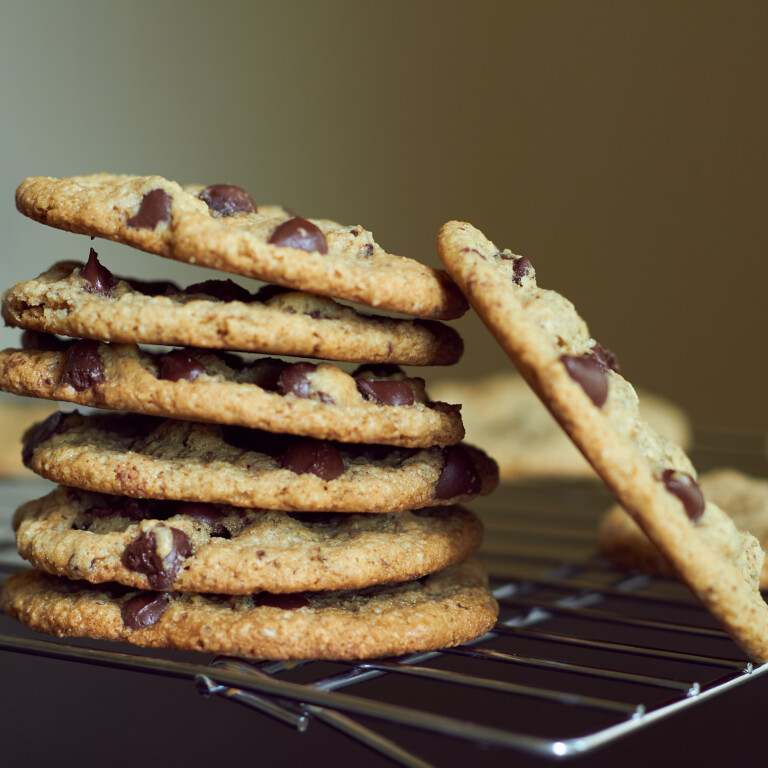 Vegan and Gluten-Free Chocolate Chip Cookies
Vegan, gluten-free, oil-free

Yield

18-20 cookies
Prep time

Rest time

10 minutes
Cook time

Total time

Thin, crisp, and chewy. While these aren't your typical soft and doughy cookies, we loved them anyways. The almond flour gives them a taffy/chewy texture and it was hard to eat just one. The cookies firmed up quite a bit by the next day, so I would suggest cooking them a bit less than 12 mins (which was what I did). Adapted from my Vegan Chocolate Chip Cookies.
Ingredients
7 tbsp Earth Balance + 1 tbsp extra virgin olive oil
1/2 cup packed brown sugar (I used organic)
1/4 cup organic cane sugar (or use white sugar)
1 flax egg: (1 tbsp ground flax mixed with 3 tbsp water)
1 tsp vanilla extract
1/2 tsp baking soda
1/2 tsp kosher salt
1 cup gluten-free oat flour (I processed 1 cup certified gf rolled oats into flour)
1 cup Bob's Red Mill Almond Flour (add 2 tbsp Bob's Red Mill Almond Flour if you want a thicker cookie)
1/4 tsp cinnamon
1/2 cup dark chocolate chips
Directions
Preheat oven to 350°F and line a baking sheet with parchment paper. In a small bowl, mix together the flax egg and set aside.
With an electric mixer or in a stand mixer, beat the Earth Balance and oil until fluffy. Add the sugars and beat for 1-2 minutes until creamy. Beat in the flax egg and vanilla extract.
Beat in the remaining ingredients and fold in the chocolate chips.
With wet fingers, shape balls of dough and place on the baking sheet. The dough will be very sticky but don't worry! No need to flatten the balls down! Bake for about 10-11 minutes until slightly golden along edges. Allow to cool for 5-10 mins. on the baking sheet and then transfer to a cooling rack for another 10 minutes.
Nutrition Information
(click to expand)
By the way, I also called Earth Balance and they told me that all of their products are gluten-free. Nice!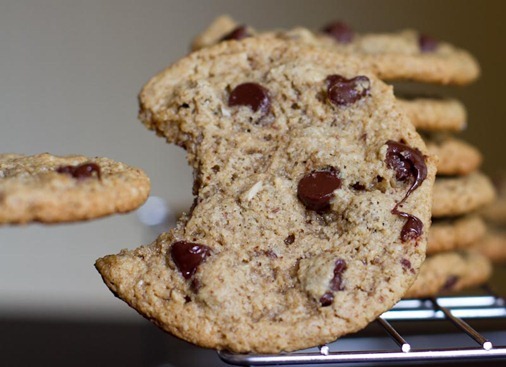 Have a great Friday cookie monsters!