I want to be a Goddess.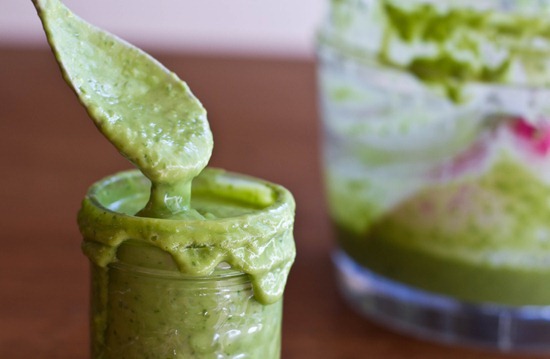 Or even better, a glowing Goddess.
Meow.
However, I don't always feel like a Goddess in my day to day life.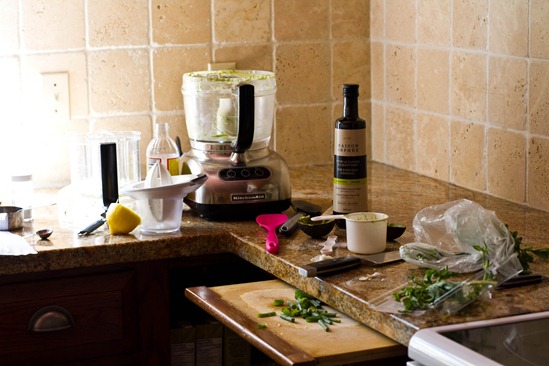 Being a baker & food blogger covered in syrup, flour, and who knows what else on a daily basis isn't exactly Goddess material. Neither is my worn apron with oats stuck to it, my lunch lady hair net, or my flustered red face when baking Glo Bars in the summer heat. And if you think I actually bake in heels, I'm sorry, I really am.
It's frump town over here most days.
Frump.
Town.
Though when I do get dressed up for a special event, it's extra special. This weekend I'll be dressed to the nine's for my brother-in-law's wedding, complete with sparkly jewelry, an evening clutch, heels, and a cocktail dress. And if I'm lucky, a cocktail in my hand.
Berry lipgloss…much to Eric's chagrin.
Shimmery eye shadow, black eye liner, and mascara.
I guess I better find that cocktail dress…
Sometimes, though, feeling like a Goddess comes from within. [OK, I might sound like a certain women's shaving commercial at this point, but go with it.] Sometimes a workout makes me feel like a Goddess. I rocked out a 60 minute spin class this morning and I left dripping in sweat and beet red in the face. Total Goddess.
And often, FOOD makes me feel like a Goddess! That's the best. Eating a vegan diet makes me feel like a Goddess. No matter what things in my life are going on that make me feel the opposite of a Goddess, sometimes all I need is one rockin' recipe to give me a kick to my step.
This is that recipe.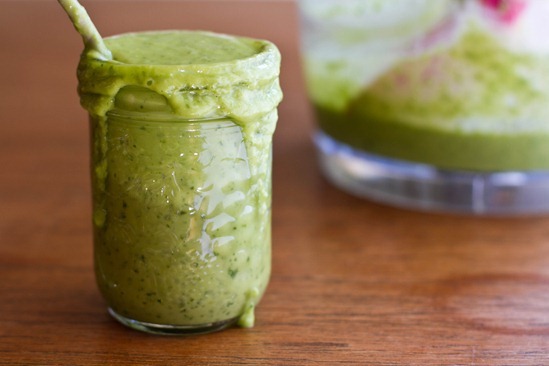 Have you heard of the famous Green Goddess Dressing which is thought to hail from the Palace Hotel in San Francisco? It's a pretty big deal. I finally decided that I would make a vegan version, cuz you know, the original has 3 cups of MAYO in it.
I don't know who equated mayonnaise and feeling like a Goddess, but it must have been a man.
Ladies, this one is for you.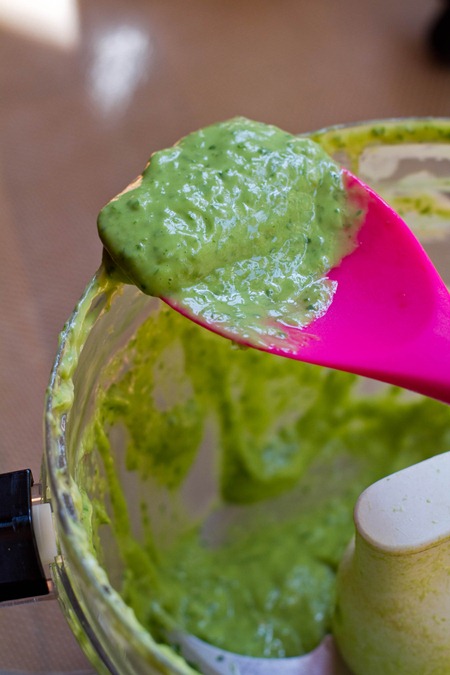 [print_this]
Vegan Green Goddess Dressing
It's light, yet smooth and creamy, and it has a great kick to it thanks to the lemon and apple cider. The fresh herbs give it a fresh and cleansing feel. Enjoy it over salads, vegetables, grains, pasta, as a dip for crackers, etc. Have fun changing up the fresh herbs in this recipe too. Next time I'm going to try fresh dill. Mmm. Goddess.
Inspired by Green Cuisine Cookbook found here.
Yield: 1.25 cups
Ingredients:
1 garlic clove
1 cup packed avocado flesh (2 small) (I heard Tahini might work in place of avocado, so Im trying this next!)
7-8 tbsp water
5 tbsp apple cider vinegar*
3-4 tbsp fresh lemon juice, to taste
1/4 cup extra virgin olive oil
1/2 cup

packed

fresh basil leaves
1/2 cup

packed

fresh parsley
1/2 cup packed green onion (dark green part only, not white)
1 tsp kosher salt, or to taste
Pinch of cayenne (optional)
Sweetener, to taste (I used 1/2 tsp agave)
1. Add garlic clove to food processor and process until finely chopped.
2. Add in the water, oil, avocado, herbs & onion. Process until smooth. Now add in the lemon juice and apple cider vinegar slowly stopping to taste it every little bit. You might want to use less than I did as mine was quite tangy. Finally add in the salt to taste. I used 1 tsp.
3. LICK THE BOWL!
4. Store in an air tight container or jar in the fridge. Keeps for about 5 days.
Note: This dressing has a tangy kick to it from the ACV and lemon juice. If you aren't a fan of a strong tangy flavour, I would suggest decreasing the amounts I used.
[/print_this]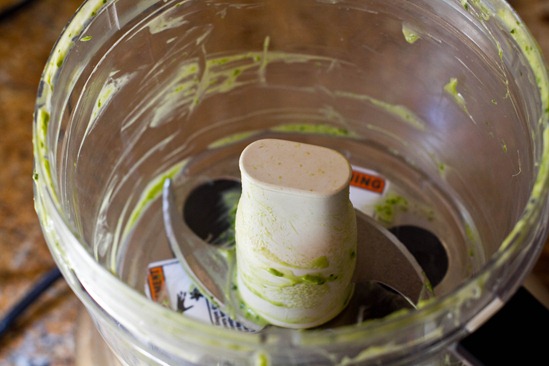 Finger-licking good.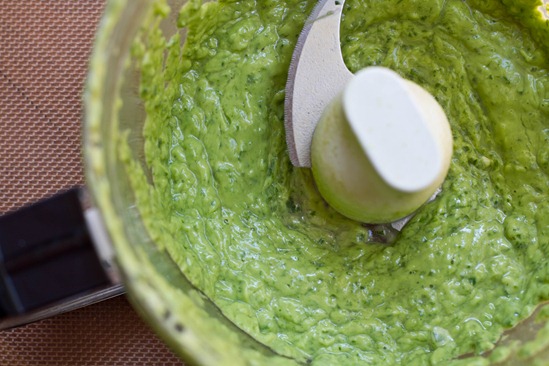 The avocado replaced the mayo in this recipe VERY well. Love avocado as a mayo replacer! This dressing would also be amazing poured over my Protein Powder Goddess Bowl. I will be trying that tonight!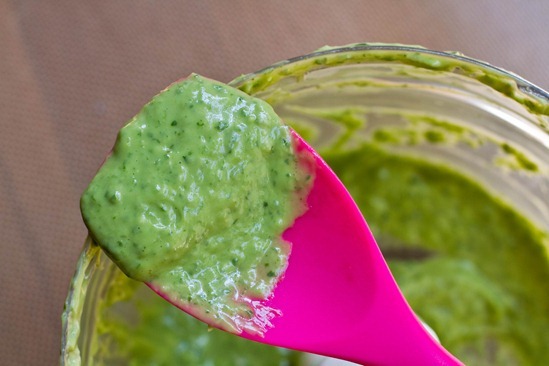 I also won't tell you how much I ate yesterday. That would be embarrassing…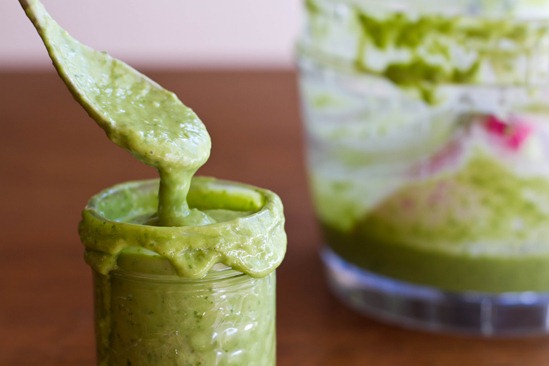 Let's just say I felt like a Goddess for breakfast, lunch, and dinner.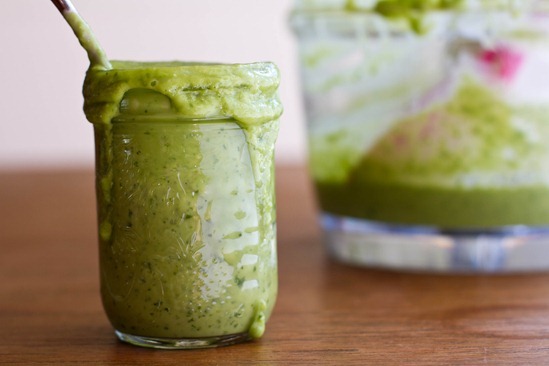 P.S.- I had so much fun chatting with you on facebook yesterday! I'm pretty sure my productivity went down about 5 hours, but who's counting? It's so fun to get to know you guys on a more interactive level and see your lovely faces.
If you're looking for me you can find me on Facebook asking random questions, gushing about food, posting pics, and rambling on about body image epiphanies.