'"Mommy, guess who is very busy right now?"
"Who?"
"Auntie Angie is very busy right now."
"Oh really?"
"Yes. She's busy baking us all kinds of treats! heheh"
Clearly, my nephew Ethan has been reading my blog! He said that to Kristi as they were flying to Ontario this weekend.
And he was right; it was a very busy weekend cleaning the house, stocking the fridge and freezer, cooking/baking, and wrapping gifts! I'm feeling pretty relaxed though because I didn't leave everything to the last minute and I got all my meal planning done last week. I really don't know who I am anymore!
This weekend, I channeled my inner child and tested out a couple kid-friendly snack and meal ideas that I can make while my nephews are here. They are also adult-friendly too of course (and aren't we all just big kids at heart?).
1) Apple Sandwiches
with peanut butter, granola, vegan overnight oats, chocolate chips (or raisins), coconut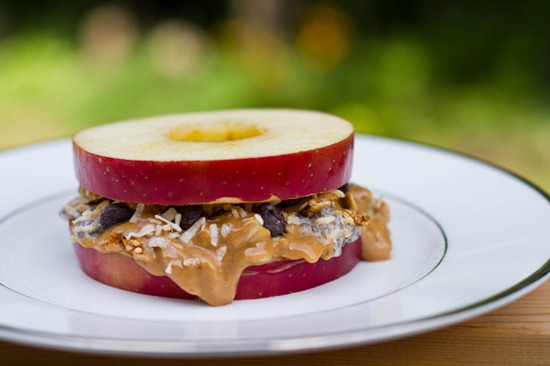 I spotted this idea on Pinterest and I knew that it would be a hit with kids.
Just grab an apple, slice it crosswise, and then use a large pastry tip to punch a hole through the centre to make an 'apple bagel' slice.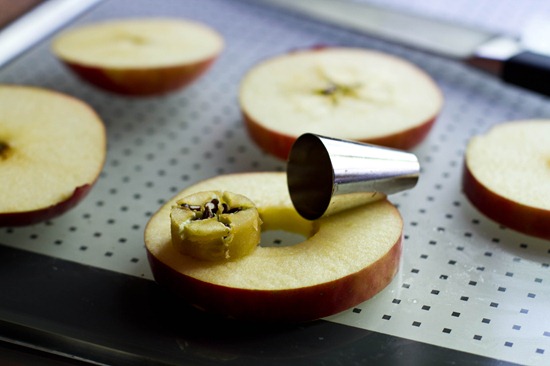 Then just layer on peanut butter, granola, VOO, coconut, raisins, chocolate chips, etc…anything you desire! These will be really fun to make with my nephews because they can create their own.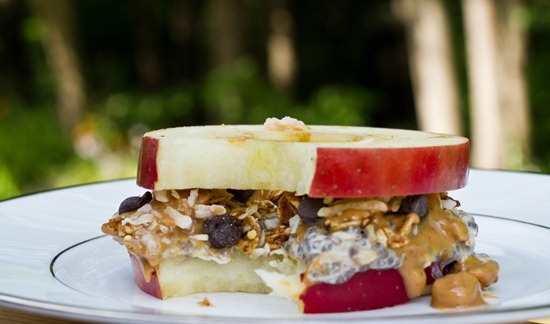 2) Chunky Whole Fruit Popsicles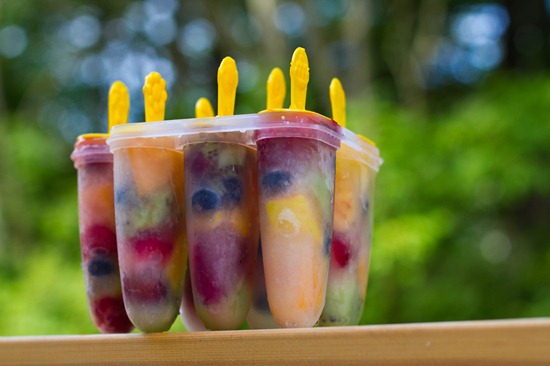 Ange told me about these popsicles and I knew I had to make them for my nephews. All you do is cut up your favourite fruit, drop it into a popsicle mold, and then fill up the remaining space with juice. Freeze overnight.
For the juice, I used this delicious pineapple coconut juice. It's also clear, so the fruit shows through quite a bit.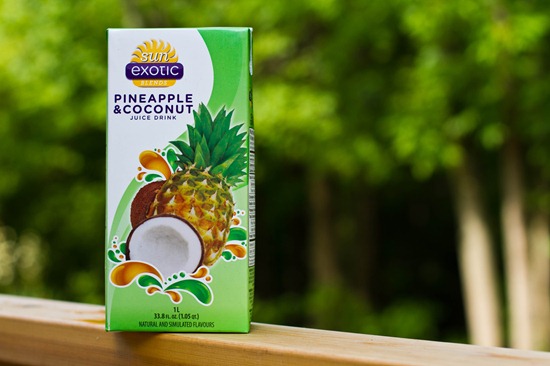 They taste great and I'm sure the boys will love 'em on those hot days!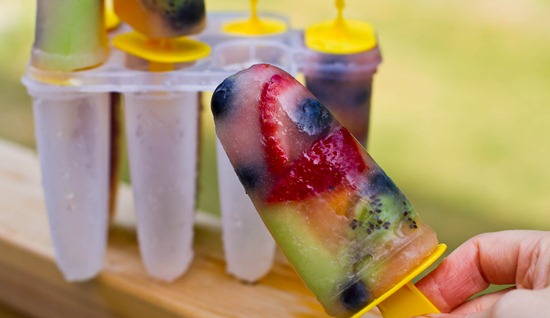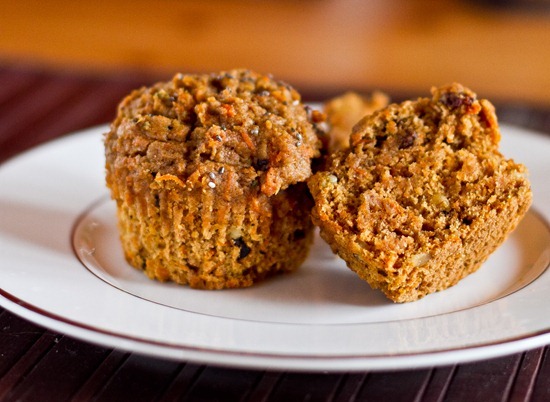 My nephews love muffins, so I will definitely be making a batch of Carrot muffins while they are here!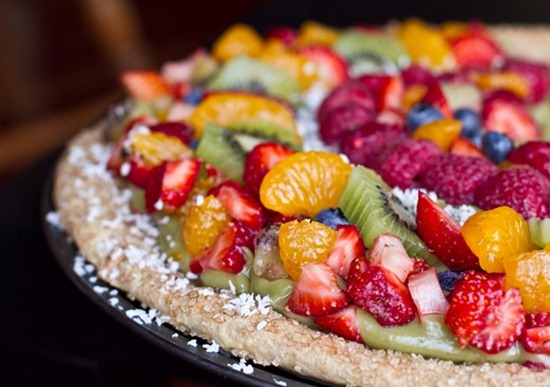 This dessert pizza is not only packed with nutrients, but it's a hit with everyone who tries it. Kids can also help make the pizza too.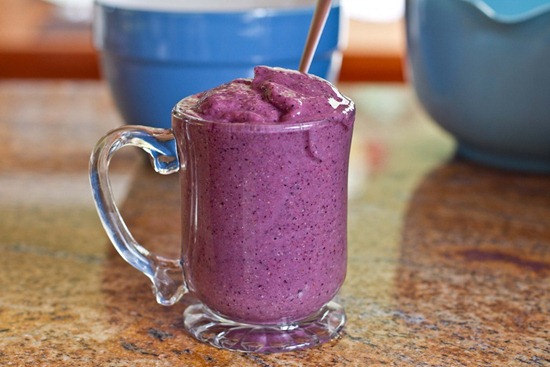 My nephews love Green Monsters & Smoothies, so we'll be making lots of these this week.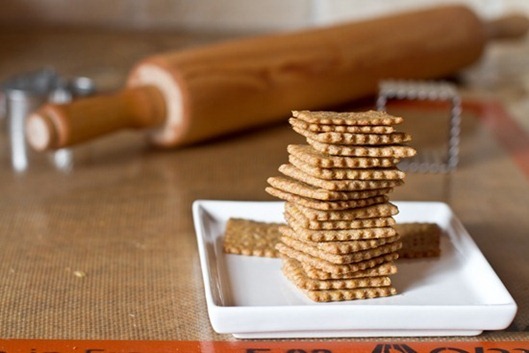 These crackers are not only my favs, but they are extremely quick to make and the dough is easy to roll! Kids will have fun using cookie cutters to create all kinds of shapes. They go great with Cheezy Hummus or my favourite homemade hummus.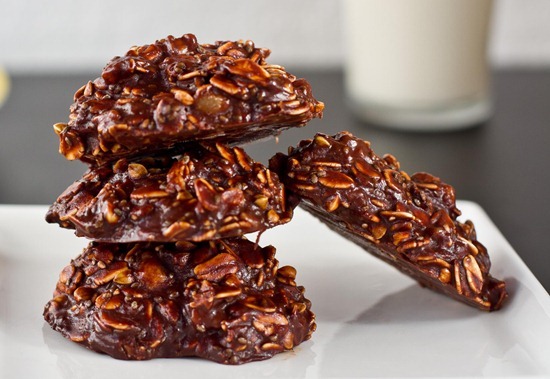 Seconds to whip up, these freezer cookies are great for the summer and filled with healthy ingredients like chia seeds and rolled oats, but the kids won't know the difference.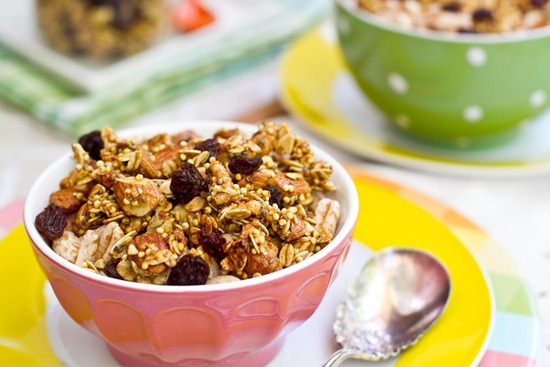 My nephews love granola with milk for breakfast, so a batch of this will definitely go quick!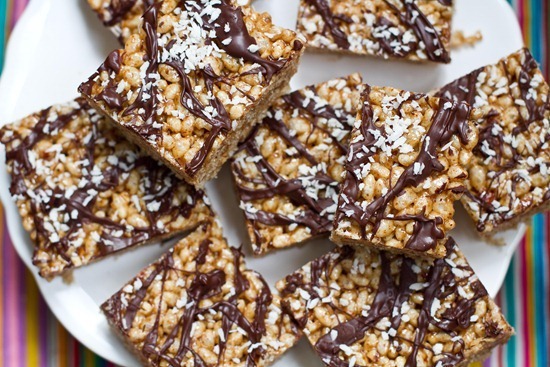 It's a bold statement, but I think these Almond Butter Rice Crisp treats are better than the ones I used to make as a kid. Even better, they have ingredients that you can feel good about!
As you know, I'm not usually a meal planner, but when I'm playing hostess for a week and kids are involved, I like to plan ahead.
This week's kid-friendly meal plan:
Monday: Hawaiian stir-fry with coconut rice

Tuesday: Potluck dinner @ family gathering (I'm contributing Back on Track Wheatberry salad and dessert)

Wednesday: BBQ homemade burgers, roasted veggies, fries, Weekend Glow Kale Salad 

Thursday: They will be away this night so Eric and I will probably grab something easy

Friday: Restaurant

Saturday: Build your own pizza night (so excited for this!) + salad (Kerrie and the family join us for the weekend)

Sunday: Pasta dish/casserole (TBD), garlic bread, salad, etc

Lunch ideas: Mac 'n cheese (using this sauce), peas, and veggie dogs, grilled cheese, sandwiches/subs, etc. 
If only I could be this organized every week!

Today is the BIG day- The Great Fundraising Blogger Charity Auction! All proceeds go to our dear friend Susan from The Great Balancing Act who was recently diagnosed with Hodgkin's Lymphoma. I've had the opportunity to meet Susan a few times and she is an amazing, fun, and caring person. She's been fighting her cancer with strength, grace, and positivity that has touched me deeply and everyone who follows her journey. [You can read Susan's story here].
The lovely Janetha rallied the blogging community together to support Susan with this huge fundraiser..and it's bigger than we ever dreamed it would be! The blogging community is powerful beyond measure and I know this fundraiser is going to be a huge success.
I have donated 20 Glo Bars up for auction and will ship to anyone in the US or Canada and there are hundreds of other amazing auction items to bid on! It runs from 8am EST until 4-11pm EST (staggered closing) TODAY July 25th.
Head on over and support a great cause! I'm off to submit some bids!