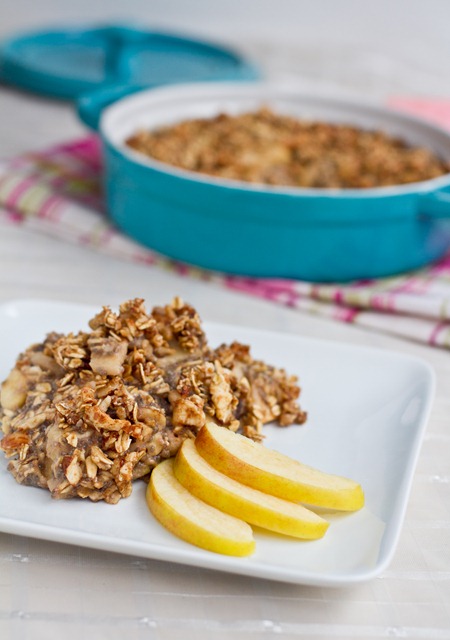 Yesterday, I thought the tide was turning with my flu. I had a fairly restful sleep Monday night and my symptoms had died down a bit. I was so excited because I thought that I was getting over this thing!
…and then Tuesday evening hit and the symptoms came back with a vengeance. I was up all night coughing up a storm with a tickly throat. Hopefully this thing is on its way out because I feel like I am missing out on my life!
I also did something I thought I would never do…I bought a Neti Pot!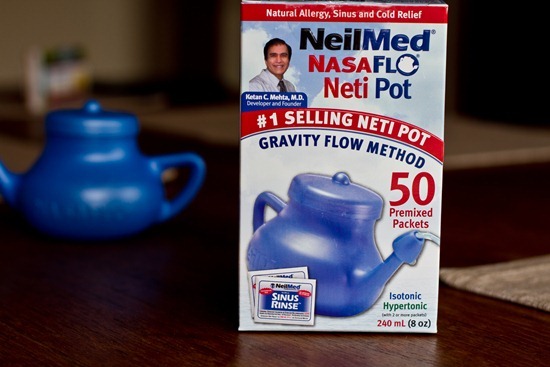 Have you seen these crazy things before?
I first heard about them on Dr. Oz when he was saying how great they are for congestion, post nasal drip, and sinus allergies. I finally went out and got one at Shopper's Drug Mart. You mix a warm salt water solution and then pour half of the mixture through each nostril (the water slowly pours out of the other nostril!!), while tipping your head to the side and leaning your body a bit forward.
It sounds scary, right?
But, it wasn't bad at all. I promise…I'm the world's biggest chicken too. It was oddly soothing in a gross way. My nose has been fairly clear and I can breathe much better when using it 2-3 times per day. I also plan to use this when my allergies kick in later this Spring and Summer.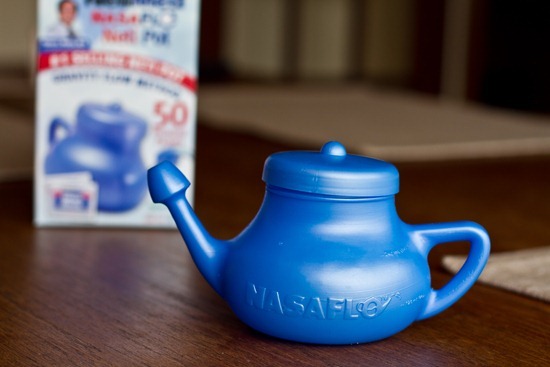 One thing that really bites about this flu is that I can't taste anything. Everything I eat tastes incredibly bland and my normally raging appetite is M.I.A. It is such a weird feeling.
I have been eating a lot of Vegan Overnight Oats (with orange) mixed with Strawberry Banana Soft Serve to soothe my throat.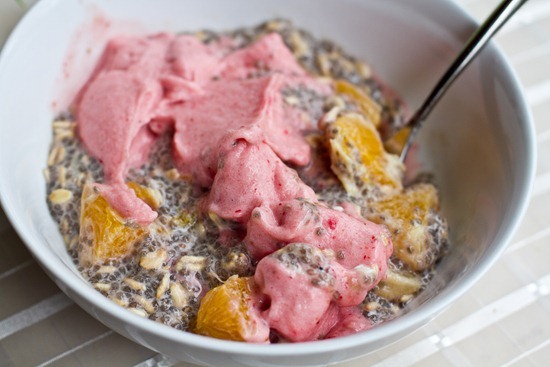 This is always delicious…even with my lack of taste. :)
Since I was feeling a bit better yesterday, I started to get the baking itch. I was craving baked oatmeal because it just sounded so soothing, comforting, and warming on my throat.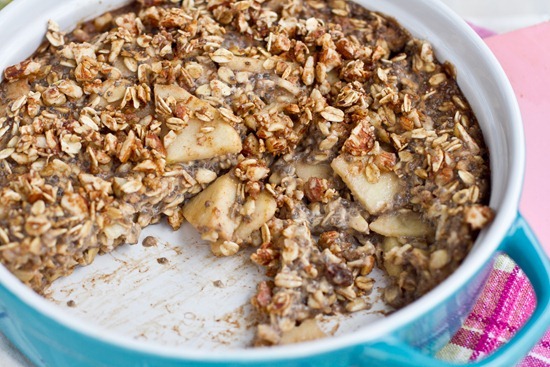 [print_this]
Fruity Baked Oatmeal with Crunchy Cinnamon Almond Topping
Yield: 4 servings
Baked Oatmeal:
1 cup + 1/3 cup regular rolled oats
1/4 cup chia seeds
1 large banana, chopped
1 apple, peeled and chopped
1 tbsp raisins
1 tsp ground cinnamon
Pinch of kosher salt
1.5-2 cups non-dairy milk (I used 2 cups but you might need less depending on the volume of mix ins)
2 tbsp pure maple syrup
1 tbsp pure vanilla extract
Crunchy Cinnamon Almond Topping:
1/4 cup raw almonds
2 tbsp regular rolled oats
1 tbsp Sucanat (or other dry sugar)
1 tsp pure maple syrup
1 tbsp non-dairy milk
1/4 tsp cinnamon
Directions:
1. Preheat the oven to 350F and grease a 4 cup baking dish.
2. In a large bowl, mix together the oats, chia seeds, chopped banana, peeled and chopped apple, raisins, pinch of salt, and cinnamon. Now stir in the milk, maple syrup, and vanilla. Pour into casserole dish and set aside.
3. In a food processor, or by hand, process (or chop) the almonds. Now add in the oats, Sucanat (or sugar), Maple syrup, and milk and process until just combined. Sprinkle this mixture on top of the oatmeal mixture.
4. Bake in the oven for 26-30 minutes at 350F, uncovered. Watch closely during the last few minutes of baking so the topping doesn't burn. Remove from oven and serve immediately. Drizzle with maple syrup. Will keep in the fridge, covered, for about 3 days. To reheat, simply, place in a bowl and add a splash of milk and heat in the microwave for a minute or so.
[/print_this]
When I make baked oatmeal I like to make a large batch so I can enjoy it for a few meals! It is a really quick breakfast that reheats in a flash.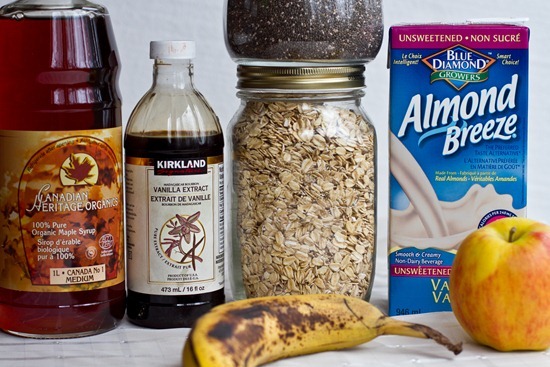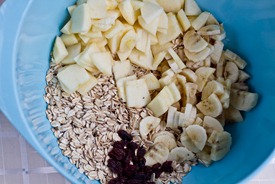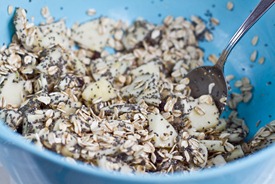 This oatmeal mixture tastes really good and it was hard not to just eat it on the spot!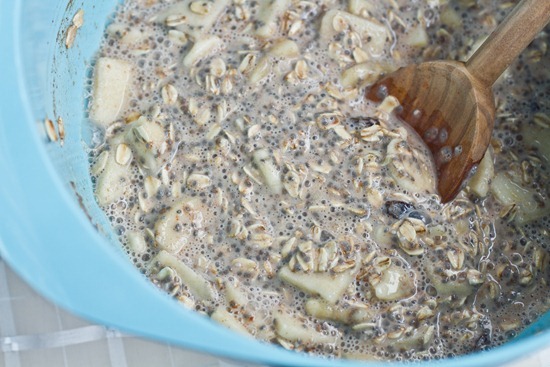 If you wanted to skip the whole baking thing, you could just leave this overnight in the fridge and have a big batch of VOO on your hands. :)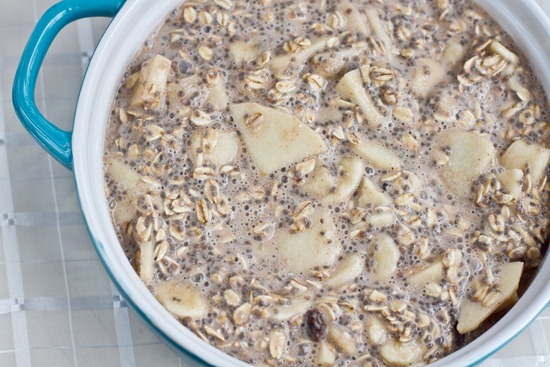 But baking it is amazing…as is this wonderful crunchy topping…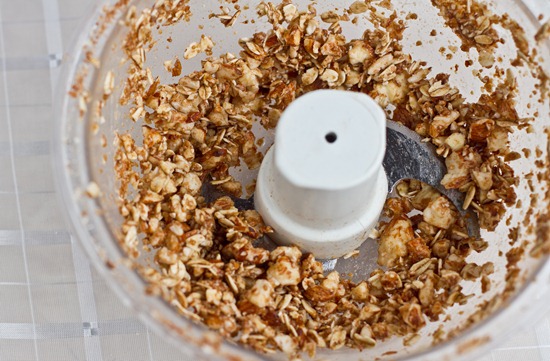 Sprinkle the cinnamon almond topping on the oatmeal mixture.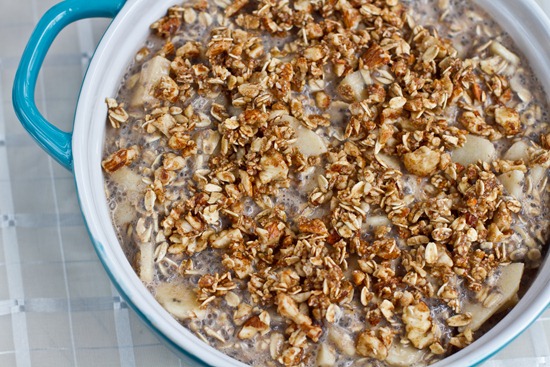 Bake for 26-30 minutes and gobble!
This baked oatmeal turned out WONDERFUL!
It is like a hybrid between baked oatmeal and a fruit crisp. The crunchy cinnamon almond topping really made the whole dish. I also highly recommend a drizzle of maple syrup…it tied in all the flavours very well.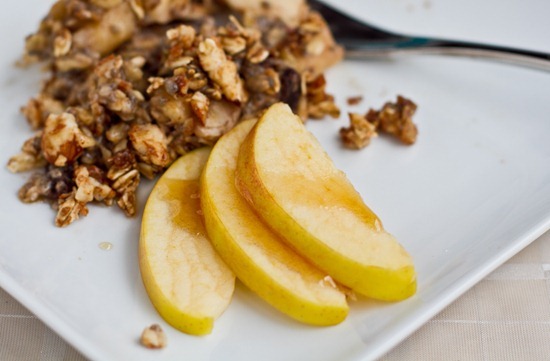 In other news, Eric has been helping me with my vegetable garden beds, since I have been out of commission.
We measured our property line to see where we could put the beds.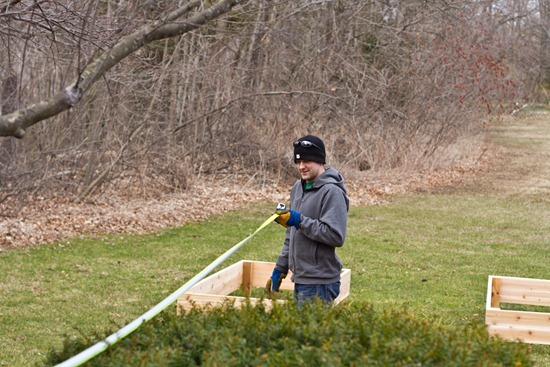 We placed the beds in a very sunny spot that gets over 6 hours of sunlight a day.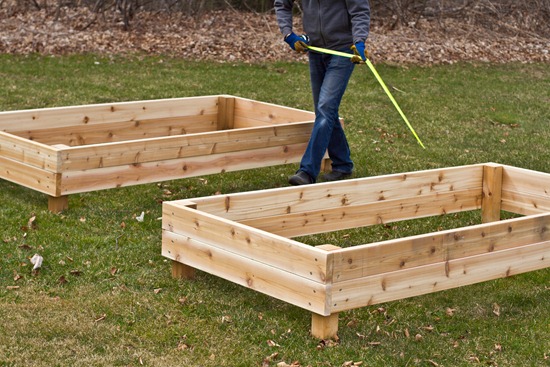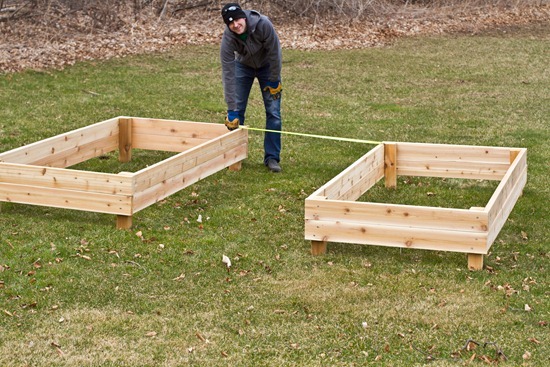 After marking the legs, Eric dug out holes for them.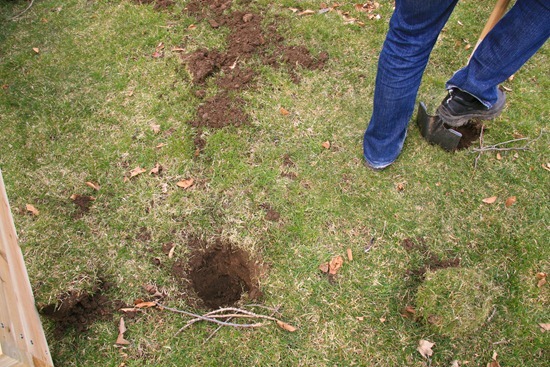 With a bit of work, we got them to sit flat.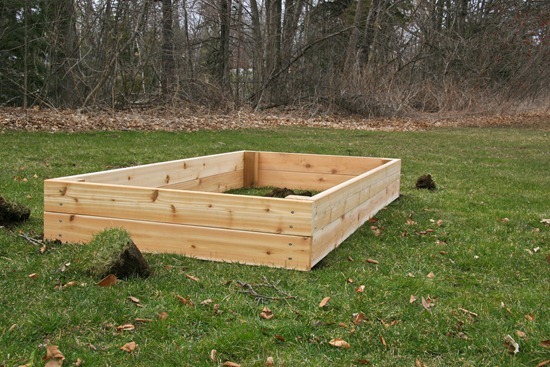 After we got the beds in the ground, we pinned down chicken wire on the bottom layer of the bed (not shown in photo). This will help prevent gophers from digging up into the garden. Or so they say…
The second layer we put down is what you see below. This is a Landscape fabric and it prevents weeds from growing up into the beds. You can find this at most home or garden stores.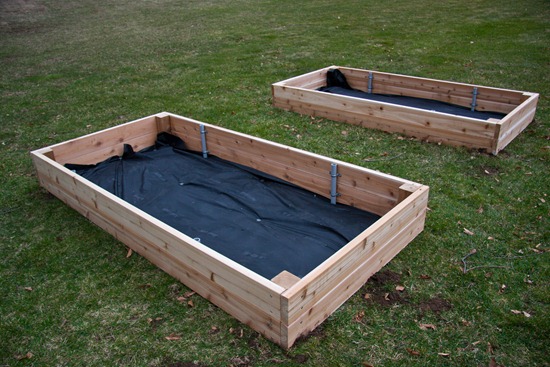 Aren't they pretty?
I'm still on the hunt for a good triple mix soil. Whenever I ask a garden centre if they have organic triple mix they give me a weird look and say 'of course it's organic…doesn't get more organic than this!' I'm not sure if they are green washing me or if it really is organic. I guess I just have to figure out the right questions to ask.
I have located a garden centre that sells certified organic and non-GMO seeds and plants so that is good news. Their plants arrive around May 7th and they are going to call me when the plants arrive. :)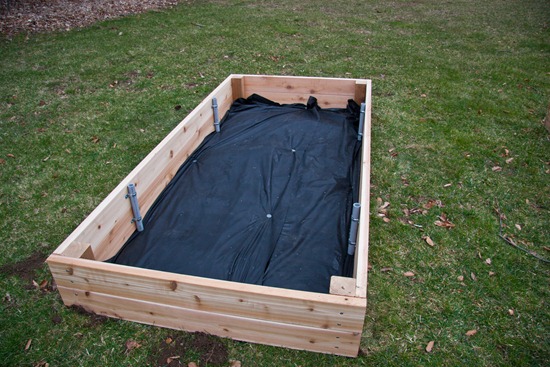 My veggie wish list:
Onions
Spring Onions
Carrots
Lettuce
Kale
Spinach
Zucchini
Garlic
Peas
Beets
Tomatoes
Peppers
Herbs
I need to figure out where to plant the veggies in the beds. I need to read up on companion planting, perhaps? The most I have figured out is that the tall plants go on the North side (so they don't cast shade on small plants), plant Marigolds around the beds to keep out pests/animals, and carrots are great to plant next to Spring onions (companion plants).
Other than that I am lost!