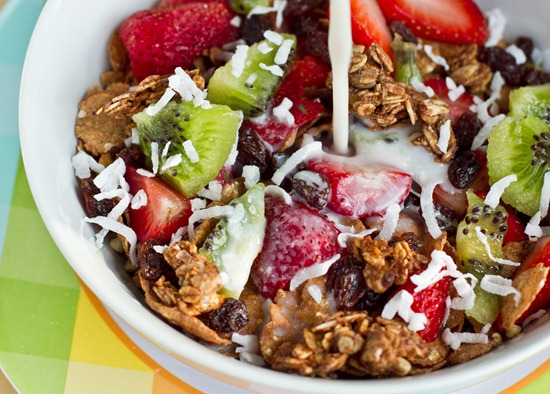 I love cereal and I often have a bowl for a snack, but I never find that it does a good job filling me up. Because of this I rarely have cereal for breakfast, assuming that I am going to be hungry in an hour.
Every morning Eric eats a gigantic bowl of Nature's Path Spelt cereal, chia seeds, and raisins that holds him over for 4-5 hours. I have cereal envy! If I can make it happen, I just may have to design my own custom cereal.
So, this morning I set on a mission to do justice to the cereal bowl…
My mission was to create a bowl of cereal that had the following elements:
High in protein (over 25 grams)
High in fibre (over 15 grams)
Good dose of Omega healthy fats
Antioxidants
Fruit
Super Crunchy texture
Light sweetness and an array of flavours
Is it possible? And would it hold me over all morning long?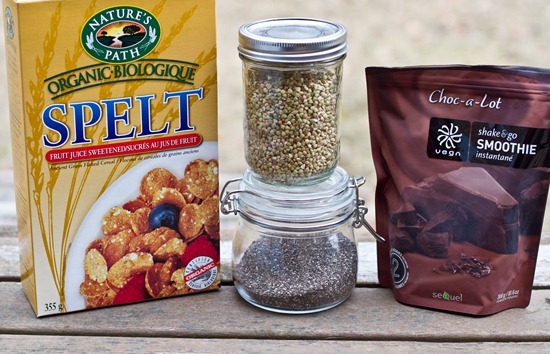 The first thing I did was make a list of the foods that I wanted to include:
Nature's Path Spelt Cereal (love this cereal because it's 100% spelt flour and just 4 grams sugar per serving)
Raw Buckwheat Groats- For the crunch, protein/fibre + other nutrients
Eden Organic Soy Milk– I've been using this lately for breakfast because it has 12 grams protein per cup! It is also organic, no additives, and uses non-GMO beans. With that said it doesn't taste great because I got the unsweetened variety.
Vega Choc-o-lot Protein Powder– I had the fun idea of sprinkling some of my favourite protein powder onto the cereal for an extra vitamin and protein boost.
Fruit– For light sweetness, texture, and nutrients (Today I used strawberries, kiwi, and raisins)
Homemade granola– for the insane crunch!
Sweetened Shredded Coconut– just a pinch on top for sweetness, aroma, and flavour
Chia seeds– Antioxidants, protein, fibre, healthy fats, calcium, iron, etc.
[print_this]
High Protein & High Fibre Cereal
Staple Ingredients:
1 cup Nature's Path Spelt cereal (or cereal of choice)
1/4 cup buckwheat groats (soaked overnight, drained, rinsed) *See note below
1 tbsp chia seeds
1/2-1

teaspoon

(not tbsp like I wrote prior) chocolate protein powder (I used Vega choc-o-lot)
1.25 cup high-protein non-dairy milk (I used Eden organic soy with 12 grams PRO per cup)
Before I even poured the bowl, I calculated the nutrition info to see if it was where I wanted it to be. After a couple tweaks, I was able to come up with one powerhouse cereal bowl.
Nutritional Info Per basic Bowl (above):
532 kcals
15 grams fat (1 gram sat fat, mostly healthy fats)
222 mg sodium
75 grams carbs
15 grams fibre
9 grams sugar (cereal and protein powder)
28 grams protein
Now add on your desired toppings!
I added:
~ 1/2 tbsp Raisins
~1 tbsp Granola (I used my favourite granola)
A pinch of Sweetened coconut shreds
Fruit to equal 1/2 cup (I used 3 strawberries and 1/2 kiwi)
Buckwheat Note: Apparently, raw buckwheat groats can cause GI discomfort in some people Please proceed with caution when using! Toasted buckwheat (Kasha) might be a better option for some.
[/print_this]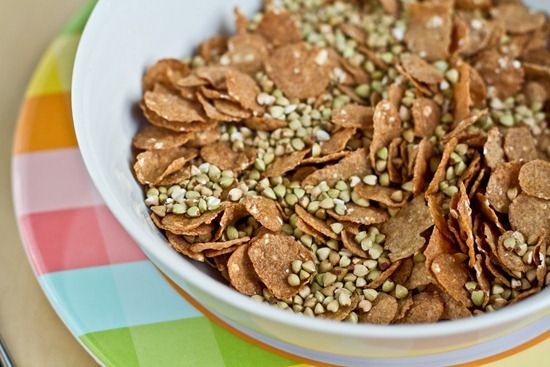 The chocolate protein powder was fun! I've never had it on cereal before but I loved the chocolaty and sweet flavour it brought to this bowl.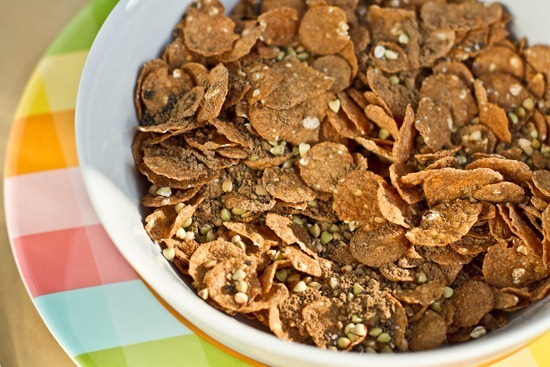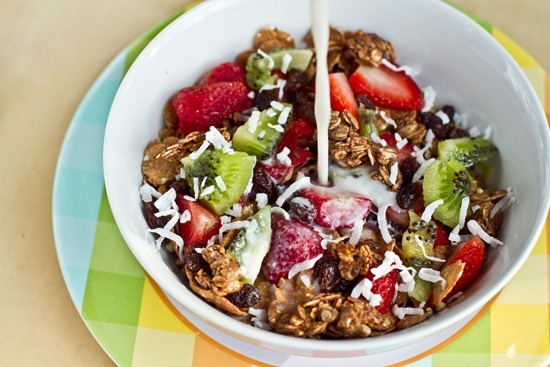 I also loved the combination of chia seeds, protein powder, soy milk, spelt flakes, and buckwheat. The chia seeds created a doughy VOO mixture at the bottom of the bowl that I loved. This was probably one of the most satisfying bowls of cereal I have had in a while. It was SO flavourful and had so many amazing textures!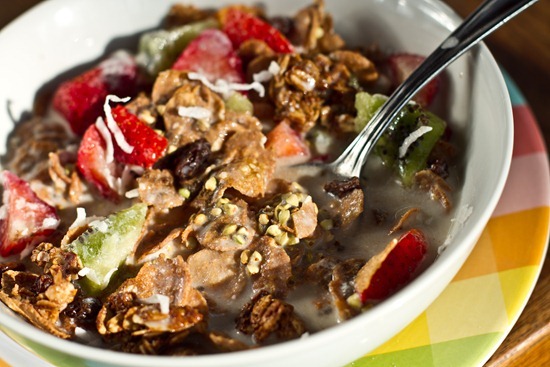 But how long will it hold me over? I have my doubts, but time will tell. I'll be sure to report my findings. :)
Are you a cereal fan?