Usually around mid-to-late August, I can't help but think about Fall.
Don't get me wrong, I love summer and cherish every second of it (and yes our summer in Canada can be counted by the second!), but my mind wanders to thoughts of Fall around this time.
Crisp, bright, crunchy, and cool fall.
Pumpkin.
Comfy sweaters.
The smell of fireplaces and those final uses of the BBQ.
Raking leaves until the blisters on my fingers hurt so bad, I must come inside.
Ok, so maybe fall isn't all it is cracked up to be. I just can't decide if I am on Team Summer or Team Fall right now.
Tonight's recipes are a clear reflection of my indecisiveness toward the seasons.
First, I decided I would make a summer bean salad so delicious and easy, I'd feel like I was sitting on the beach at some posh women's yoga retreat. My body was also in post-vacation shock, so anything longer than 10 minutes to prepare was simply out of the question.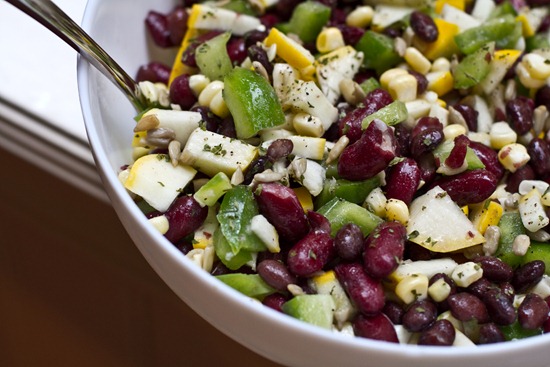 Second, I decided I would honour my Fall cravings with a beautiful Maple Butter Baked Pepper Squash so warm and fuzzy I'd feel like I was cuddled up in front of a bonfire wearing a big hooded sweatshirt.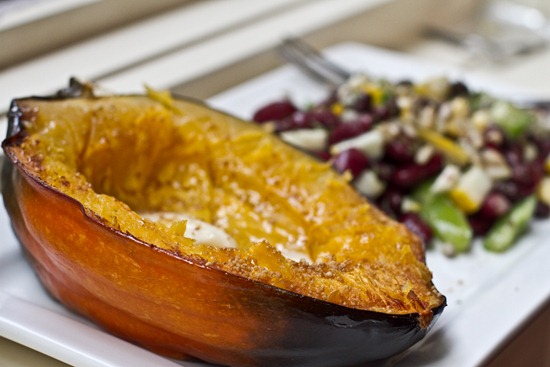 This meal is for those days when you are town between your love for summer and your yearnings for Fall.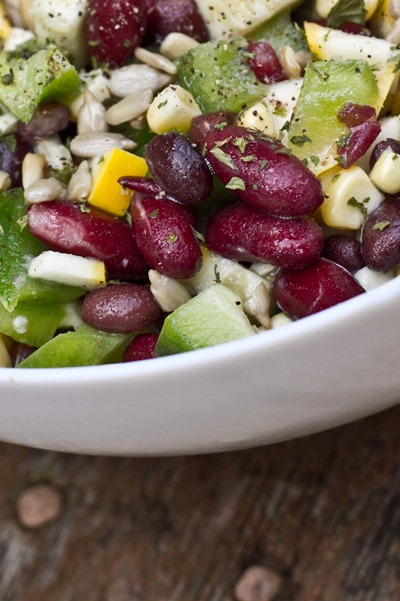 Easy & Delicious Summer Bean Salad
Ingredients:
1.5 cups cooked black beans
1.5 cups cooked kidney beans
1/2 large green pepper, diced
1 large patty pan squash, diced
1/4 red onion, diced
1 corn on the cob, corn removed
2-3 tbsp sunflower seeds
Easy Bean Salad Vinaigrette (3 tbsp vinegar, 2 tbsp sunflower oil, 1 tbsp pure maple syrup, 1/4 tsp Himalayan sea salt, 1/8 tsp freshly ground black pepper)
1/4-1/2 tsp Dried parsley
Sea salt and pepper to taste
Directions: Dice vegetables and throw all ingredients except the vinaigrette and sunflower seeds into a large bowl. Set aside. In a small bowl prepare the Easy Bean Salad Vinaigrette. Pour the vinaigrette over the diced vegetables and bean mixture and mix well until coated. Sprinkle with sunflower seeds and parsley and additional sea salt and pepper if necessary. Serves 4-5.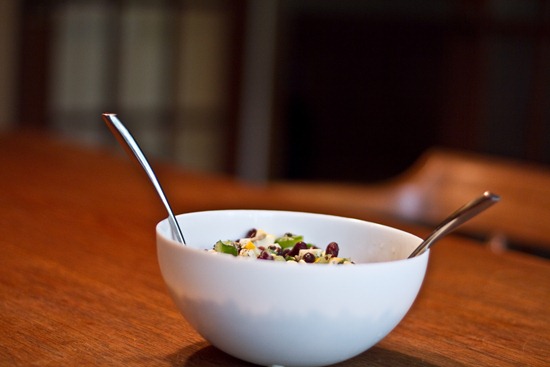 Summery: Check; Delicious: Check; Easy: Check, check, check.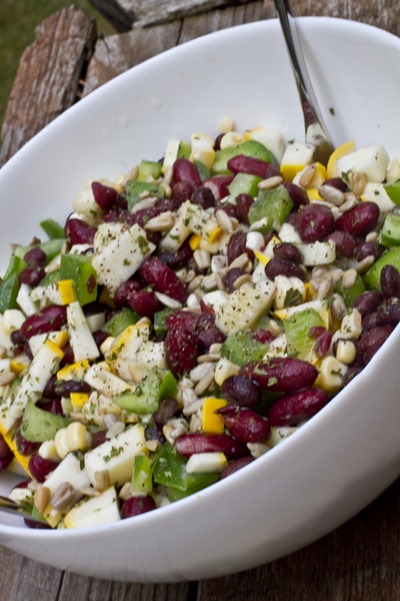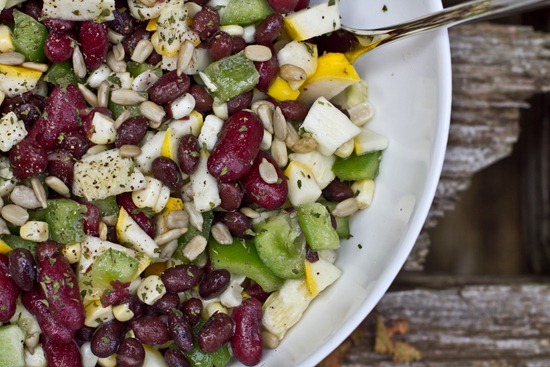 This tastes incredible, not to mention it is healthy and filled with protein, healthy fats, and fibre.
Simple food is delicious food.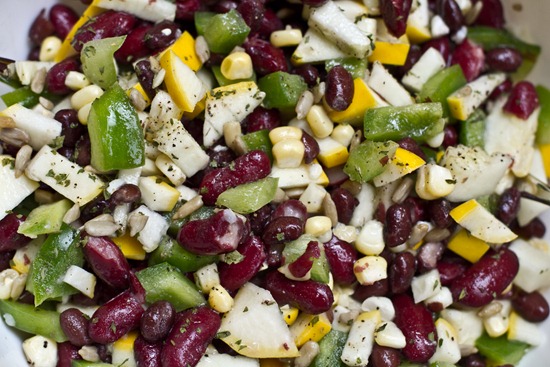 To satisfy my Fall cravings, I served it with a baked Courge Pepper Squash.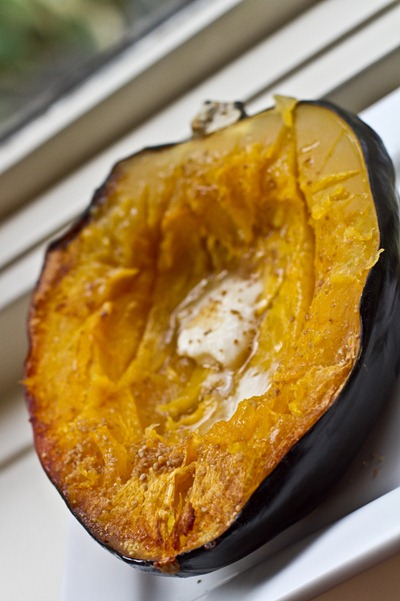 Maple Butter Roasted Courge Pepper Squash
Ingredients:
1 Courge Pepper Squash, split in half & seeds removed
2 tbsp Earth Balance
1-1.5 tbsp Pure maple syrup
Pinch sea salt
1 tsp Sucanat (or brown sugar)
Directions: Place about 2-3 inches of water in a large & deep casserole dish. Take prepped squash (sliced in half and seeds removed) and place cut side down into the water. Bake at 425F for about 30 minutes or until tender. Remove from oven and cool for about 10 minutes. Flip squash and immediately place Earth Balance, Sucanat, maple Syrup, and sea salt over top of both halves. Serve immediately. Serves 2.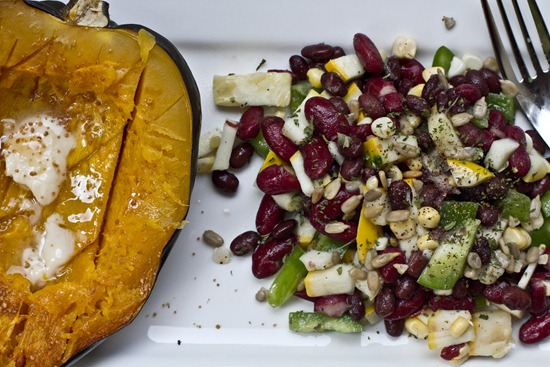 The squash tastes like a warm, sweet embrace on a chilly night.
Or maybe I am just weird like that.
Either way you have to try this. Quite possibly the best tasting squash I have ever had! Buttery, sweet, and slightly crunchy from the Sucanat. Ohhhhh me oh my.
Ok, now it's your turn: Team Summer or Team Fall? Also, what are your favourite Fall recipes or foods?
Oh I am getting all excited just thinking about it!