Hi there!
Today has been a great day. I attribute this to a few things: 1) Not having to chew my Green Monster this morning, 2) A great 4 mile run in between downpours of rain, 3) I finished all my Farmer's market prep, and 4) I got some very exciting travel news (info to come later).
I do believe today's run was quite possibly the most HUMID and uncomfortable run I have ever experienced in my life. I guessed the humidity to be about 99%. Eric's words regarding this humid day were, 'It was like walking through a waterfall, only much, much less fun than that sounds.'
The sticky run:
Distance: 4 miles
Time: 35:04 mins
Avg Pace: 8:46 min/mile
Max pace: 6:52 (sprinting at end)
Mile splits:
Mile 1: 9:14
Mile 2: 8:42
Mile 3: 8:42
Mile 4: 8:24
A beautiful negative split! With each negative split, they become a bit easier. For my post on how to run negative splits see here.
I was very thankful for two things: 1) Camelbak (I would not have been able to run today without a constant supply of cold water), and 2) Eric gave me his old Shuffle mp3 player (mine broke!) so I had my music.
Favourite running song today: 'One Life Stand' by Longo & Wainwright. It is a GREAT running song with a fun beat.
I had high hopes for tonight's dinner recipe. Do you ever see a recipe and you say to yourself, 'If this is as good as it looks my world will be forever be changed?' That is how I felt when I saw Scalloped Tomatoes With Croutons. The only thing I had to do was veganize it- no problem, right!?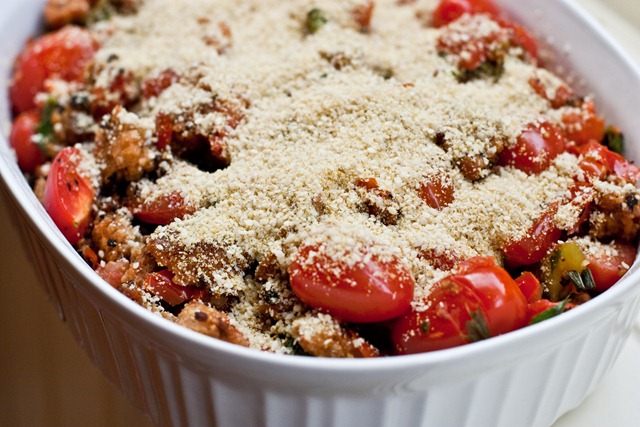 Basil Scalloped Tomatoes and Croutons
This is hands down one of the best recipes I have ever made. You will not believe your taste buds when you try this casserole. Two notes: Do not remove sugar as it brings out the wonderful flavour in the tomatoes and two, don't even think about leaving out the fresh basil. It made the entire dish! One thing I love about this recipe is the short ingredient list…it was so easy!
Adapted from Smitten Kitchen's Scalloped Tomatoes With Croutons.
Ingredients:
2 tablespoons olive oil (reduced from original)
3 slices Ezekiel bread or french bread, chopped into 1/2-inch croutons
2 1/2 pounds tomatoes, diced (I used grape)
1-2 cloves garlic, minced
2 tablespoons Sucanat or regular sugar
1-2 teaspoons Kosher salt (I used 1 tsp kosher sea salt)
1 teaspoon freshly ground black pepper
1/2 cup thinly slivered basil leaves, lightly packed
1/2 cup 3 minute vegan parmesan cheeze or regular Parmesan cheese
Directions: Preheat the oven to 350°F. Heat olive oil in a large skillet over medium-high heat. Add the bread cubes and mix well with oil so that they are evenly coated. Cook bread, stirring frequently, until crisp on all sides for about 5 mins.While the bread is toasting, combine tomatoes, garlic, sugar, salt and pepper in a large bowl. When the bread cubes are crisp, add the tomato mixture to the skillet, stirring frequently for 5 minutes. Remove from heat and stir in the basil. Pour into a 1.5 qrt/1.4 litre shallow baking dish and top with Parmesan cheese. Bake for 35 minutes until the top is golden. Allow to cool for at least 10 minutes before serving as the tomatoes are VERY hot! (Yes, I burned my tongue! haha). Serves 2-4.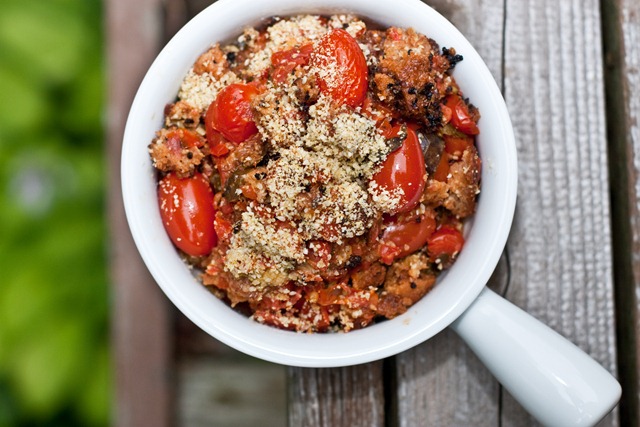 The cooking process in pictures…
Instead of French bread I used 3 slices of Ezekiel bread and kept the crusts in. This simple switch added 3 servings of whole grains!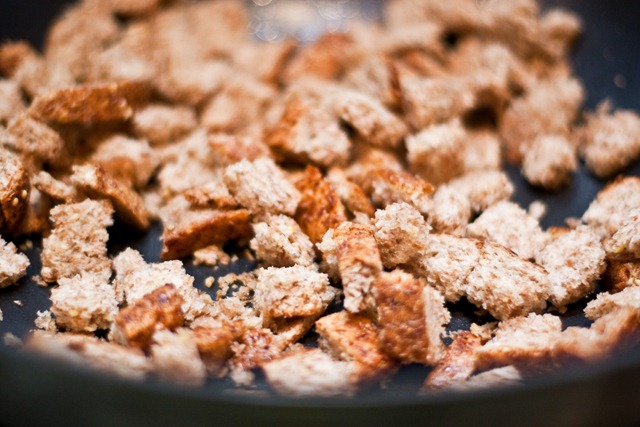 For the tomatoes I used organic grape tomatoes. If you can get your hands on some grape tomatoes, I highly recommend using them in this dish. They had the most amazing flavour that went so well with the basil!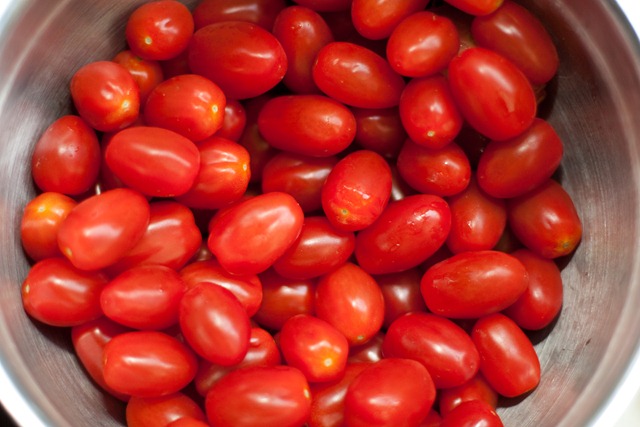 To speed up the process, I tossed the tomatoes into the food processor and pulsed for 3-5 seconds. I left some whole and some diced. It worked perfectly!
The tomatoes, kosher sea salt, Sucanat, pepper, and garlic: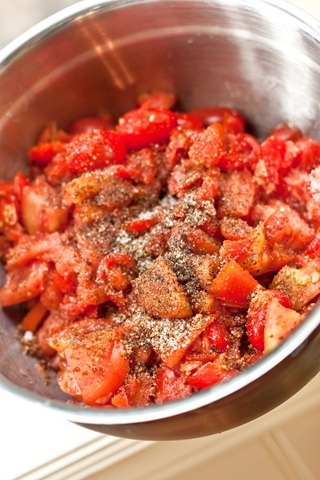 After adding it to the crisped Ezekiel croutons: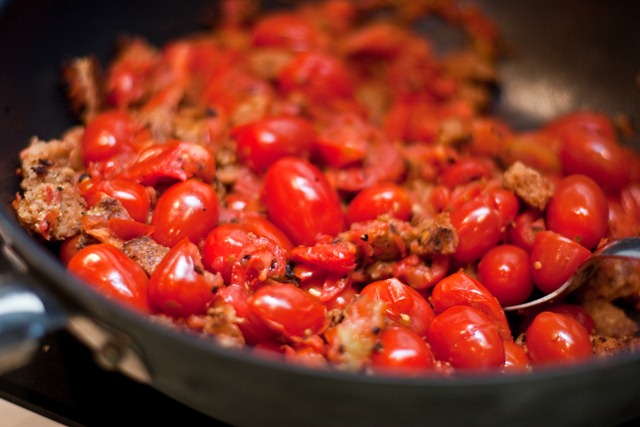 Look at the fresh basil Eric gave me last night!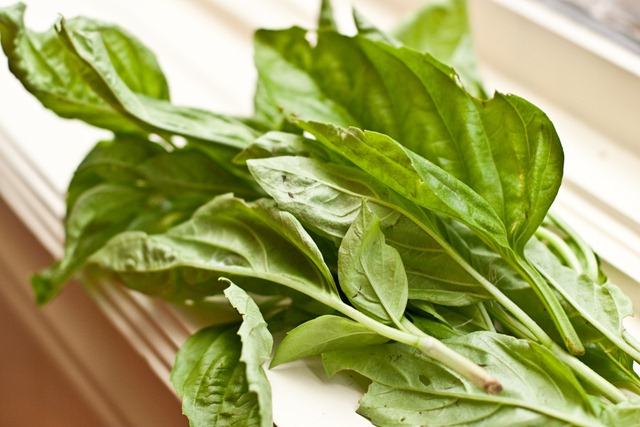 He went to his coworker's in laws house and they sent Eric home with bags and bags of fresh produce from their garden. Wait until I show you the pictures tomorrow! As soon as he walked into the door last night I said, 'Is that fresh BASIL I smell?'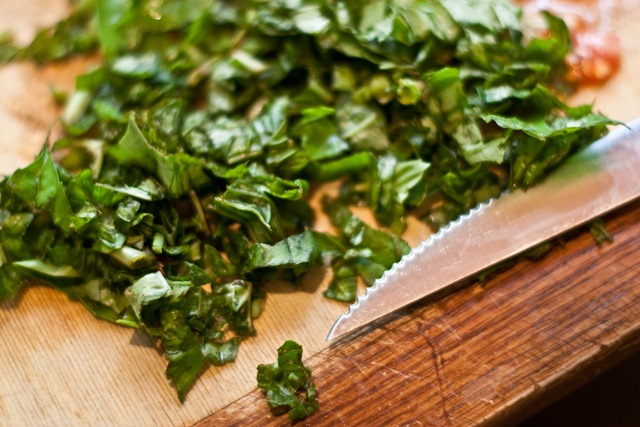 Yes, yes it was. I loved that this dish called for a 1/2 cup of it. The more, the merrier.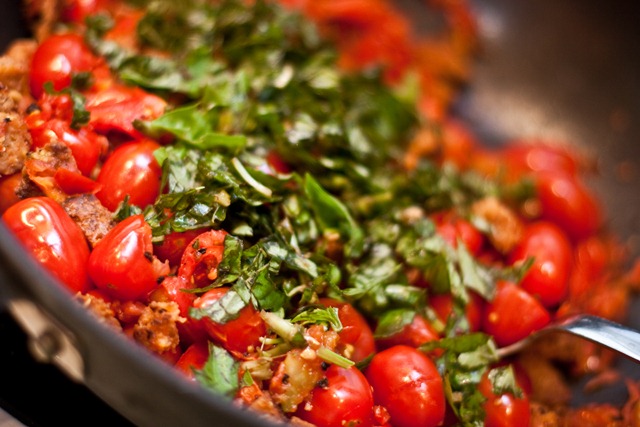 There is honestly no better smell than fresh basil.
After the above cooks for just 5 minutes, stir in chopped basil and scoop into a 1.5 qrt./ 1.4 litre casserole dish. This size fit perfectly, but of course use whatever you have on hand.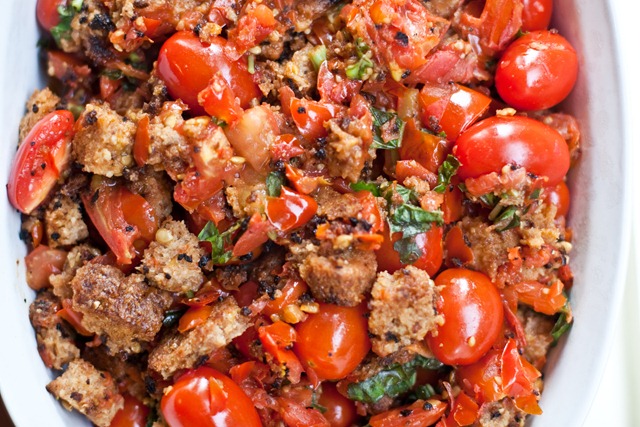 Confession: I tried a bite because it smelled so good and I burned my tongue on a tomato with a sizzling hot core. Ouch! It was worth it though. So much so that I burned my mouth again when it came out of the oven!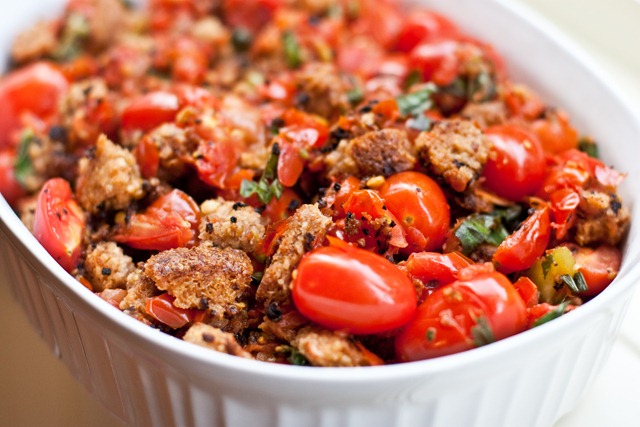 I wish I could give you some right now so you could understand my delight.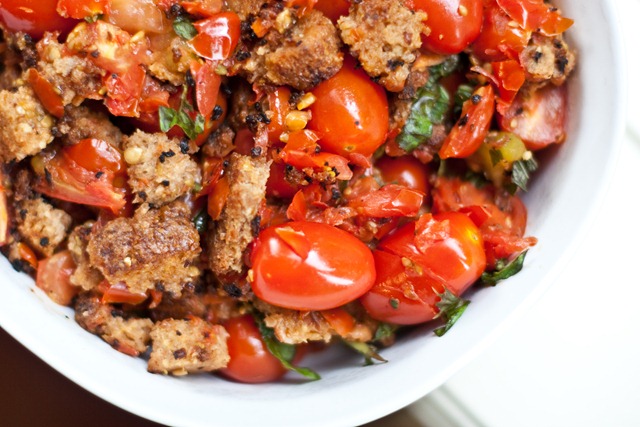 Sprinkle with cheese and bake for 35 mins at 350F.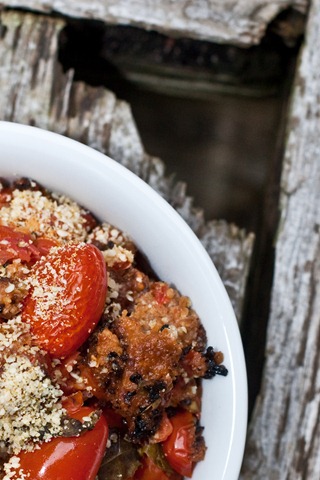 It was so good I had two bowls and I probably would have had more if I could have fit another bite in my belly.
This recipe is definitely in my top 5 dinner recipes! It is a perfect summer casserole.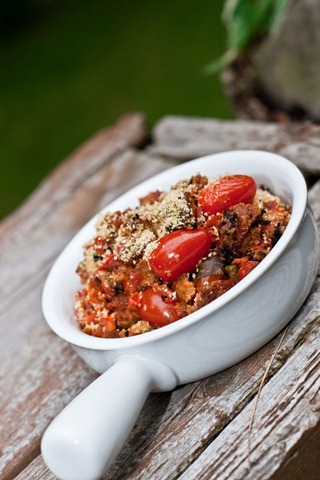 Eric loved it too and asked me to 'make it once a week'…lol.
Winner of the HLS Charity Raffle
First up, a huge thank you to everyone who participated in my Healthy Living Summit charity raffle for the Canadian Cancer Society. This raffle raised $220! I surpassed my goal of reaching $6,500.
I numbered how many tickets the person purchased beside their name and then I used Random Number Integer to draw the random number. Odds were 1 in 31.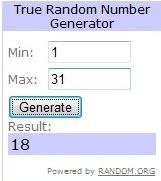 I am happy to congratulate Dawn W. as the winner of the ticket!
Congrats Dawn, I am looking forward to meeting you in August! Please email me ([email protected]) and we will take care of the ticket transfer.
See you tomorrow morning before the market for an Oatmeal Cookie Vegan Overnight Oats recipe and pictures of our 1st food collage!