Happy Olympics!  yawhooo!

Sketchie had a long, hard week! ;)
Amazing response to the Glo Bar coupons yesterday- I added more and those went too. I know many of you missed out on the coupon, so I added a few more this morning if you want another shot! Coupon code is VDAYGLOBAR and the cart is here.
Now onto breakfast…which was delicious oatmeal!
Quick and Easy Chia Banana Kiwi Oatmeal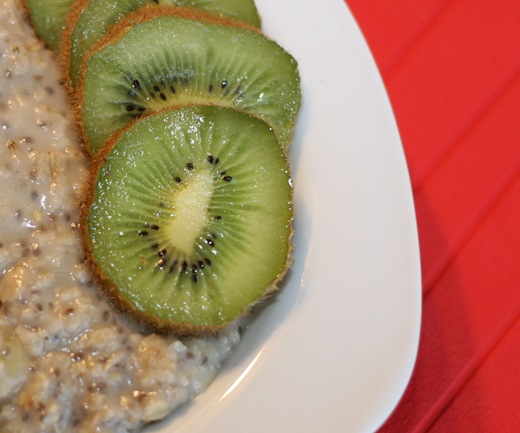 Ingredients:
1 cup almond milk
1/2 cup water
1/2 cup regular oats
1 T chia seeds
1/2 T cashew butter
1 t pure vanilla extract
pinch sea salt
1 ripe banana cut into chunks
Directions: Throw all ingredients into a pot and stir on high until it boils. Reduce to low temp and whip like crazy. Pour into a dish and add your desired toppings.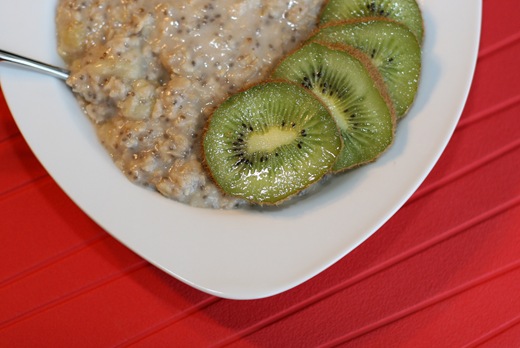 I enjoyed every bite!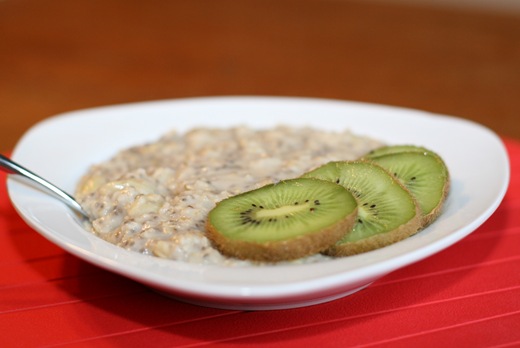 Do Your Friends Keep Tabs On Your Weight?
The other day I was talking to a girlfriend of mine. Kara (not her real name) is upset because one of her friends makes constant comments about her weight.
I'm going to talk a bit about Kara's situation (she gave me permission to talk about it on the blog):
Kara's friend always asks her questions about her weight such as how much she weighs. Her friend also makes comments when they go out to eat such as 'You are getting dessert? I thought you were a healthy eater?' or even criticizing her for ordering a salad and soup telling her she needs to 'stop eating like a bird'.
Kara feels very self-conscious about these comments and she isn't quite sure what to do about it. She said that she feels like her friend is keeping tabs on her weight and is always watching and monitoring whether she is working out, eating healthy or unhealthy, or losing or gaining weight.
Kara said, 'I am starting to feel obsessed with my weight because I have these hawk eyes on me all the time.' 
'In a way, I almost feel like I am being scrutinized like a celebrity, even though I know that what I am going through is nothing like a celebrity! I just feel like I am always being watched…and if I slip up or gain a few pounds this person is secretly happy or is going to make a comment about it. I feel like she is always waiting for me to do something wrong so she feels better about herself .'
Have you ever been in a similar situation as Kara?
Do you have friends who keep tabs on your weight or make comments about what you eat/how much you workout and turn it into a competition?
What do you do about it?
There will likely be a Part 2 of this topic as I want to add my own thoughts but this post is already a bit lengthy. :)
~~
Coming up on OSG a dramatic before and after of a room in our house!!!!