Ok, I admit, my last 2 posts were a bit cruel.
Sorry to leave
you
hanging
like
that.
The truth is, I simply ran out of time this morning– shoot– I don't have enough time to write out the surprise afterall! I thought as I glanced at the clock. I guess my morning was a bit too lazy. lol.
But, I am writing the story on my lunch break because I am ever-so-devoted to my dear readers of course. :D
~~~~~~~~~~~~~~~~~~~~~~~~~~~~~~~~~~~~~~~~~~~~~~~~~~~~~~~~~~~~~~~~~~~~~~~~~~~~~~~~~~~~~~~~~~~~~~~~~~~~~~~~~~~~~~~~~
'The Anniversary of Our Engagement' Surprise
Eric and I have been commuting to and from work together some days as we only have one car at the moment. He called me at work last night to see when I was ready to be picked up. I told him that I wanted to give him a break and have myself drive home while he relaxes in the passenger seat. I left work to find the driver's seat happily vacant while he sat in the passenger seat with a grin on his face.
That was almost too easy, I thought to myself and smirked back at him.
As we were driving along the highway, I casually mentioned to him that I needed to stop off at a 'new fitness store' that just opened up. He was in a good mood so I didn't get any complaints. :)
I pulled into the mall parking lot with this in view: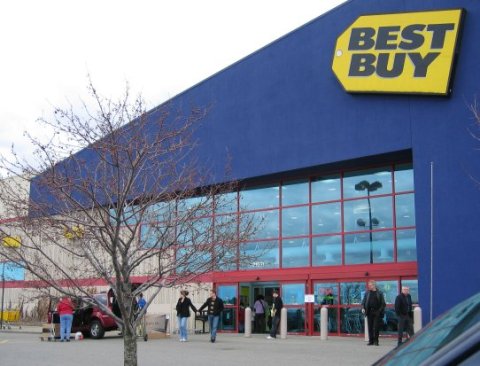 He looked around behind himself and said, "I don't see a fitness store"
And I said vaguely, "Yea, it's over there [pointing in a random direction and quickly changing the topic]"
Getting nervous, I reached into my bag and pulled out my note for him to read. I felt like I was proposing or something.
He read it, a bit confused at first: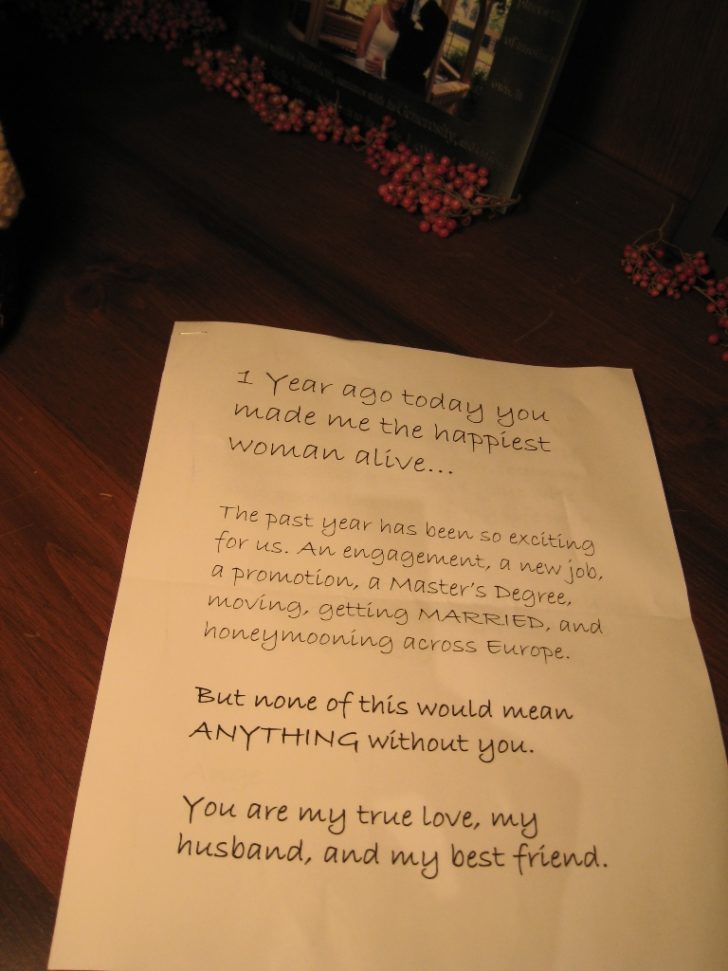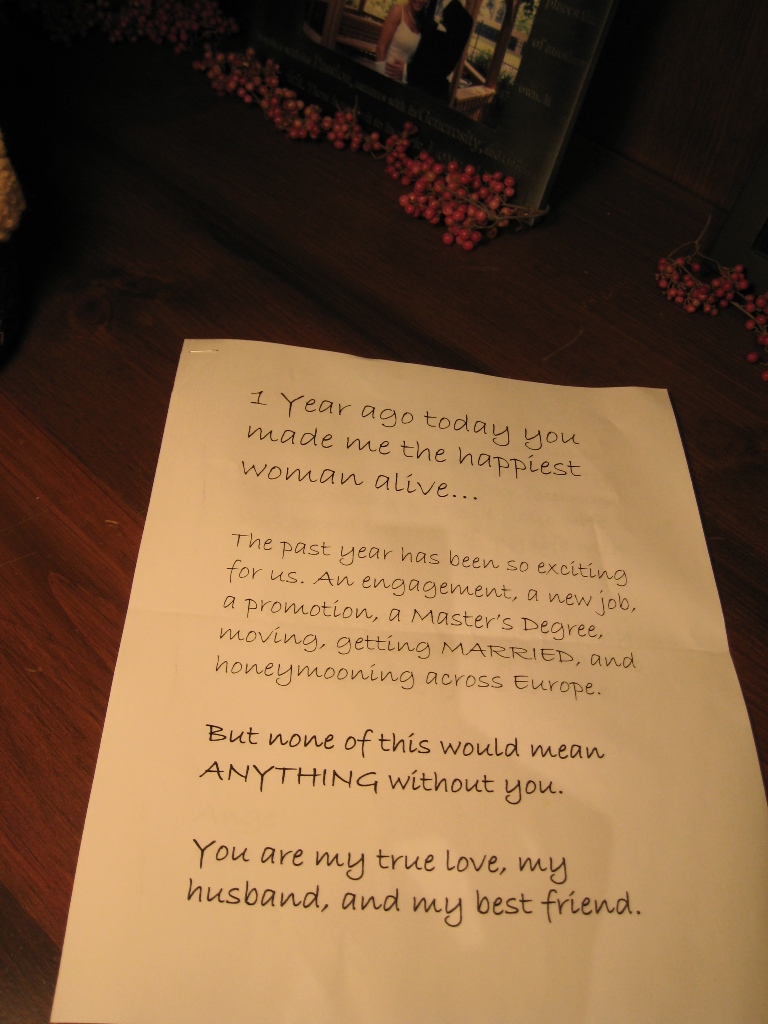 I won't lie, I started to tear up as he read it (I think he did too). [There is a second page that I forgot to upload, but I will post that later tonight.]
He gave me a kiss and said I love you. [But I could tell he was still so confused, and I was smirking to myself]
I said, "Can you believe it's been one year TODAY that you were proposing to me on the beach in Mexico?"
He couldn't believe it either [and he was still confused]. :)
I said, "Well, you might be wondering why we are here…"
"Yes…"
"I never did get you anything as a thank you for my beautiful diamond ring"
[Confusion/Excitement/Nervousness]
Yup, we walked into Best Buy.
I said, "I know it's been your dream forever to have a flatscreen LCD TV…"
His eyes lit up.
"…so my surprise for you today is that I am going to buy you one."
I have never seen a grown man so excited.
He was like a kid in a candy store. I will admit, shopping for a TV is not what I consider fun, but seeing how excited he was made it all worth it. We starred, and starred, and starred at all the TV's until my eyes felt like they were bleeding.
After looking over every sale, he decided that he was going to wait. I was not that surprised. Eric never buys anything on a whim; he researches everything, checks out all the flyers, etc. Plus, Best Buy wanted to charge us $50 for shipping– $50!!!- and he was sure we could find a place that would gladly do it for free.
What a sensible & practical man!
I then said to him, "I forgot to tell you….this offer expires at midnight…"
He turned a little pale and I told him I was only joking. :D
So that was his decision. To check all the sales, all the stores- and even wait for Boxing Day sales– if he had to. He is a smart man!
The whole way home he kept saying how excited he was. Then he said to me,
"When I first started to read that paper I thought that it was our 1-year WEDDING anniversary!!! Then I thought, man has it been a year ALREADY? OH SHIT!!!!!"
hahahahaha….apparently I almost gave him a heart attack. I laughed. :D
So that was the surprise. Best. Wife. Ever. was said a few times. lol.
Apparently I am quite the envy of all his male coworkers today. LOL.
I am not sure when he will find 'the right deal' but when he does, I know it will be a good one. He is really excited to have our living room set up and have some friends over to watch a hockey game or movie on!
And a special shout-out to Lindsey for correctly guessing the surprise!!! Amazing!
~~~~~~~~~~~~~~~~~~~~~~~~~~~~~~~~~~~~~~~~~~~~~~~~~~~~~~~~~~~~~~~~~~~~~~~~~~~~~~~~~~~~~~~~~~~~~~~~~~~~~~~~~~~~~~~
 Now for a beauty product review:
Rimmel Stay Matte Pressed Powder
I bought this powder out of desperation of not wanting to use the chalky-mess that was my Cover Girl GC SMoothers Powder. It was so bad, I couldn't stand to use it another day!
Eric and I were at Wal-Mart and I saw that this Rimmel Stay Matte powder was on sale. Sweet. I got it for $5 bucks, which is a good $5-$10 cheaper than any of the other brand name buys.
However, I wasn't impressed with this powder. The color selection wasn't great, so I had to go with the lighest shade since I am pale (especially in the winter time). 001- Transparent – I figured you couldn't go wrong with transparent!
I didn't like the packaging. The cover comes right off- it has no hinge- so you can't just 'pop it open' with one hand. There is also no sponge or brush and no mirror. Bare bones. I figured this would be justifiable as long as it was a decent powder!
I applied some and looked in the mirror and it looked like I just put chalk or baby powder on my face. It was quite visible and I was not impressed. I didn't even put it on with a heavy hand– I swear!
It is not as bad as my Cover Girl Smoothers Pressed Powder was, but I am still disappointed. I figure if I had just stuck with my high-end Shiseido powder, I could probably have bought it by now and saved myself the trouble and money! Sometimes it IS good to go with a tried and true high end brand.
The moral of the story: I should stop impulse buying beauty products and start checking Make-up Alley beforehand. Lo and behold, this powder didn't get a rave review on MUA! This website never fails!
~~~~~~~~~~~~~~~~~~~~~~~~~~~~~~~~~~~~~~~~~~~~~~~~~~~~~~~~~~~~~~~~~~~~~~~~~~~~~~~~~~~~~~~~~~~~~~~~~~~~~~~~~~~~~~~
Success is to be measured not so much by the position that one has reached in life as by the obstacles which he has overcome.
 ~Booker T. Washington