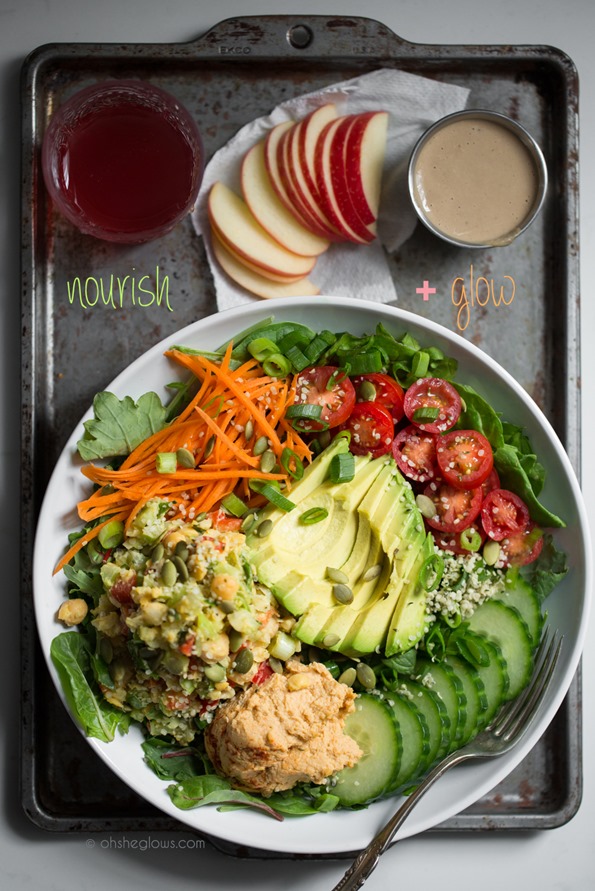 A couple weeks after Christmas, I presented Eric with a small box wrapped in Christmas paper.
"I have a Christmas gift for you that wasn't ready in time!"
He was a bit confused at first, but any confusion quickly faded at the proposition of another gift. Who doesn't like a random gift in the dead of winter?
"Did you make it?"
"umm, part of it….just open it!"
I propped myself on the couch beside him with a nervous grin on my face, trying to calm the heart beating out of my chest. No such luck. My heart was about to explode.
He unwrapped the box – carefully and painfully slow as he usually does – and then opened the lid and lifted out a piece of clothing covered in tissue…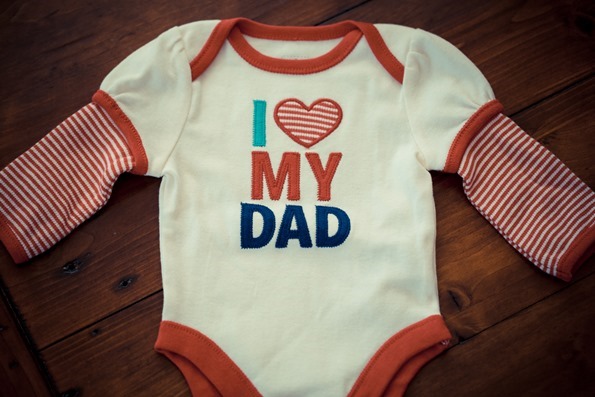 "Ange, are you pregnant??"
Tears were already streaming down my face and I could barely choke out, "We're having a baby!"
And then he passed out. Just kidding!
After we screamed/hugged/celebrated, I showed him not one, not two, but four positive pregnancy tests because I'm a bit neurotic like that.
We're simply over the moon with excitement and can't wait to be parents! We have so much love to give this little one. And Sketchie is going to be the coolest big brother ever (obviously). I'm 14 weeks today, due on September 22nd…which feels so soon! I still can't believe my body is growing a baby in there. Seeing tiny arms and legs wiggling around on the ultrasound and hearing a heartbeat is just the most unbelievable experience. I already love this little one more than I could imagine.
It's been a wild start to 2014 in the Liddon household. We got pregnant, bought a house, my first cookbook launched, Sketchie had surgery and was diagnosed, I came down with the flu, taped two TV segments, worked on a new business venture, and we've been doing major renovations on the new house and packing for a move early April. Ok, scratch the packing part because I've only packed 2 boxes so far (oops). I'm hopeful that the second trimester will be less eventful, but knowing we got through all that makes me feel like we can handle whatever comes our way. Sometimes you just gotta take it day by day and keep the faith that it will all work out in the end. I'm counting my blessings every day and trying not to worry about things out of my control. Like pregnancy hormones…ha!
Today, I'm celebrating our baby-to-be with this multi-vitamin-in-a-bowl. Talk about a nutrient-packed salad. I need all the energy I can get these days. This recipe won out over a triple layer celebration cake, but I still think that cake might have to make an appearance at some point. Despite the wicked all-day nausea of the first trimester, I've still had an appetite for most vegetables which I'm so grateful for. Well, except mushrooms. I still can't do mushrooms! Some day, I'm confident we will reunite. For now, Eric is having fun saying, "I told you mushrooms were gross!"
Groan.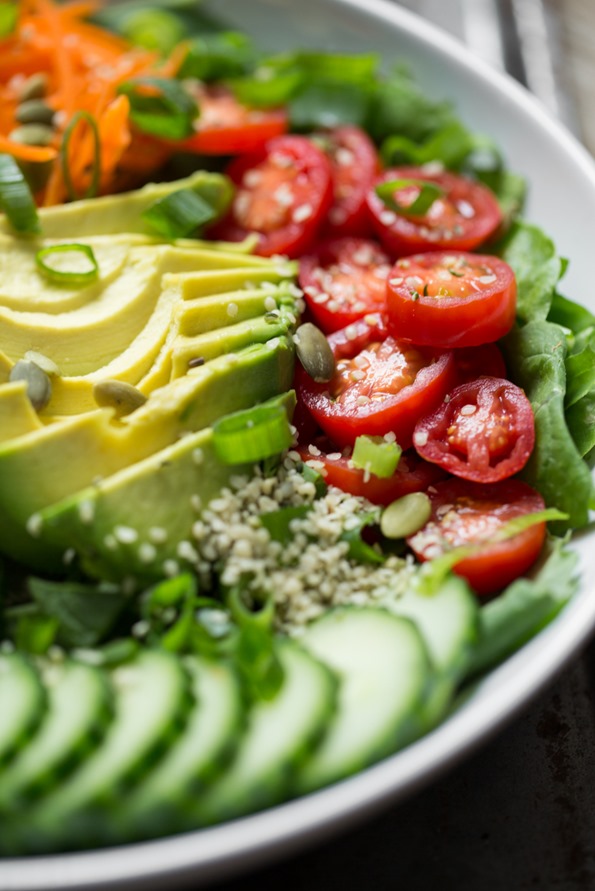 This recipe has a few things going on because I wanted to make it extra special. The homemade hummus and salad dressing can be made in advance to save prep time and cut down on dishes. You can always use store-bought versions too. I'm going to share the hummus and dressing recipes in separate recipe cards and then share the salad at the end.
Don't worry that the dressing in the salad photos looks a bit different than the dressing I'm sharing below. I initially made a balsamic tahini dressing (the darker dressing in the photos), but I ended up not loving it. This creamy lemon dill dressing that I made after compliments the salad much more so it's the one I'm sharing today. I took a picture of it below so you can see what it looks like.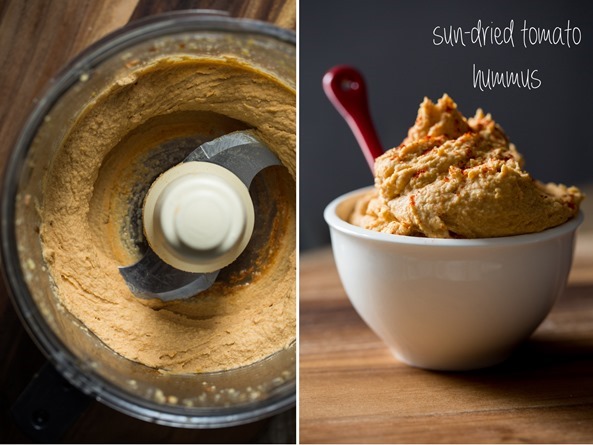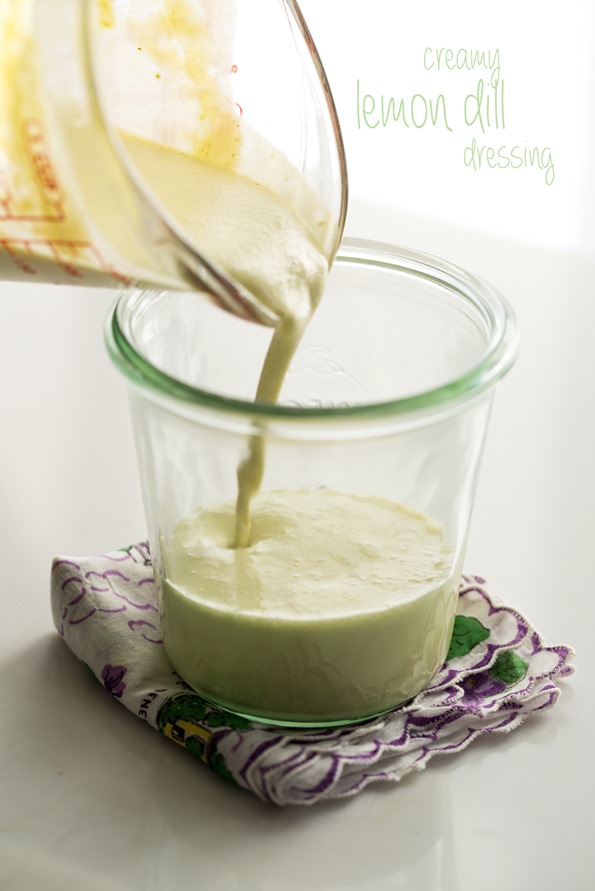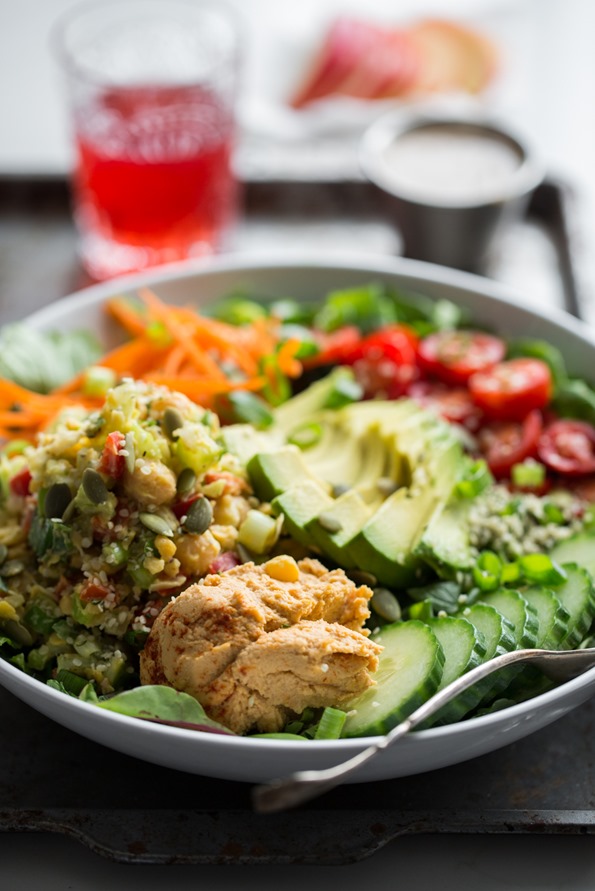 With a full heart and joyful belly,
mama-to-be and my lemon-sized little one
XOXO
Let's get social! Follow Angela on Instagram @ohsheglows, Facebook, Twitter, Pinterest, Snapchat, and Google+