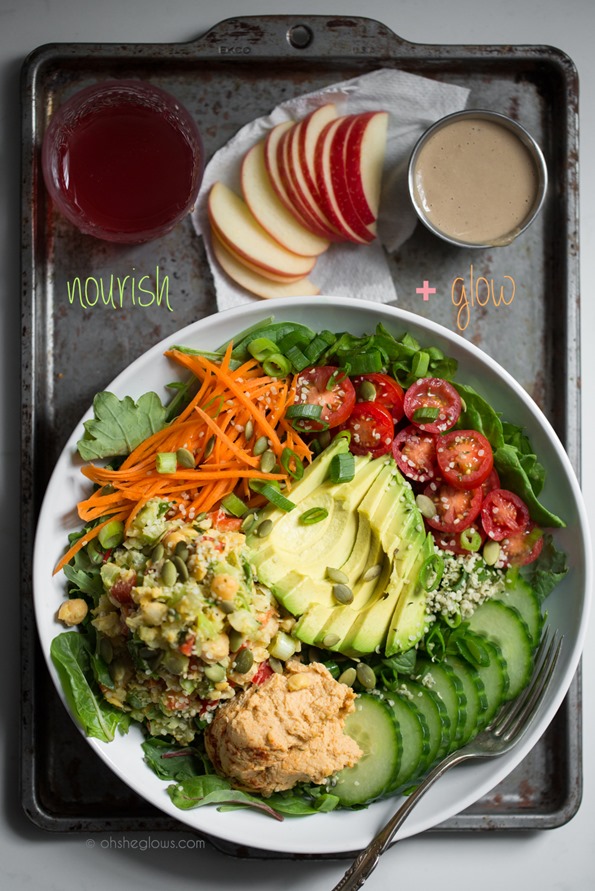 A couple weeks after Christmas, I presented Eric with a small box wrapped in Christmas paper.
"I have a Christmas gift for you that wasn't ready in time!"
He was a bit confused at first, but any confusion quickly faded at the proposition of another gift. Who doesn't like a random gift in the dead of winter?
"Did you make it?"
"umm, part of it….just open it!"
I propped myself on the couch beside him with a nervous grin on my face, trying to calm the heart beating out of my chest. No such luck. My heart was about to explode.
He unwrapped the box – carefully and painfully slow as he usually does – and then opened the lid and lifted out a piece of clothing covered in tissue…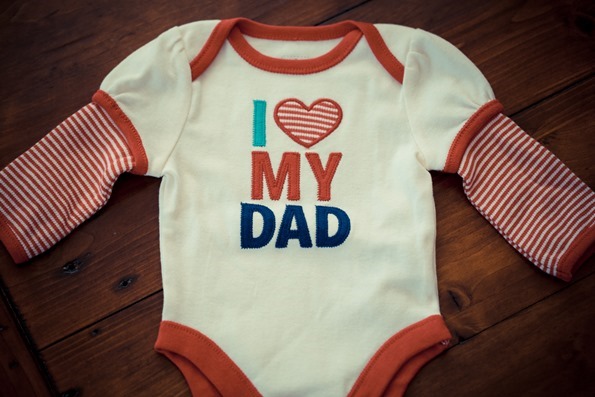 "Ange, are you pregnant??"
Tears were already streaming down my face and I could barely choke out, "We're having a baby!"
And then he passed out. Just kidding!
After we screamed/hugged/celebrated, I showed him not one, not two, but four positive pregnancy tests because I'm a bit neurotic like that.
We're simply over the moon with excitement and can't wait to be parents! We have so much love to give this little one. And Sketchie is going to be the coolest big brother ever (obviously). I'm 14 weeks today, due on September 22nd…which feels so soon! I still can't believe my body is growing a baby in there. Seeing tiny arms and legs wiggling around on the ultrasound and hearing a heartbeat is just the most unbelievable experience. I already love this little one more than I could imagine.
It's been a wild start to 2014 in the Liddon household. We got pregnant, bought a house, my first cookbook launched, Sketchie had surgery and was diagnosed, I came down with the flu, taped two TV segments, worked on a new business venture, and we've been doing major renovations on the new house and packing for a move early April. Ok, scratch the packing part because I've only packed 2 boxes so far (oops). I'm hopeful that the second trimester will be less eventful, but knowing we got through all that makes me feel like we can handle whatever comes our way. Sometimes you just gotta take it day by day and keep the faith that it will all work out in the end. I'm counting my blessings every day and trying not to worry about things out of my control. Like pregnancy hormones…ha!
Today, I'm celebrating our baby-to-be with this multi-vitamin-in-a-bowl. Talk about a nutrient-packed salad. I need all the energy I can get these days. This recipe won out over a triple layer celebration cake, but I still think that cake might have to make an appearance at some point. Despite the wicked all-day nausea of the first trimester, I've still had an appetite for most vegetables which I'm so grateful for. Well, except mushrooms. I still can't do mushrooms! Some day, I'm confident we will reunite. For now, Eric is having fun saying, "I told you mushrooms were gross!"
Groan.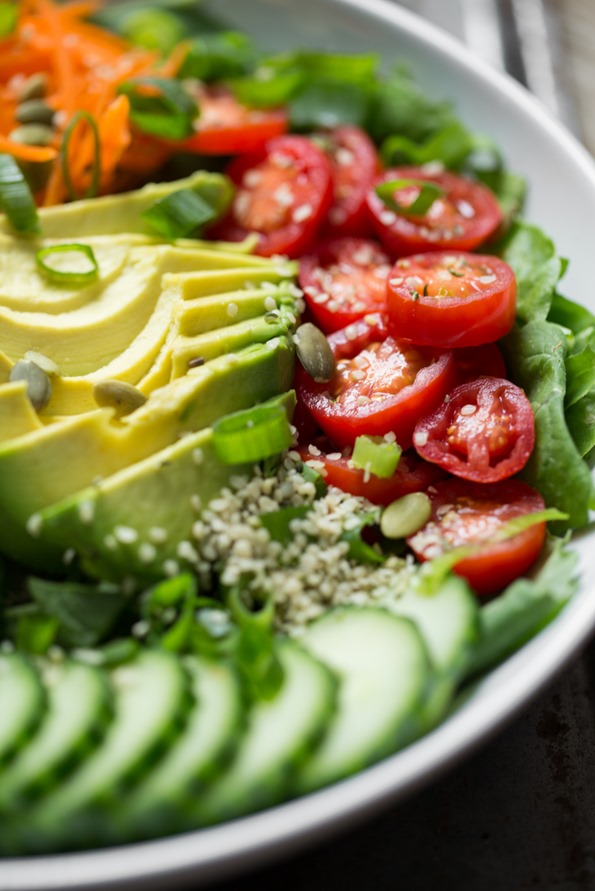 This recipe has a few things going on because I wanted to make it extra special. The homemade hummus and salad dressing can be made in advance to save prep time and cut down on dishes. You can always use store-bought versions too. I'm going to share the hummus and dressing recipes in separate recipe cards and then share the salad at the end.
Don't worry that the dressing in the salad photos looks a bit different than the dressing I'm sharing below. I initially made a balsamic tahini dressing (the darker dressing in the photos), but I ended up not loving it. This creamy lemon dill dressing that I made after compliments the salad much more so it's the one I'm sharing today. I took a picture of it below so you can see what it looks like.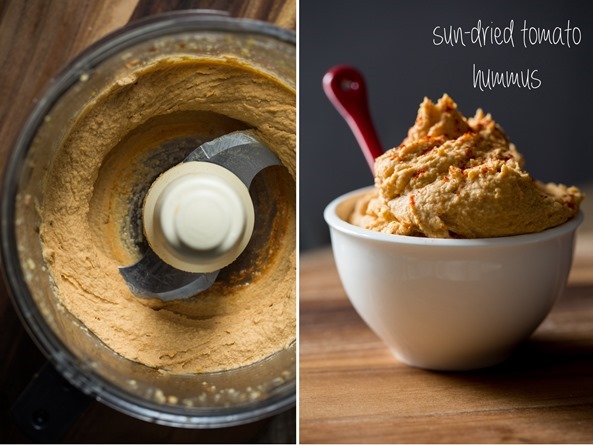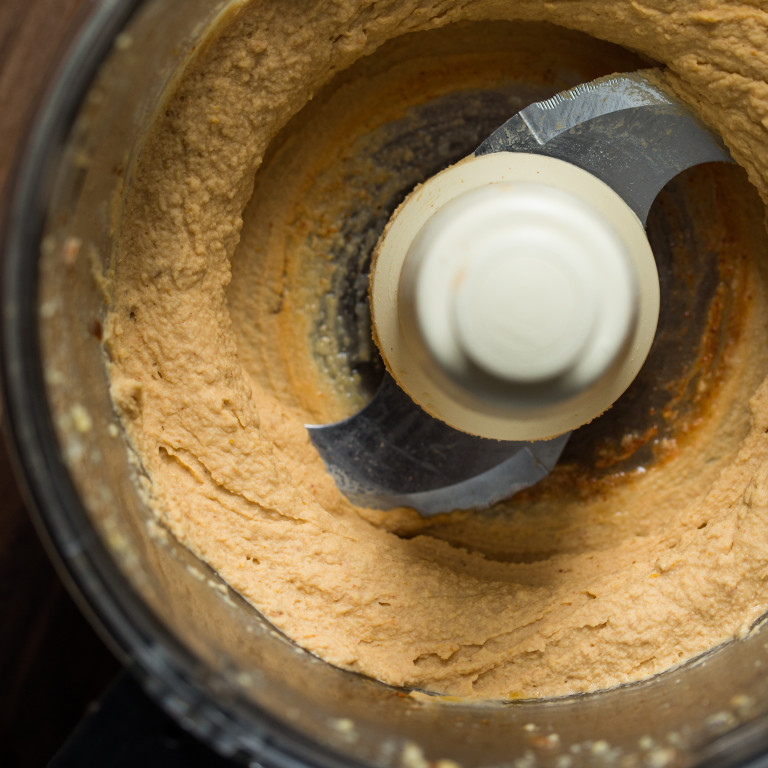 Sun-Dried Tomato Hummus
Vegan, gluten-free, grain-free, nut-free, refined sugar-free, soy-free

Yield

1 1/4 cups
Prep time

Cook time

0 minutes
Total time

A quick and easy flavourful hummus that comes together in minutes! If you don't have any sun-dried tomatoes on hand, feel free to make it without.
Ingredients
1 small garlic clove
2 tablespoons oil-packed sun-dried tomatoes
1 (15-ounce) can chickpeas, drained and rinsed
3 tablespoons tahini
2 tablespoons fresh lemon juice, or to taste
3 tablespoons water
drizzle of olive oil
1/4 teaspoon smoked paprika
1/2 teaspoon fine grain sea salt or pink Himalayan sea salt, or to taste
Directions
Mince garlic in a food processor.
Add the rest of the ingredients (except the salt) and process until smooth. Add salt to taste and process again until combined.
Tip:
Tip: For a super-smooth hummus, pop off the chickpea skins (and discard) before beginning.
Nutrition Information
(click to expand)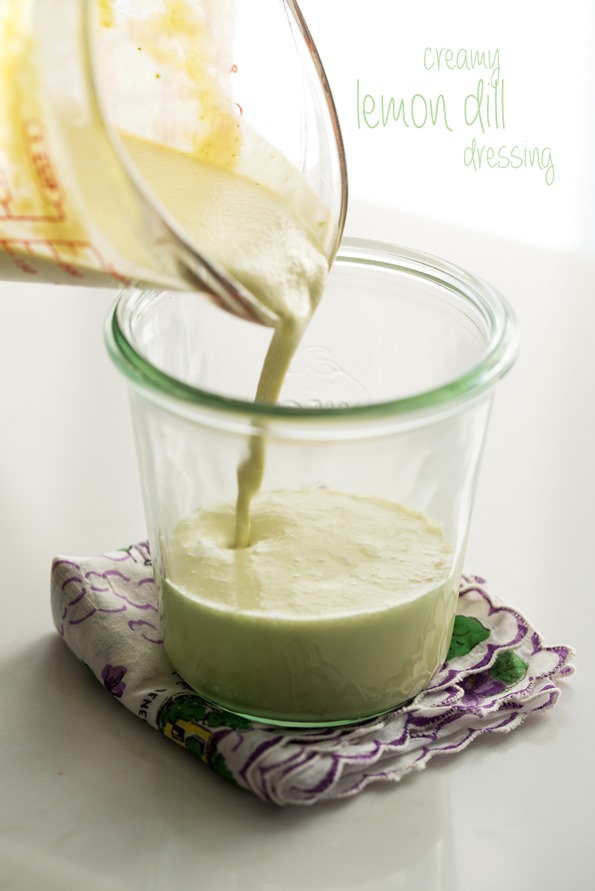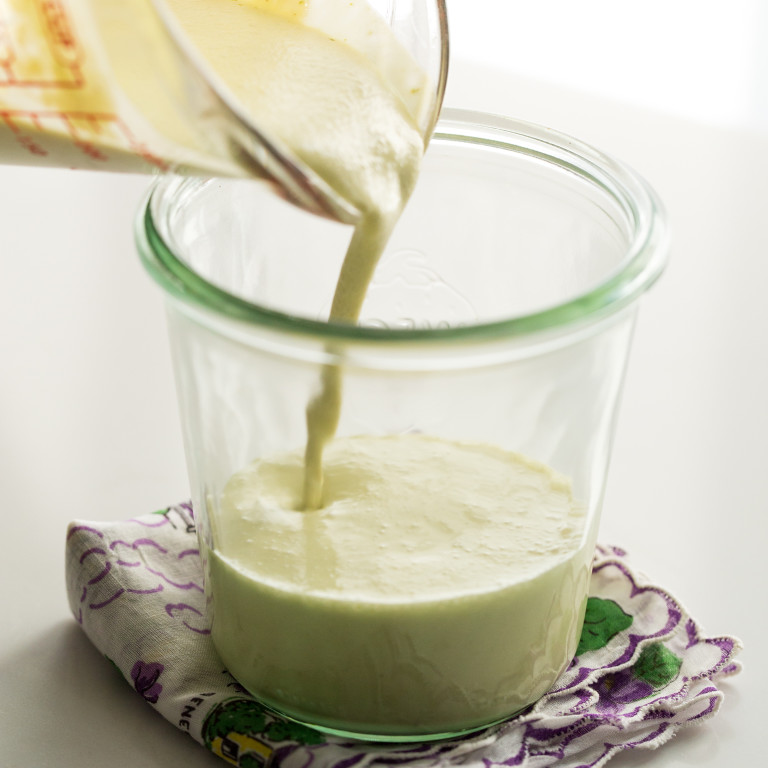 Creamy Lemon Dill Dressing
Vegan, gluten-free, grain-free, no bake/raw, refined sugar-free, soy-free

Yield

2/3 cup dressing
Soak time

2-8 hours
Prep time

Cook time

0 minutes
Total time

This creamy lemon-dill dressing comes together in seconds and it's such a fresh compliment to a spring salad. If you aren't a dill fan, feel free to leave it out. It's still tasty either way! I recommend making this dressing the day before you plan to use it (or at least a few hours before if you can) because it thickens up in the fridge when chilled (however, it's not absolutely necessary to chill it first). This dressing is adapted from Vegan Yumminess.
Ingredients
1/2 cup water
1/4 cup raw cashews, soaked
3-4 tablespoons fresh lemon juice (I used 4 tbsp)
2 tablespoons nutritional yeast
2 tablespoons extra virgin olive oil
1 tablespoon fresh dill (see note)
1/2 small garlic clove
1/4 + 1/8 teaspoon fine grain sea salt, or to taste
1/4 teaspoon onion powder
Directions
Soak the cashews in water for 2-8 hours before starting (to soften). You can skip this step if you have a Vitamix. Drain and rinse cashews before starting.
Add all the ingredients into a high speed blender and blend until completely smooth. Adjust ingredients to taste if desired.
Tip:
Notes: You can use dried dill weed instead of fresh dill. Add it in small amounts at a time, to taste (I would start with 1/4-1/2 teaspoon and add from there).
I prefer my dressing tangy, so I opt for more lemon juice. For a less tangy dressing, you can reduce the amount I used or you can add a touch of sweetener to taste.
For a nut-free dressing, try my Lightened-Up Lemon Tahini Dressing.
Nutrition Information
(click to expand)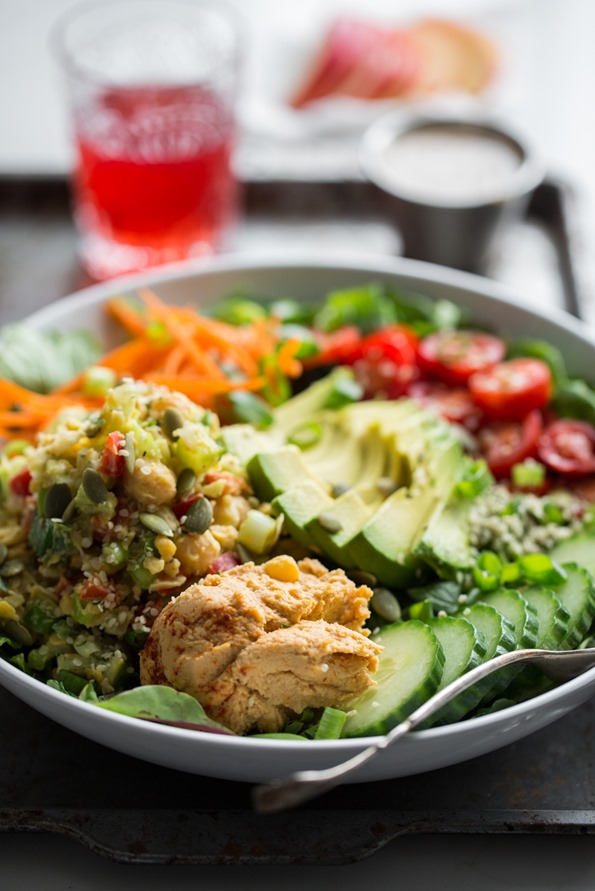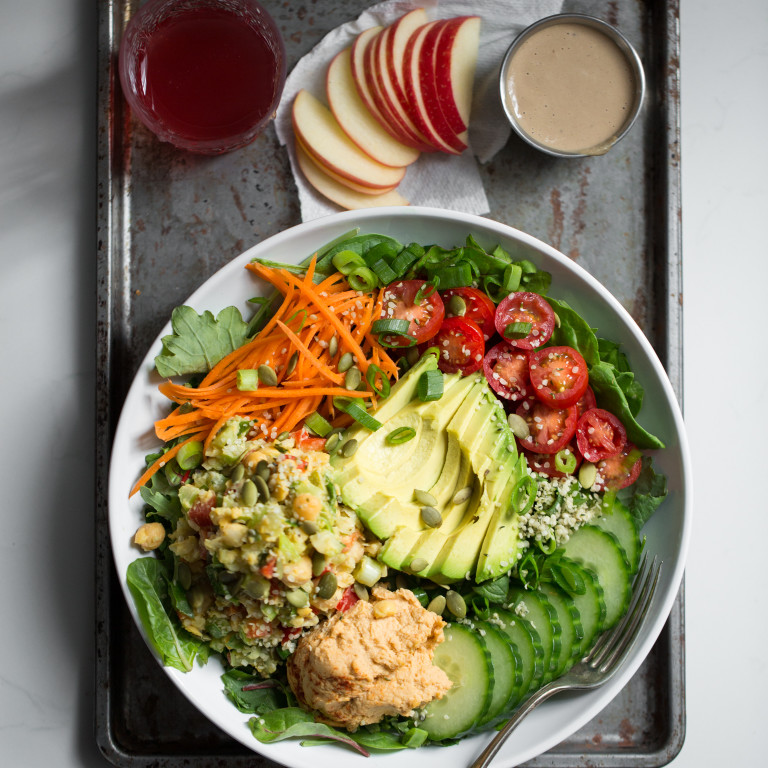 The Nourish + Glow Miracle Bowl
Vegan, gluten-free, no bake/raw, refined sugar-free

Yield

1 large salad
Prep time

Cook time

0 minutes
Total time

This bowl is packed with so many nourishing ingredients, you'll be glowing in no time! It's filled with a homemade chickpea "tuna" salad, homemade sun-dried tomato hummus, sliced avocado, hemp and pepita seeds, and and creamy lemon-dill dressing to top it all off. When you need a major energy boost, this salad is for you! Feel free to use your own hummus and dressing to save time.
Ingredients
2-3 cups Mixed Power Greens (or green of choice)
1/2 cup halved cherry or grape tomatoes
1/2 cup sliced cucumber
1/3 cup julienned carrots or beets
1 green onion, chopped
Half avocado, sliced
1/4 cup Sun-dried Tomato Hummus
Large scoop of Perfected Chickpea Salad (from OSG cookbook) or Flaked Almond Tuna Salad
1/2 tablespoon hemp seeds
1/2 tablespoon pepita seeds
Directions
Add greens into a large bowl. Layer on your desired toppings and drizzle on the dressing and garnish with hemp/pepita seeds.
Tip:
Nutrition Information
(click to expand)
With a full heart and joyful belly,
mama-to-be and my lemon-sized little one
XOXO