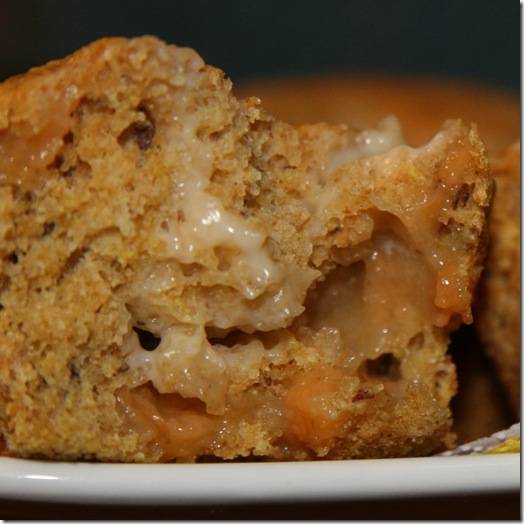 I refuse to accept that summer is drawing to a close. I don't know about you, but my summer feels like it is just getting started! June and July were hit with records amounts of rain here in Southern Ontario. Mother Nature finally caught on in mid-August and it has been beautiful and balmy ever since. End of the summer, you say? I won't believe it.
This recipe that I concocted last night was an End Of Summer Protest, if you will. I had a beautiful, juicy cantaloupe, lime, yogurt and an uncanny desire to create a muffin that would remind me of summer well into the long winter months.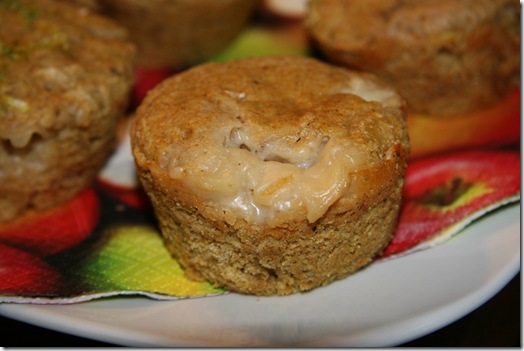 [print_this]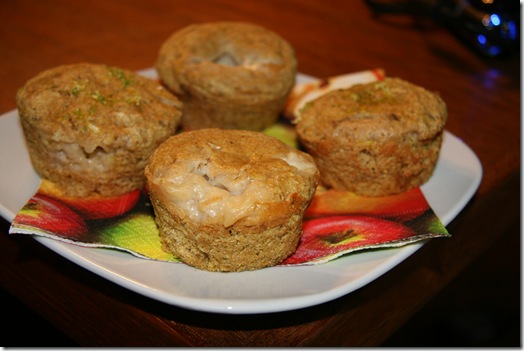 Ingredients
Dry:
2 cups whole wheat pastry flour
1.5 t baking soda
2 t aluminum-free baking powder
1/4 t fine grain sea salt
1/2 cup organic cane sugar
Wet:
1 cup diced cantaloupe
Flax egg: 1 T ground flax + 3 T warm water (replaces 1 egg)
1 t pure vanilla extract
1 cup non-dairy milk
1 t lime juice
Filling:
1/3-1/2 cup sweetened yogurt (I used unsweetened soygurt + agave)
Garnish:
Lime zest
Instructions
Preheat oven to 350F.
Grease muffin tin.
Whisk ground flax and water in a small/medium bowl and let it set for a few minutes.
In a large bowl, mix the dry ingredients together.
Take the smaller bowl with the flax in it and whisk again.
Now add the rest of the wet ingredients to the flax mixture. Whisk well.
Now add the wet mixture to the dry and stir until just incorporated.
Spoon 1 heaping tablespoon of batter into the muffin tin.
Now add a dollop of the yogurt on top and follow it with another tablespoon of batter on top.
Repeat for the remaining 11 muffins.
Garnish with lime zest.
Bake for 18 – 20 minutes.
[/print_this]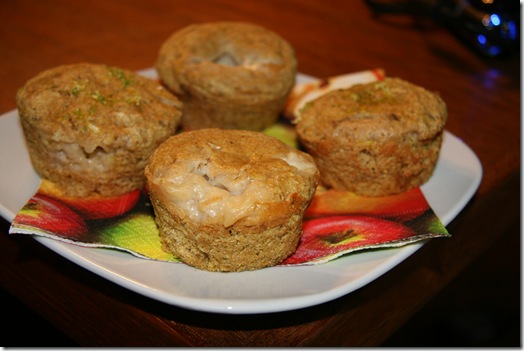 I loved these!!!! So much in fact I had 2 and had to restrain myself from having another.
The lime zest gave them a fun kick and tropical smell.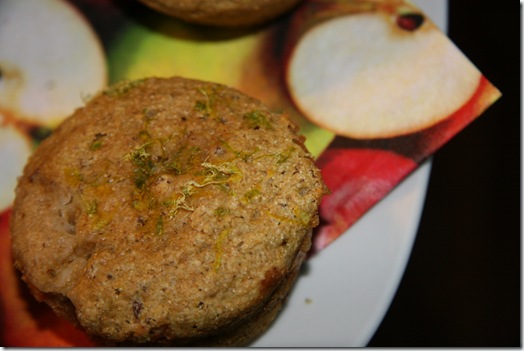 I think next time I might even use more yogurt and cantaloupe to make them even more tropical. They were the first muffins I have ever had where I didn't think 'these would be so delicious with margarine on them'. The yogurt and cantaloupe made them so moist and creamy.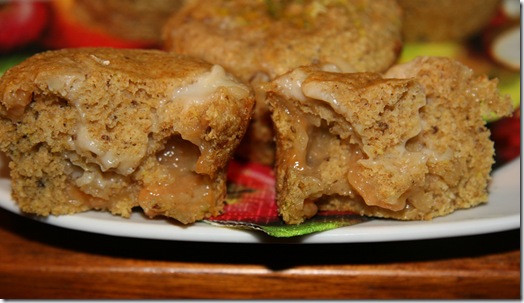 Eric didn't believe me when I told him there wasn't a lick of oil or margarine in these. The yogurt and cantaloupe really did a nice job of replacing any need for added fat. I also think these would be divine using mango or even pineapple.
Don't forget to check out my Peanut Butter Banana Bomb muffins to if you missed them on Saturday's post.
——-
OSG Updates:
I have given the comments section a face lift! You can now click 'Add your comment' to reply directly underneath anyone's comment. I think this will be much better for discussion and it has already proved to be much easier for me to reply to your comments. Lovin' it! You can expect to see many more replies from me in the comments below.
Have you always wanted your own picture next to your comment? Mara directed me to this cool site called www.gravatar.com. Awesome stuff.
GMM Updates:
New delicious Green Monster recipes are up! This batch includes a chocolate espresso green monster for those hard to wake up mornings- YUM!!!!!
Glo Bakery Updates:
I'm waiting on my Beanstream application to process so we are looking at a minimum of 2 weeks before Glo Bakery can ship to the US. Beanstream is a payment gateway. I've had to purchase a Canadian and US Merchant account, a SSL certificate and a dedicated IP address, which enables my web site to be able to accept and transmit confidential information securely over an encrypted internet connection. Whew! Who knew there was so much that went into it?
Oh and I think I need to hire an OSG BAKING TEAM! Any bakers out there? ;)
Have a fabulous Thursday everyone.

Winners lose much more often than losers. So if you keep losing but you're still trying, keep it up! You're right on track.
– Matthew Keith Groves