Hellooooooo.
I'm feeling the stress excitement build as the farmer's market open approaches tomorrow AM. Lots of last minute issues came up yesterday as they always do in the final hour and I'm sure more will today too.
However, I am a girl who knows how to release stress…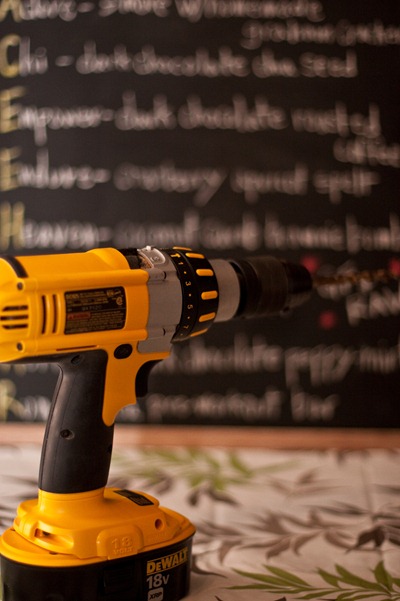 It was a scary moment for all parties involved.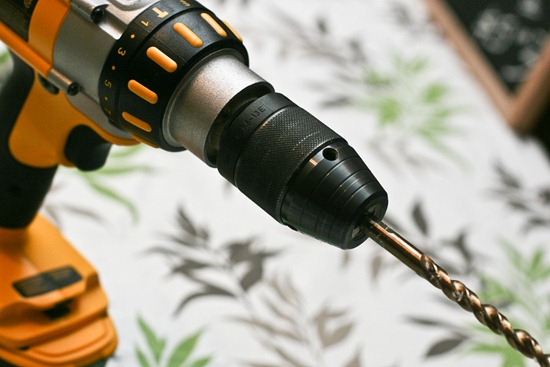 I now have a hole in the carpet, my LLL pants, Tupperware, a wood door, and….
drumroll please…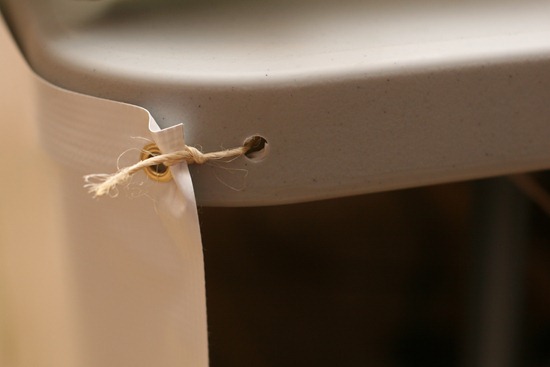 Boom.
I figure if I can create this masterpiece in the wee hours of the night, my chances of tying it back on at 7am on a Saturday morning are almost as good. Either that or it will make a good straw holder.
I was supposed to do a weight training session yesterday as per my training plan, but I was working on market stuff until 11pm and made the call to skip it in favour of some R & R with the hubs. There are days when you could not bribe me with tons of money to workout and yesterday was surely one of them.
I decided this morning I would drink some liquid sanity in the form of pure, fresh, delicious juice…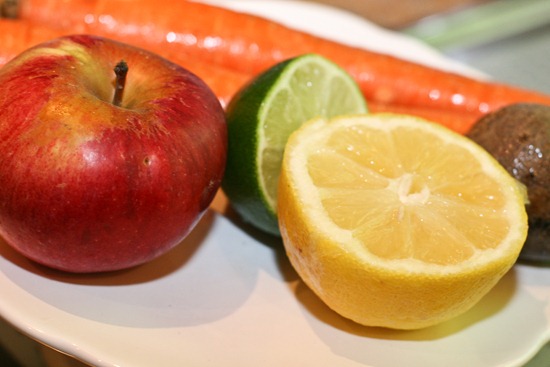 That would be 1/2 a lemon, 1/2 a lime, 1 apple, 2 carrots, and 1 beet.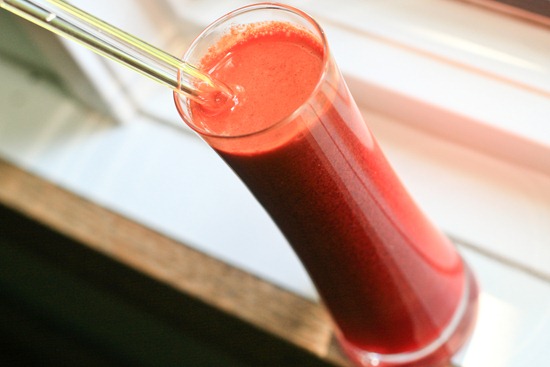 Sluuuurp.
Breakfast = Vegan Overnight Oats!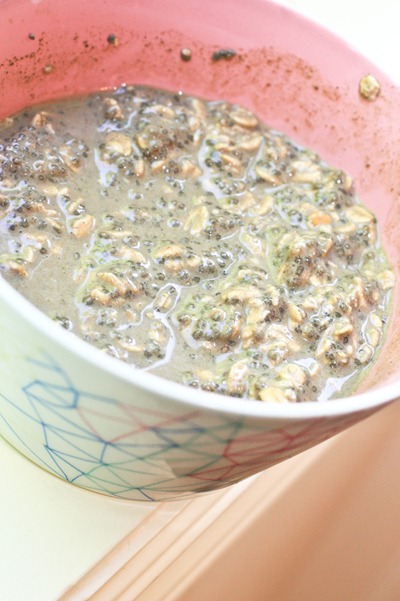 Me = :devil:
I don't think I will ever get sick of these! So many possibilities just waiting to be cultivated. I figure by the end of the summer I should have 100 variations.
I made some Blueberry Vanilla Banana Soft Serve…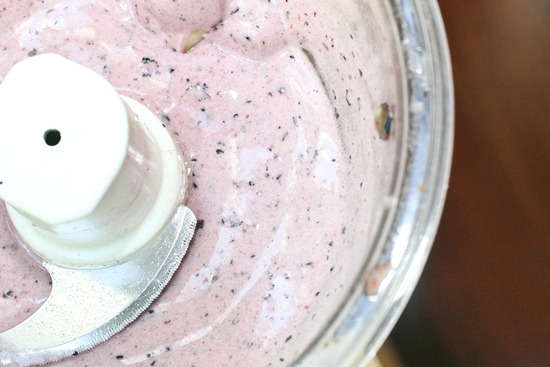 Using 1 frozen banana, 1/3 cup blueberries, and 1/4-1/2 tsp pure vanilla extract. It was fun, although I think I prefer to eat the blueberries whole rather than processed into the BSS (that's BSS not BS!) :biggrin:
With a cherry on top.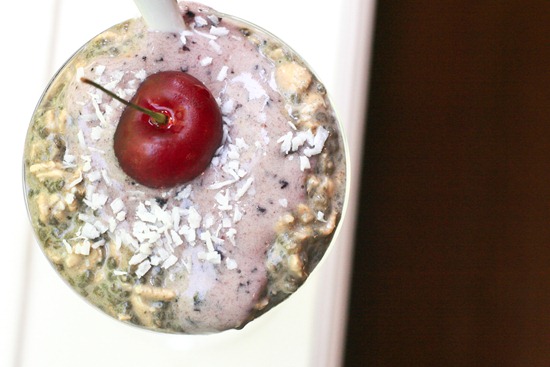 Your Sanity Is Served.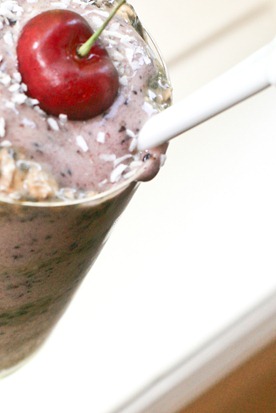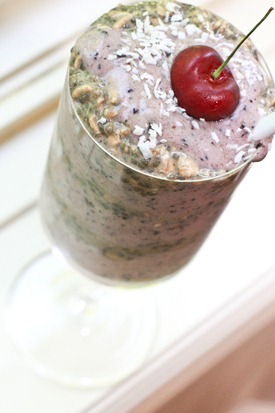 At least for a moment.
I remember being a kid and getting a Shirley Temple as a special treat when we went out to eat at a restaurant. I used to get SO excited about a maraschino cherry and a drink umbrella! :lol: This is the adult Shirley Temple, I guess.
Japanese Sencha Green Tea…made extra strong this morning and was a deep army green! I swear I poured half the tin into the pot. It was either that or an IV of caffeine. For whatever reason, I could not fall asleep until 3am again last night. What a week for sleep I am having.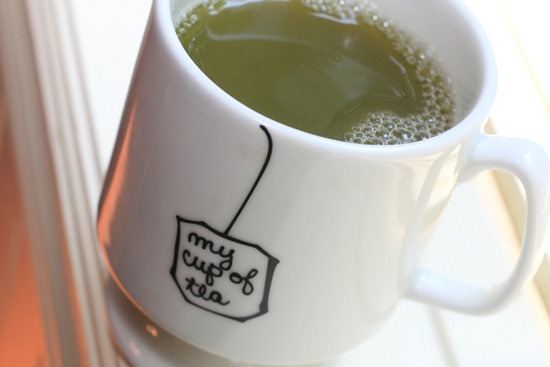 This morning I am in the process of making more Glo Dough (the ones below are raw vegan choc. chip cookie dough!), and this afternoon I am polishing off the Glo Bars and finishing all the last minute signage, packing, cash box, tarps, bungee cords, pamphlets, etc etc. I feel a bit overwhelmed….I hope I can get it all done!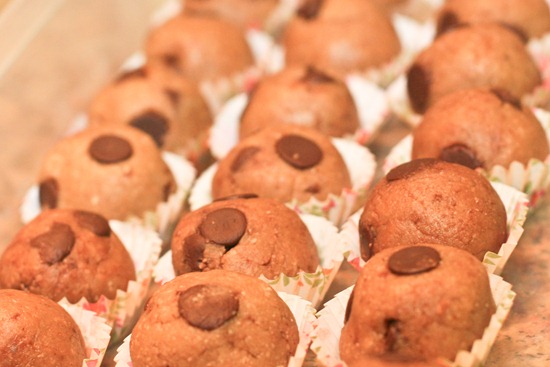 I would like to take this time to invite local readers to the Oakville Organic Farmer's Market tomorrow from 9:30am-2pm. There are lots of fabulous organic vendors this year. You can find my tent beside the COFFEE vendor. Just follow your nose!
Why do I feel like I am going to become addicted to coffee this summer? :tongue:
Have a FUN Friday!