Gooooooooood evening!
[My second favourite way to greet you, said of course in a creepy Dracula type voice.] 
I hope you are having a great Thursday so far! My day has been good. Lots of productivity! I got caught up on my orders and I am now in full swing for Oakville Organic Farmer's Market Prep for Day 2 on Saturday. The way I envision the summer going is I will do my online orders Monday, Tuesday, and Wednesday and then I will spend Thursday and Friday preparing for Saturday's market. In theory of course!
Oh dinner.
Oh me oh my.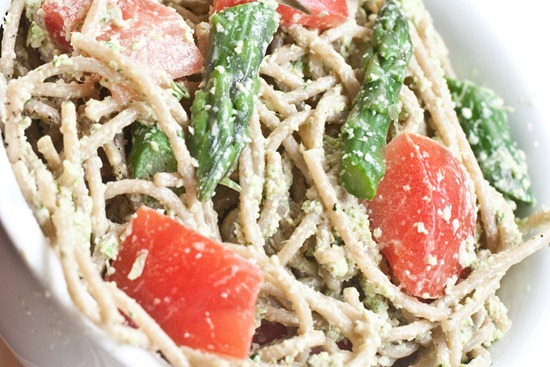 First, I should tell you what led to such a fantastic dinner.
I went on a 4 mile run early this evening and worked up a huge craving for PASTA. and PESTO. Garlic Scape Pesto if you catch my drift (evil cackle).
Do you ever just want pasta and pesto? I typically don't! You might already know that I am not a big pasta lover; it's on the blog once a month, if that. Generally, I just find that pasta doesn't taste very good to me. However, I don't mind spaghetti noodles. Spaghetti and angel hair pasta are my two favourites. When I crave it, I must have it within 24 hours.
I'll get back to the run first though.
The run was hot, hot, hot and humid, and more hot, and super windy! I wasn't trying for speed in tonight's run; my only goal was to make my last mile the strongest. Eric came with me on the bike.
Random side note– I told Eric that you guys were saying how trim and healthy he is looking lately and I think he was really happy. He tried to act nonchalant about it, but I secretly saw him smirking! :biggrin:  I have been thinking about asking him if he would write a blog post talking about the changes he made, how he did it, and how he is now feeling…would you guys be interested in something like that? I think it might be cool to have a male perspective on making healthy lifestyle changes…
The run:
Distance: 4.05 miles
Time: 38:04 mins
Avg pace: 9:24 min/mile
Avg heart rate: 152 bpm
Max heart rate: 175 bpm
Mile splits:
Mile 1: 9:23
Mile 2: 9:39
Mile 3: 9:26
Mile 4: 9:12 (hell yes!)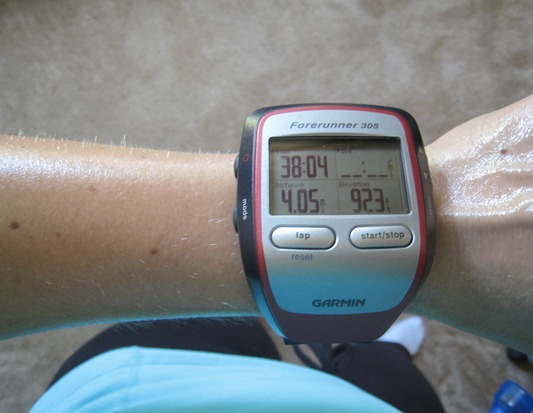 It was a sweaty one today!
Afterward, I did Polly's Yoga for Runners, COLD shower, and when I came downstairs I was all kinds of starving! I made a new post-run refreshing snack that I will be sharing with you in tomorrow morning's post. Stay tuned, it was delicious and took just 1 minute to prepare.
After re-fueling, I had energy to make dinner.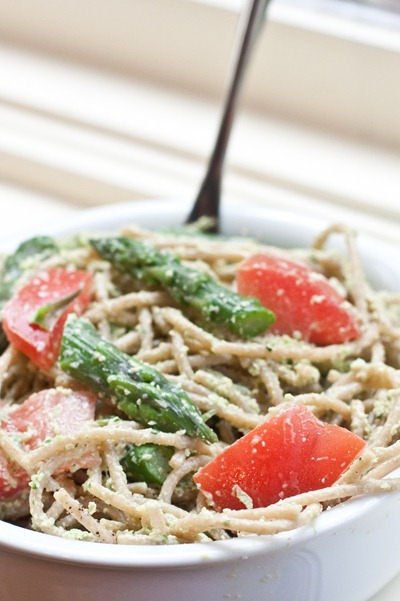 Wear a bib because you will drool!
I started off by making a double batch of my 3 minute vegan parmesan cheeze! Love this stuff. I sprinkle it on salads, sandwiches, soups, etc.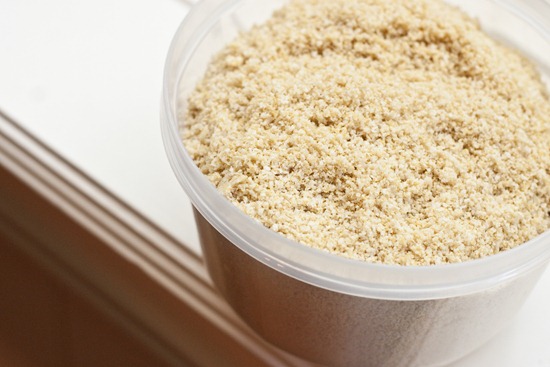 Then I made a double batch of my Easy Vegan Garlic Scape Pesto: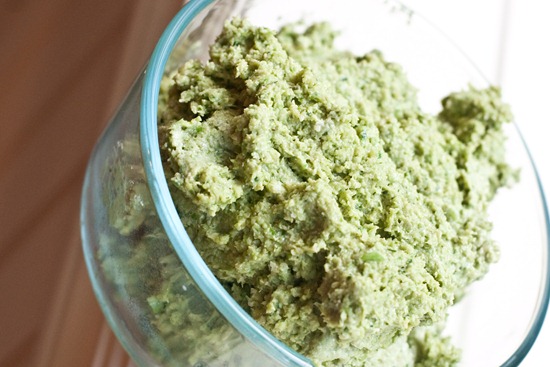 That is only half of what I made. For this double batch I also added a handful of basil that I had lying around. Prepare for your house to smell FANTASTIC.
Sadly, I only made a tiny dent in my stock pile of garlic scapes! I still have a full bunch + 3 scapes to use up. Luckily, they seem to keep really well in the crisper or I would be in trouble.
I put half of it in a freezer-safe Pyrex glass container and into the freezer it went for a rainy day…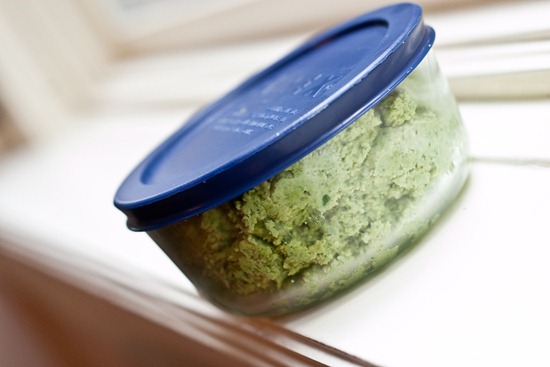 Then it was time to really get started on dinner!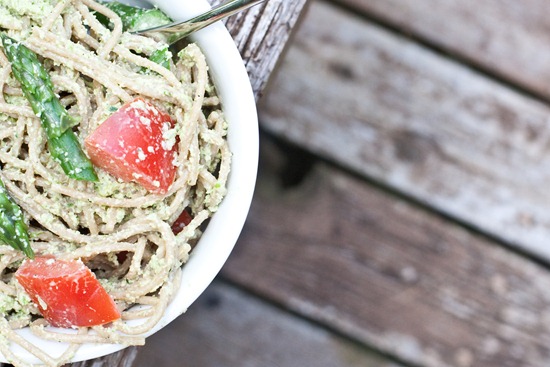 Asparagus Garlic Scape Pesto Spaghetti
[Adapted from Fat Free Vegan]
7-8 pieces of asparagus, with ends snapped off
Whole wheat spaghetti noodles (make as much or as little as you want- I made enough for 2)
1/2-3/4 cup of Easy Vegan Garlic Scape Pesto + more EVOO or milk to thin out
1 medium ripe tomatoes, diced (optional)
Sea salt and pepper, to taste
Directions: Bring a pot of lightly salted water to a boil and toss in asparagus (with ends already snapped off). Cook for just 4 minutes and remove, placing into a colander and rinsing with cold water (this stops the cooking process). Bring the same pot of water to a boil again and toss in spaghetti noodles. Cook until al dente. Remove, drain, and rinse with cold water. Set aside. Chop your tomato. Take 1/2 cup to 3/4 cup of the vegan garlic scape pesto and place in a bowl. You will want to thin it out, so you can add extra virgin olive oil until desired consistency and/or you can add non-dairy milk or a thick creamer to achieve desired consistency. I added more EVOO, but next time I might try adding almond milk too as it was still very thick. Put noodles back in the pot and then add the thinned out pesto. Mix well until the noodles are fully covered with the pesto. Chop asparagus and add in tomato and asparagus into the pot and mix well. Season with freshly ground pepper and sea salt if preferred. I turned the heat back on and warmed it up again or you can serve it cold. Your choice!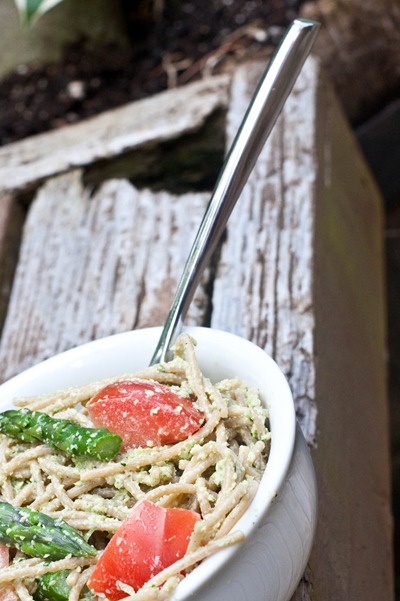 I love Pasta + pesto! So decadent tasting, yet very healthy and packed with lots of superfoods.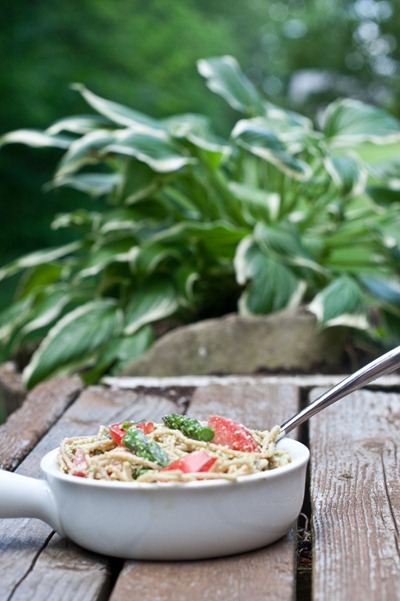 Eric really loved this dish too.
Dessert…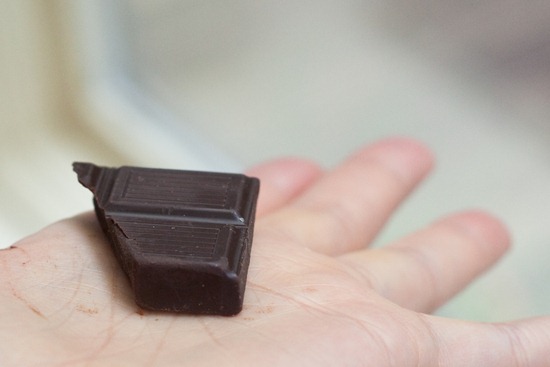 Oh, by the way…Eric planted the basil outdoors in a pot! I hope it grows!!! Grow, basil, GROW!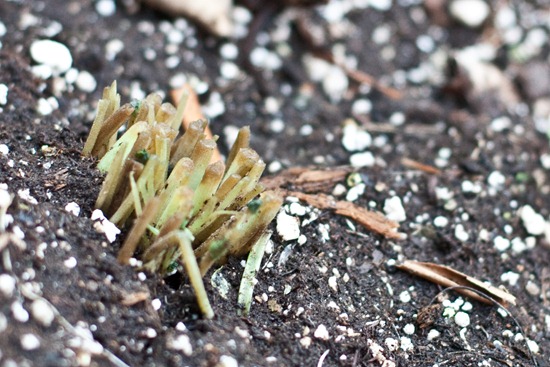 We both do not have a good track record with plants. If it grows, it will be nothing short of a miracle.
He also planted a green onion bulb. A lovely reader named Colette told me that you can take the bulb of a green onion and either plant it in soil outdoors or just place it in a glass of water and it will GROW! [Colette, did I do it right?] :biggrin: I hope so. I will eagerly await this bad boy to grow!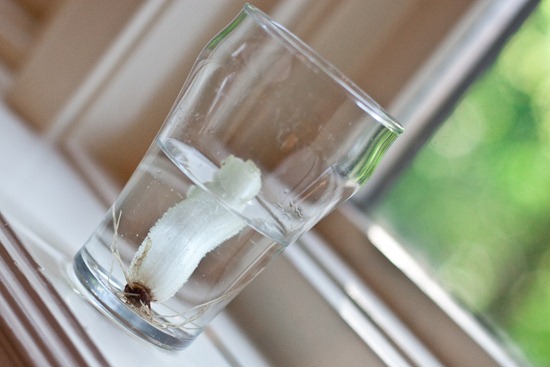 Well, this gal is going back to work for at least a couple hours. I need to get as much done as possible tonight so I am not rushing around like a crazy woman tomorrow getting ready for the farmer's market!
Until tomorrow, mes amies!