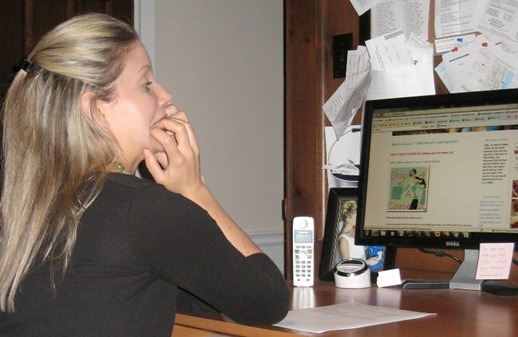 It was completely amazing to see you guys supporting Shop 4 A Cause 2 so much. I was basically glued to my desk all day long updating bids! It was intense, exhausting, thrilling, and inspiring.
It should also be mentioned that many of your bidding war emails cracked me up. Many a 'muhuahuahua's' were said. Evil cackles and 'Aw hell no's' were frequent.
I may have also added fuel to the fire… ('Are you really going to stand for this!?') :angel:
We raised a whopping $3,110 for cancer in just 13 hours!!!!!!!!!! We greatly surpassed  my goal of $2,500!
Thank you all so much!!!! I am forever grateful for your generosity. :heart: Today and tomorrow, I will go through all of the payment emails and connect the winners to the item donors. Winners (on this page) please direct your payment to my online donation page. Please email me ([email protected]) when you have completed your donation. Also please let me know the item name and number you paid for. Thank you!!!
At 10pm, I sat in front of the computer and celebrated with strange picture poses. Inspired by the bidders, I muhauhauha- ha-ha-hawed.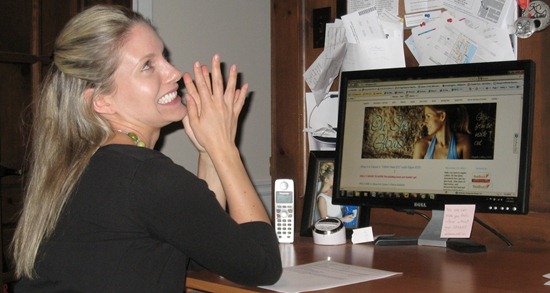 Eric played along, sighing and eye rolling, with each photograph, like any husband would. (I know he secretly loves it though.)
Then we celebrated with copious amounts of the 3 Ingredient homemade chocolate covered raisins (batch #2).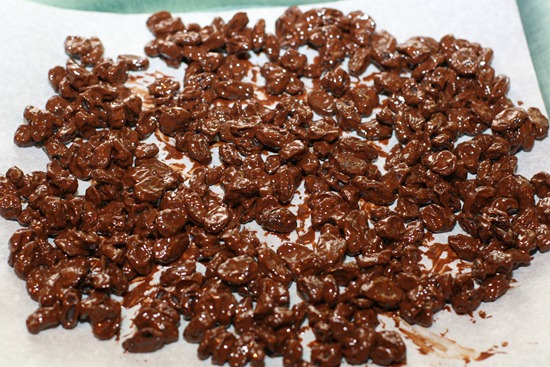 Every time we eat these we claim obnoxiously, 'I CAN'T BELIEVE HOW GOOD THESE ARE.' over and over. It's almost ridiculous how good they taste.
Bed.
I proceeded to stare at the ceiling for 2 hours. I felt like I was jacked up on Red Bull. I think I finally dozed off around 2am.
I woke up with an auction hangover and decided that a wheatgrass shot would help…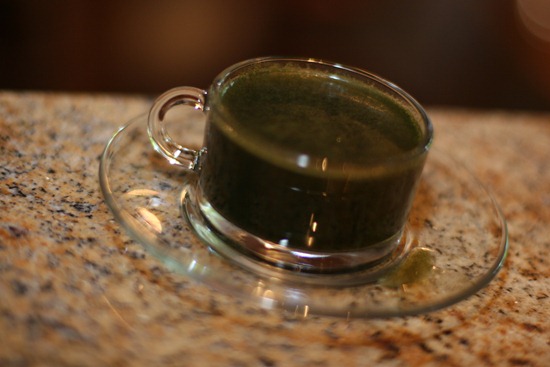 Then, I had my banana soft serve vegan overnight oats and all was well in the world again.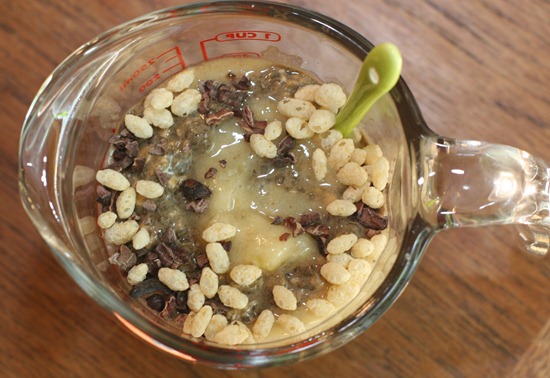 We continue to have a HEAT WAVE in Southern Ontario (yesterday hit 34C!), so these cold, mouth-watering parfaits have been consumed in mass quantities over here.
They will definitely be a summer staple along with Green Monsters!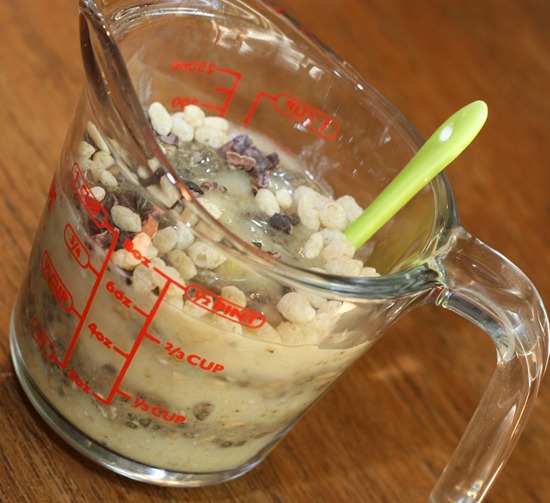 The recipe I used is here, however I added something fun to the mix- Nature's Path GF Rice Crisp Cereal (on top). It adds a splendid crunch!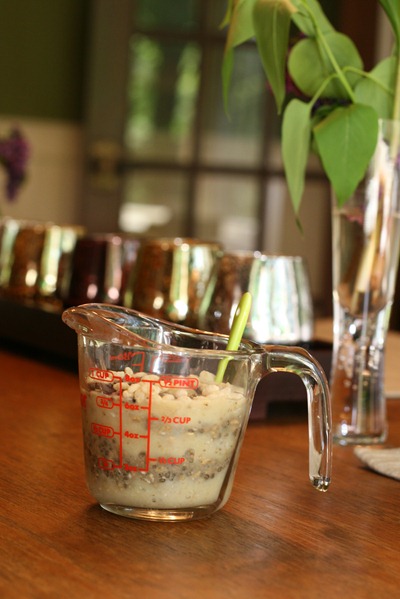 My banana soft serve didn't turn out exactly as it should have though. I froze a really brown, brown, brown (aka mushy) banana and it didn't freeze well. When I tried to process it, it did not process smooth, but more so chunky and icy. To make matters worse, it also tasted bad! Moral of the story- sometimes brown bananas are too brown, at least for banana soft serve! I managed to choke it down though… :whistle:
As I mentioned, I shot a video last week of how to make the Banana Soft Serve Vegan Overnight Oats. Well, it turns out that I blab way too much so I'm working on cutting it down and will upload it today. I'm a Chatty Cathy when it comes to food I guess.. :biggrin:
Spotted:
I'll be back with a lunchtime post this afternoon. Have a great day!