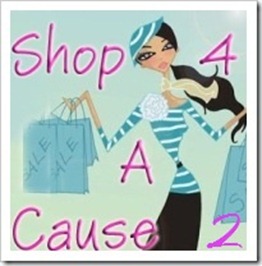 Exciting news! — I am going to be hosting Shop 4 A Cause II next week, on Wednesday May 26th, 2010!
You might remember last year's Shop 4 A Cause that was held at the beginning of June 2009. It was a huge success! It was an online silent auction held on Oh She Glows that started in the morning and went until late in the evening.
In honour of our upcoming try-a-tri, my goal for Shop 4 A Cause 2 is to raise $2,500 for the Canadian Cancer Society.
Do you think we can beat last year? I do! :biggrin:
As you know the success of Shop 4 A Cause largely depends on your support and participation! I will be organizing the event from start to finish and I will also be donating a huge OSG prize pack again, BUT I also desperately need your help to make this a smashing success once again!
Two Ways you can To Participate this year:
1) Donate items to be auctioned off
Email me (

[email protected]

) no later than Thursday May 20th with the subject line' SHOP 4 A CAUSE 2' and let me know what you want to donate. Think health or fitness items, new or gently used clothing, homemade items, etc. You can donate more than one thing, but please specify whether it is for one auction or multiple auctions. Also, you agree to ship the item to the winner and please specify what countries you will ship to so I know who to make the auction open to. Once approved, I will email you and ask that you send a picture of your item (up to 2 pictures) and a complete description of the item.
Examples include (but are not limited to):
Jewelry or unique knickknacks
Homemade Specialty items (beaded jewelry, knitted items, foodie items)
A Service you can offer (Personal training, nutritional counseling, meal planning, etc)
New or Gently Used Clothing (Have things in your closet that you don't wear- donate it!)
Fitness gadgets (e.g., HRM, jump rope, weights, Step counter, etc)
Books (ANY kind of book, especially health, cooking, or diet related)
Baked goods (cookies, muffins, brownies, fudge, biscotti, scones, etc)
DVDs (Workout DVDs, movies, etc)
Etc.
What's in it for you? You have the prestigious role of donating your fabulous goods or services to a wonderful cause, of course. You will also be featured on Oh She Glows featuring your products/services. All donors will have a link-back to their blog (if applicable) on my website.
2) Bid on items up for Auction
On the official Auction Day (May 26th, 2010) visit Oh She Glows and bid on your favourite items! You only pay if you win the item. All day long, I will be updating the auction page with the current highest bids.
Please email me ([email protected]) with your idea by this THURSDAY. Also, if you have any friends or family members that might want to participate, please forward them this post.
I'm really excited and hope that we can raise a lot of money for a great cause! Thank you for your participation.