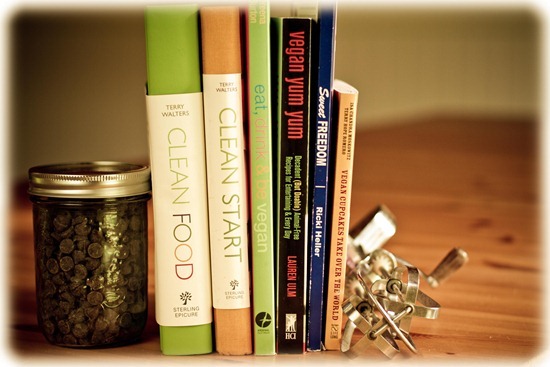 A great cookbook is a wonderful thing.
Cookbooks have the ability to excite, inspire, tempt, and comfort me all at the same time. A good cookbook can tease me with drool-worthy photography, engage me in a story, or help me figure out what the heck I'm going to make for dinner. Whenever I'm in a cooking rut, I know that I can flip through a few of my favourite cookbooks for instant inspiration.
Below are my most-used cookbooks. I waited to write this post until I was able to really get a feel for these books. Actually, there are a couple books still sitting on my shelf that I haven't had a chance to try out, so those will be coming up this Summer in Part II. There are also a handful of cookbooks still on my wish list for some Summer reading. Yes, my summer reading includes cookbooks…totally normal, I say. ;)
For now, these are tried and true. Some are fairly new, but already getting quite worn…
I guess I should start where it all began!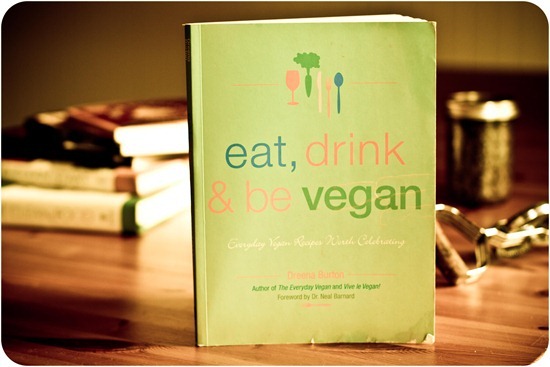 As you can see, this cookbook has received a lot of love!
Eat, Drink, & Be Vegan by Dreena Burton was the very first vegan cookbook that I purchased. Actually, when I bought it I wasn't even a vegan, but just dabbling with this way of eating. I absolutely fell in love with the recipes from Dreena's Super Charge Me Cookies and vegan gravy to her salad dressings and hide the lentils tomato sauce. ED & BV showed me that a vegan lifestyle was definitely an option in my life and it got my wheels turning.
Cookbook Highlights:
While there are certainly recipes with soy products like Tofu and Tempeh, there are plenty of recipes without them too. It's a good mix for someone like me who doesn't eat tofu and Tempeh.
Dreena provides helpful notes on the sidebar of the recipes for substitution ideas and helpful hints for ingredients.
She has an entire chapter devoted to hummus. 'Nough said. :)
Most of her recipes are fairly low in sugar and oil. I don't find myself having to reduce the oil or sugar like I do with other cookbooks.
She uses a lot of whole grains and whole grain flours in baking recipes, such as spelt, oat, barley, etc. If you are trying to get away from white flour, this is a great start.
Over 150 recipes and 16 full-colour photographs.
Dreena has been working hard on her fourth cookbook…I'm already pumped for it!
Up next, Vegan Yum Yum by Lauren Ulm.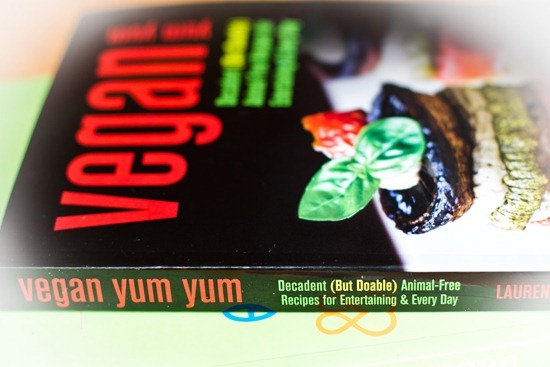 Vegan Yum Yum's blog was one of the first vegan blogs that I started reading back in 2009. I love Lauren's writing style, fabulous vegan recipes, and breath-taking photography. Her photography was actually one of the reasons why I fell in love with food photography myself. When I found out that she was coming out with a cookbook, I was thrilled.
Cookbook Highlights:
There is a beautiful photograph for each and every recipe in the book. Some recipes even include a few step by step photos. This is pretty ground-breaking for a vegan cookbook!
Lauren was featured on the Martha Stewart show for her adorable Knit Night Cupcakes. Yea, she's pretty major. :)
It's a great mix of quick & easy dinner recipes and more lengthy ones. Regardless of their difficulty, they all turn out decadent, fancy, and great for dinner parties or everyday.
If you are a fan of Tofu and Tempeh, you will find

lots

of recipes to please your every whim. Since I don't eat tofu or Tempeh much, there are several recipes that I won't make, but I still find enough to please me.
Lauren isn't shy about using oil or refined flours, so occasionally I will try to adapt recipes to suit my own preferences.
This is without a doubt, my most used cookbook over the Winter months as there are a lot of comfort foods like warm creamy pastas and casseroles to suit my every craving.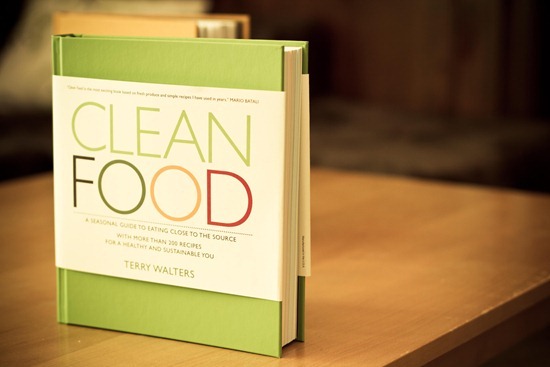 Eric bought me two cookbooks for my Birthday that I have wanted for a while now – Clean Food and Clean Start by Terry Walters.
Clean Food is a seasonal guide to eating close to the source with over 200 recipes. I've never come across a cookbook quite like this one! Here's why:
Cookbook Highlights:
The recipes are grouped by the seasons- a chapter each for Spring, Summer, Fall, and Winter. I just love this organization as it simplifies eating seasonally and locally.
Clean Food challenges me and gets me out of cooking ruts because there are a lot of ingredients I have never used before, such as Watercress or Arame. For some people, this would be a cookbook nightmare, but I love trying new vegetables or grains because it's easy to fall into a rut.
With that being said, I wouldn't say this is a last-minute cookbook. Most of the recipes require some planning and grocery shopping in advance.
There's a very detailed section on grains, vegetables, soy, nut & seeds, oils, and unusual ingredients like Sucanat or Kelp. Whenever I find myself unsure of how to prepare something, I go straight to this cookbook to guide me. This cookbook is extremely detailed and you can tell that so much work went into it.
This cookbook isn't vegan, but I would say that most of the recipes are vegan or easily adapted to be vegan! That's pretty exciting.
There are no pictures, which makes a visual person like me a bit sad, but I was delighted to see lots of yummy pictures in her second cookbook…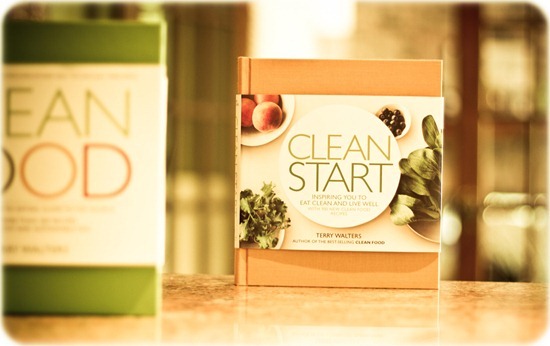 Clean Start is very similar to Clean Food in terms of unique, seasonally organized recipes, however this cookbook has plenty of professional photographs. There's probably a photograph for every other recipe in this book. It's about half the size of the Clean Food (with about 100 recipes as opposed to over 200 in Clean Food), but the quality is still very much there. I'm just loving the visual appeal of this book. While I only recently acquired these cookbooks, I've already used them a handful of times and I know I will use them time and time again not only for recipes but as a cooking resource. I didn't realize this initially, but all of the recipes in Clean Start are gluten-free! That is pretty amazing.
Here is a shot of the Clean Food Cookbook interior: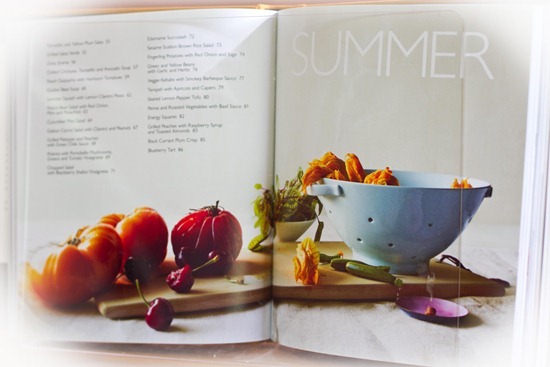 Beautiful. :)
Now, let's talk sweets for a moment because no kitchen would be complete without a couple dessert cookbooks, no?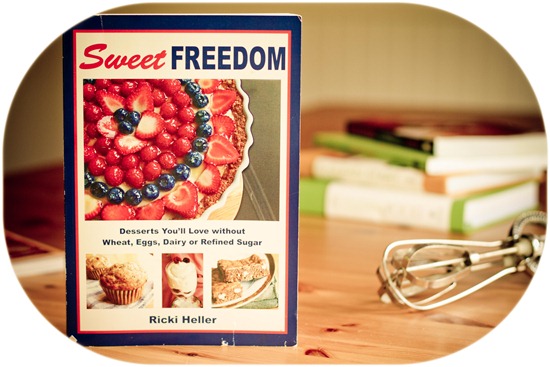 Sweet Freedom by my Toronto-based friend, Ricki Heller, is a lovely cookbook for those interested in baking healthier desserts without wheat, eggs, dairy, or refined sugars! In fact, I've never come across a cookbook that makes such an effort to use natural sweeteners and whole grain flours quite like this one does. If you are sick of desserts with white flour and gobs of butter, this cookbook will push your boundaries and open you up to a new world of baking.
Cookbook Highlights:
Over 100 recipes for classic baked goods such as Banana Oat Bars, Ultra Fudgy brownies (yum!), Chocolate Pecan Pie, and Cinnamon Walnut Coffee Cake.
There are over 30 beautiful photographs
Ricki provides many helpful hints and recipes notes for substitution ideas or variations
Each recipe specifies whether it is corn free, gluten free, nut free, or soy free.
Recipes provide Imperial/Metric measurements
There is a very detailed guide on ingredients at the beginning of the book.
Finally, Vegan Cupcakes Take Over The World by Isa Chandra Moskowitz and Terry Hope Romero.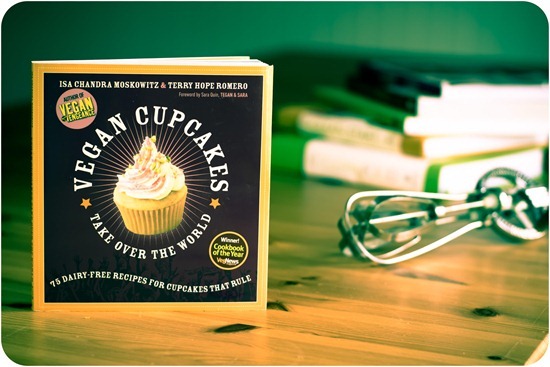 If you are a cupcake fan, you will love this cookbook! It has full colour photographs for almost all of the 75 cupcake and frosting recipes that will have you thinking of reasons to bake yet another batch of cupcakes. VCTOTW also won Cookbook of the Year award by VegNews Magazine when it came out. Woot.
Cookbook Highlights:
Most recipes feature easy to find ingredients and it also provides tips on cupcake baking and decorating ('How to make kick-ass cupcakes').
Fun, witty, and playful writing style throughout the book. (e.g., "Peanut Butter Cupcakes: We also call these Jimmy Carter Cakes because he was a peanut farmer and he loves solar energy. But no one cares about that. What they do care about is that these cupcakes are pushed to maximum peanuty capacity and still remain moist and fluffy. And that is almost as important as solar energy.")
Many of the cupcake recipes have a lot of variations that you can try. For example, the Basic Chocolate Cupcake includes variations such as Peanut Butter Chocolate Heavencakes, Peanut Butter Bombes, Chocolate Mocha Cupcakes, German Chocolate cupcakes, and even Chocolate Orange cupcakes! Cool, right?
Cupcake chapters include: Basic Cupcakes (e.g., Golden Vanilla), Classic Cupcakes (e.g, Carrot Cake), Fancy Cupcakes (e.g., Orange Pudding Cupcakes with Chocolate Ganache), and Frostin's and Fllin's (e.g., Coconut Pecan Fudge Frosting).
Did I mention that sometimes I just sit on the couch and stare at the pretty pictures? Eric calls it my 'Happy Place'.
So there you have it- six of my most used cookbooks to date! Stay tuned for the Summer edition, Part II…
I'd love to hear about your most-used cookbooks too!
Do you have any cookbooks that you use again and again or have you found any new ones that changed the way you cook? Share below.