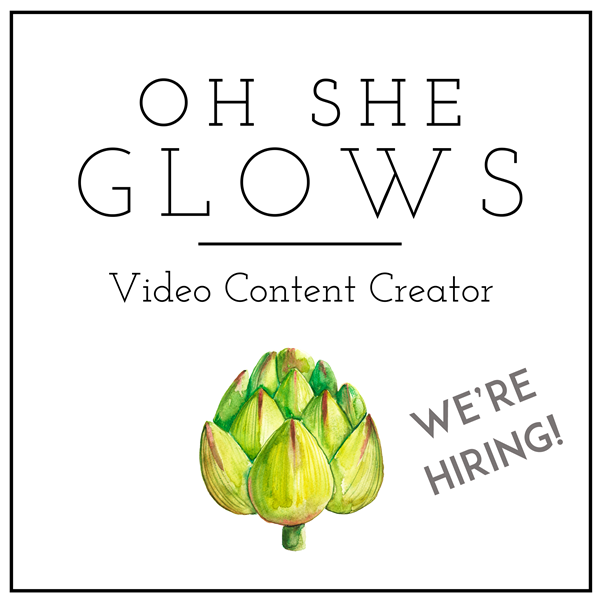 Happy new year, everyone! I hope 2017 is off to a great start for you. I'm popping in to let you know that we're interviewing for a paid Video Content Creator to help us move forward with creating and sharing videos for our best recipes. This position will entail generating 1 to 2 videos per week. The videos will be shared on the Oh She Glows blog and social media channels, and potentially uploaded to the app.
We're looking for someone with video creation and editing experience who can commit to creating around 50 recipe videos for us in 2017. The ideal candidate is also an avid cook with knowledge of food styling. There is great potential for this role to continue past 2017. Does this sound like your jam? If so, then read on!
Oh She Glows Video Content Creator
Start date: February 2017
Skills and experience:
Previous video creation and editing experience
Video graphics design experience is ideal
Strong familiarity with the Oh She Glows brand, recipes, and mission
Culinary experience (either as an avid home cook or professionally)
Knowledge of food styling
Passion for plant-based cuisine
Creative, artistic, attentive to detail, self-starting, flexible, team player
Responsibilities:
Generate 1 to 2 recipe videos per week (approximately 30 to 60 seconds each)
Create approximately 50 recipe videos for Oh She Glows in 2017
Work closely with the Oh She Glows team
Compensation: per video; rate TBD
Location: This is a remote position, and the successful applicant will shoot the videos in their own home or studio office. However, if you are in the Greater Toronto Area, that is always a bonus as we'd love to meet you face-to-face.
How to apply: Submit a recipe video 30 to 60 seconds in length (1080×1080 pixels), using an Oh She Glows recipe. Video should be shot overhead with a close-up of the completed dish at the end. Please include an intro and outro as well. Ideally, we'd like the video to be similar in style and aesthetic to that of the Oh She Glows Recipe App. Upload the video to YouTube (set to "Private") and share the link with the emaill address [email protected]. In your email, please also also include your resume and experience as it pertains to the job listing, and your fee per completed video.
Send your video link, resume, and fee per video to: [email protected] with the subject line: VIDEO CONTENT CREATOR.
Deadline: Friday, January 20, 2017 by 10am EST. Friday January 27, 2017 by 10am EST.
Candidates will be contacted only if they are selected to move on in the interviewing process. We thank you in advance for your interest!