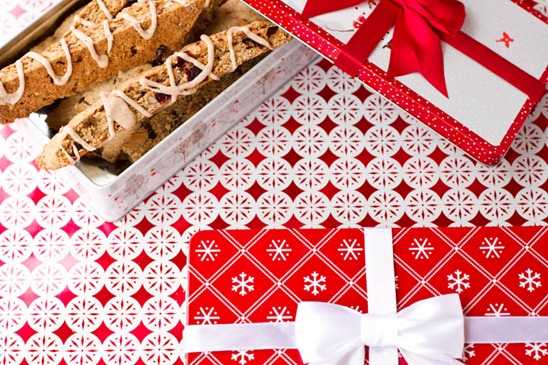 I think there's a rumor going around that biscotti is difficult to make. At least, that's what I used to think.
I suspect I'm not alone! The other week I was at the grocery store telling this sweet elderly cashier about my biscotti making adventures. With a worried look she replied, "Ohhhh….biscotti…power to you…" as if making biscotti ranked right up there with pulling a rabbit out of a hat. I didn't tell her it was vegan biscotti either. Perhaps, I just didn't come across as one who spends hours in the kitchen each day. Long winter jackets cover my flour-marked black pants nicely. If she only saw the state my kitchen was in right now she would really think I was nuts.
Despite the rumors, biscotti is actually one of the easiest baked goods to make. Promise. It just takes more baking time as compared to other common cookie recipes. I first made biscotti back in 2007 and Eric thought it was the best thing since sliced bread. Then, I became vegan and biscotti hasn't seen the light of day in our house, much to Eric's chagrin. He's been pestering me to make biscotti ever since and I can only ignore the poor guy for so long.
I can't tell you how many conversations have started with, "Remember that biscotti you made….BEFORE we were married?" (he always emphasizes the "before" marriage part)
I smirk back, "No, I'm sorry I don't recall…I've just made YOU so many things over the years. You could see how one would forget…."  (I like to emphasize the "you" part)
"It was from BEFORE we got married and BEFORE you became a vegan."
"Who?" I say with a blank stare.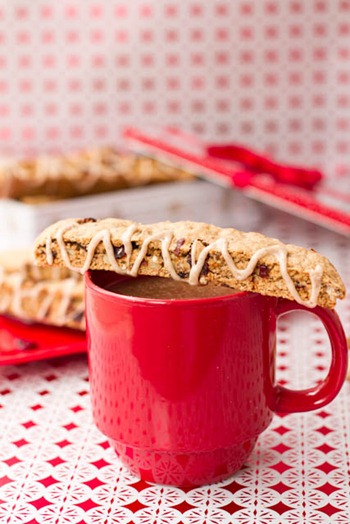 Lucky for Eric, I'm a big fan of biscotti. Give me a firm cookie masquerading as a breakfast food and I'm a happy girl.
My first vegan attempt was a pumpkin biscotti. It tasted good, but due to the high moisture content of the pumpkin, the biscotti got soft by the next day. I don't know about you, but my biscotti has to be crisp. Next, I tried making oil-free vegan biscotti, one with applesauce and one without. Again, they tasted nice, but they got soft or dry as bricks by the next day. Before our vacation, I tested eggnog biscotti (after falling in love with Holly Nog) with a bit of oil and I hit the jackpot. Another test this past weekend and I have the recipe ready to share with you today. Whew.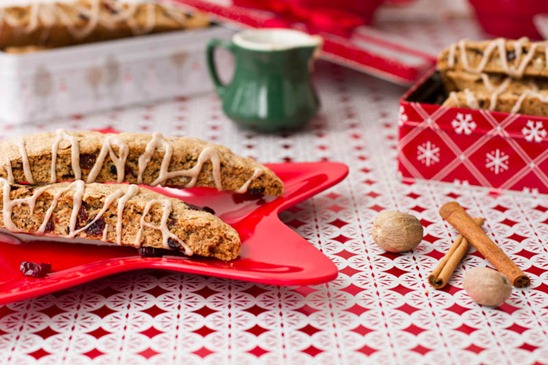 It has a light eggnog flavour and the eggnog glaze really brings the flavour out even more. The toasted nuts and dried cranberries give it a great texture and nutty, tart flavour. Even Eric who isn't an eggnog fan (oops…), really loves this biscotti.
I suggest using fresh nutmeg and cinnamon if you can, but pre-ground works in a pinch. It will still taste great using pre-ground spices (I tried both fresh and pre-ground and they were both delicious).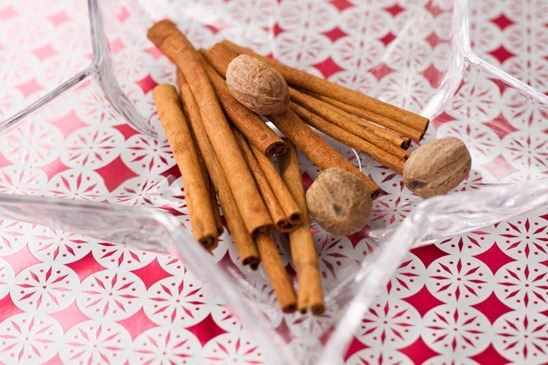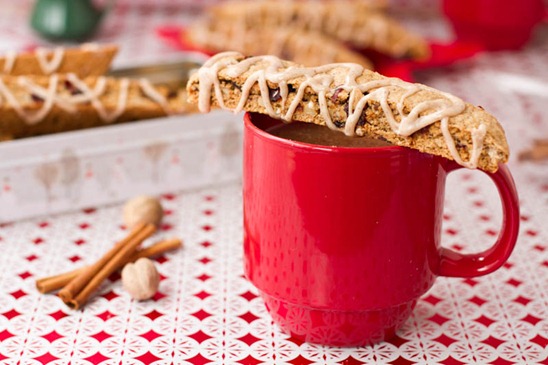 When mixing your ingredients (I did this by hand), keep in mind that the dough is going to be very thick. You can stir it with a spoon until the dough looks pretty ragged and rough like this: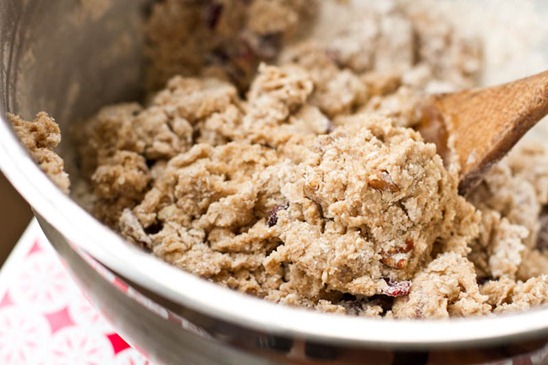 Now get in there with your hands and squeeze it, lightly kneading it together: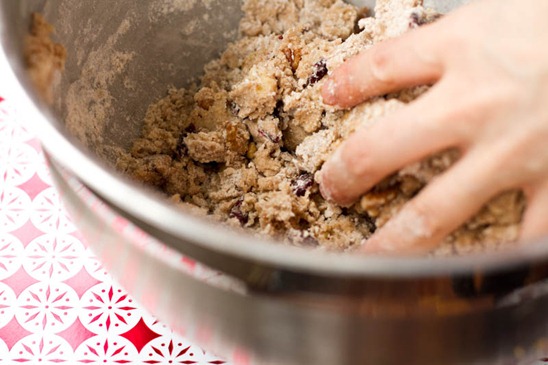 Until it comes together like this: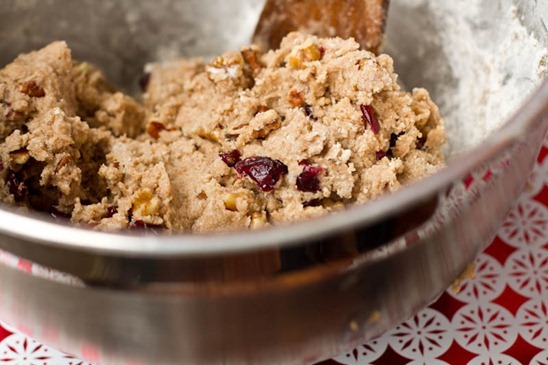 Be careful not to overmix the dough…stop as soon as it comes together. It's ok if there are a couple flour patches too.
Depending on the size you want, you can shape it into 1 or 2 logs. I tried both methods and prefer shaping it into two small logs because it makes smaller pieces that are the perfect size for tea!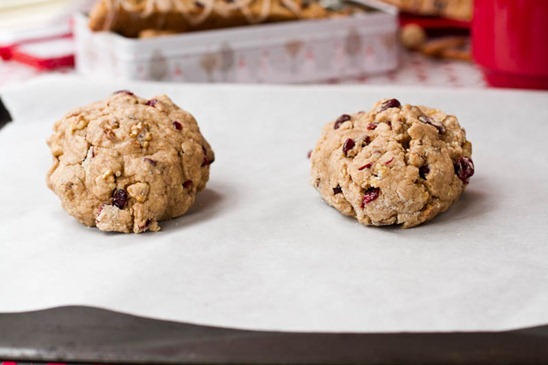 Flatten each half with your hand so it's easier to shape: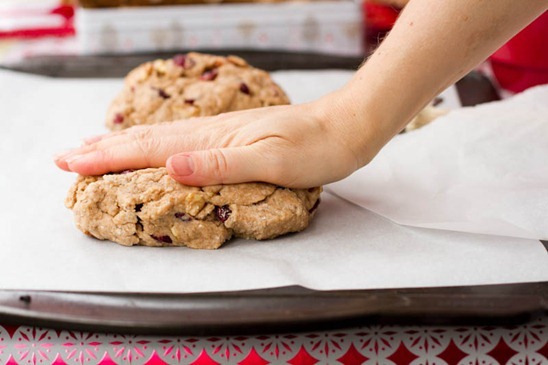 Now, take a piece of parchment paper and place it on top. Roll it out with a pastry roller or rolling pin (or you can just shape with your hand), stopping to shape the sides with hands as necessary.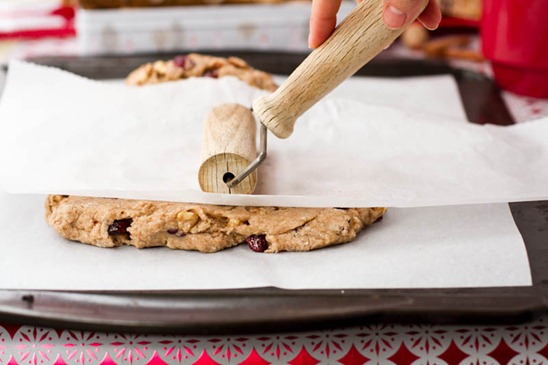 Tip: You can pick up these pastry rollers for a buck at the Dollarstore. I've had mine for a couple years now and they're still going strong despite my lazy self throwing them into the dishwasher. :)
Once both logs are about 10 inches long by 4-5 inches across, you are good to go. Don't worry too much about getting the log perfectly shaped.  Biscotti is like pie…just call it rustic and you're good to go!
I also like to score my logs before the first bake. I just take a knife and gently run it halfway through the dough. This will make it a bit easier to slice your biscotti after the first bake.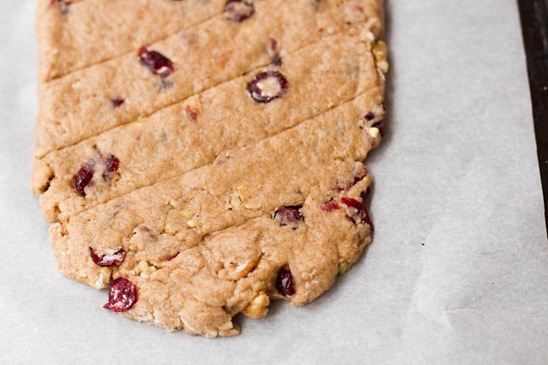 Bake for 30 mins at 350F, and then cool for about 5 minutes on the stovetop. Reduce oven temp to 325F. Carefully slice the biscotti all the way through and flip on one side. They will be delicate at this stage so now's not the time to use them as drumsticks!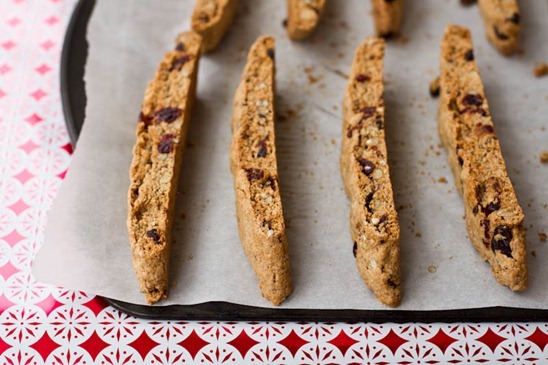 Bake at 325F for 10 minutes. Remove, flip, and bake for another 5-10 minutes depending how crisp you like it. Cool for at least an hour on a rack and then transfer into a glass container for storage (glass containers keep them firm).
You can add this delicious eggnog glaze just before serving too!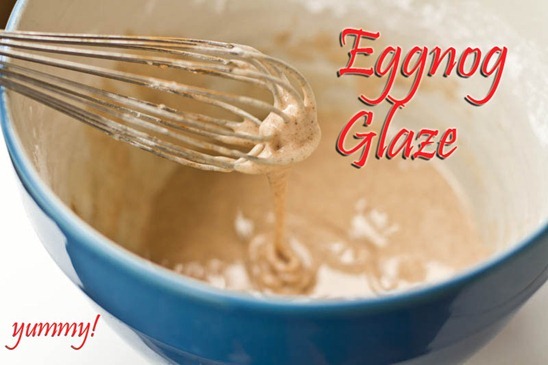 I scooped the glaze into a plastic baggie, cut off the end, and then "piped" it on. You can drizzle it with a spoon too.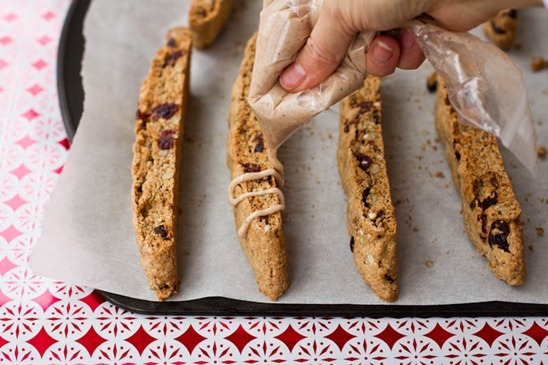 This glaze is so simple to whisk together and has such a lovely eggnog flavour. I like it heavy on the nutmeg, but feel free to adjust the nutmeg to taste.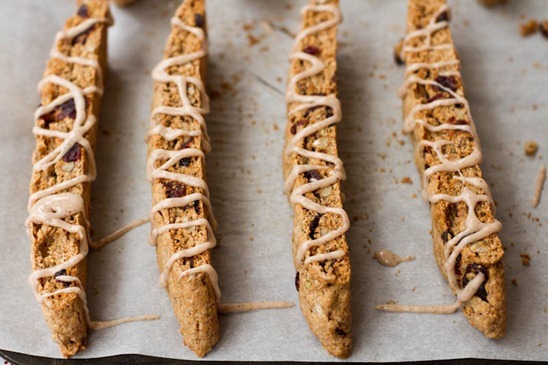 I served it with a side of homemade eggnog tea. Steep black tea as usual and instead of adding in milk add in a hefty portion of vegan eggnog along with freshly grated nutmeg and cinnamon on top. Add sweetener to taste.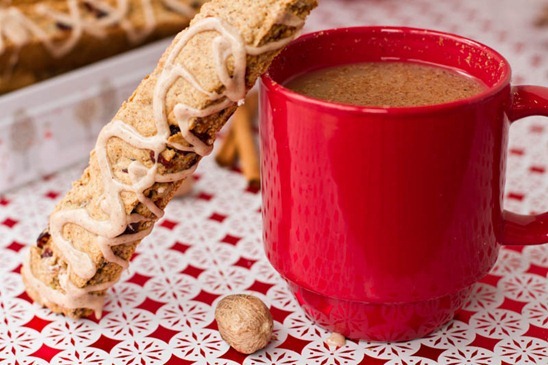 Spiking it with bourbon is optional, but encouraged.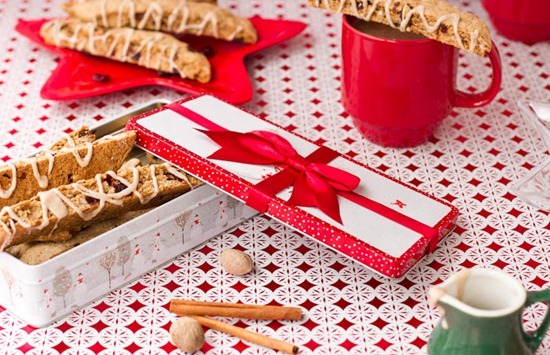 [print_this]
Vegan Eggnog Crunch Biscotti
Crisp, nutty, and chewy, with a lovely eggnog flavour, this biscotti will have you in the mood for the holidays in no time. In addition to using toasted nuts, I added some dried sweetened cranberries to give it a nice chewy texture. I bought some rectangular holiday tins from Loblaws, but you can also find tins at Michaels and some bulk food stores like Bulk Barn. It makes a lovely gift! See below for nutritional info.
Yield: approx. 17 pieces
Dry Ingredients:
3/4 cup chopped nuts, toasted (I used a mix of walnuts and pecans)
1 cup whole wheat pastry flour
1 cup unbleached all-purpose flour
3/4 cup natural cane sugar
2.5 tsp freshly ground nutmeg (or 1.5 tsp pre-ground)
1/2 tsp freshly ground cinnamon (or 1/2 tsp pre-ground)
1.5 tsp baking powder
1/4 tsp baking soda
Scant 1/2 tsp kosher salt
1/2 cup dried sweetened cranberries
Wet ingredients:
1/4 cup canola oil (or melted coconut oil)
1/2 cup + 1.5 tbsp vegan eggnog (I use Vitasoy Holly Nog)
1 tsp pure vanilla extract
Eggnog Glaze:
1 cup organic icing/confectioner's sugar
2 tbsp vegan eggnog
1 tsp freshly ground nutmeg (or 1/2 tsp pre-ground)
tiny pinch of kosher salt & cinnamon, to taste
1. Preheat oven to 325 and toast chopped nuts for 10 mins. Remove and cool. Preheat oven to 350F. Line a large baking sheet with parchment paper.
2. In a large bowl, mix the dry ingredients. In a smaller bowl mix the wet ingredients. Add the wet to dry and mix with a spoon until it starts to come together. Now use your hands to squeeze together the dough and mix it completely, being careful not to overmix.
3. Divide the dough in half and place on prepared baking sheet. With palm of hand, press down each half to flatten. Place a piece of parchment paper over top of one half and roll it out into a log (approx 10 inches by 5 across and 1/2 inch thick), using your hand to shape as necessary. Repeat with the second log.
4. Score the logs with a knife and bake for 30 mins at 350F. Remove from oven and reduce heat to 325F. Cool for 5 mins on stovetop and then slice the logs. Gently flip pieces onto one side and bake at 325F for 10 mins. Remove from oven, flip, and bake another 5 mins at 325F. If you like the biscotti SUPER crisp, bake another 5 mins.
5. Cool for 1 hour on a baking rack and then store in a glass container. To prepare glaze, whisk all glaze ingredients together in a medium sized bowl. Place glaze into a baggie, snip off the very end, and "pipe" over top.
Nutritional Info (makes 17 servings, per biscotti, without glaze): 161 kcals, 7 grams fat, 22 grams carbs, 1 gram fibre, 10 grams sugar, 2 grams protein.
(with eggnog glaze, makes 17 servings): 190 kcals, 7 grams fat, 31 grams carbs, 1 gram fibre, 17 grams sugar, 2 grams protein.
[/print_this]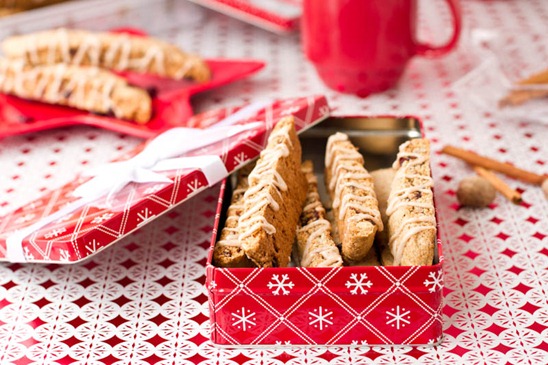 Vegan Eggnog Biscotti + holiday tin Giveaway!
Because biscotti is for sharing, leave a comment below to be entered to win a tin of this delicious eggnog biscotti! (Note: will ship without glaze).
Contest is open to anyone, anywhere. I will draw the winner on Thursday AM…goodluck!!
One Lucky Duck Winner:
The winner of the One Lucky Duck Giveaway is #1740: Rachel! Rachel said, "kale chips!! so easy to make & convenient for on the go!" Congrats Rachel! I have emailed you to collect shipping info. Thanks to everyone for participating…I loved reading about your fav vegan foods.