Another morning, another VOO!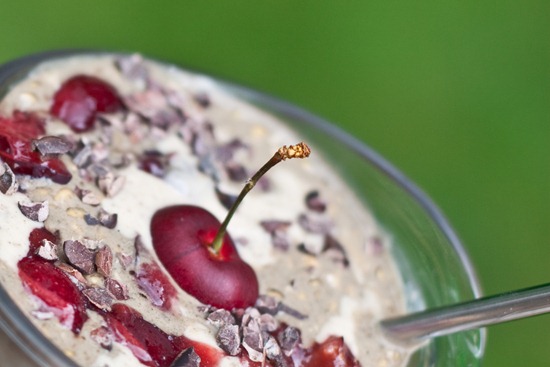 Today was PB + J Vegan overnight oats. I don't know about you, but I have loved the PB and J combo since I was a little girl. It never gets old.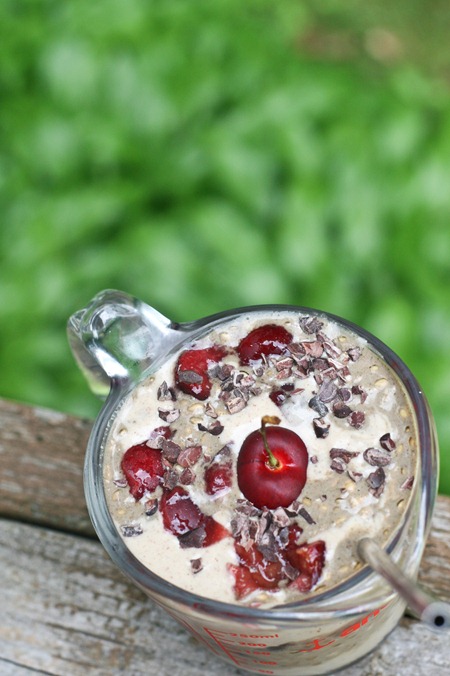 Ingredients:
1/2 cup oats
1.25 cup almond milk
1/4 scoop Amazing Grass Chocolate Amazing Meal Powder (or sweetener)
1 tbsp chia seeds
1/2 tsp pure vanilla extract
Peanut Butter Banana Soft Serve– for layering (1 tbsp peanut butter + 1 frozen banana, processed)
Jam- for layering (I made my homemade cherry jam)
Directions: Mix dry ingredients together in a small bowl. Add wet ingredients and whisk. Place in fridge overnight or for 1-2 hours depending on how soon you need to FEED the VOO monsta! Layer the PB Soft Serve, jam, and the VOO in a glass and top with cacao nibs and cherries, or whatever tickles your fancy.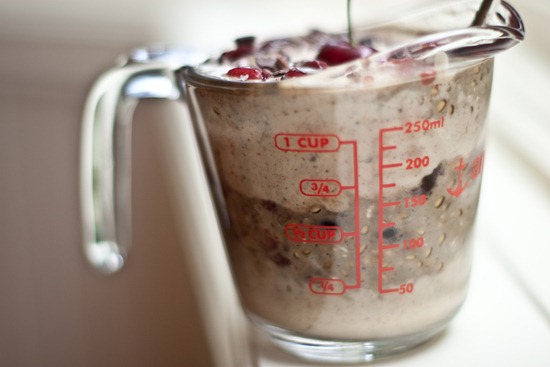 I made my homemade cherry jam for layering and made a thick layer of it in the middle.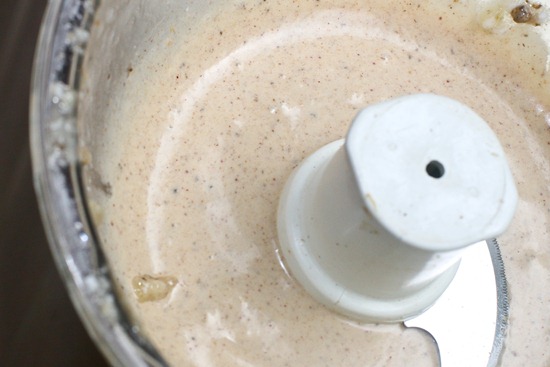 Peanut Butter Banana Soft Serve is AMAZING!!! Thank you to all of you who suggested it…it truly is like some sort of peanut butter ice cream! Crazy.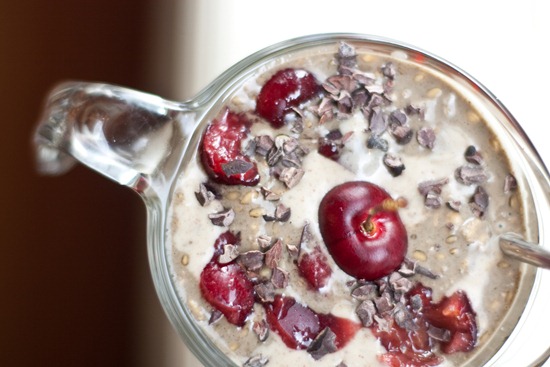 I actually used whole flax seeds in replacement for the chia seeds in this batch because I didn't have any chia nearby so I just threw the flax seeds in. You can see the flax seeds floating in the top of the dish. I did not like whole flax in the VOO…it made it really slimy (more slimier than usual!). I'm sure ground flax would be a much better consistency. However, I was surprised that the flax seed did seem to make it thick similar to the chia seeds. It was a different texture, but still quite thick. I will still be using chia seeds and I will probably also try ground flax too. I think ground flax would work much better than whole flax.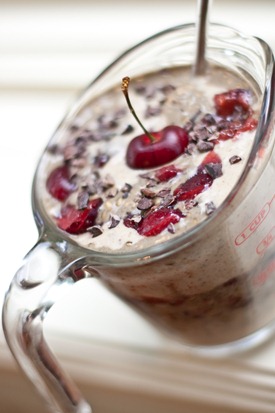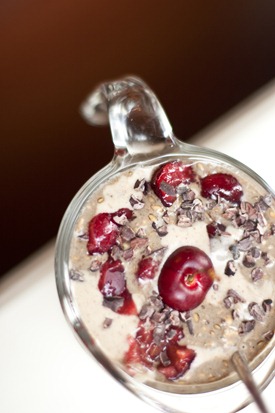 This was deeeeeeeeeeeeelish. Of course.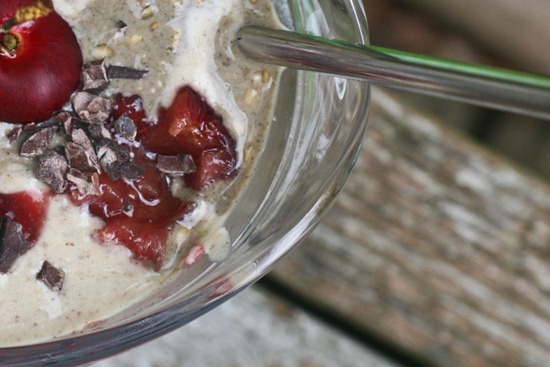 G20 Summit
As you have probably heard all over the news, the G20 Summit is this weekend in Toronto. In preparation for the summit, the government has poured over $1-billion into security provisions. Yes, $1-Billion with a BEE! :ermm:
The police have created a Yellow Zone or Security Zone surrounding the Metro Convention Centre where the meetings will take place. This week they will be putting up a huge $5.5 million fence around the perimeter of the security zone.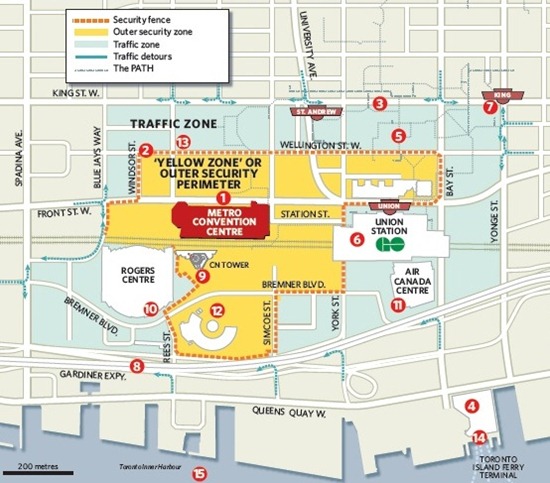 Eric works very close to the security zone and he said all week there have been tons of police on ATV's, horseback, on bikes…just covering the city. There will be an estimated 10,000 uniformed officers and 1,000 private security guards around the area.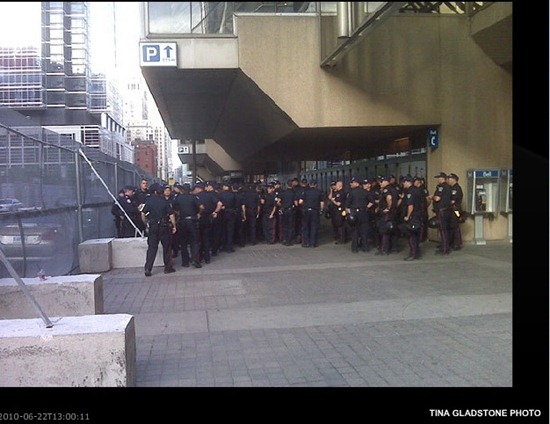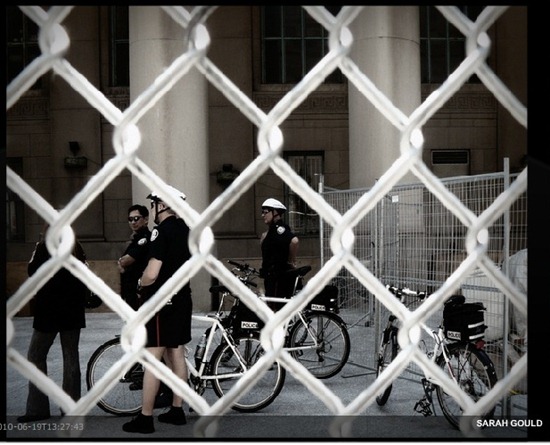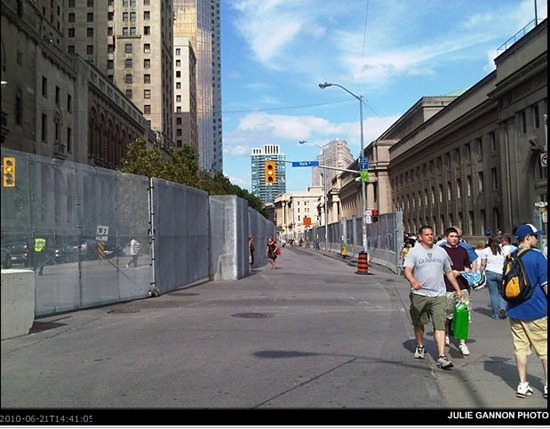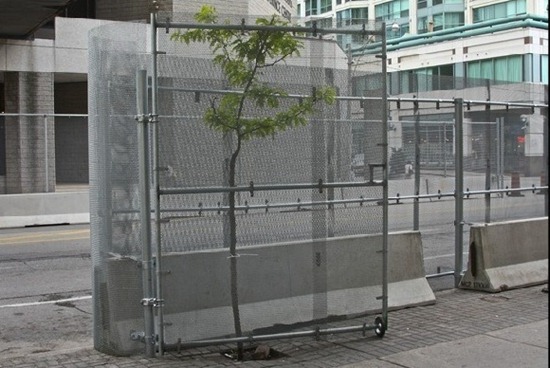 Each building has one or more security guards in front of each entrance. The police have also been going into parking garages and checking cars for bombs. It seems like it is going to be a pretty tense weekend in the city and many people fear for some type of attack during the summit.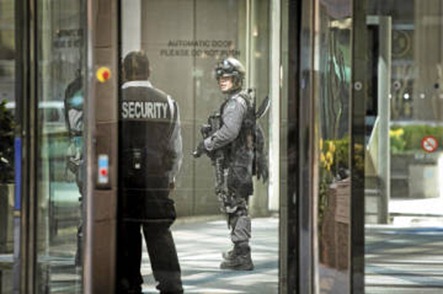 All of this preparation for the summit has left many of us asking why the government didn't hold the summit in a remote area of Canada (there are many to choose from!) where they would not have to protect millions of people as they have to in the downtown core of Toronto. It just seems like they are putting citizens at unwarranted risk, and spending a ton of tax payer's money in the process.
Many workplaces downtown Toronto have asked their employees to work from home this week due to safety concerns. There are protests going on this week and traffic headaches as a result.
The 5-miler race that I want to run is tonight downtown Toronto along Lakeshore (West of the Security Zone though), so hopefully I won't incur too much traffic when I drive into Toronto for the race, although they did warn us about delays. The weather channel has Southern Ontario under a severe thunderstorm watch, so if that is the case I won't be making the drive into the city at all. I am just going to play it by ear and decide later this afternoon I guess.
Today's questions: Do you keep up on local, national, and/or world news? Where do you go to get your news? Have you been following the G20-Summit news?
I am a huge news junkie…every day in the bakery I listen to my favourite talk radio station called Newstalk 1010 in Toronto and I get caught up on local and non-local news while I work. Eric always teases me because I listen to it everyday and I am always talking about it!  I also check a few newspapers online like the Globe and Mail, Huffington Post, and occasionally the National Post.
Have a great day!