Today's run was probably one of the most memorable runs I have had in a long time, if not ever. Please be warned this is a verbose post!
I don't know what is going on, but my runs lately have been craaaaazy…
On today's run, this note became much more real…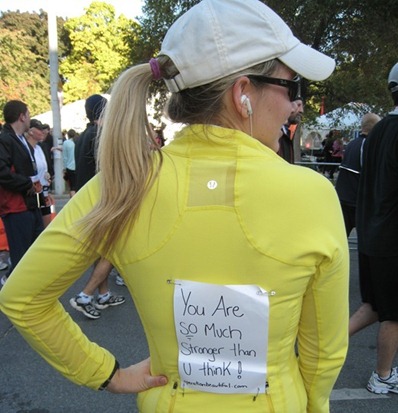 But I will get to the reason why in a minute.
After breakfast, Eric and I geared up for our planned bike-run outing. Him on bike, me on foot. I filled up my Camelbak and we were off!

[I don't listen to music when he is with me because we chat, but I brought the tunes for when we parted ways.]
Today I was planning on doing my last LONG RUN before my half marathon on May 30th. I wanted to do between 10-13 miles today.
I knew I had to get in this run today or my anxiety would be quite high for the race. My training for the half has not been where I wanted it to be. My groin strain set me out for a while and I found it difficult to get in long runs while training for the try-a-tri.
I know deep down I am not trained for this half like I was for my first and second half marathons last Fall 2009. I have accepted this. I know that I have been out there every day that I could and I gave this training (and the try-a-tri) 100% effort. I am going to have fun with my half next weekend and just play it by ear and not stress myself with a time goal! What shall be will be.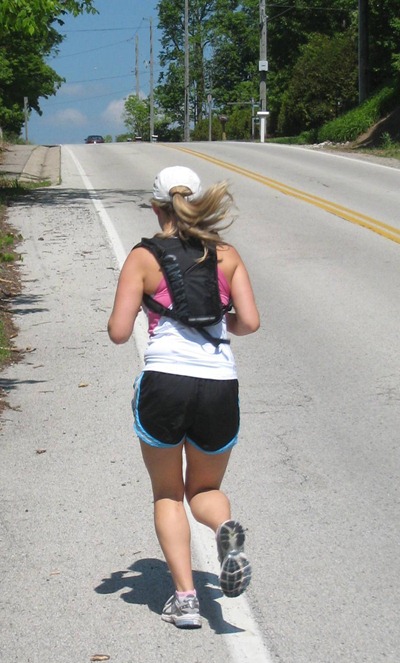 Eric was my on site photographer today. :lol:
I am hoping all my hill training will benefit me in the race next weekend. I climbed 1836 vertical feet (0.35 miles) on today's run!!!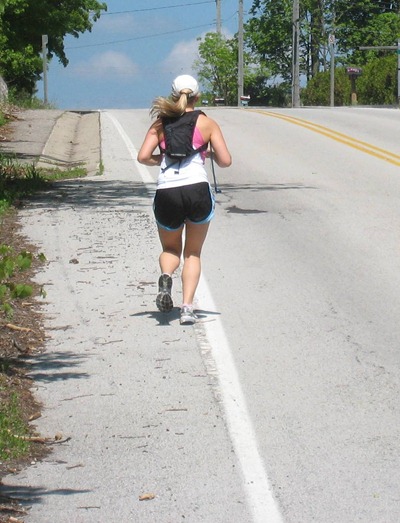 I think Eric was so bored on this bike ride because he basically went along to keep me company and he had to bike quite slow next to me. I think a snail passed us. I thanked him a million times for coming along to entertain me! I couldn't have done it without him. His words of encouragement were so needed during the long hill climbs.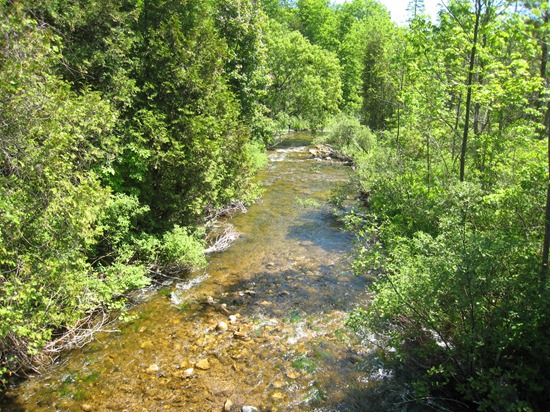 After 7.5 miles I dropped Eric off at home, filled my Camelbak with H20, and fueled up.
I was covered in salty sweat from head to toe. It was hot out there.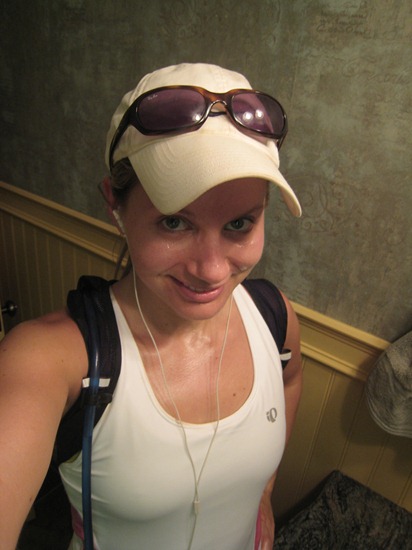 I had two dates for fuel…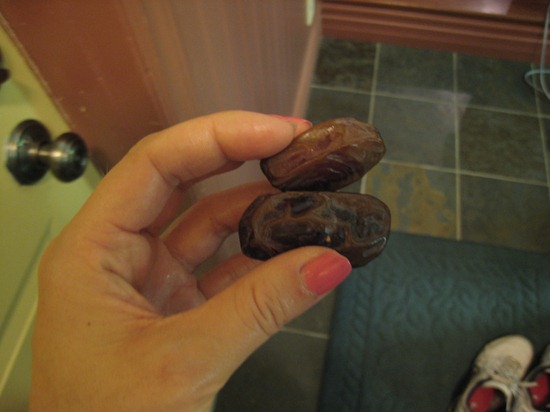 …and I was off.
I did not want to go back out there. I almost talked myself out of it. Eric mentioned that he was going to watch a movie and I wanted to just stay inside and cuddle him on the couch.
However, I kept my half marathon goal in my mind and I headed back out there.
This was a deciding moment of dedication for me.
I told myself, you are so much stronger than you think, and I was convinced.
I would like to give a special shout-out to two songs that honestly made the difference in my energy for this second part:
'Forever' by Chris Brown (never fails to remind me of this epic video and then this one!! hahah)
'Not Myself Tonight' by Christina A.
Fun songs.
I looped the neighbourhood a couple times. Around mile 11, I was debating in my mind whether I would run up to the end of the street or whether I would turn back early and head home. I decided to run to the end of the street.
As I was running to the end, the unthinkable happened.
I witnessed an accident!!!
A huge Harley Davidson motorcycle was turning left onto the street I was on, when all of a sudden the bike swerved and flipped on the side, skidding, and pinning a man and a woman onto the pavement underneath the bike.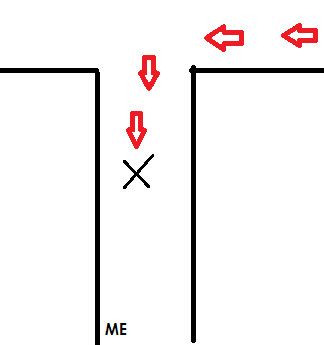 I screamed, in shock, and bolted to the accident. I was about 30 feet away and ran to them as fast as I could. Sometime during this I lost my sunglasses. The man was struggling to get the bike off of him and the woman, but he was trapped. The woman was screaming in pain and it was one of the scariest things I have ever seen. She got the worst of the accident because she was trapped under the bike the most and it was crushing her legs.
I immediately grabbed the Harley, which was on its' side, by the seat, and lifted it off of the people who were stuck beneath it. I have no idea how I was able to lift the bike…Eric tells me they are around 500 pounds!!! I now believe what people say when you are in a dangerous situation and the adrenaline is pumping, you can accomplish amazing feats of strength. Unfortunately I pushed the bike up with mostly my left arm, which is my sore tricep, so I am hurting a bit right now, but obviously it was a necessary act!!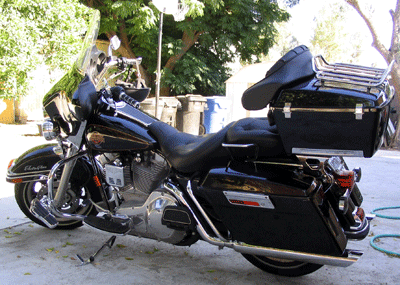 That is similar to what the bike looked like.
As soon as I got the bike off them a nearby couple (who heard the screaming) called 911. The woman was bleeding and all scraped up and I am almost positive she broke a leg, if not a foot. I felt so bad for her and kept reassuring her that the ambulance was on its' way. She was crying and in shock. Not even 2 minutes later the ambulance arrived. I was so surprised at how quickly they arrived. Kudos to the paramedics!
After they were taken away, I wished them well, and then I left for home. I looked around for my sunglasses and found them right about where I was when I first bolted over. I guess they fell off me…I don't remember. I was about a mile away from home, and that mile was run in shock. I could not believe what just happened and I was a bit choked up over it. Luckily I decided to run to the end of the street or I would have turned onto a different street and not have been there to help.
Despite the accident, I managed to have a strong long run.
The run:
Distance: 12.44 miles
Time: 2 hours 6 minutes
Avg pace: 10:08 min/mile
Mile splits:
Mile 1: 9:31 min/mile, ascent 147 ft
Mile 2: 9:35, ascent 118 ft
Mile 3: 9:58, ascent 154 ft (I started to doubt myself after just 3 miles)
Mile 4: 10:38, ascent 131 ft
Mile 5: 10:24, ascent 144 ft
Mile 6: 10:35, ascent 285 ft (part of murder hill!!!!)
Mile 7: 10:12, ascent 159 ft
Mile 8: 10:04, ascent 102 ft
Mile 9: 10:28, ascent 192 ft
Mile 10: 10:20, ascent 76 ft
Mile 11: 9:46, ascent 116 ft (just before the accident, I was trying to finish strong)
Mile 12: 10:13, ascent 158 ft
Mile 12-12.44: 9:34, ascent 55 ft (finished strong!)
After returning, I did what I said I would never do.
I had an ice bath…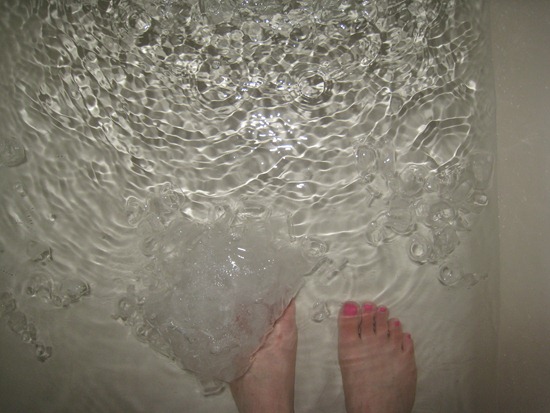 Getting in was the worst part. Actually all of it was the worst part.
With green tea to warm me!
It was not fun, but my legs do feel better than they did. I also iced my sore tricep. My body is basically hurting all over right now. This week is a taper week though, so I will be resting a lot!
After the ice bath, I had quite possibly one of the biggest salads I have ever made in my life. I realize I say this a lot. :happy: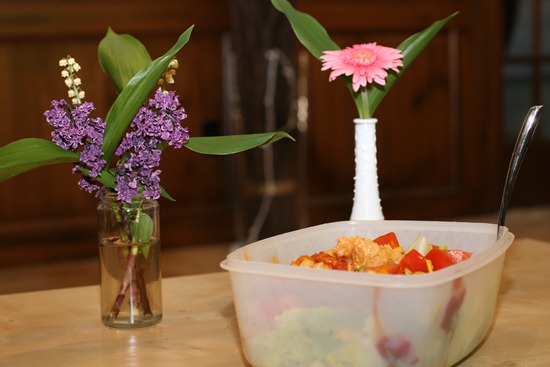 The uber big salad contained: 2 organic romaine hearts, 1 tomato, 1 cup chickpeas, salsa, mustard, pure maple syrup, apple cider vinegar, turmeric spice (reduces inflammation), hummus, black pepper, sea salt.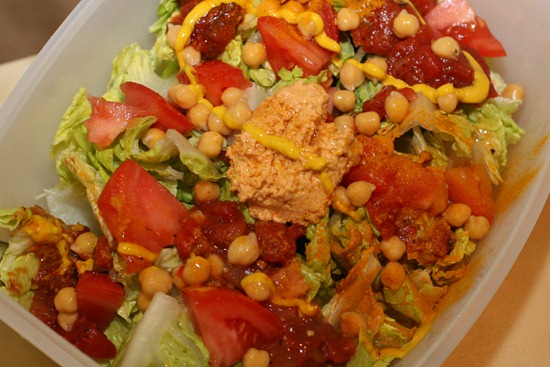 The only way I can explain these salad toppings is that I felt similar to a pregnant lady. :lol: There was no wrong topping for this salad. It just all seemed appropriate. [It actually tasted great too, but again that could have been the crazy hunger talking…] After the salad, I had a Raw + GF Glo Bar.
Last but certainly not least, I wanted to tell you guys about this really awesome Live Well 360 Core Fitness bag! My friend Sheila from Live Well 360 told me about this bag they were designing months and months ago and she asked me if I would like to review the bag and also donate Glo Bars for this amazing giveaway they are having. Of course I said yes!
The bag is beautiful. I was blown away by the quality of the bag, right from first glance.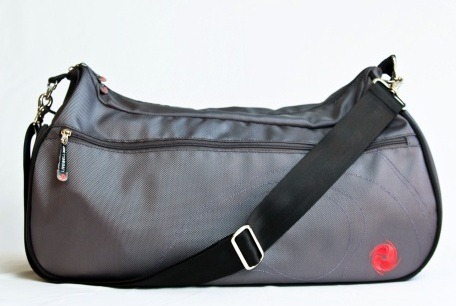 The 360 Core bag boasts 'storage compartments for shoes, jewelry, beauty products, and more along side a new level of durability through its ballistic nylon exterior, satin nickel hardware, and heavy duty zippers.' The bag reminds me a lot of Lululemon bags, with the motivational words plastered all over the lining and all the functional pockets inside.
My favourite part of the bag is this awesome hidden pouch (shown below left) where you can put your sneakers and dirty gym clothes. What a genius idea!!!
The bag is pricey- at $129- but after I received the bag I understood the price point. The quality and attention to detail is very apparent. You can tell that so much love and time went into creating this bag. Sheila also tells me that many people are using the bag for a travel bag too.
Live Well 360 is having a huge giveaway for fantastic health and fitness products. There are tons of items up for grabs- including a Garmin forerunner- and even Glo bars!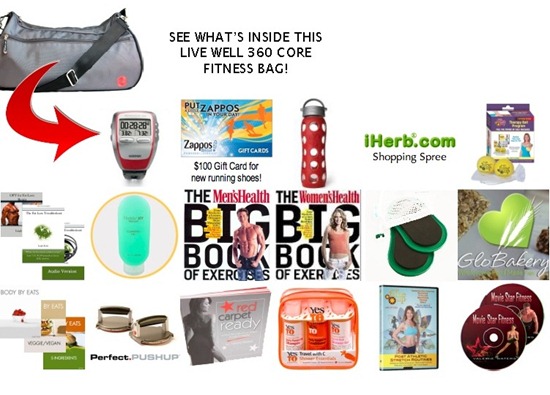 The What's In Your Bag Giveaway ends tomorrow (May 25th, 11:59 PM PST). For contest rules, see here.
I have decided (with Sheila's blessing!) to donate this bag to my Shop 4 A Cause 2 charity auction. You guys will have the chance to bid on the bag should you wish! I am confident it will go to a great home :biggrin: and we will raise some awesome money for cancer in the process!
Well, that was a record-long post clocking in at 2 hours. I must apologize not to have the cupcake recipe up, but I promise it is coming tomorrow morning.
Today's question- Have you ever been in an emergency situation before? Were you surprised at how you reacted?
Have a great night!