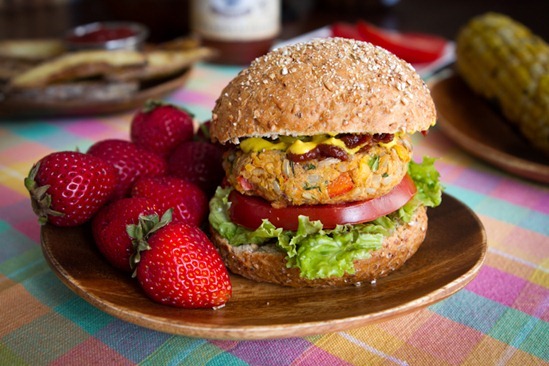 Are you scratching your head wondering how it's July like I am? I say this every single year and I never seem to figure it out. If you do, let me know.
My Canada Day long weekend was a nice mix of work and play! I spent much of the weekend recipe testing, as I tend to do these days. I nailed down 3 more recipes for the book, which I think puts me just shy of the half way mark – as far as recipes go at least. Other weekend activities included celebrating a friend's 30th birthday, hiking, running, cleaning/laundry, groceries, and enjoying Canada Day fireworks.
Here are some fav pictures from hiking this weekend.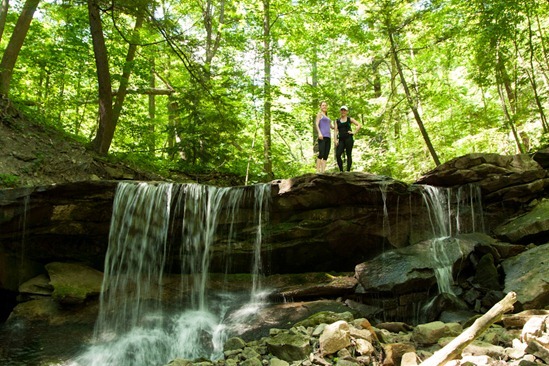 (Hiking with Ange!)
And a friend in the water…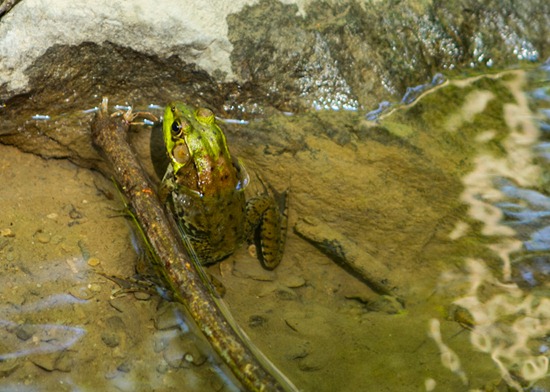 We also saw 3 snakes in the span of 2 days of hiking. They were just tiny gardener garter snakes, but in my mind they might as well have been boa constrictors! Not surprisingly, I didn't get any pics because I was too busy pushing Eric into the snakes so I could save myself from imminent death. I'm not proud.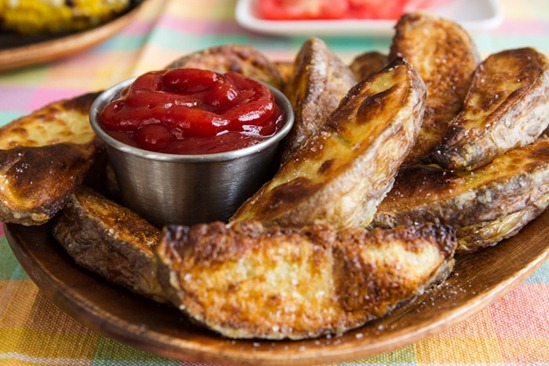 Something I am proud of? These recipes I whipped up for dinner this weekend.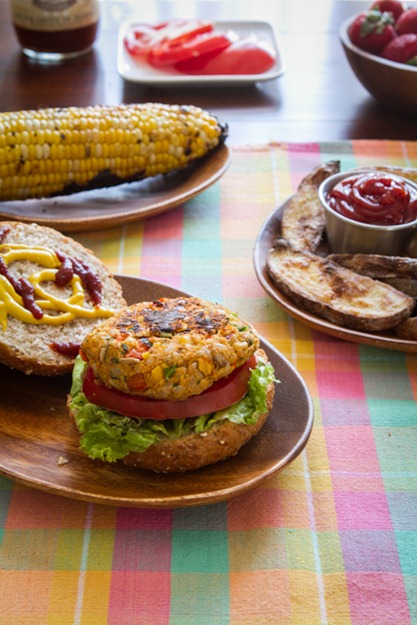 Click the link below for the step-by-step photos and the recipes!
While it's been a long time since I've featured a new veggie burger on the blog (see: our perfect veggie burger from July 13, 2011), I've been testing them behind-the-scenes over the past year and I've picked up some tricks along the way. These burgers pack in 6 colourful vegetables, whole grain brown rice, protein-filled chickpeas, ground flax, seeds, and some spices to round it all out. The ingredient list is impressive and the taste is even better.
I added my favourite BBQ sauce- Stubb's – to give the burgers a lil somethin'-somethin'. The "batter" is downright delicious before it's even cooked. If you don't want to make patties out of this I'm sure you could just sauté it and stuff it in a burrito. Or scramble it with potato for a breakfast hash…now that would be great.
When making veggie burgers in the past, I've often used my food processor. While it's quick, I tend to over-process the ingredients leaving the burgers without much texture (aka: mushy). This time, I decided to chop & mash everything by hand (and give my arms a good workout while I was at it!). They turned out exactly as I hoped.
I also cooked the chickpeas from scratch because I digest them much better when soaked overnight in water and cooked with a piece of kombu. If you are short on time you can also use the quick-soak method or simply use canned chickpeas. I'll explain the options more in the directions below.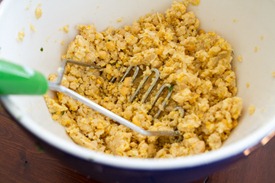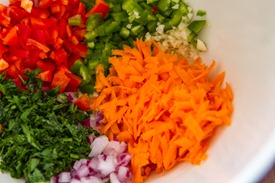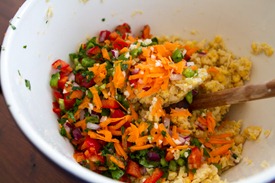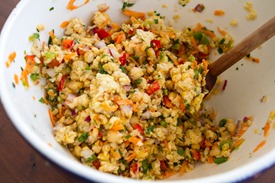 The trick when making everything by hand is to chop the veggies very small and mash the beans and brown rice until it's nice and sticky. If you leave the veggies and beans too large the patties won't stick together, so make sure you mash it up while leaving some chunks for texture.
Brown rice is my preferred grain of choice in veggie burgers because of its magical binding powers. It does a great job holding it all together; I've found it can work even better than flax eggs.
It should look similar to this batter below. It's sticky, but still has a chunky texture. I think I ate a whole patty's worth straight from the bowl…!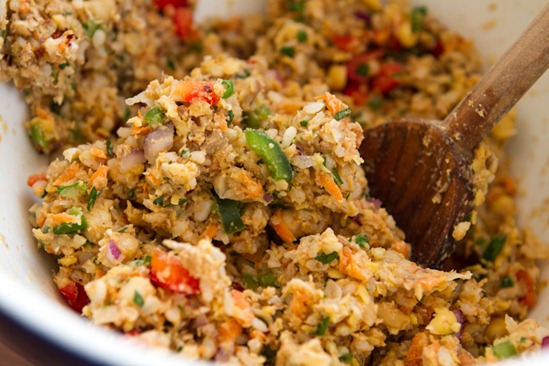 When you shape the patties, really pack the dough in tightly to help it stick. If the patties aren't holding together you probably need to mash it up more. You could also try adding more breadcrumbs as it will help bind things.
These veggie burgers held together great on the skillet. No cracking at all. I haven't tried them on the BBQ, but I assume they would hold up if handled carefully.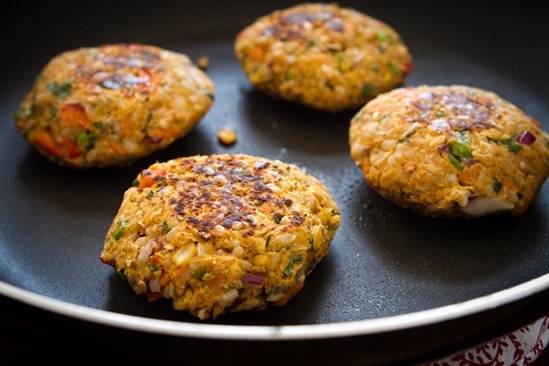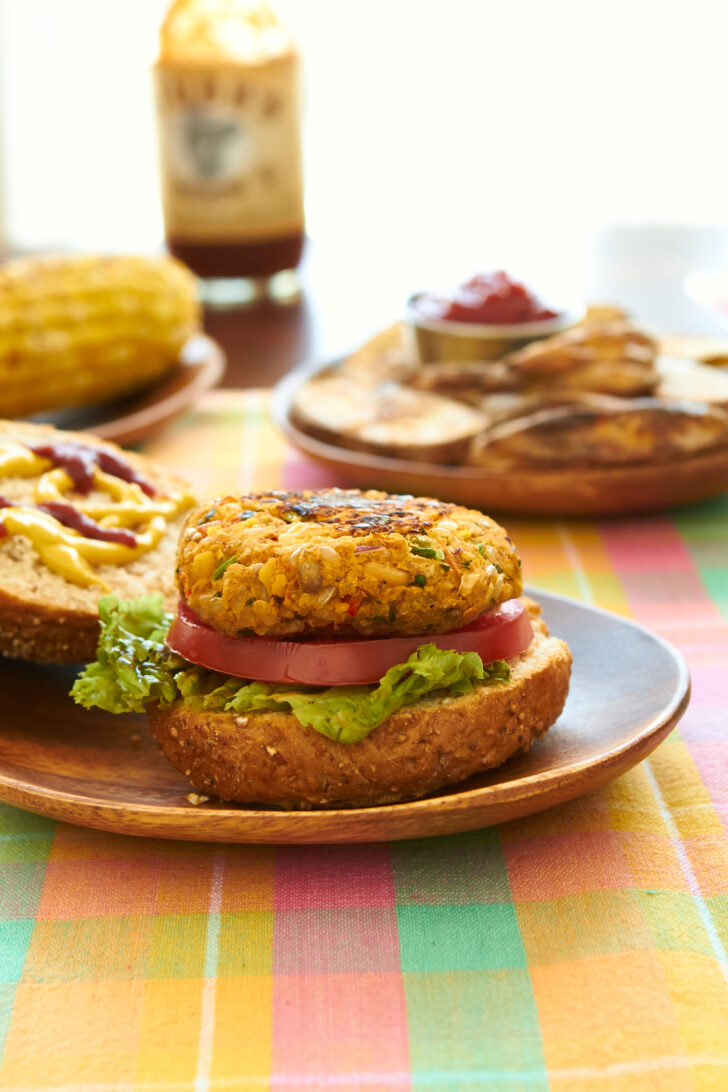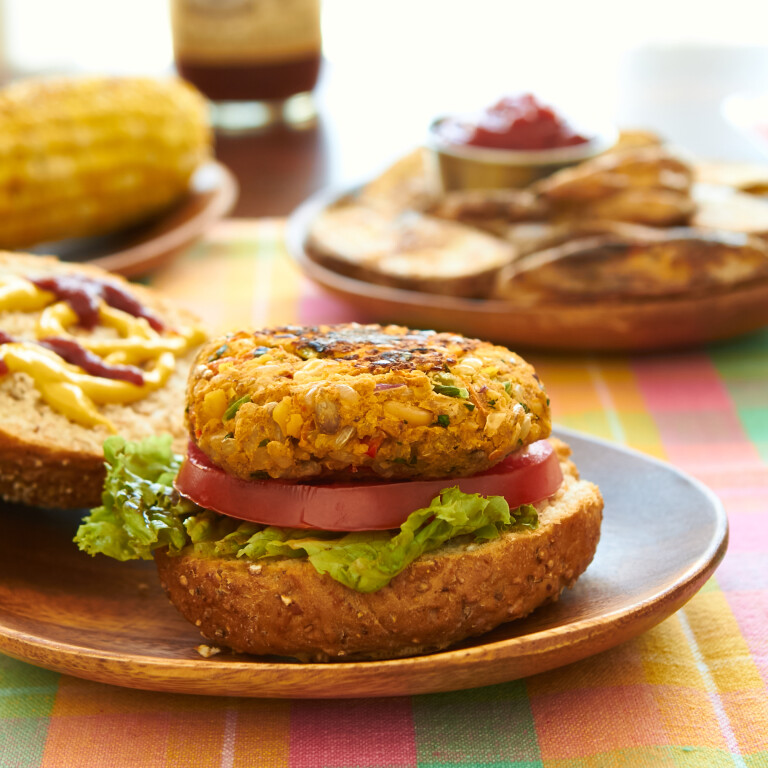 Spicy BBQ Chickpea Burgers
Vegan, nut-free, oil-free, soy-free

Yield

7 to 8 patties
Soak time

8 hours
Prep time

Cook time

Total time

Vegan veggie burgers are a sensitive bunch, so take caution if adapting this recipe. If you enjoy Our Perfect Veggie Burger recipe, you should also love of this one. This burger is less dry than the former with more moisture overall. As I mentioned above, you can probably use a food processor to speed things up, just be careful not to over-process the ingredients as the vegetables can release a lot of water when processed.
Ingredients
1 cup dry/uncooked chickpeas (or 2 & 1/4 cups cooked chickpeas) + kombu (optional)
1/2 cup dry brown rice (or 1 & 1/4 cup cooked rice)
3 tbsp sunflower seeds, toasted
1 tbsp pepita seeds, toasted
2 large garlic cloves, minced
1/2 cup diced red pepper
1 jalapeño, seeded and diced
1/4 cup diced red onion
1 small carrot, grated
1/4 cup minced fresh parsley
3 tbsp BBQ sauce
1/4 cup breadcrumbs, or more as needed (use GF breadcrumbs if necessary)
2-3 tbsp ground flax
1/4 tsp red pepper flakes
Fine grain sea salt, to taste (I used 1 tsp + Herbamare)
Directions
Methods to prepare chickpeas: 1) Soak dry chickpeas overnight, or for at least 8 hours, in a large bowl filled with water. When ready, drain and rinse the chickpeas. Place in a medium-sized pot with 3 cups of fresh water. Cover with lid and bring to a boil. Remove lid and place a small piece (~1" x 2") of kombu (optional) into the pot with 1/8th tsp salt. Cover again and simmer on low-medium for about 50 minutes, watching carefully after about 35-40. When cooked, chickpeas will be tender and some may have split open. Drain and rinse. Discard kombu. 2) Alternatively, you can use canned chickpeas or 3) the quick-soak method: Add 3 cups water and 1 cup dry chickpeas into a pot. Cover, bring to a boil, and immediately turn heat off. Keep covered and let sit for 1 hour. After 1 hour, drain and rinse chickpeas. Add into rinsed pot with 3 cups fresh water. Cook the same as method 1) above.
To cook rice: In a strainer, rinse the rice. Add 1/2 cup dry rice into a pot with 1 cup water. Bring to a boil. Reduce heat to low, cover with lid, and simmer for about 25-30 minutes, watching closely and giving it a stir after 20. Add a touch more water if necessary.
Toast seeds: Preheat oven to 300°F. Toast sunflower and pepita seeds for about 12 minutes, or until lightly golden in colour. Set aside.
Chop vegetables. Finely chop the garlic, peppers, onion, and parsley. Grate carrot. Stir in half the salt. Set aside.
Mash chickpeas and rice: When chickpeas are ready, drain and rinse. Add the cooked chickpeas and rice into a large bowl. Make sure your rice is HOT as it helps it stick together and bind. Do not use cold rice. With a potato masher, mash very well, leaving some chunks for texture. You will need to use a lot of elbow grease to mash this up, but you want it really sticky so it's worth it! You can also pulse in a food processor.
Mix it all up: Preheat a large skillet over medium-high heat. With a wooden spoon, stir in the chopped vegetables into the mashed chickpea/rice mixture. Now stir in the seeds, BBQ sauce, breadcrumbs, and ground flax. Add the salt and red pepper flakes to taste.
Shape patties & cook: Form 6-8 patties and pack dough together tightly. Spray the preheated skillet with oil. Cook the patties for about 4-5 minutes per side over medium-high heat (time will vary based on your temp). Burgers should be browned and firm when ready. You can also try grilling the patties (try pre-baking patties for 15 mins in the oven at 350°F before grilling).
Nutrition Information
(click to expand)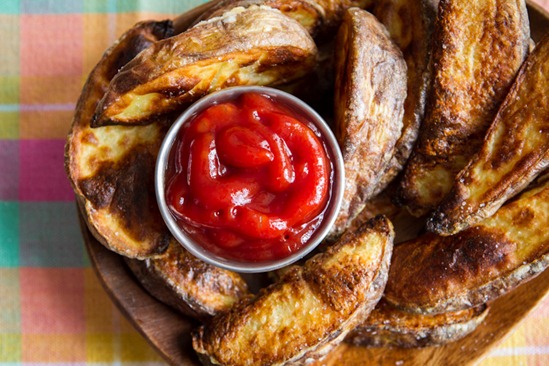 To go with the burgers I also made these amaaaaazing crispy baked fries! I tested a few different methods and this one was by far the best.
Lightened Up Crispy Baked Fries
Yield: ~2 servings
Ingredients:
2 large Yukon Gold potatoes (0.5 kg/1.1 lb), sliced into wedges
1 tbsp cornstarch
1/2-3/4 tsp fine grain kosher salt (I used 3/4 tsp), to taste
1 tbsp cooking oil (use oil safe for high heat such as canola, sunflower, safflower, and sesame)
Herbamare, for seasoning
1. Preheat oven to 425F. Line a large baking sheet with parchment paper and lightly spray with oil.
2. Wash potatoes and pat dry. Slice potatoes lengthwise into quarters. Slice each quarter in half (or thirds if really large).
3. Grab a small kitchen garbage bag. Add cornstarch and salt inside the bag. Add potato wedges, twist top of bag to secure, and then shake the bag vigorously until the potatoes are coated with the cornstarch and salt mixture.
4. Leave potato wedges in the bag. Now drizzle in 1 tbsp oil, secure bag again, and shake until coated.
5. Place wedges on the baking sheet, with at least 3/4-inch between each one. Spacing them too close together may result in less crispy fries.
6. Bake for 15 minutes, remove from oven and flip each one. Bake for another 10-20 minutes more. We like ours quite brown and crispy so we baked them for about 32 minutes total. Fries will get soft with time so serve immediately.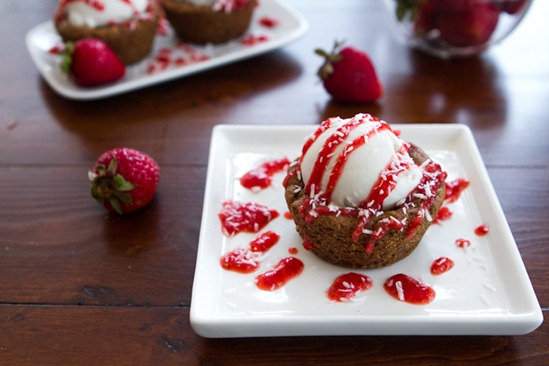 aaaaand last but not least, a pretty Canada Day dessert. I figured it was better to give you a burger & fries recipe today than a Canada Day dessert recipe two days late.
Have a wonderful Fourth of July to my American readers! Anyone have any fun plans?