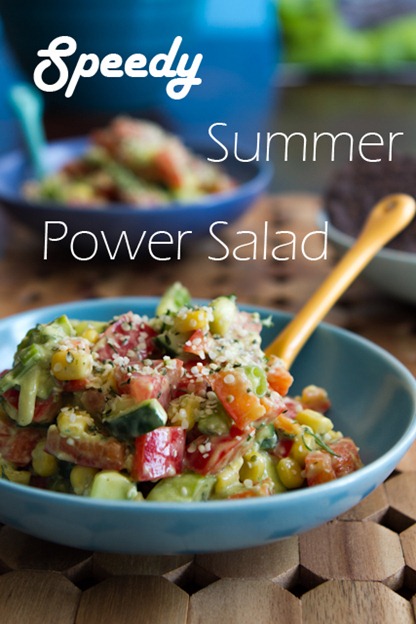 One of the things I love about summer is that I can eat like a Queen without much effort. Mid July, our crisper is now overflowing with farmer's market vegetables, none of which need much fuss or strategic planning in order for a memorable meal. Life gets a bit simpler (yet busier) in the summer and our meals tend to follow suit.
This salad is one such easy summer dish I made yesterday. It took about 10 minutes to prepare and it's almost entirely raw. If there was such a thing as summer in a bowl this would be it. Tomatoes, corn, cucumber, red pepper, fresh dill, and green onion make up the base, while a creamy avocado lemon dressing ties it all together. The flavour is out of this world.
Instead of using a bean or legume for the protein (and requiring the stove-top!), I used hulled hemp seed, a complete protein containing all 10 essential amino acids and also an excellent source of B vitamins, folic acid, Chlorophyll, Vitamin E, potassium, and more (source). Hemp is easy to digest and a fun way to pump up any salad. A little bit goes a loooong way. You can find it in the natural food section of most grocery stores, as well as bulk food stores like Bulk Barn, online (see my vegan shopping guide here), and in health food stores.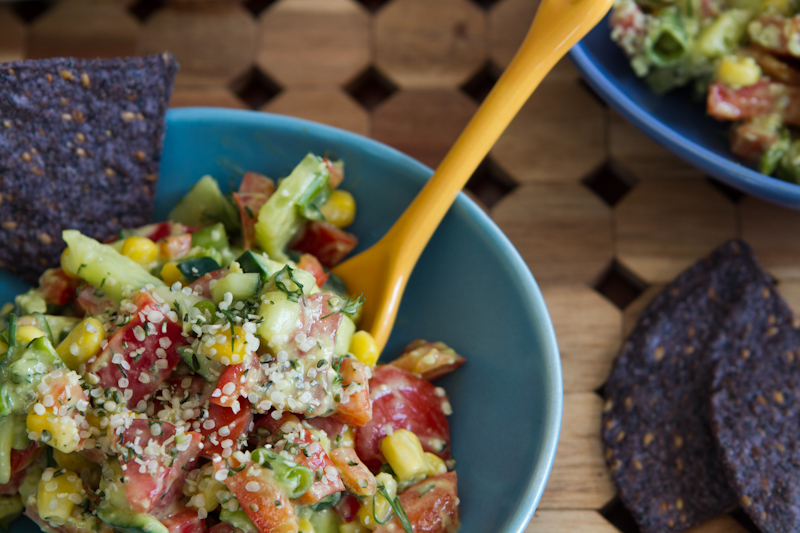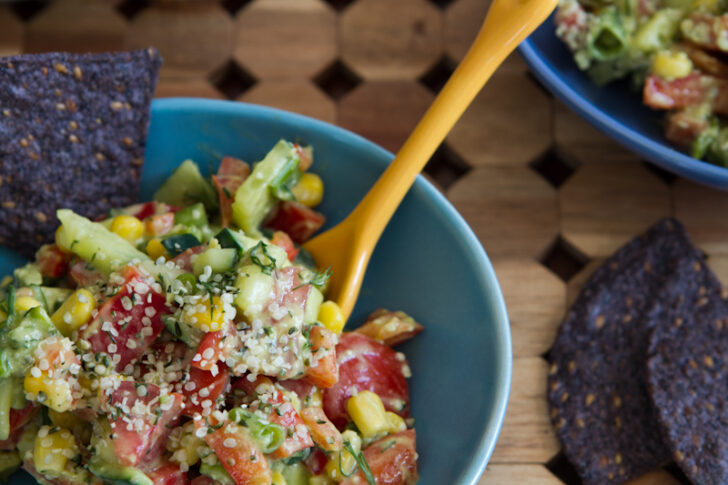 Plus, it's so darn pretty!
Each 2-cup serving of this salad contains 15 grams of protein, 11 grams of fibre, and 14 grams of healthy fats making it hearty and satisfying.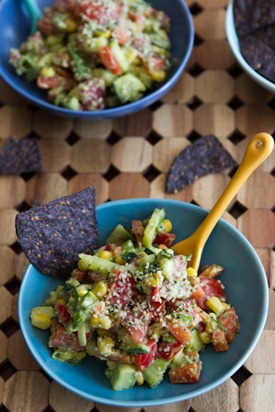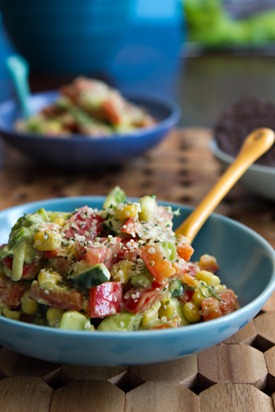 It also goes fantastic with my newest chip obsession – Neal Brothers Tortillas!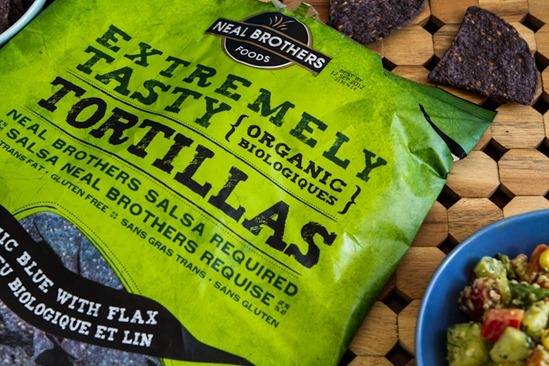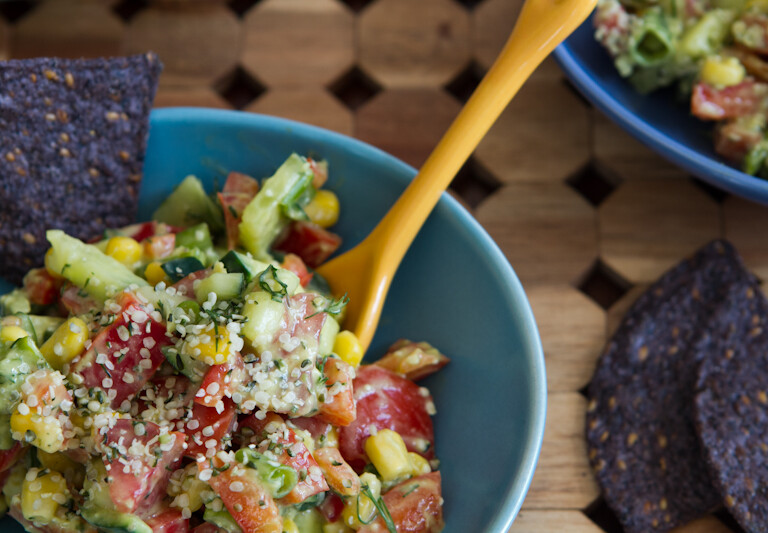 Speedy Summer Hemp Power Salad
Vegan, gluten-free, no bake/raw, nut-free, oil-free, soy-free

Yield

4 cups
Prep time

Cook time

0 minutes
Total time

Ingredients
For the vegetable base
1 cup fresh or frozen corn (thawed & drained if using frozen)
1 large tomato, seeded and chopped
2 green onions, chopped
1 & 1/2 cups chopped cucumber (about 1/2 an English cucumber)
1 red pepper, chopped
1 tbsp minced fresh dill weed
3 tbsp hulled hemp seed
For the dressing
1/2 cup avocado flesh (1/2 a large avocado)
1 garlic clove
2 tbsp fresh lemon juice
3 tbsp water
1 tbsp hemp seed
1/4 tsp fine grain kosher salt, or to taste
1 tbsp nutritional yeast
Directions
Chop vegetables and place into a large bowl.
In a mini processor, process the dressing ingredients together until mostly smooth. You can also mash/chop/mix the dressing ingredients by hand.
Pour dressing onto vegetables and stir well. Now, stir the hemp seed into the salad. Season to taste and serve. Sprinkle with hemp seed on top because it's pretty! This salad is best served immediately. With time, water will release from the vegetables and pool at the bottom.
Nutrition Information
(click to expand)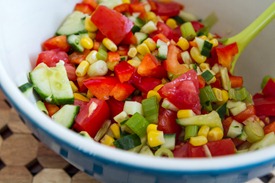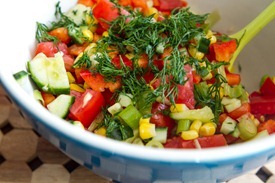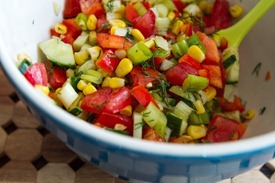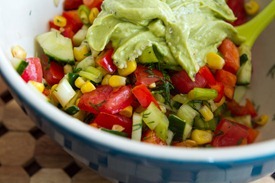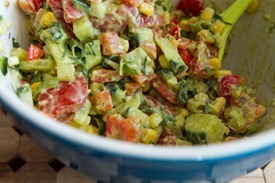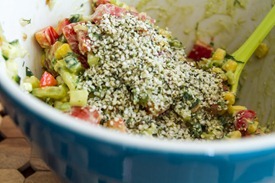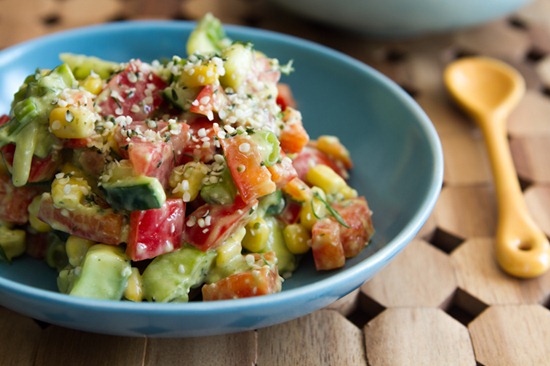 Summer at its finest.
Enjoy!