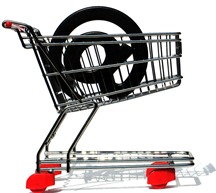 Do you ever start a project with zest and vitality only to feel like you've created an uncontrollable monster after a couple hours?
Examples: Cleaning out your closet. Organizing a pantry. Home renovations. Writing a thesis. Wedding thank yous. Sometimes, it has to get worse before it gets better.
Well, that's sort of how I felt with this little pet project of mine. What started as an innocent list quickly became a huge undertaking. I asked you for suggestions yesterday on twitter and Facebook for online and in-person stores and they came a floodin' in! (If you are curious, check out the list here on my Facebook page). My list quickly turned into 4 pages of chicken scratch. Originally, I started making a blog post linking and organizing ALL of the in-store and online vegan stores across the world. You can see how I quickly got in over my head. After working on it all day yesterday, I decided to just focus on the online stores for this post and then figure out what I will do with the storefront list after.
This vegan online shopping guide is a follow-up to Monday's "Inside my Vegan Pantry" post. My goal for this guide today is to bring awareness to all of the wonderful vegan & vegan-friendly online stores. Feel free to do some price comparing to get the best bang for your buck.
Most of the stores below are food-related, but I also included some clothing and cosmetics as well.
I will add to this list as other recommendations come in (feel free to let me know about other online stores in the comment section!). It's also likely that I missed some of your suggestions on Twitter and FB yesterday, so you can comment below if you don't see it on the list and I will add it in.
Online Vegan Shopping Guide
Keep in mind that some of the online retailers below do ship within North America or even world wide.
Canada:
USA:
Australia:
United Kingdom:
Germany:
France:
New Zealand:
Tell me below what I'm missing from this list!