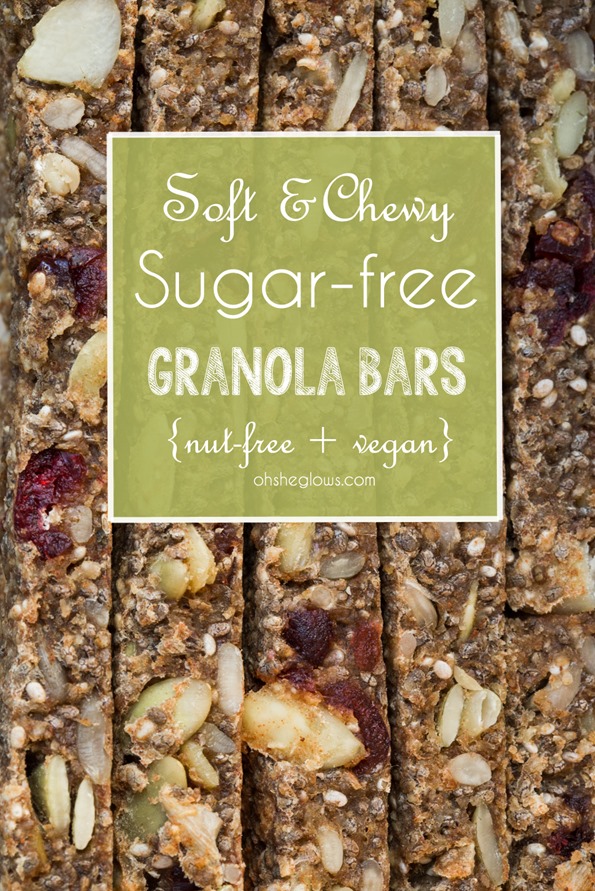 The alternate title for these bars was: ultra dense, doughy, chewy, soft, seedy, hearty, protein-and-fibre-packed granola bars, sweetened naturally with dates!
I can be a bit wordy at times. Anyway, these are not your average granola bars! Bursting with chia, sunflower, and pepita seeds, they pack a hefty amount of protein, fibre, and omega fatty acids and are naturally sweetened with date paste (a simple blend of water and pitted dates) instead of sugar. I like to think of these as an "adult" granola bar or a muesli breakfast bar of sorts, although I could also see my hockey-loving nephews enjoying these as fuel for the game. For those with nut allergies, you'll be happy to know these are totally nut-free, just like my Super Power Chia Bread which this recipe is adapted from. If you've enjoyed the Super Power Chia Bread, the texture of these granola bars is the same – very soft and like an ultra dense, doughy bread.
I didn't feel like calling them "chia bread" though due to the sweetness; granola bars just seemed to make more sense in my brain. I also debated calling these "energy bars" because they are packed with so many good-for-you ingredients and I've been enjoying them after exercise for a little pick me up. As you can see, deciding on a title is not my strong point! Whatever you call them, I hope you enjoy them as much as we do.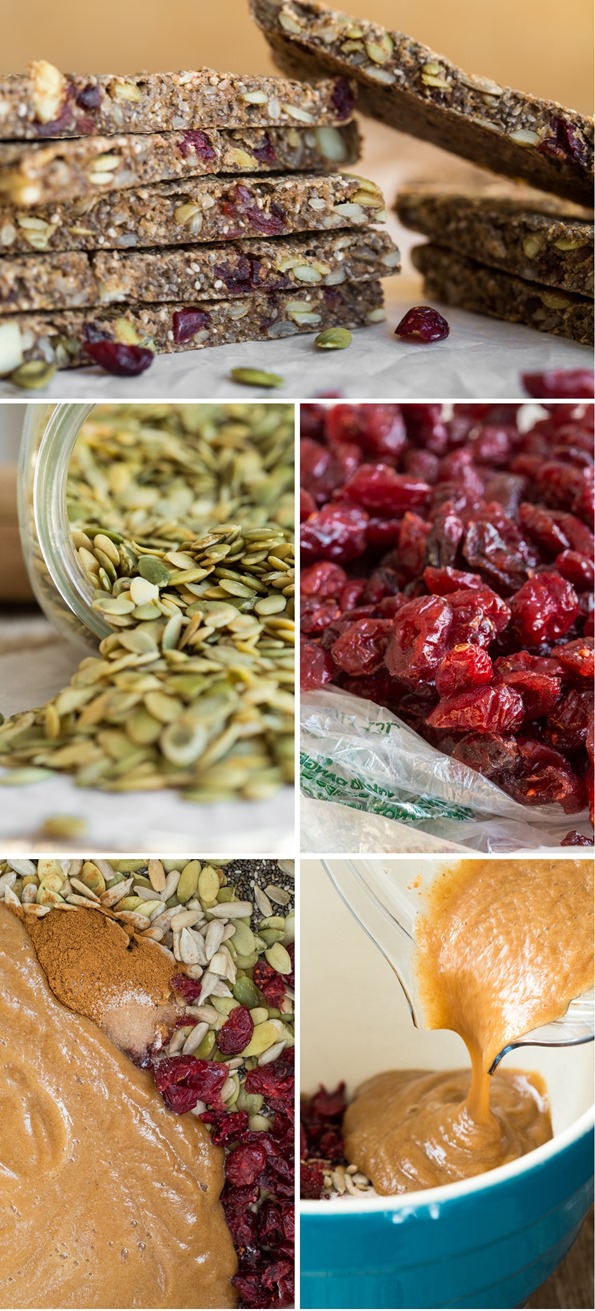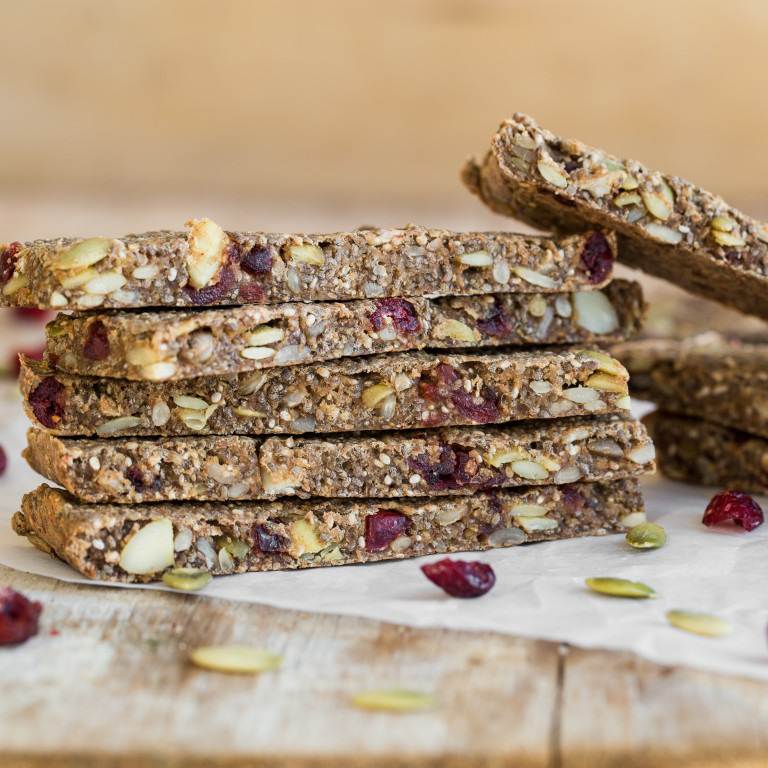 Soft + Chewy Baked Granola Bars
Vegan, gluten-free, nut-free, oil-free, refined sugar-free, soy-free

Yield

10-12 bars
Prep time

Cook time

Total time

Dense, chewy, soft, doughy, seedy, hearty, protein-and-fibre-packed granola bars, sweetened naturally with dates! Try them spread with nut or seed butter for a fun treat or just enjoy them plain. Adapted from my Super Power Chia Bread.
Ingredients
3/4 cup gluten-free rolled oats, ground into a flour
1 cup water
3/4 cup packed pitted Medjool dates
1/2 cup chia seeds
1/4 cup raw sunflower seeds
1/4 cup raw pumpkin seeds
1/4 cup dried cranberries, finely chopped
1 teaspoon cinnamon
1 teaspoon pure vanilla extract
1/4 teaspoon fine grain sea salt
Directions
Preheat oven to 325°F and line a 9-inch square pan with two pieces of parchment paper, one going each way.
Add rolled oats into a high-speed blender. Blend on highest speed until a fine flour forms. Add oat flour into a large bowl.
Add water and pitted dates into blender. Allow the dates to soak for 30 minutes if they are a bit firm or your blender has a hard time blending dates smooth. Once they are soft, blend the dates and water until super smooth.
Add all of the ingredients into the bowl with the oat flour and stir well until combined.
Scoop the mixture into the pan and spread it out with a spatula as evenly as possible. You can use lightly wet hands to smooth it down if necessary.
Bake at 325°F for about 23-25 minutes, or until firm to the touch. Let cool in the pan for 5 minutes and then lift it out and transfer it to a cooling rack for another 5-10 minutes. Slice and enjoy!
I suggest freezing leftovers to preserve freshness.
Nutrition Information
(click to expand)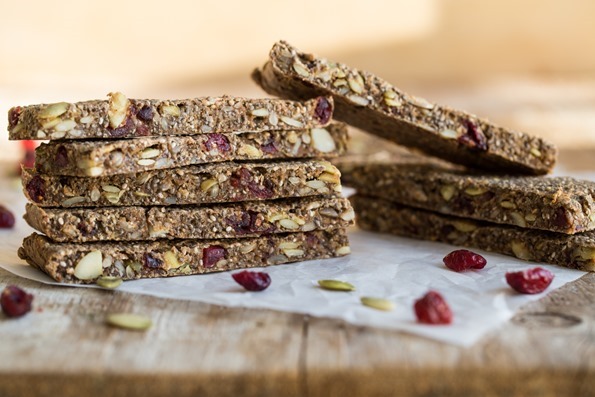 Cookbook Newsletter Info
I have a fun giveaway coming up for my Cookbook Newsletter subscribers very soon! I just wanted to let you know in case you were meaning to subscribe and hadn't done so. I will be randomly drawing a fun prize pack for one lucky confirmed subscriber. I'll also be giving some info on a special bonus recipe bundle I have coming soon. You can subscribe at the bottom of this page. Don't forget to confirm your subscription to get the emails.