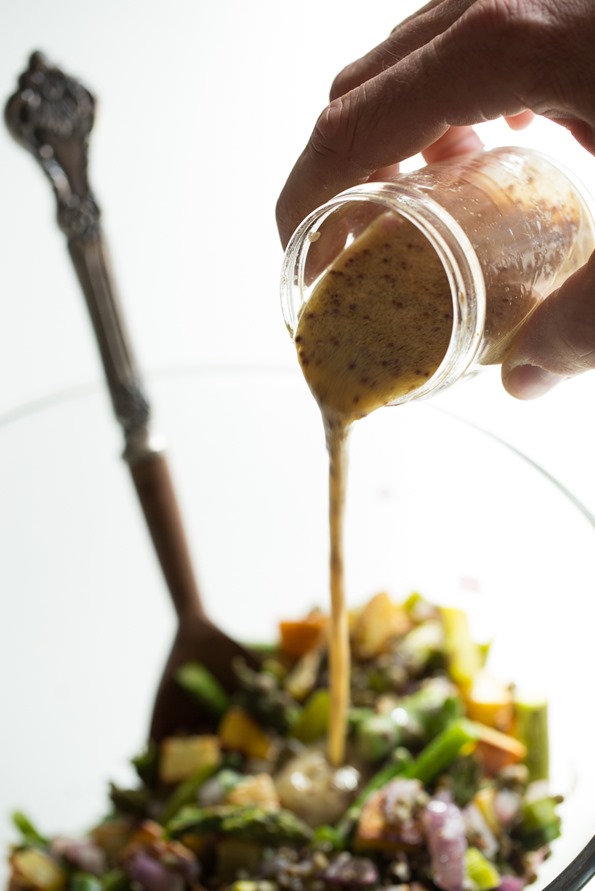 A year and a half ago, my brother-in-law's Golden Retriever, Benny, was struck by a car. He was already an older dog and I was worried that he wouldn't be able to bounce back from a broken leg and the long recovery that followed. The first few months of recovery and rehab were challenging on Benny and the immediate family. To be honest, I didn't know if he would make it through the long winter. He had to be carried up and down the front porch stairs so he could do his business outside and there were a couple slips and falls over the winter. Every time I saw him at family gatherings, I'd feel myself well up with tears as I sat on the floor giving him rubs. On one hand, he was struggling with mobility, but on the other hand, his resolve to live out his normal life never once faltered. Benny remained happy as he always was, thumping his tail on the floor whenever we'd walk by. He never wanted to miss out on any excitement!
Now it's been over a year and a half since Benny's accident and it's been amazing to witness his determination to lead a normal life. Over Easter we were at my in-laws and Benny was there as he always is, hobbling along with us outside just as happy as could be. No one was more happy to be outside in the beautiful spring weather than Benny. He wasn't going to let a bad leg or old age hold him back from experiencing all of his favourite things. After dinner, he'd collapse on his favourite rug for the night, both exhausted and purely content. Sure, he isn't as speedy as he was in his younger years, but this is his new normal and he doesn't seem to be overly concerned about it. I felt ashamed of myself for ever once doubting that he would overcome this. Dogs like Benny (and animals in general) are great reminders to make the best of any situation and to find joy in life's simple pleasures. Our society loves to put animals "below" us, but we can learn so much from them.
And while I'm on the topic of inspiring dogs, you should watch this two-legged dog video if you haven't seen it yet. Unreal!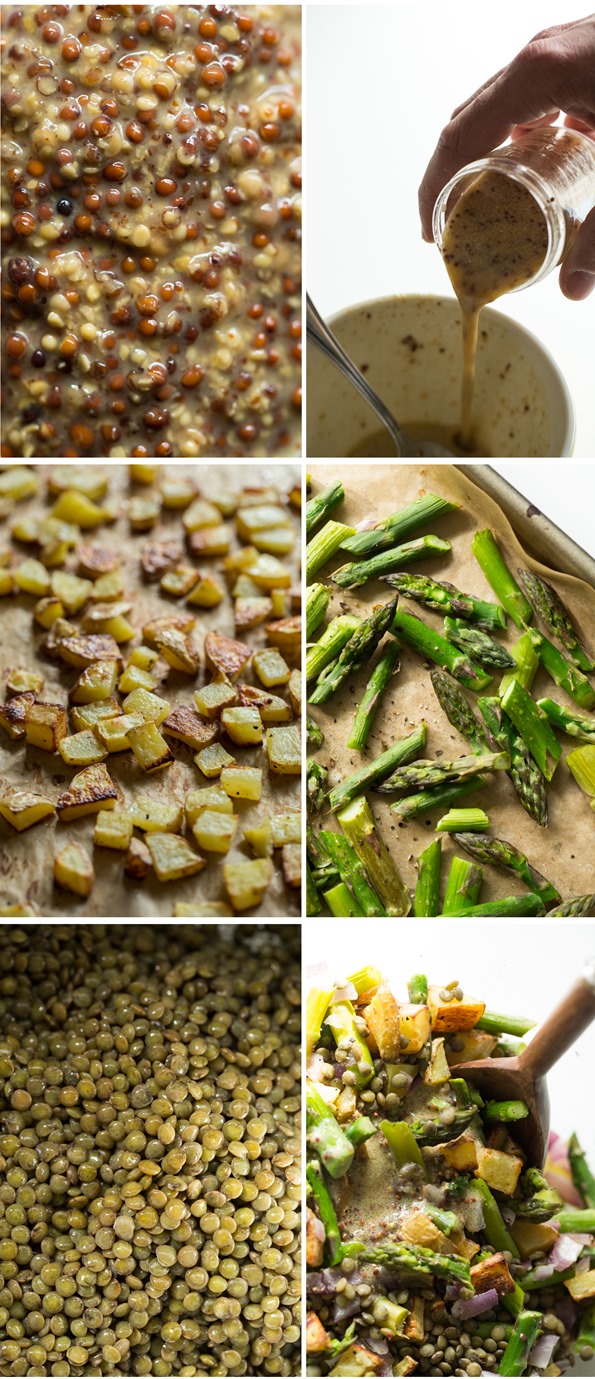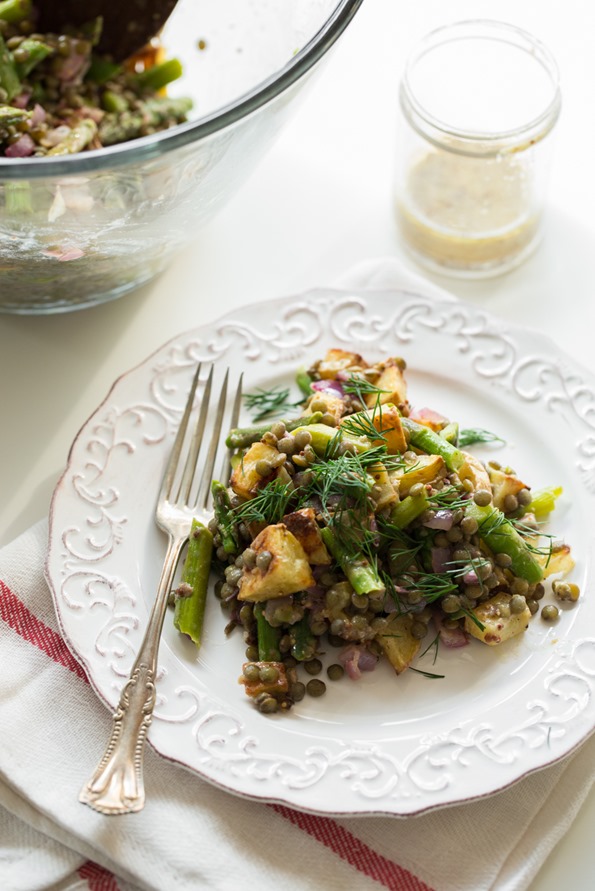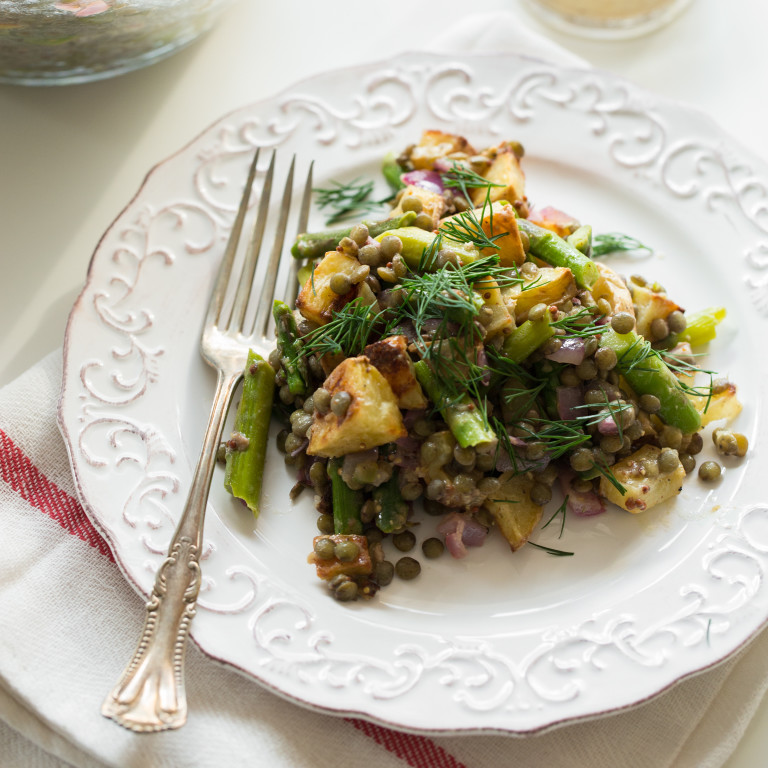 Roasted Potato and Asparagus Lentil Salad with Tangy Mustard-Lemon Dressing
Vegan, gluten-free, grain-free, nut-free, refined sugar-free, soy-free

Yield

4 servings
Prep time

Cook time

Total time

Protein-packed and perfect for spring, this French green lentil salad makes a lovely side dish, main course, or spring potluck dish. Roasted potatoes and asparagus are folded into the salad along with a tangy mustard-lemon dressing. I also roasted the red onion, but I think next time I might leave the onion raw for a fresh crunch. I imagine this salad would also be fantastic with some cooked quinoa mixed in or using any seasonal vegetables you prefer. The dressing makes a lot - 2/3 cup - so I prefer to stir in half of the dressing into the salad and then serve the rest of the dressing on the side to drizzle on top. This dressing is inspired by one I came across in It's All Good.
Ingredients
FOR THE SALAD:
1 cup uncooked French green lentils/du Puy lentils (about 2 1/2 cups cooked)
3 medium yellow potatoes, diced (about 3 1/2 cups)
1 bunch asparagus, ends broken off and chopped
1/2 medium red onion, diced (about 1 1/2 cups)
1 tablespoon extra virgin olive oil, divided
handful minced fresh dill, for garnish (optional)
FOR THE DRESSING (makes 2/3 cup):
2 tablespoons coarse seeded/old fashioned mustard (see photo in post)
2 tablespoons Dijon mustard
4 tablespoons extra virgin olive oil
3-4 tablespoons fresh lemon juice, to taste
pinch or two fine grain sea salt or pink salt
Directions
Preheat the oven to 425F and line two large baking sheets with parchment paper.
Rinse lentils in a fine mesh sieve. Place lentils in a medium pot along with 3 cups of water. Bring water to a boil and then reduce heat to medium and simmer the lentils for about 18-20 minutes, or until tender. Drain off water and season lentils with salt (such as Herbamare).
Place chopped potatoes on one baking sheet and drizzle with 1/2 tablespoon oil. Toss to coat and sprinkle liberally with salt and pepper.
Roast the potatoes for 15 minutes. Meanwhile, place the asparagus on the other baking sheet (and the red onion if you prefer to roast it too - see headnote) and drizzle with 1/2 tbsp. oil. Sprinkle with salt and pepper.
After the potatoes have roasted for 15 minutes, flip the potatoes and return them to the oven along with the asparagus (and red onion if you are roasting that) for another 12-15 minutes. The potatoes should be golden on the bottom when ready and the asparagus will be tender. Add roasted veggies into a large bowl along with the lentils and gently toss to combine.
Meanwhile, prepare the dressing by whisking all of the dressing ingredients together. I love a tangy dressing with a bite so I used 4 tbsp. lemon juice. If you prefer a less acidic dressing you might want to add more olive oil or you can also experiment with adding a touch of maple syrup (the sweetness will offset a bit of the bite). It's definitely a dressing you can play around with!
Pour half of the dressing onto the veggies and lentils in the bowl and toss to combine. Season with salt and pepper to taste. Serve the salad warm with a garnish of fresh dill (optional), with the rest of the dressing served on the side.
Nutrition Information
(click to expand)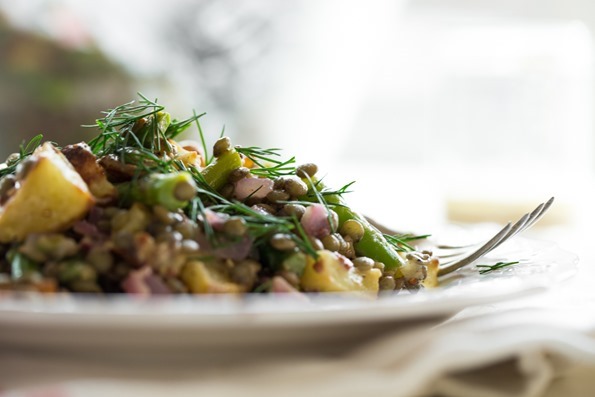 If you aren't a fan of mustard dressings, I recommend making the Creamy Avocado-Potato Salad recipe in my cookbook (p.107) It's received great feedback and it's perfect for spring as well.
Have a fun weekend everyone!