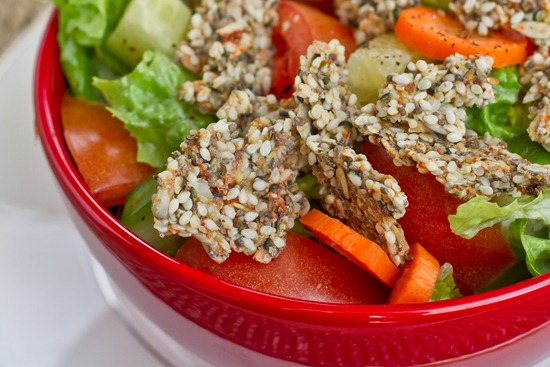 I love salads, but I'll be the first to admit that they can get a bit boring after a while!
Recently, I have challenged myself to have one salad a day because they are such a great way to pack in a lot of veggie servings and I tend to slack on my veggie consumption in the Winter time. We don't have our CSA share brimming with veggies and the grocery store stock can look a bit worse for wear this time of the year. (Last week, I bought some romaine that looked so weak and frail I almost shed a tear.)
Sadly, in the Winter it is often: veggie consumption down, carb consumption UP.
But…..I do feel (and look) my best when I'm eating lots of vegetables, so I decided to make an effort to pack more into my day. The only downfall with my salad challenge is that salads can become boring pretty fast if I don't get creative!
The other day I was eating a rather boring salad and I thought to myself, Wouldn't it be fun if I could make a high-protein salad topper that would be easy to sprinkle on my salads? Then the wheels got turning and I started to think of different flavour combinations and I pretty much ran to the kitchen to try it out.
These salad toppers are high in protein, fibre, healthy fats, and pack in a ton of nutrients. They will give your salads (or bowls of cereal!) some extra staying power too. Have fun mixing up the flavours and making different salad combos.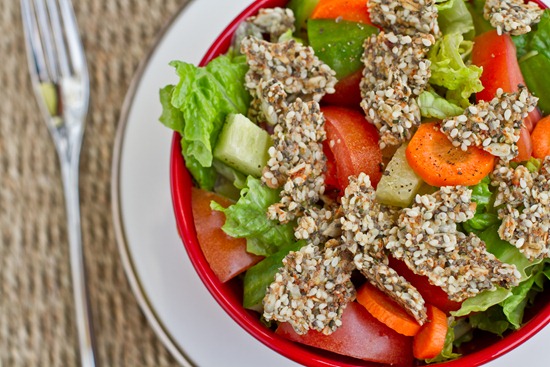 [print_this]
Pump It Up Customizable Salad Toppers
Chewy, flavourful, and super addicting these high-protein salad and cereal toppers will give those boring bowls a boost. Have fun making all kinds of fun flavours! I have included the nutritional info below.
Yield: ~1.5-1.75 cups (6 servings)
Base recipe:
2 tbsp regular oats
2 tbsp flour (I used whole wheat flour)
1/4 cup hemp seeds
2 tbsp sunflower seeds
2 tbsp chia seeds
2 tbsp sesame seeds
2 flax eggs (2 tbsp ground flax + 6 tbsp water)
1/2 tsp kosher salt
Directions: Preheat oven to 350F and line a baking sheet with parchment or a non stick mat. Mix the flax egg in a small bowl and set aside. After 5 minutes, Mix all of the above ingredients together in a bowl. Now add in your desired 'flavours' by selecting one of the options below or by creating your own flavour!
Savoury Flavour: (Garlic Herb)

Sweet Flavour: (Cinnamon Sugar)

YOUR FLAVOUR?

1/4 tsp garlic powder
Pinch of red pepper flakes
Sprinkle or two of Paprika
1/4 tsp Italian herbs

1 tbsp packed brown sugar
1/2-3/4 tsp ground cinnamon
Pinch of ground nutmeg
1/16th tsp ground cloves (optional)
Turbinado sugar for sprinkling on before baking

 
Directions (continued): After mixing in your seasonings, spread the mixture onto your prepared baking sheet as flat as you can by using slightly wet hands or a spatula. You want it as thin as you can get it so it cooks faster. You can now sprinkle on additional herbs if making the savoury flavour or you can sprinkle on sugar if making the sweet flavour. Bake at 350F for 15 minutes. Remove from oven, flip, and break up the pieces with a spatula and bake for another 5 minutes. Allow to cool completely on the baking sheet. Makes about 1.5 cups or a bit more.
I served my salad with my Better than Balsamic dressing.
Nutritional info (per serving, serves 6): 160kcals, 11 grams fat (1 gram sat fat, 5082mg Omega-6, 1972 Omega-3 fatty acids), 10 grams carbs, 5 grams fibre, 7 grams protein, 0 grams sugar. (Note: This info includes the base ingredients only).
[/print_this]
This recipe really could not be any easier! I was just shocked at how quickly it came together. The great thing about this recipe is that it is completely customizable too. The flavour combinations are endless. :)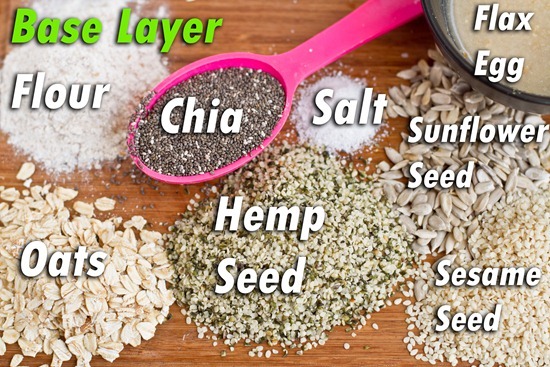 I'm sure you can mix up the seeds too depending on what you have!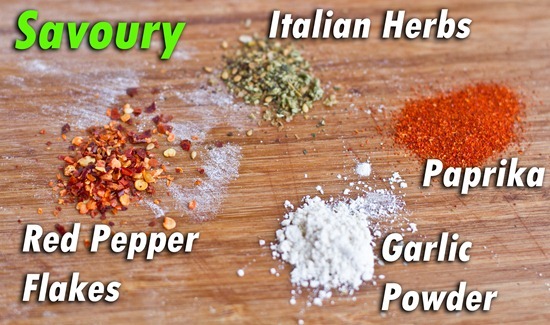 Now you pick what flavours you want to use. I made Savoury and Sweet versions that were both so good.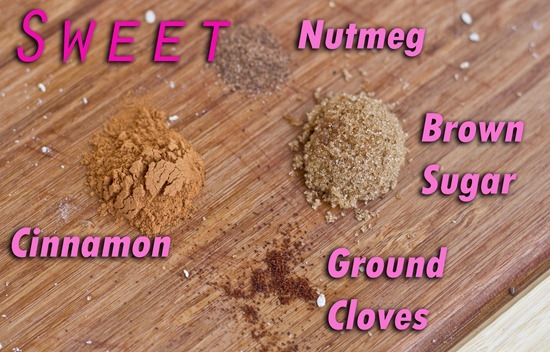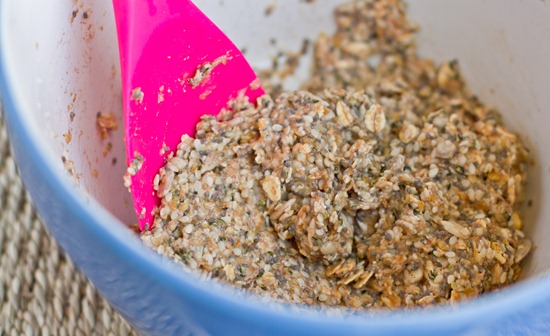 Mix together and then spread the mixture onto a pan as thin as possible. The thinner you spread it, the faster it will cook.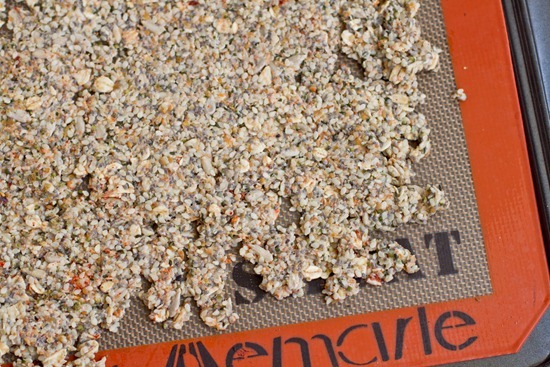 Sprinkle on additional herbs, or if making the sweet version, sprinkle with cinnamon and coarse sugar. Mmmmm.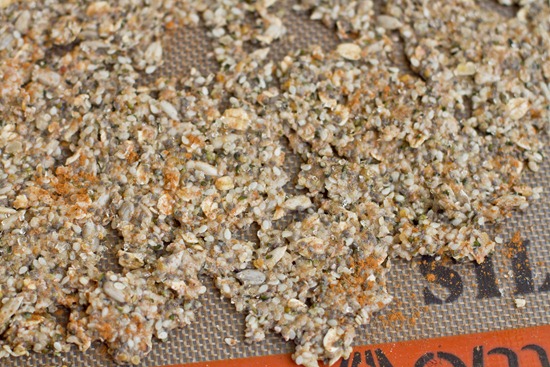 Bake for 15 minutes at 350F and then remove from oven. Flip the large piece and then break up up with a metal spoon. Bake for another 5 minutes and then cool completely on the pan.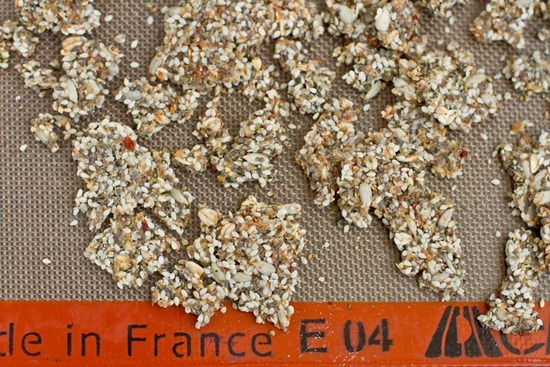 In under 30 minutes, you have the most amazingly delicious healthy salad or cereal topping.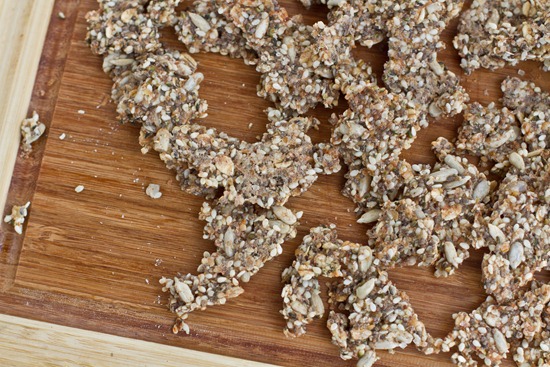 I baked mine up chewy, but if you wanted them crispy you could bake them longer. It is totally up to you. They do firm up slightly when cooling, so keep that in mind.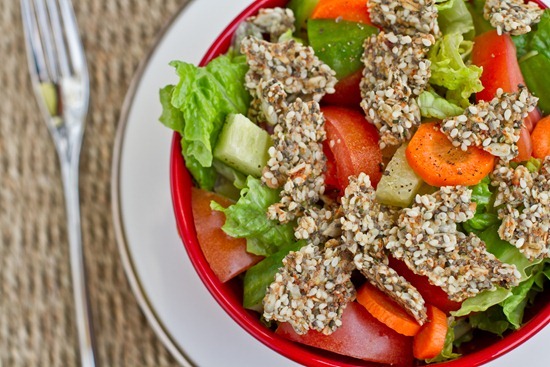 I'm going to warn you, they are SUPER addicting! I loved eating them like a 'cracker' too. They would be amazing with hummus (what wouldn't though?).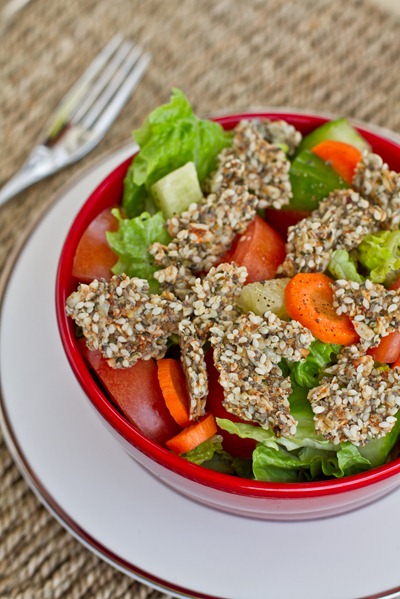 This morning, I discovered that the Sweet cinnamon sugar flavour is also incredible on cereal! It is chewy and really amps up a bowl of cereal in a flash. I'm sure it would also rock in a bowl of hot oatmeal or VOO.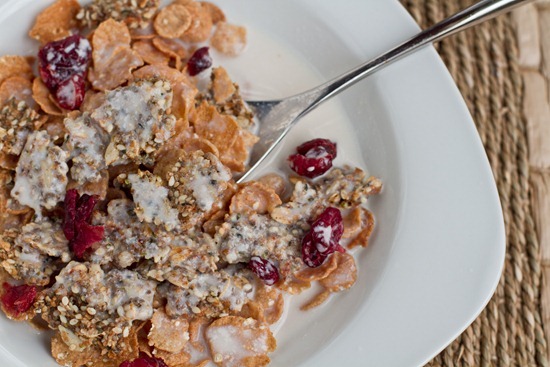 Anyone want to join in the salad challenge with me? I'm curious to see what other flavours you guys can come up with! If you have any ideas or make any other versions, leave me a comment below!
~~
Yesterday, I got some exciting news.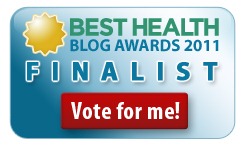 I have been selected as a finalist in Best Health Magazine's Health Blog Awards in the Eat Well category.
Voting is now open and I would greatly appreciate your vote! All you do is enter your name and email address and then click to vote. You can vote daily if you'd like to. Voting is open until March 21 and winner's are announced on March 31st. When you vote you are entered to win a chance at a free subscription to the magazine. :) Thank you so much for your support!

Have a great day. It appears I have a long day of bakery work ahead of me today. ;)