Good Mmm-orning!
Goodness gracious it is Wednesday already. Short week!
Behold, the breakfast pizza.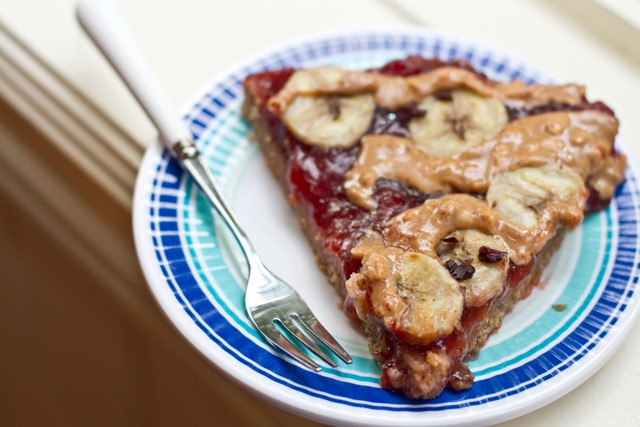 Do you ever think of a recipe idea and find yourself racing to the kitchen to make it as soon as possible?
That was me last night.
I was looking at my PB & J Glo Bites and Pumpkin Spiced Glo Bites recipes and the idea of making a breakfast pizza suddenly struck me. Not just any pizza though, a peanut butter, jam, and banana breakfast pizza!
If it worked, I knew I would have a fun recipe to share with you that would be delicious, kid-friendly, and fun to throw together on the weekend.
And who doesn't love leftover pizza for a quick weekday breakfast now and then? ;)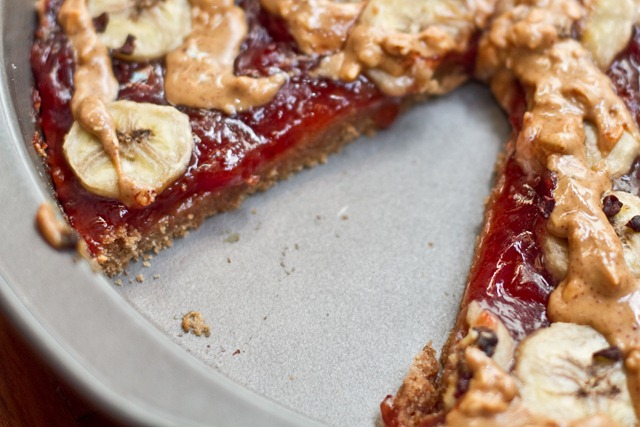 Peanut Butter, Jam, & Banana Breakfast Pizza
Ingredients:
2 cups whole grain spelt flour
1/2 cup Earth Balance buttery spread, warmed
1/4 cup Sucanat (or brown sugar might work)
1 large banana, sliced
1/2 cup Almond Milk (adapted from 1/4 cup which was an error)
1 tsp cinnamon
1/4 tsp sea salt
3/4 cup jam
1/3-1/2 cup peanut butter
Cacao Nibs (optional)
Coconut, to garnish (optional)
Directions: Preheat oven to 400F. Grease a pie pan. In a large bowl mix together the spelt flour, salt, sucanat, and cinnamon. Now pour in milk and warmed Earth Balance. Mix. Take batter and spread evenly with fingers into the pie pan. Now grab your jam and spread over the crust mixture. Add sliced banana and optional cacao nibs. Pop into the oven for 25 minutes at 400F. Remove and cool for 15 minutes. Pipe on peanut butter, slice and serve. You can also chill it and serve it cold or try popping it in the freezer for a cold treat (just let it defrost for about 5 minutes first)!
Note: This pizza is very sweet! If you want to make a lighter pizza, you can experiment with using less jam and peanut butter. The amounts above are just a guideline.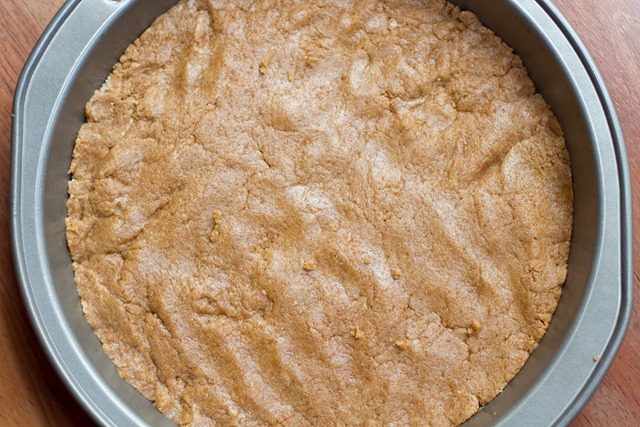 First, make your protein-packed 100% whole grain spelt crust! The dough tastes like a healthy sugar cookie. :) Yummers.
Squish the dough all in there with your fingers. Don't worry it doesn't have to be perfect!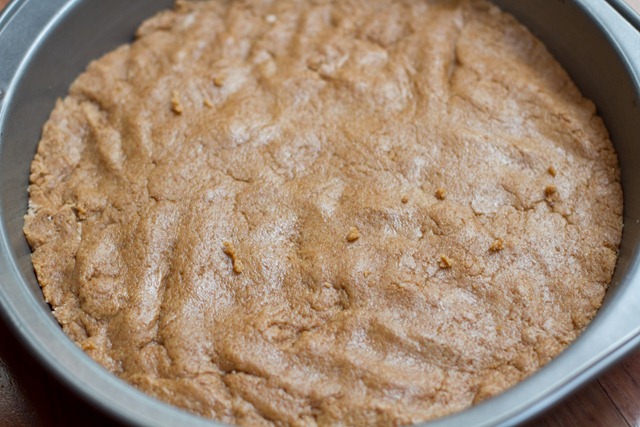 Now take your jam…you could have fun experimenting with different flavours of jam.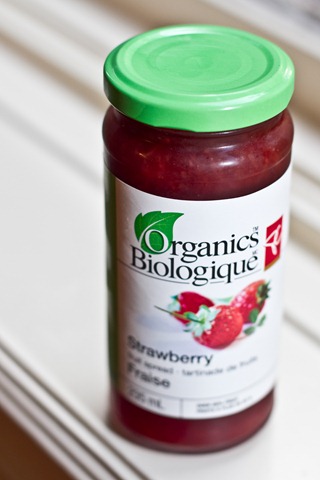 And spread it all around…(it helps if you let it sit at room temperature to soften!)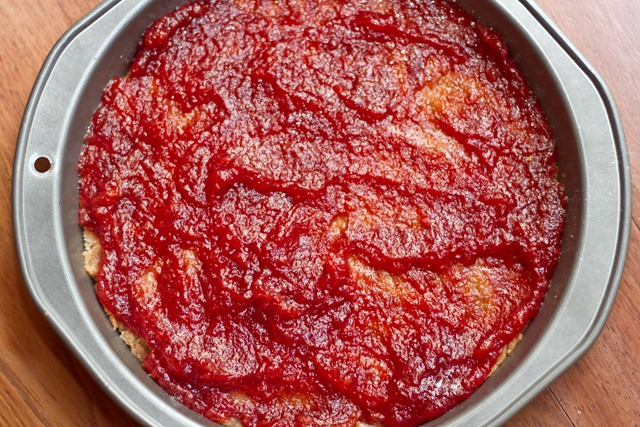 Cover with bananas and optional cacao nibs…or if you are feeling crazy, chocolate chips.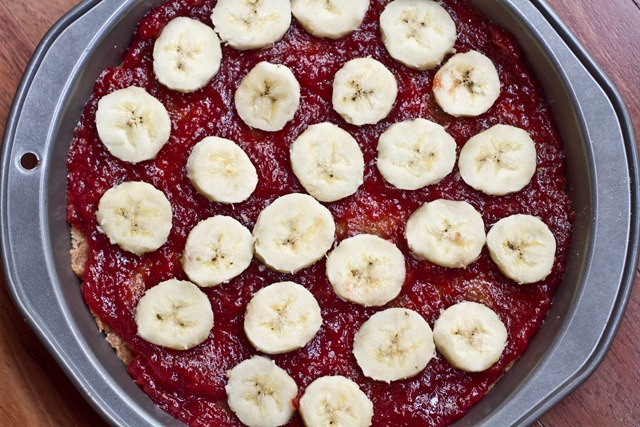 And bake at 400F for 25 minutes. Remove from oven and cool in pan for about 15 minutes.
Now place peanut butter in a baggie, trim a small hole in the corner, and 'pipe' onto the pie.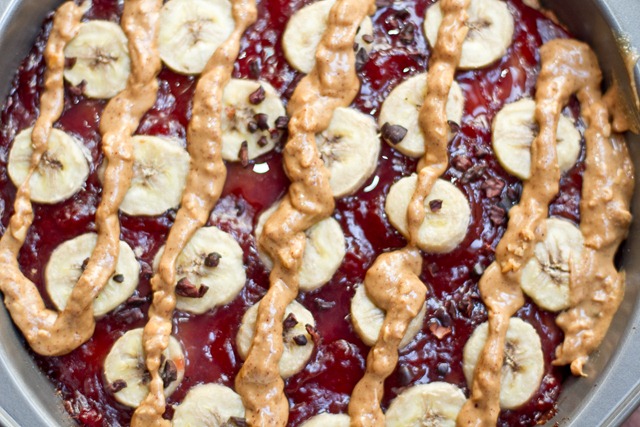 Oh yes.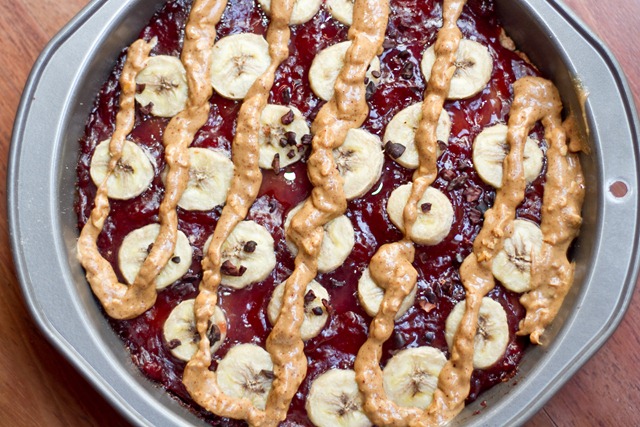 This is magical.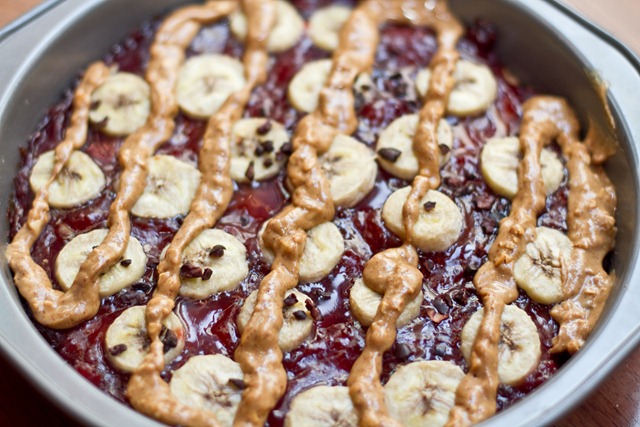 Serve warm, chilled in the fridge, OR frozen like a DQ Treatzza Pizza!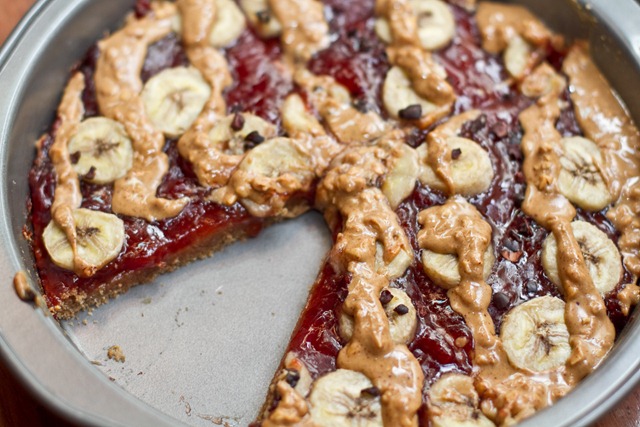 I tried it hot, warm, chilled, and frozen and my favourite way to eat it was chilled straight from the fridge! Just like leftover pizza. :)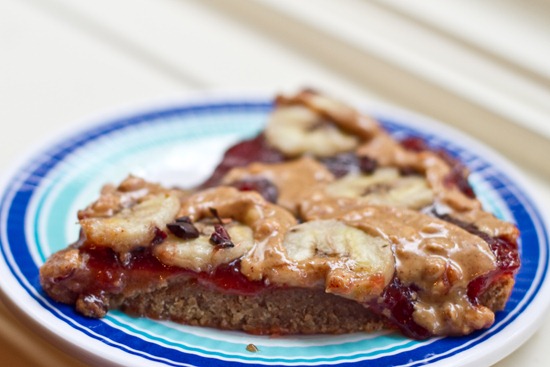 Have fun trying out different kinds of nut butters too. You could even make a nut-free version using sunflower seed butter. I really want to try this with Barney Butter but we don't have it in Canada. It is probably for the best. The last time I had some Eric kept asking me if I wanted any toast with my Barney Butter. ;) Who needs toast when you have Barney Butter?
You could also try making a FRUIT pizza and loading it with all kinds of sliced fruit…how delicious would that be? I'm thinking mangoes, banana, pineapple, strawberries, blueberries, cherries, etc.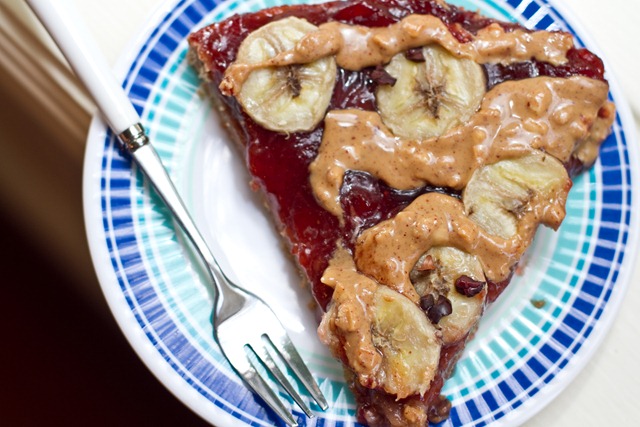 I also want to say a huge THANK YOU for your support with the Tastespotting Portabella Playoff Challenge! My Stuffed Pizza recipe took home gold. Thanks everyone! :)