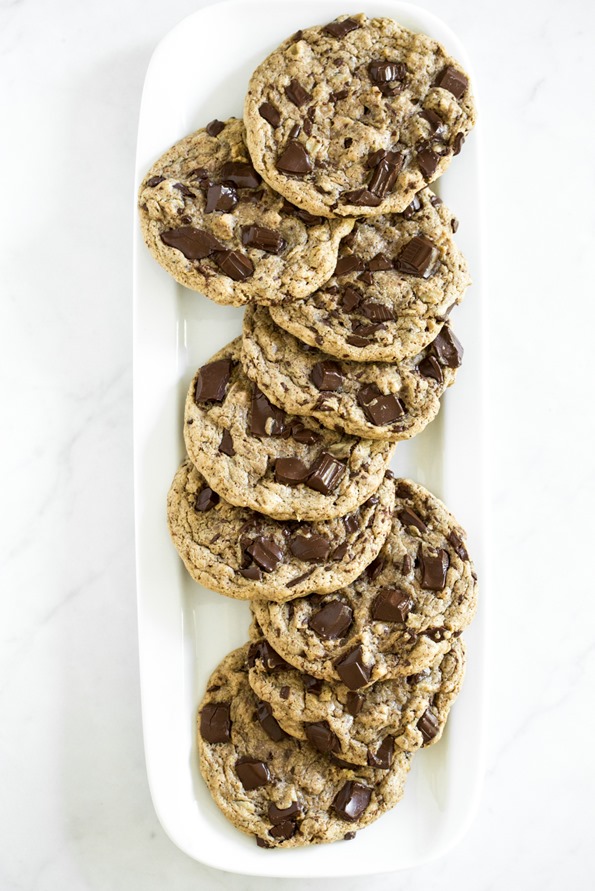 Having my mom here for the last several days was such a treat. I've felt a bit like a basket case lately as we're dealing with some behavioural issues (the munchkin, not the mom!), and having her here made the world of difference. As I've written about in my birth story, the presence of other women who've been through it before (childbirth, raising a family, etc.) is a comforting feeling. There is strength to be found in hearing someone else's child-rearing war stories (which are often hilarious in hindsight…seriously hilarious!). Sometimes you just need someone to tell you that everything is going to be ok, despite feeling like you're doing most things wrong, unable to find solutions to ongoing issues, or worse yet, creating lifelong bad habits. I'm starting to realize that it's ok not to have an immediate answer, to sift through the highs and lows of parenting, to do my best each day while troubleshooting through it all, and know that in the end love wins. We have so much love and laughter in this house—I have to remind myself not to lose sight of that. When my mom says to me that soon she'll be grown and past these phases I find myself welling up with tears because I don't want this time to pass, yet some days I'm at a loss as to how to get through them. "We are given what we're able to handle," she reminds me. Parenting is a humbling experience, and I laugh at my former self who had a long list of "things I'd never do as a parent". Well, that list has been a running joke around here of late.


Cookies have felt so right lately, in every way possible. I've gotten lost in the testing of this recipe, probably 12 times in a few weeks (as you may have witnessed on Snapchat and Instagram!), and I'm so thrilled with how they turned out. I can't even deal with how delicious these are, and how much joy they've brought into our lives. Total comfort food, right here.
Here are some things I love about these cookies:
+ They are jumbo (so glad I didn't go with my original idea—mini cookies…temporary lapse in judgement, clearly.), chewy, and gooey (thanks to big chunks of chocolate and a short bake time) with a crispy edge (aka: my cookie nirvana).
+ They are vegan and gluten-free with a perfect texture…so pretty much unicorns of the cookie world given how amazing they taste.
+ Much like my beloved Crispy Peanut Butter Chocolate Chip Cookies, they have a wholesome base made up of oats and almonds.
+ They are sweetened with pure maple syrup rather than cane and brown sugar (this is a big request I've had!).
+ You only need ONE bowl! And everything is stirred by hand—no electric mixer required!
+ They only contain a few tablespoons of virgin coconut oil—there's no vegan butter to speak of, but the flavour isn't compromised one bit.
+ They are bursting with gooey chunks of dark chocolate! I started my testing with 100 grams, then tried 125 grams, and finally settled on 150 grams of chocolate in this recipe. Trust me on this one. Normally, I gravitate toward this 70% dark chocolate, but we all preferred a slightly milder bar in this recipe—Camino 55% dark chocolate bars. Feel free to experiment and find your perfect chocolate in this recipe!
+ Arrowroot flour/starch helps bind these cookies rather than a flax egg (some of you requested a vegan/gf cookie without flax due to flax allergies so I'm happy you can enjoy them too!).
+ They are super fun to photograph (hence, the million pictures). Try it yourself and tag them #ohsheglows on social media so I can see!
+ Did I mention they're the cookies of my dreams? Ok, I'll stop now.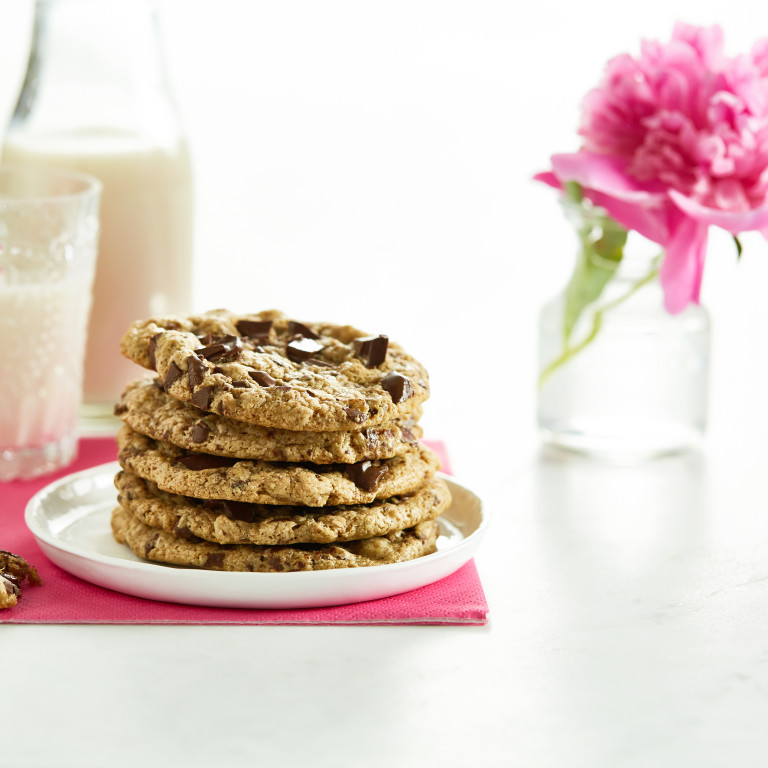 Jumbo Chocolate Chunk Cookies

Yield

13 jumbo (4-inch) cookies
Prep time

Cook time

Total time

These vegan and gluten-free chocolate chunk cookies will blow your mind! The cookie dough is sweetened with pure maple syrup—you'd never know they don't contain any granulated cane or brown sugar (aside from the chocolate, of course). Almond butter, oats, almond flour, and a small amount of coconut oil form the hearty and nutritious base of these irresistible cookies. Prepare yourself for an addiction. We love these warm, but they're also great straight from the freezer or fridge! This recipe is inspired by The Bojon Gourmet.
Ingredients
For the wet ingredients:
1/2 cup (120 g) natural smooth almond butter (no subs)

*

1/4 cup plus 3 tablespoons (105 mL) pure maple syrup
3 tablespoons (45 mL) virgin coconut oil, softened but not hot

*

*

1/2 teaspoon pure vanilla extract
For the dry ingredients:
1/2 cup (50 g) gluten-free rolled oats
1/4 cup plus 2 tablespoons (50 g) gluten-free oat flour
1/4 cup (33 g) arrowroot flour/starch
1/4 cup (25 g) almond flour
1/2 teaspoon baking soda
1/2 teaspoon pink Himalayan salt
(150g) 55% non-dairy dark chocolate (about 1 1/2 bars)

*

*

*
Directions
Preheat the oven to 350°F (180°C) and line a very large (approx. 21 by 15 inch) baking sheet with parchment paper.
In a large bowl, stir together the wet ingredients (almond butter, maple syrup, oil, and vanilla) until completely smooth.
Stir the dry ingredients (oats, oat flour, arrowroot, almond flour, baking soda, and salt) into the wet mixture, one by one, until thoroughly combined. The dough will be a bit wet/oily, but this is normal.
Chop the chocolate into small chunks. Set aside 3 tablespoons (for topping the cookie dough later), and stir the rest of the chocolate into the batter until combined.
Using a large retractable cookie scoop (or simply a spoon and your hands), scoop mounds of dough (about 2 1/2 tablespoons of dough per cookie). Add each onto the baking sheet, about 3 inches apart, as they'll spread a lot while baking.
Press the remaining 3 tablespoons of chocolate onto the tops of the cookie dough mounds, evenly distributed. (Reshape the cookie dough mounds if they flatten a bit.)
Bake for 8 to 10 minutes (I prefer 8 1/2 to 9 minutes for gooey and soft cookies), until the cookies are spread out. If you prefer a crispy cookie, bake for about 12 minutes.
Cool the cookies directly on the baking sheet for about 5 to 6 minutes. The cookies will be super delicate until they are cooled. Using a spatula, gently transfer each cookie directly onto a cooling rack for another 10 minutes, where they'll firm up even more. (It's normal to have a small amount of oil on the bottom of the cookies due to the almond butter. If this bothers you, simply place them on a couple sheets of paper towel.) Serve and enjoy! Allow the cookies to cool completely before storing.
Tip:
*

It's important to use natural smooth almond butter that has a fairly "drippy" consistency. Be sure to stir it very well before measuring and avoid using the dry/hard nut butter at the bottom of the jar as it's too difficult to mix with the other wet ingredients. Some readers have also said that using peanut butter resulted in cookies that didn't spread out and didn't hold together, so I wouldn't recommend subbing the almond butter.

*

*

What is softened coconut oil? During the warm summer months, coconut oil is the perfect "softened" consistency at room temperature; it's neither solid nor completely melted. If you do need to use melted coconut oil, just be sure that it's not hot/warm or it could melt the chocolate.

*

*

*

I prefer Camino 55% dark chocolate bars in this recipe, but feel free to use the chocolate of your choice.
Tip: These cookies spread out a lot and are fairly thin. If you prefer a thicker cookie you can try chilling the dough before baking. (I haven't tried this yet myself.)
Nutrition Information
(click to expand)

COOKIE FAQs:
I posted this recipe to the Oh She Glows Recipe App over the weekend, and I've already had some questions about these cookies that I will share here:
Can I sub natural peanut butter for almond butter? Some readers have commented that they tried this swap and it didn't work out so well. The cookies didn't spread out and they were very crumbly. So I wouldn't recommend it.
Can I make these nut-free? I haven't tried a nut-free version yet, but if I do it will likely involve trying out sunflower seed butter and finely ground toasted sunflower seeds. Obviously the flavour will change a lot and might be overpowering. The cookies might not spread out, too. If you try anything out, please leave a comment and let us know how it turns out!
Can I swap the arrowroot for another starch? Arrowroot flour is a starch and it helps bind these cookies together. I haven't tested this recipe using another starch yet (such as tapioca or potato starch), so I can't say for sure. Again, if you try anything out please report back!
Can I make regular-sized cookies as opposed to jumbo? You sure can!
How do you store these cookies? After cooling completely, I typically store these cookies in a zip bag or container in the fridge (where they'll firm up even more thanks to the coconut oil solidifying) for a few days. You can also store them in a freezer-safe bag in the freezer (likely for up to 1 month, but we'll probably never be able to verify this).