'Ange, there's no way in hell I would be able to keep up with all your posts!' 
                                                                                  ~My honest hubby
Man, if your own husband doesn't even read that's a bad sign!
What a great discussion we had going in yesterday's hot topic post! Thank you for all of your input. I think I hit on a good topic because I received over 30 emails yesterday about it. Boy, did you have lots to say on this matter…
What I have concluded is this:
1) Quality trumps quantity
I always knew this, but yesterday was a great reminder of how true this is! Your comments were so eye opening. I think many bloggers feel that they need to post 37634 times a day, but you guys showed why this isn't true.
2) Blogs should always be fun. If they are not, change what you are doing.
Blogging for me has been fun 95% of the time, but I occasionally feel stressed when I can't get up a post when I want to. This is going to change from now on. I think stress is a warning sign that burnout may be approaching, so it is a great idea to take breaks and not have pre-defined schedules. Take home message: Post when I want, about what I want. Period.
3) Posting too frequently can stress out your own readers!
I had no idea that posting content 3 times a day could actually stress out my own readers, but I was told this by several people yesterday. Let's face it- we all have busy lives and it is really hard for some people to be able to fully appreciate posts if they are flying up several times per day. I totally get that. Trust me, I don't want to spam your readers.
4) I want to get back to my roots- my research roots.
I have about 7 years of training in research. I have barely applied this training on the blog and I am going to start to do this more because 1) I love health research, and 2) It is something I can offer my readers that is unique!
My goal is to 'break down' the hottest and most recent scholarly research and put it in layman's terms. Don't worry I'm not going to be spewing out research articles on you or get all academic on you. I'm just going to point out some cool findings every now and then or talk about how to critically evaluate the research you see in the media. Fun, informative, and simple.
~~~~~~
Green Monster Movement is updated with new reader recipes. OSGMOM also submitted her newest favourite green monster concoction. It sounds delicious and I can't wait to make it once my appliances are returned to me. Anxiously awaiting and tapping fingers on desk…
~~~~~~~
A while back I was interviewed for Best Health Magazine and the interview is now up!
Click here for the full interview (or click on the photo below).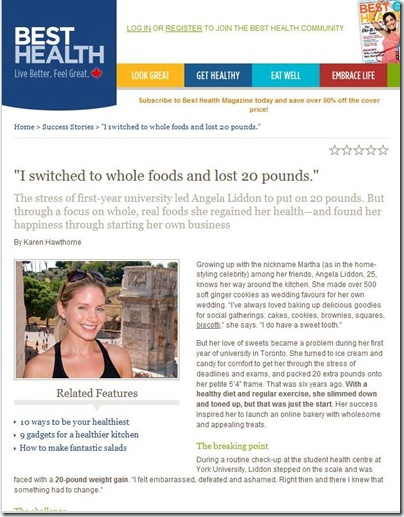 I think it gives a nice intro into my road to health. I kind of chuckled at the large title 'quote' they put at the top. I would never make loosing 20 pounds sound so easy. But like Zesty says, catchy titles sell, right? Let me know if you have any questions that come up after reading the interview. I will be happy to answer or provide a more detailed explanation (they cut a lot of the interview for space restraints).