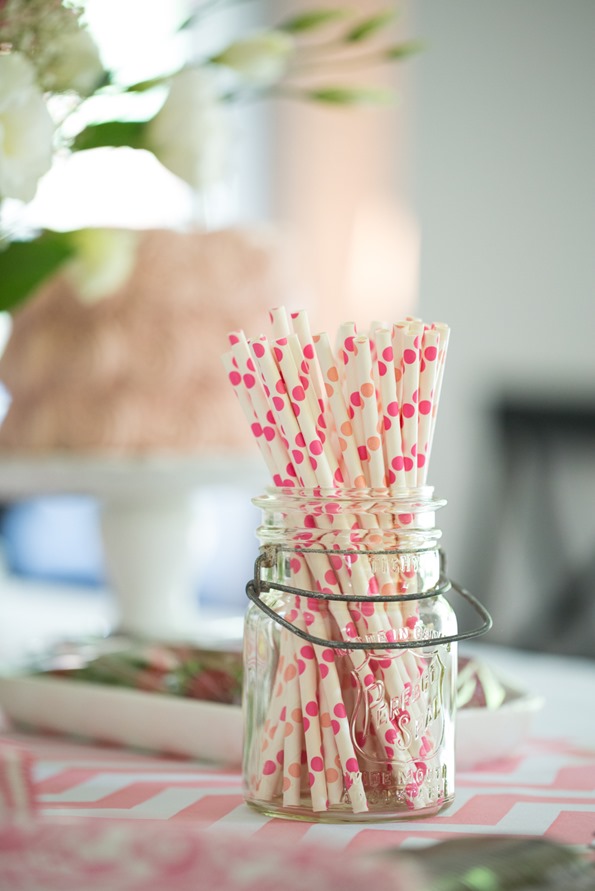 Even though the mama-to-be doesn't traditionally do a lot of baby shower prep, I really wanted to have my hand in the shower menu planning. It is me, after all. How could I resist? I love feeding people! Plus, it's really hard to find good vegan catering out there.
My goal was to come up with a few freezer-friendly recipes I could make the week in advance and then do additional recipe prep the day before and the morning of the shower with my mom and sister. We supplemented my menu with a few catering items from Whole Foods courtesy of my mom. The cupcakes + cake were generously donated by Kelly's XO Bake Shoppe – an award-winning gluten-free and vegan bakery in Burlington, Ontario. I contacted them to place my order about a month ago and they said they are huge fans of the blog and cookbook and wanted to donate the cupcakes as a baby shower gift! If that wasn't enough, they surprised me Sunday morning with extra goodies – a pink 3-layer cake, a lovely note, and a Kelly's Bake Shoppe tee. I screamed when I opened the extra box and saw the stunning pink rosette cake. Thank you to Kelly, Erinn, and the entire team at Kelly's Bake Shoppe for making my day extra special. You really went above and beyond!
So as you can see, the spread of food that we all enjoyed was a group effort and I couldn't have done it without everyone's support! We had so many nice comments about the food from guests, so it really made the day extra special for me.
I'd like to share the menu in case you are looking for ideas for your own vegan event. The hardest part for me is always the menu planning stage, so hopefully this sparks a few ideas and saves you some time. It probably goes without saying, but the recipes below would be great for all kinds of summer events, not just baby showers.
Here's how my planning process began…
A few months ago, I created a Google document called "shower menu" that I used to keep track of my menu ideas. I'm all about the Google docs and I have tons of folders and documents created in there to keep me organized (such as a nursery to-do list and many other business/blog docs).
When the week before the shower approached, I added a day-by-day breakdown of things I needed to prepare each day and groceries I needed to buy. I had to cut a few menu items because I ran out of time, but we still had more than enough food so it all worked out. As I completed tasks, I would strike-though the item in my Google doc so I knew it was taken care of. This worked really well and kept me sane (well, relatively speaking)!
Side note – I wish I snapped more pictures of the food to share with you in this post, but I totally ran out of time and was busy chatting up guests! My original plan was to have pretty pictures of each dish, but that didn't quite happen. Oh well!
Appetizers + main dishes:
Veggies + crackers hummus platter
We made this the morning of the shower so the veggies were nice and fresh. It consisted of sliced bell peppers, celery sticks, grape tomatoes, carrot sticks, Mary's Crackers, and hummus. Always a crowd pleaser!
People go crazy over this kale salad! We made a double batch and there was only a tiny amount leftover at the end of the shower. I had several comments from people saying they never knew kale could taste so good. Check out the feedback on the original recipe post too – it's probably the most praised salad on the blog over the years. Tip: The dressing is a bit garlic-y so you might want to cut it down by half for social events. I mixed the kale with the dressing about 1 hour before the shower began so it had a bit of time to marinate.
Cheesy Pesto Zucchini Noodles
I hope to post this easy summer recipe to my blog this summer because it was such a hit at the shower! And it's no-bake too which is perfect for our kitchen reno! There wasn't a noodle left in the bowl at the end of the shower and I think it was one of my best pestos yet. Pesto freezes well, so I made a double batch a week before the shower and froze it. I thawed it in the fridge a day before the shower. Then on the day of the shower all I had to do was spiralize around 4 zucchini (using this spiralizer) and mix it all up. I will link to the recipe here when it's posted!
Crowd-Pleasing Tex Mex Casserole
This recipe is one of my favourite entrees from The Oh She Glows Cookbook (see page 149). It freezes well, so I knew it would help save time. I made it the week before the shower and froze it in an extra large oven/freezer-safe glass dish with a layer of tin foil pressed tightly on top of the casserole to prevent freezer burn. Notes: I skipped the oven cooking because I knew I would be cooking it the day of the shower. I let the skillet mixture cool (mostly) before adding it into the container. I also waited to add the corn chips until the day of the shower so they didn't get soggy. A day or so before the shower I thawed the casserole in the fridge. It was still a bit frozen when I took it out to cook it so I would also suggest thawing it on the counter for an hour as well. When the shower began I removed the tin foil, added the crumbled corn chips on top, and popped it in the oven at 350F for about 30 minutes. Easy! Serve it with sliced avocado, cashew sour cream, sliced green onion, salsa, etc. It's always a hit! This casserole would also be great if some of you are looking for freezer-friendly meals. I plan on making a couple batches before the baby arrives.
Samosas with mango chutney (catering from Whole foods)
Seasonal fruit platter (catering from Whole Foods)
Vegetarian Mediterranean platter (catering from Whole foods)
A couple guests offered to contribute vegan grain salads, so we had those salad options too!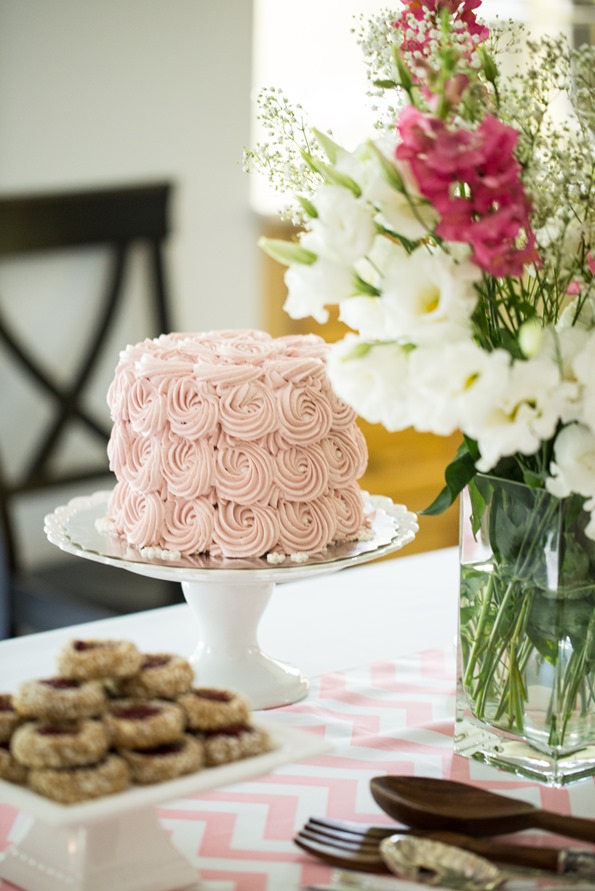 Dessert:
Raspberry Almond Thumbprint Cookies with Raspberry Chia Seed Jam
[shown in photo above] These are one of my favourite cookies from the blog and they have a pink/red filling to boot so I knew they would fit in well with the pink colour scheme. For this batch, I used my raspberry chia seed jam (you can easily modify this recipe to make it with raspberries). I made one batch – 20 cookies – but next time I would double the recipe as they went FAST and we ran out! I baked the cookies about 5 days before the event and cooled + froze the cookies in zip baggies which were then sealed in freezer bags to ensure freshness. I thawed them the morning of the event on the counter. No fuss the day of at all!
Chocolate hostess cupcakes with my homemade pink frosting
As I mentioned, these were a gift from Kelly's XO Bake Shoppe. I ordered 2 dozen of their vegan + GF hostess cupcakes (without the ganache topping) and then I piped on my own homemade pink frosting just before the shower.
3-layer chocolate cake
A surprise cake from Kelly's Bake Shoppe! See photos – it's a show stopper!
Dark chocolate covered strawberries
Another easy treat that always goes fast. To make these, I simply dipped fresh strawberries in melted dark chocolate and chilled them in the fridge. I did this the day before the event. once the chocolate firmed up, I wrapped the plate with wrap and took them out of the fridge just before the party.
Vegan Key Lime Pie
A family member contributed this tasty dessert! So yummy.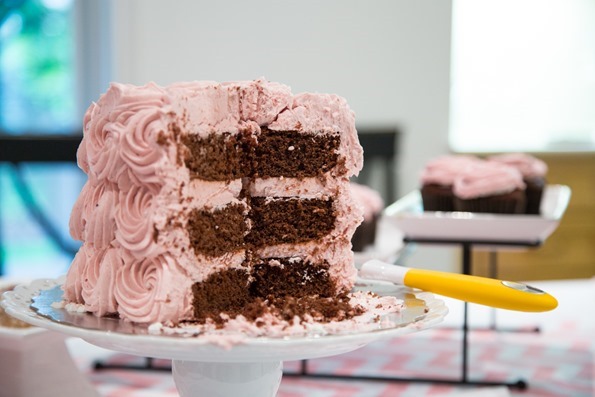 Drinks:
Homemade pink lemonade
I didn't use an exact recipe so I'm afraid I don't have one to share, but I used a mix of fresh lemon juice (juiced around 20 lemons – thanks Kristi!), a homemade sugar syrup, 100% cranberry juice, and Pellegrino/water to make about 5 litres of lemonade.
Pellegrino
White wine
Rosé wine
Non-alcoholic all-natural sparkling pink cocktail for the pregnant ladies (Les Mouts de Pomme brand from Whole Foods)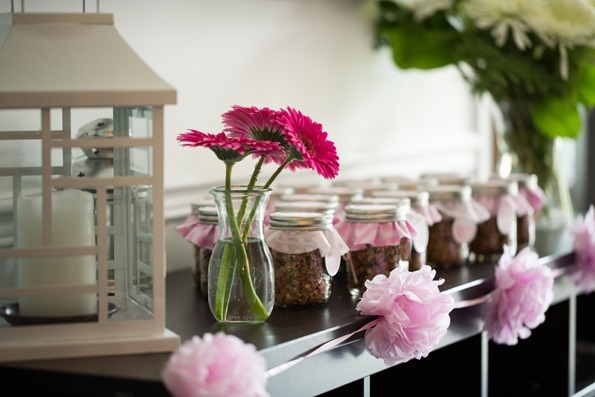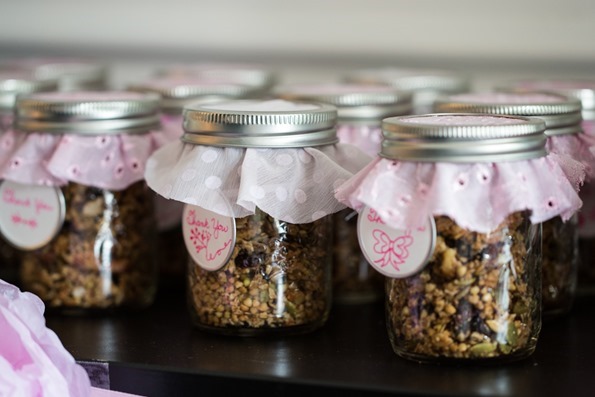 The Shower Favours:
Ultimate Nutty granola Clusters
Last but not least, my homemade baby shower favours! I made my favourite granola (the Ultimate Nutty Granola Clusters from the cookbook, see page 31) a week in advance and froze it in freezer bags. I made a triple batch which made enough for around 22 small mason jars (I think they were no more than 250ml). A special thanks to my mom for writing all the tags and to my mom and sister Kristi for helping me package them up! Everyone went crazy for these favours and I really loved how they turned out. I think this favour idea is a great option if you want to make something in advance and not have to worry about it in the days leading up to the shower! Heck, it would even make a great wedding shower favour or other event favour. I bought the fabric from Fabricland and cut out the circles a week before so everything was ready to assemble a few days before the shower. The white circle tags are from Michaels and the mason jars are from Canadian Tire.
Well, that's the menu in a nutshell!
I hope this menu helps inspire your own event or just gives you a few more recipe ideas to incorporate into your summer plans.