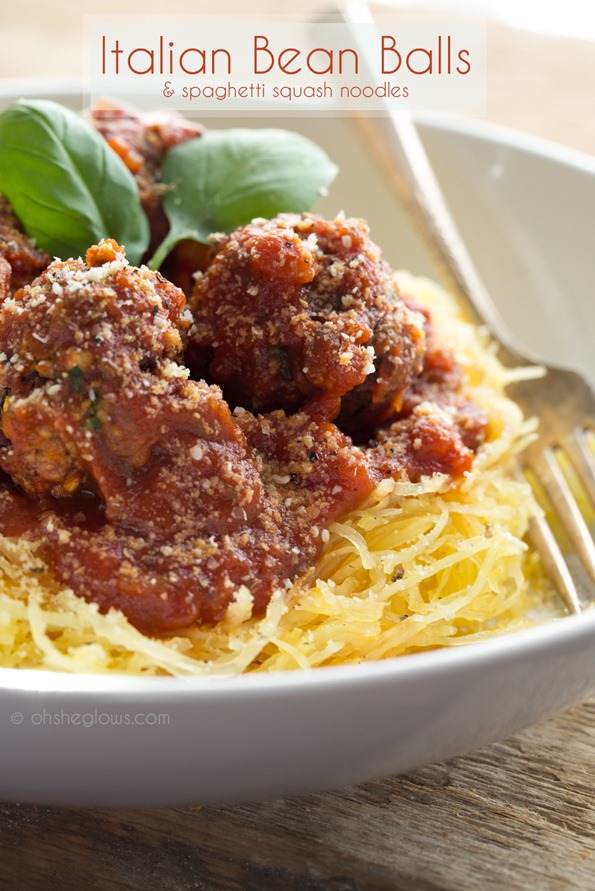 I'm on this weird veggie burger/ball lucky testing streak. After months of testing veggie burger and ball recipes to no end, everything is finally clicking into place and the ingredients are binding and syncing and dancing on my taste buds. I would shed a tear of joy if I weren't too busy stuffing my face in veggie goodness!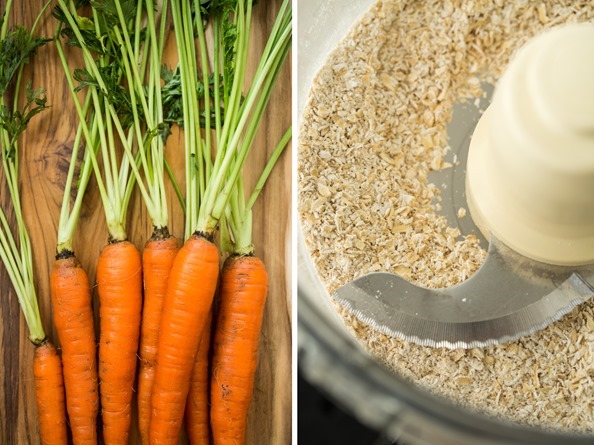 I've had many requests for a vegan "meat" ball recipe and I thought it was time make some magic happen! It's actually something I've been working on here and there over the past year or two, never quite getting it right, but determined to keep trying. Initially, I was working on a mushroom lentil combo, but I had issues with the lentils drying out too much, producing a stiff and cranky end result. I'm not going to give up on it though; I just had to switch it up for a while lest I go completely mad.
In the meantime, I came up with these Italian bean balls. Considering that we polished them off in less than 2 days, I'd say they were a hit on all fronts. I don't want to pretend that these taste like traditional meat balls, but they are magnificent in their own right with a great flavour and texture. And to me, that's what vegan cooking is all about – creating alternatives to traditional fare that taste so damn good who cares that they don't have meat. That's always my goal with recipe creation. Options. Enticing veggie-based alternatives.
The hardest part was choosing which bean to use. Navy? Kidney? Pinto? Black? Chickpea? Adzuki? etc. Kidney beans won (so far, anyway). Not to mention, the purple/red skins are quite beautiful all mashed up among the speckled orange and green bits. Have you ever seen such a vibrant batter?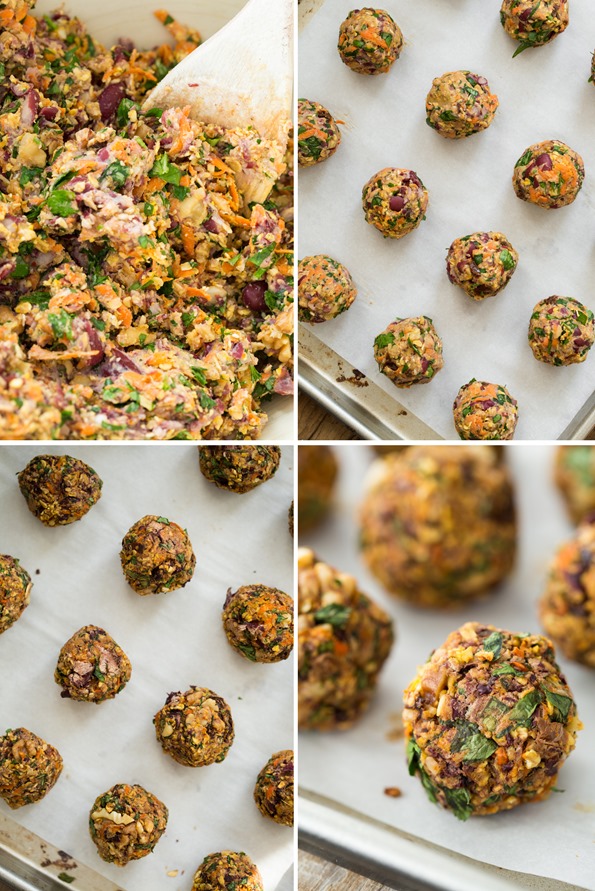 To infuse some Italian flavours into the mix, I added plenty of fresh basil, finely chopped sun-dried tomatoes, dried oregano, and fresh parsley. For some depth of flavour, toasted walnuts really took it all to the next level. I just love the combo of walnuts and tomato (such as in my pesto), they were just made to go together in the same mouthful!
To keep with the light and fresh theme, I served it over a bed of spaghetti squash. It's #2 on my squash favorite's list with delicata reigning supreme and butternut claiming third place. This list seems to change every week, but for now those three are in steady rotation in my kitchen. With a sprinkle of pink salt and freshly ground black pepper, the crunchy strands of spaghetti squash are ready to form a fiber-filled base for all your pasta dreams. We felt so energized and light after eating this meal- always appreciated this time of the year when it's easy to crawl under a blanket and hibernate. Well, we still do that too, but at least we can feel a bit better in the process.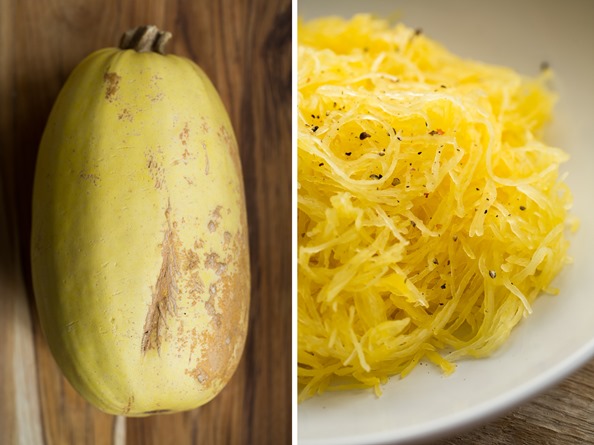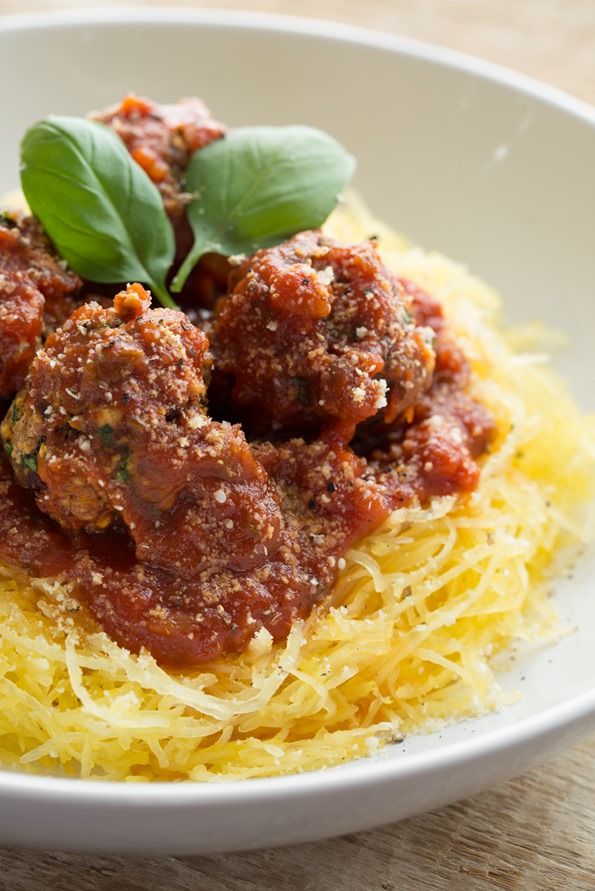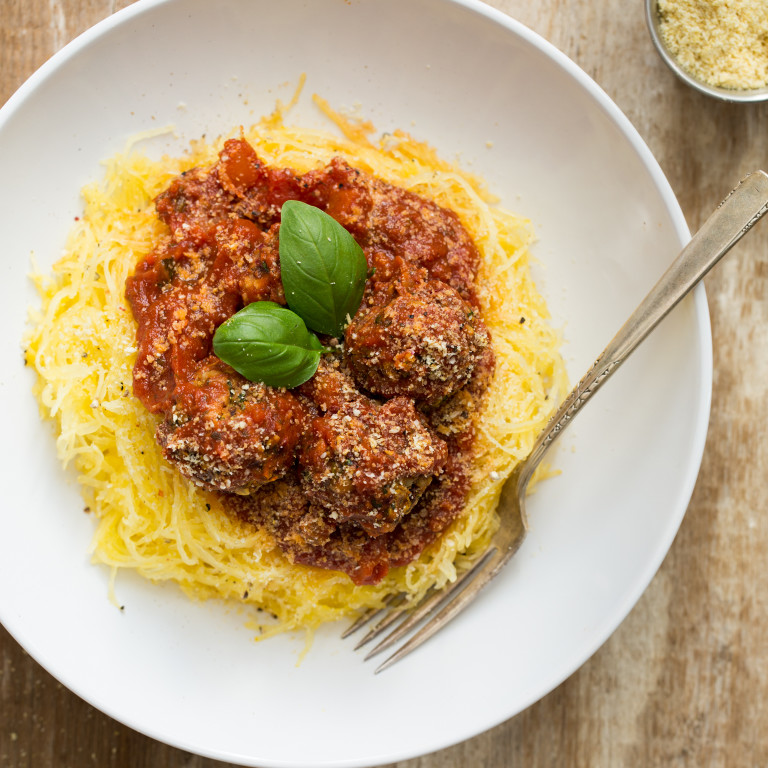 Italian Bean Balls and Spaghetti Squash Noodles
Vegan, gluten-free, refined sugar-free, soy-free

Yield

18-20 bean balls
Prep time

Cook time

Total time

Delightful Italian bean balls filled with basil, oregano, garlic, and sun-dried tomatoes round out this fresh & light meal of spaghetti squash "pasta" and tomato sauce. I bake the bean balls for a good amount of time until golden and quite firm, so they stand up better to the tomato sauce. I suggest roasting the spaghetti squash in advance (and preparing tomato sauce in advance too, if making homemade) and simply reheating it just before serving. I heat the tomato sauce in a pot and once it's hot enough I gently fold in the bean balls to cover in the sauce and then serve it immediately. The bean balls will soften with time, so it's best not to leave them in the sauce for too long. While they don't taste like traditional meat balls, I can assure you these are a flavourful plant-based option with a great texture! Feel free to shape the mixture into burger patties, if that floats your boat. This recipe is adapted from my Thai Sweet Potato Burgers.
Ingredients
For the bean balls:
3/4 cup walnuts, finely chopped and toasted
3/4 cup gluten-free rolled oats, processed into a coarse flour
1 cup shredded carrot
1/2 cup fresh parsley, finely chopped
1/3 cup fresh basil leaves, finely chopped
2-3 tablespoons finely chopped oil-packed sun-dried tomatoes (about 2 large)
3 large garlic cloves, minced
1 (15-ounce) can kidney beans, drained and rinsed
2 tablespoons ground flax + 3 tbsp water, mixed
1/2 tablespoon olive oil
1 teaspoon dried oregano
3/4 teaspoon fine grain sea salt, or to taste
Freshly ground black pepper, to taste
1/4 teaspoon red pepper flakes (optional)
Directions
Preheat the oven to 350°F and line a large baking sheet with parchment paper. Toast the walnuts for 7-9 minutes until fragrant and golden.
Meanwhile, add the oats into the food processor and process until finely chopped. You want the texture to be like a coarse flour.
Add the grated carrot, chopped parsley, basil, sun-dried tomatoes, garlic, walnuts, and oat flour into a large bowl. Stir to combine.
Add the drained and rinsed beans into the food processor and process until finely chopped. You want the mixture to be a coarse paste with some beans still intact, but don't completely puree the mixture. Stir the processed beans into the bowl with the vegetables and oat flour.
In a mug, whisk together the ground flax and water. Let it sit for only 15-20 seconds, any longer and it will get too thick. Stir into the vegetable bean mixture until fully combined.
Stir the oil, oregano, salt, pepper, and red pepper flakes (if using) into the bowl, adjusting amounts to taste if necessary.
Shape the mixture into 18-20 balls (the size of golf-balls), packing each ball tightly between your hands so it holds together well. Place each ball onto the prepared baking sheet an inch or two apart.
Bake for 20 minutes, then gently flip the balls and and bake for another 15-20 minutes until golden on both sides.
After baking, place balls on a cooling rack for 10 minutes to cool slightly.
Serve with spaghetti squash or pasta and tomato sauce (either homemade or store-bought). I also sprinkled some of my vegan Parmesan on top.
Tip:
To make this recipe nut-free, omit the walnuts and use sunflower seeds instead (or omit entirely - but keep in mind they add a great crunch!).
For how to roast a spaghetti squash, see this post.
Nutrition Information
(click to expand)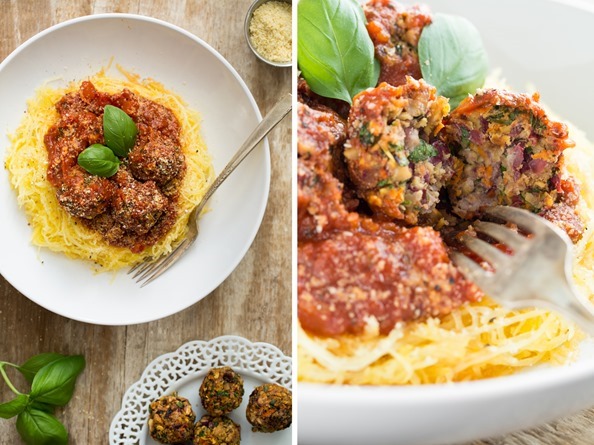 Stay tuned tomorrow for a special reveal of the Canadian cover of my cookbook!